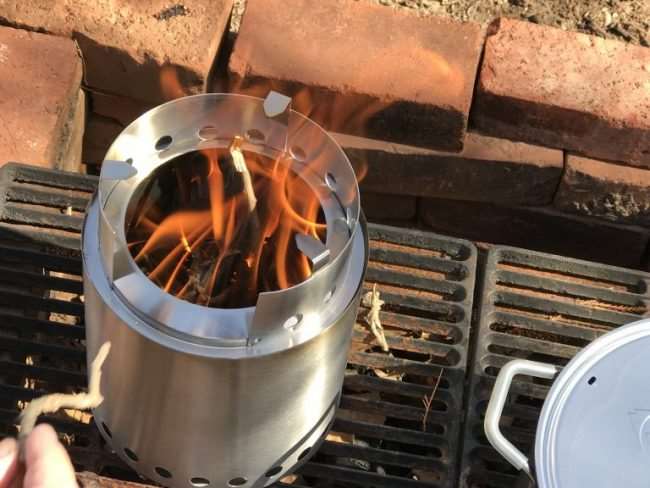 Our family does a lot of car camping and day hiking together. Wherever we go, we try to limit the amount of outdoor gear we take along. A small wood burning stove from Solo Stove has been part of our gear for over a year. Recently, I upgraded that camping stove to the larger Solo Stove Titan and joined the company's ambassador program.
The smaller wood burning stove in my gear box is the Solo Stove Lite (read my review).
Its small size (4.25 wide by 5.7 inches high) makes it ideal for backpacking or camping for 1-2 people. It's a great piece of outdoor gear. We use it often for hot beverages while hiking, reheated prepared meals, and boiling water for oatmeal. But with a family of 5, I really wanted something a little bigger for camping larger meals. The Solo Stove Titan is the perfect choice for outdoor families like us who want to do more.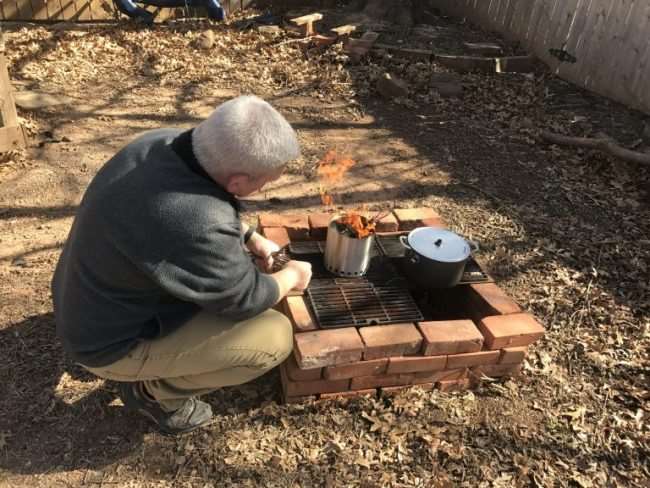 Solo Stove Titan
The Solo Stove Titan measures 5.1" wide and 7.9" high. It weighs just over 16 ounces making it very lightweight. The added stove area allows for a larger fire, more heat, and decreased cooking time. Boiling 32ounces of water took me 5 minutes in 50 degrees F weather. It will make quick work of our favorite egg omelettes in a bag, stews, and so much more.
This Solo Stove Titan stove is fueled by wood, pencil sized twigs to be exact. Unlike traditional camp fires, this stove uses thin twigs and dried tinder to produce/maintain a flame. It doesn't require cutting or sawing larger logs for burning. You can easily find the pencil sized twigs you need near the campsite or along the trail.
All of the camping stoves offered by Solo Stove are "natural convection inverted downgas gasifer stoves". In ordinary terms, that means this stove are designed to burn fuel more completely. The stove's stainless steel double walled design allows air to enter the stove at the bottom, heat up as it rises thru the walls, and exits at the top for a secondary combustion. This allows the wood to burn fully, give maximum heat energy, and limit the amount of smoke. All that's left is ash.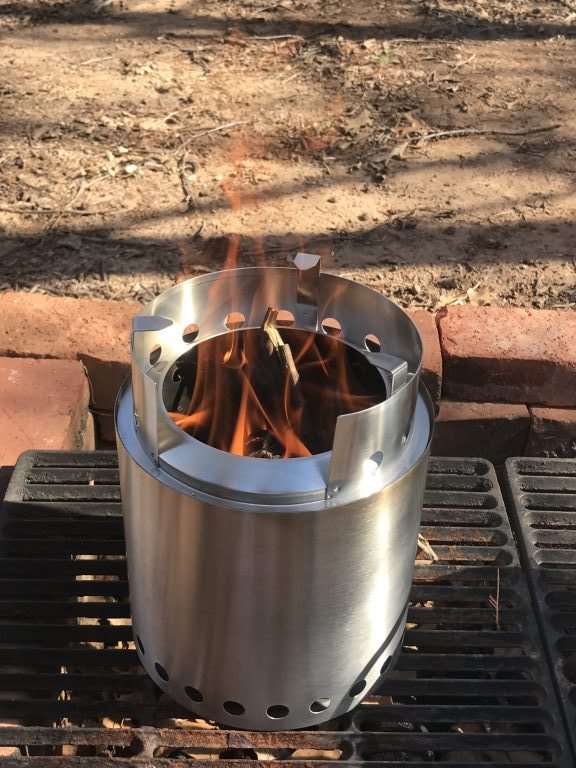 I like how easy starting and maintaining a fire is with the Titan. The wind shield at the top of the stove allows for adding additional wood to keep the fire burning. See a step by step guide to firing up the Solo Stove at https://www.solostove.com/instructions/. The shield also funnels heat up towards the pot or pan sitting on top of the stove.
Overall the Solo Stove Titan is a great camping stove for families. Its lightweight to pack in and out, sturdy, and well built for years of adventures to come. Check out the full line of Solo Stove products at www.solostove.com
Disclosure: I was provided a complimentary stove in exchange for this review.