Are you looking for a high flying or wet and wild family adventure in Oklahoma City? Travel down to the Boathouse District along the Oklahoma River and visit Riversport OKC for a unique family adventure. From whitewater rafting and tubing in the 11 acre whitewater center to a mini zipline for the kids, there is something for everyone here.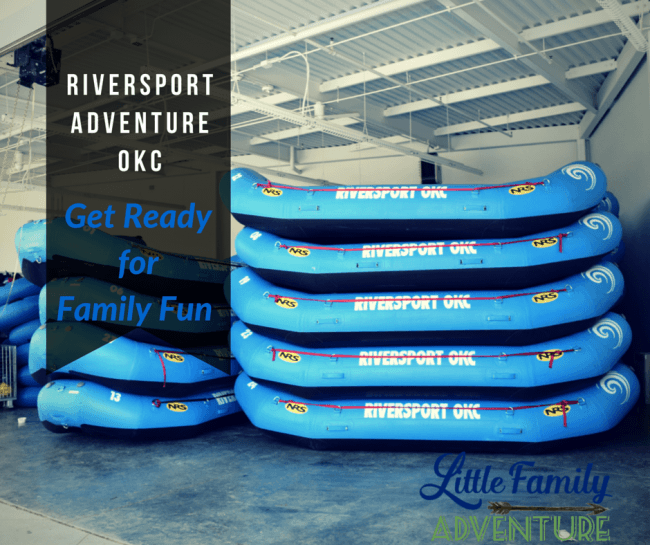 Riversport OKC Adventure
We recently took a media trip here in Oklahoma City and had ourselves a little staycation. While on the trip, we explored a few Things to do in Oklahoma City and had the chance to visit Riversport OKC. We explored all the fun this unique destination has to offer and share what you don't want to miss when here.
This family fun destination offers:
Whitewater Rafting and Kayaking
River Tubing
Flatwater Kayaking on the Oklahoma River
Stand Up Paddle Boarding
Adventure Courses
Zip Lining
Children's Playground
Climbing Walls
BMX Pump Track
High Speed Slides
Our family loved every minute of our time there. There is a lot to do at Riversport OKC. Let's take a look at 4 of the main activities that keep visitors coming back.
Whitewater Rafting and Tubing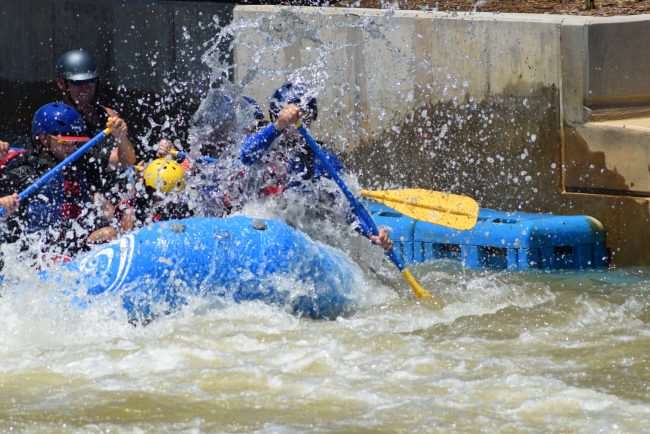 Whitewater rafting and kayaking are two of the newest attractions at Riversport Adventure OKC. The state-of-the-art aquatic Rapids facility is one of only a handful in the country that offers visitors this unique outdoor adventure.
Open to anyone 8 years old and up, these adventure sports have you shooting down Class 3 rapids in a 7 person raft or single person kayak. In the raft, your guide helps you navigate one of two exhilarating channels in this 11 acre facility.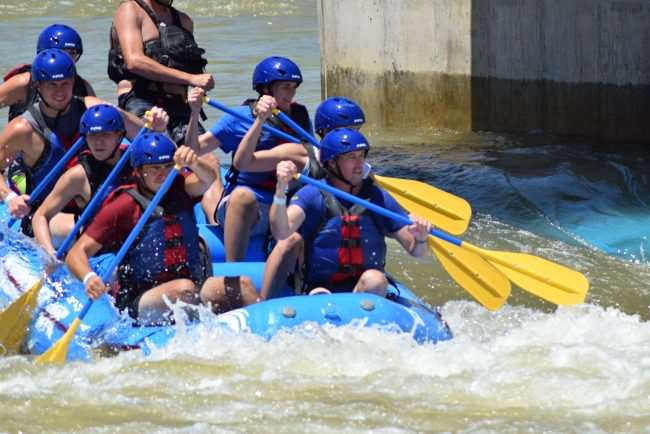 Earlier in the day, rapids are a little calmer making it ideal for younger children or novice rafters. But if you want a wilder ride, head down later in the afternoon for a wet and WILD adventure! For those interested in something a little more challenging, take lessons and learn whitewater kayaking. Then you can navigate your single person kayak through the course.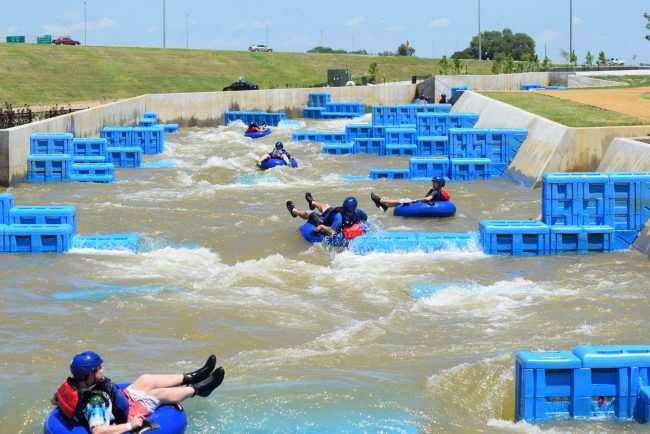 For those looking for something a little more relaxing, tubing down the rapids is a BLAST! Don your safety gear and take your inflatable tube to the top of the channel where you'll journey down the rapids. After a morning of rafting, it was great experience to tube down the river.
For those who want drier adventures, there are plenty of things on land and in the sky.
Zip Lining Across Oklahoma River
Glide through the air and see the Oklahoma River from a different angle. The SandRidge Sky Zip takes you 80 feet up into the air and sends you soaring 700 feet across the river and back again.
For anyone who hasn't tried zip lining before, it thrilling to stand up on that ledge and jump out into open air. Your bravery is rewarded with a smooth glide over the water. You can feel the wind in your hair as you lean back and take in the sights.
We LOVED zip lining across the river!! It's definitely a bucket list item for me and I'll glad to say I took the plunge and did it. Reservations are required for this, so be sure to get ones for earlier in the day like we did. That way the summer heat won't be too oppressive. At Riversport Adventure OKC, kids and adults can both experience this adventure. If children are under 48" tall, there is a smaller children's zip line they can enjoy in the children's area.
High Speed Slides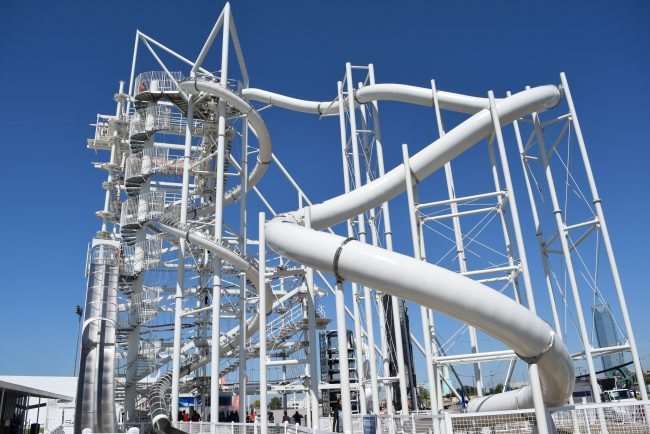 If you like your adventures a little closer to the ground, Riversport Adventure OKC has high speed slides that spiral, twist, and race you at speeds of up to 22 miles per hour.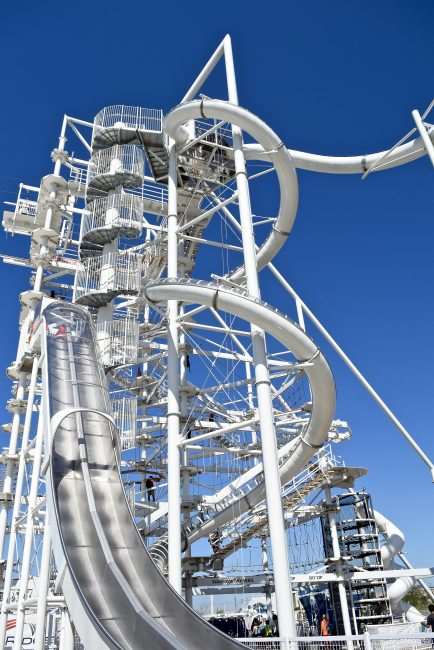 Try one of their two 72 foot tall spiral slides or race a friend on the tandem 30ft Sky Dive racer slides. For those that like water slides, glide down their inflatable water slide.
Sandridge Sky Trail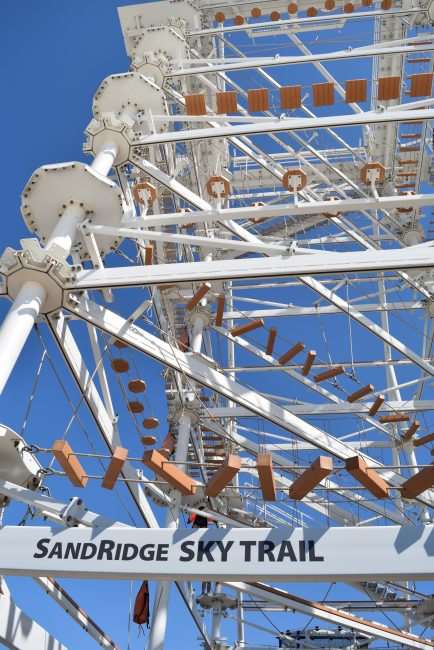 There is so much to do here in the Boathouse District. On our last trip we spent hours on the Sandridge Skytrail, Extreme Jumping, and flatwater kayaking. Every time we come here, we have a great family adventure.
I love that there is something always happening here. During the summer, you can bring your family for a free live concert, summer movie nights, great food trucks doing the weekly Glow event, festivals, fitness runs, and so much more.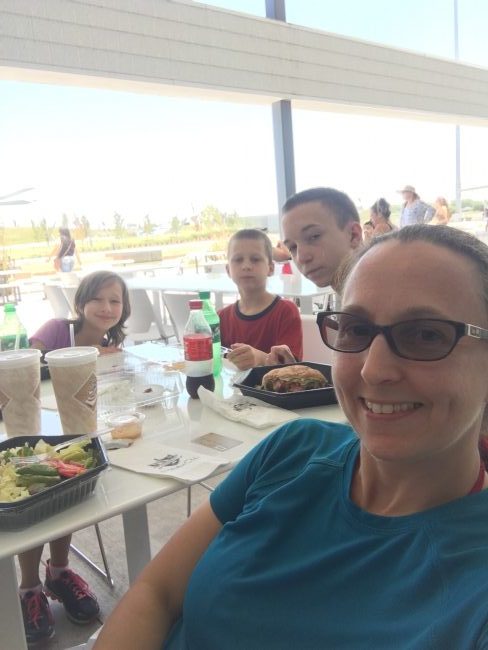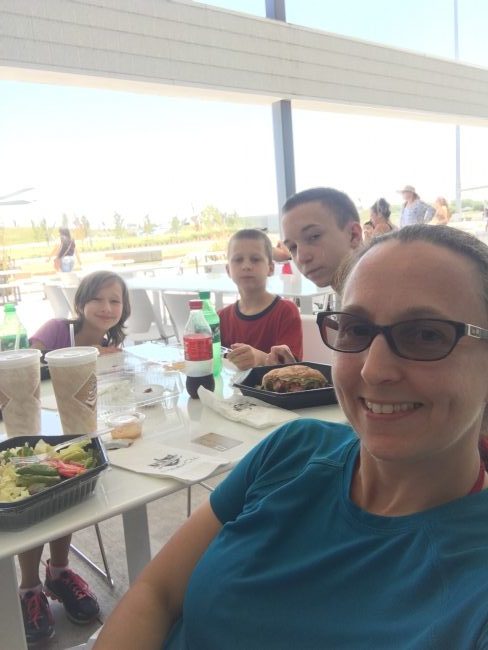 Their restaurant, Big River Grill, is now open too. So you can fuel up for lunch or dinner during your visit.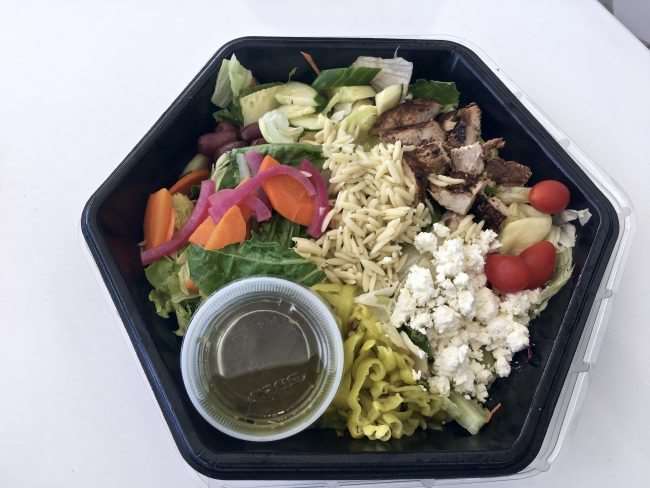 All the entrees are under $10 and they are well suited for hungry appetites.
When you are ready for a fun outdoor family adventure, check out riversportokc.org.
Pin This For Later: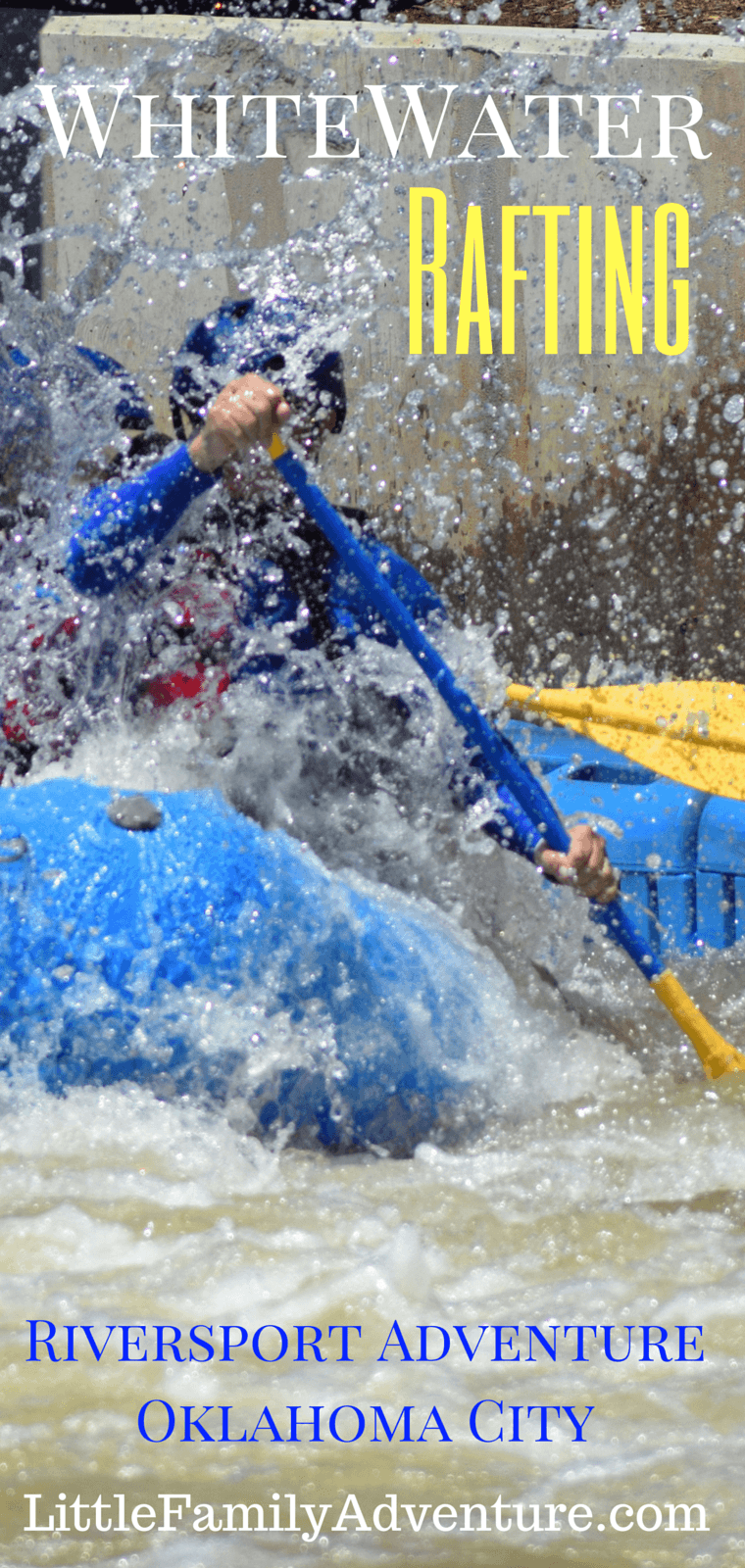 If you are looking for more family fun in Oklahoma, check out these:
Things Not To Miss at Oklahoma City Zoo
Chickasaw Cultural Center – Sulphur
Toy & Action Figure Museum – Pauls Valley
A big thanks to Oklahoma City Convention and Visitors Bureau and Riversports OKC for provided complimentary tickets so we could experience this unique Oklahoma City attraction. All opinions expressed are my own.