What was your favorite toy or action figure growing up? Chances are you will find it at The Toy and Action Figure Museum in Pauls Valley, Oklahoma. It's a unique place where you can go and be a kid again.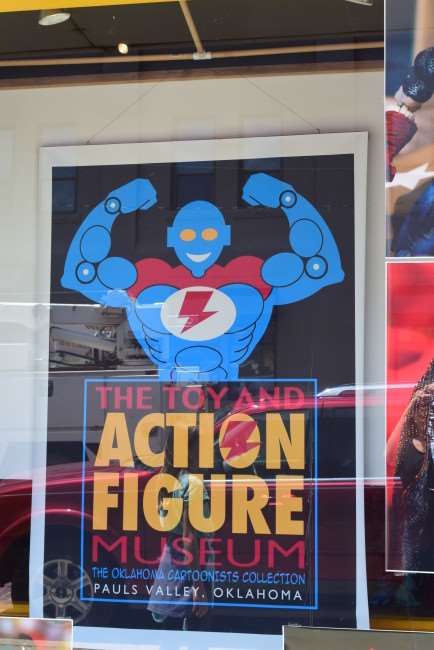 This summer, my family and I are traveling along the Adventure Road, I-35 between the Red River (Texas/Oklahoma state line) and Oklahoma City to explore family-fun destinations. The Toy and Action Figure Museum is a fun, one of kind place you will want to stop at , if not for yourself then for the kids. Everyone in your family will have a GREAT time. I know mine did.
With over 13,000 action figures, 100's of drawings from Oklahoma cartoonists, and a children's play area, you'll find the characters you grew up and the newer ones your children recognize.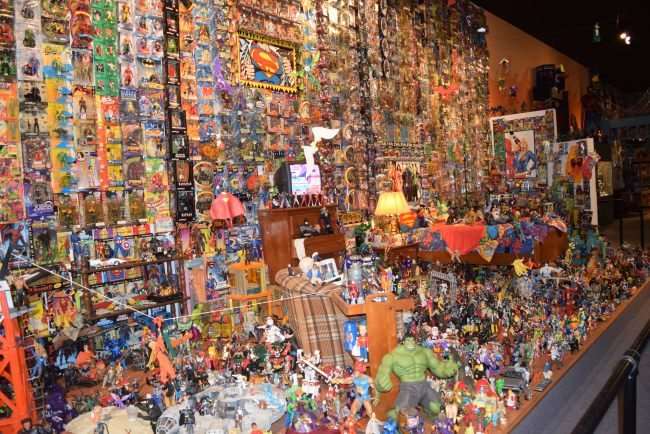 When you first enter the museum, you're presented with a diorama of an adult collector's bedroom. Reading the description below shows you the sense of humor apparent throughout the museum.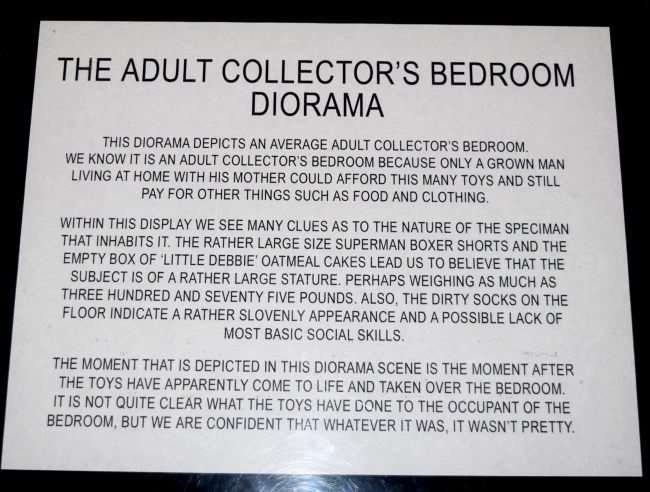 In the diorama, you can spend hours looking at all the toys. There are that MANY toys and figures! You'll find them on the floor, spilling out of the furnishings, and up on the wall. See what you can find. These are just a few things we found.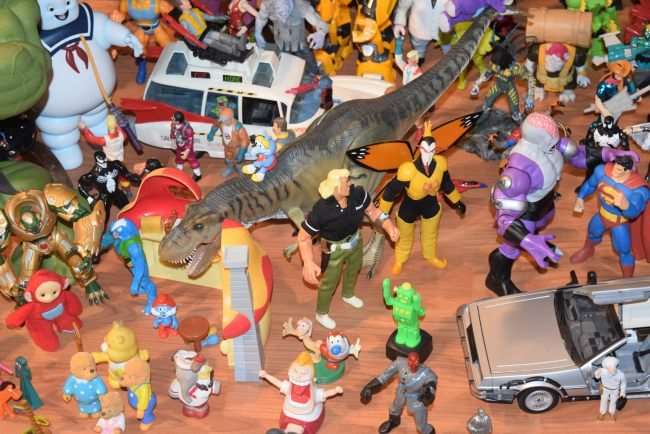 Stay Puffed Marshmallow Man from Ghostbusters and the Ghostbusters Vehicle, The Berenstein Bears, Gumby and Pokey, Teletubbies, T-Rex from Jurassic Park, Papa Smurf, and so many more.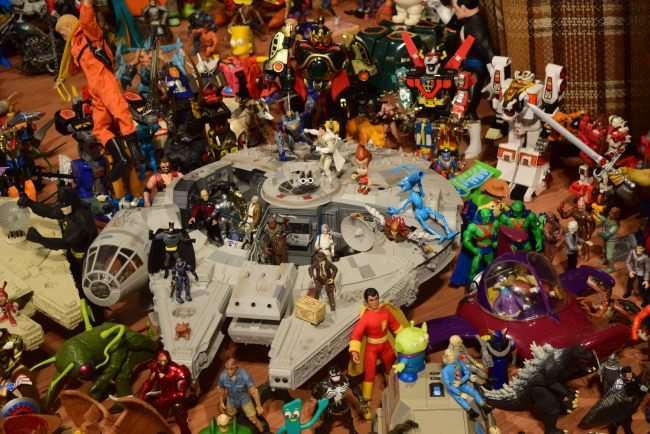 Trasnformers, Bart Simpson, Millennium Falcon with Chewbacca, Captain Piccard from the Starship Enterprise, Godzilla, Flash Gordon…..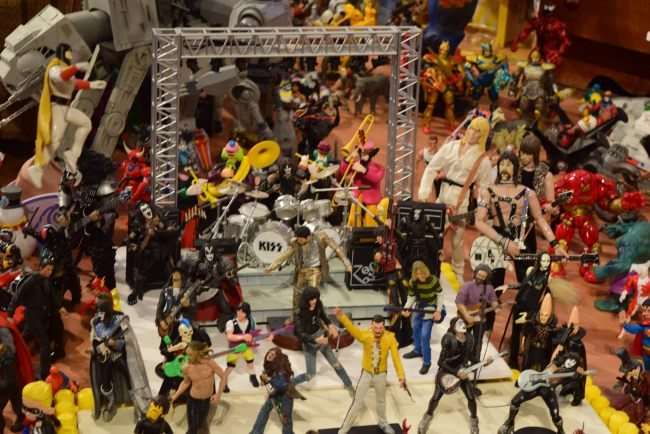 Space Ghost, the rock band KISS, Freddy Mercury, Dash Incredible, the Coneheads…. Who do you see?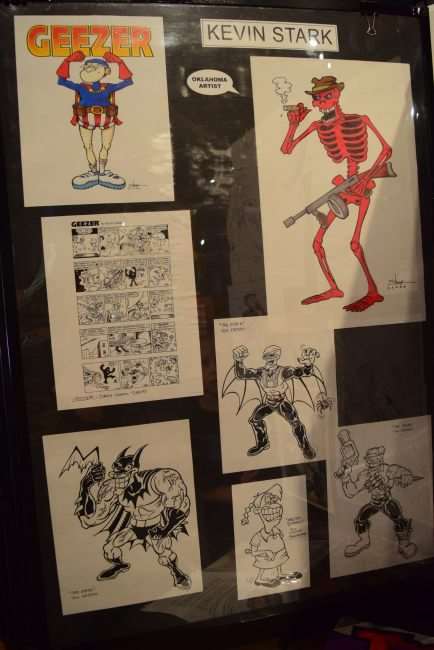 We had the opportunity to chat one on one with museum curator, Kevin Stark. Mr. Stark is an Oklahoma artist, toy designer, musician, and cartoonist. He is the creator of Geezer comics, a comic about the adventures of a 79 year old super hero (shown in the upper left of the image above).
He said that he wanted the museum to be fun for all ages. When asked about his favorite exhibits, he said that the adult collector diorama and the Bat Cave would be his top two. Look at the slideshow below and sneak into the Bat Cave.

This museum is a great place to connect with friends and family. My husband and I found ourselves explaining the what, who, and where of certain toys to the kids.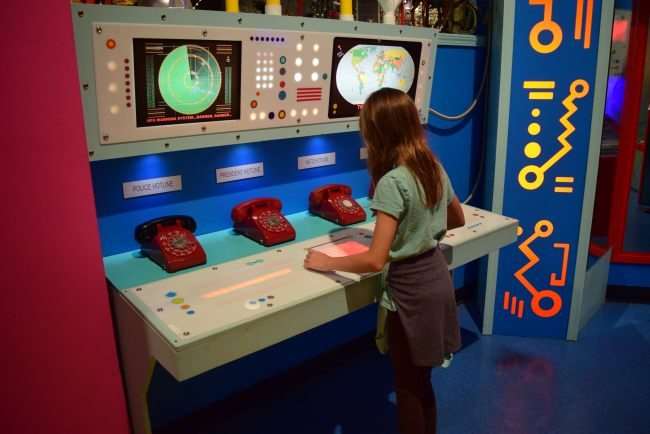 I even got an education with these red phones? Do you know what they are? Turns out that in the older cartoons, theses phones were the emergency hotlines to contact the super hero.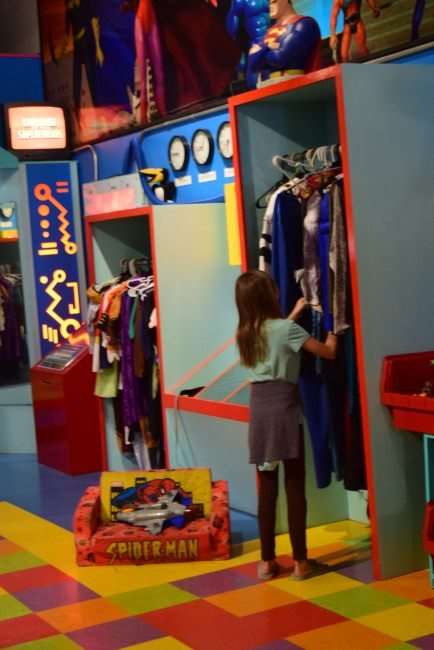 In the children's area, there are toys and costumes for the kids to play with. If they want to be a super hero, they can dress up and explore in costume.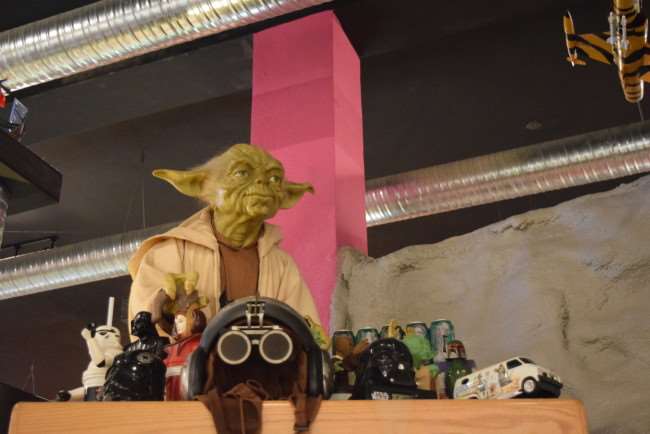 I am a Star Wars fan and there was plenty of figures and memorabilia. That Yoda was a life size (about 3ft tall).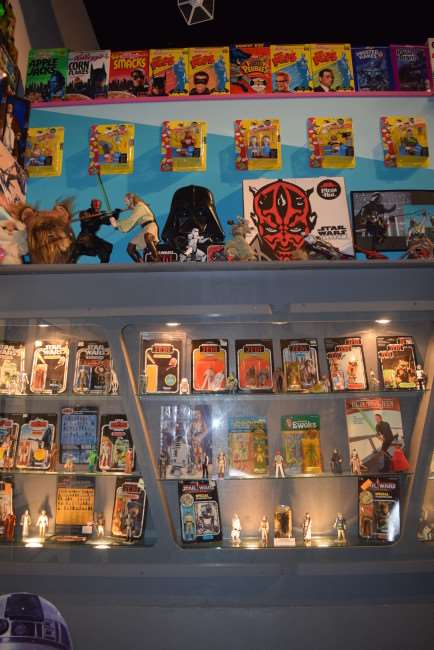 There were plenty of action figures, like some of these that were still new in box. In addition to toys, there are also food packages and other themed products.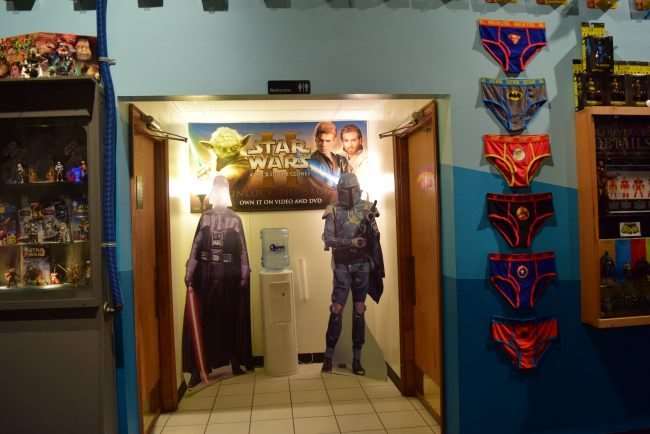 Just in case you needed to use the restroom, you just had to find the super hero underwear. Who didn't have a set of these as a kid? I remember mine where Wonder Woman. I don't know that I'd wear them now as an adult, but they are definitely fun, just like everything in the museum.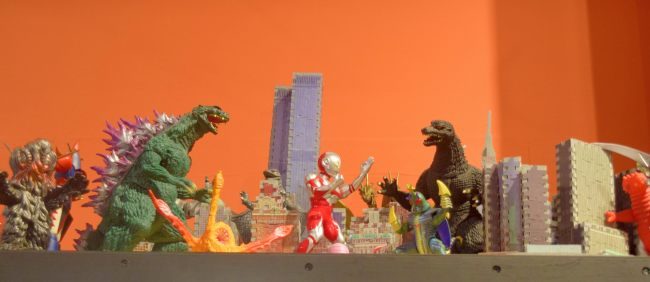 There are so many more great toys and exhibits in this one of a kind museum. I'd love to share them all here, but this article would quickly become a novel. Take yourself and your kids to explore this place yourself. You'll be SOOOO glad you did. Then afterward, head down to Bob's Pig Shop for amazing local barbecue.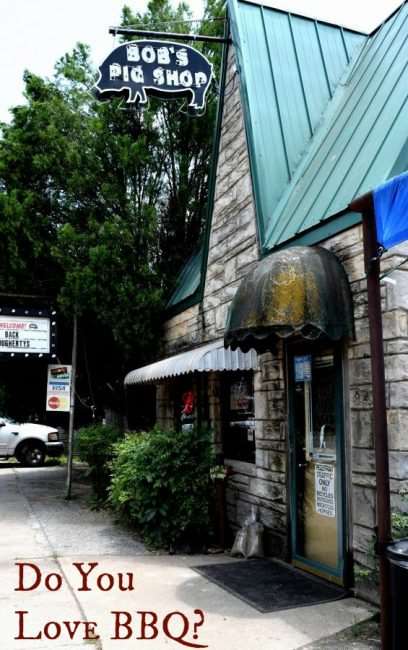 Find out more about the Toy and Action Figure Museum or other family friendly destinations on the Adventure Road website. You'll find the best places to visit, stay, and dine at along the I-35 corridor in Oklahoma. One of our favorites in southern Oklahoma is the Chickasaw Cultural Center in Sulphur.
Even if you've never though about visiting Oklahoma before, come and explore all the fun and adventure we have to offer.
Whether you are looking for a fun destination or just driving through, head out on the Adventure Road to visit the Toy and Action Figure Museum and have a great time! The sooner you get here, the more fun you'll have!
I received complimentary admission for this article. All opinions expressed are 100% my own.
SaveSave
SaveSave
SaveSave