Ranked as one of the top 10 zoos in the United States, the Oklahoma City Zoo is the perfect place for family-fun. As families look to get outdoors, the zoo 100+ acres provide plenty of space to roam and go wild!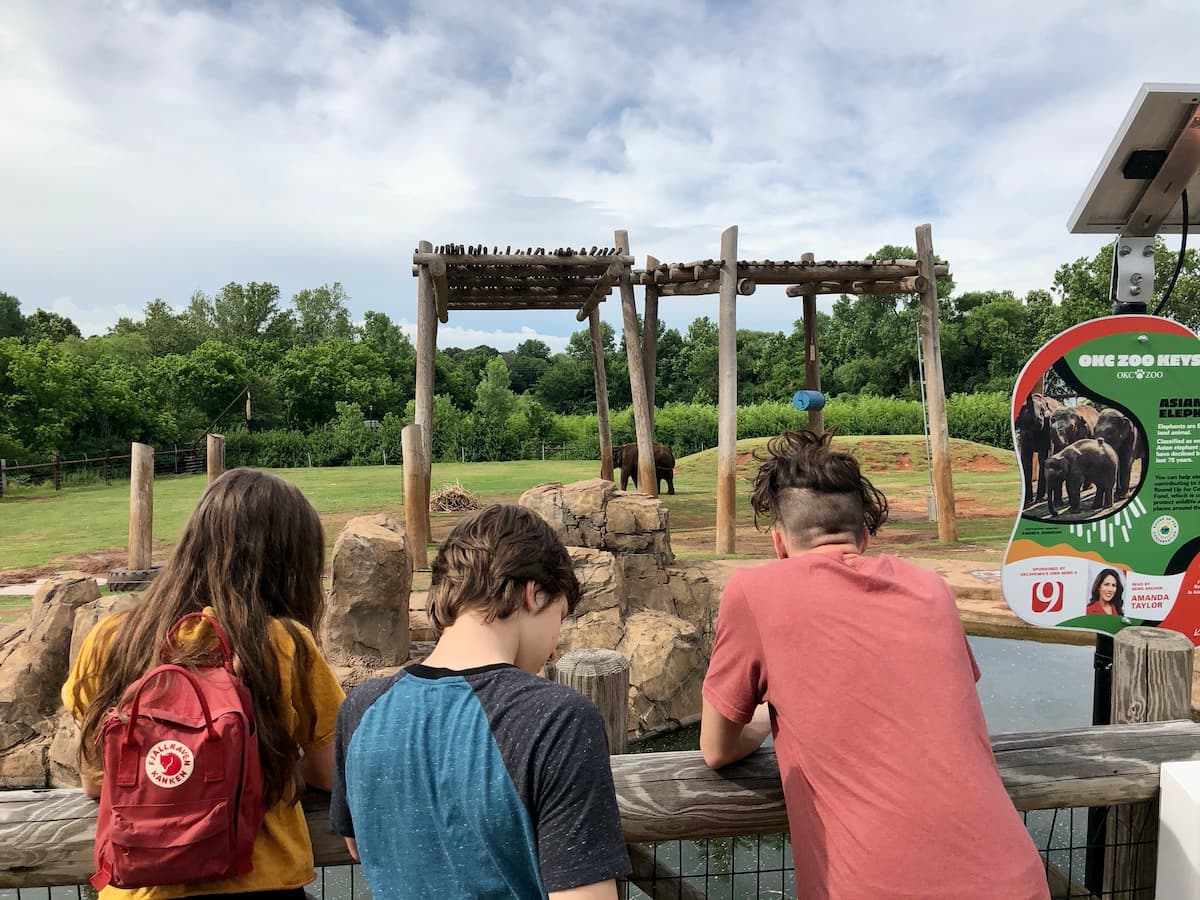 Children and adults alike seek out their favorite animals in Sanctuary Asia, Great EscAPE, Cat Forest, Oklahoma Trails, and other exhibits. We have been ZooFriends members for many years and want to share little things that make visits more memorable. From zoo stories to splash pads and animal encounters, these are the things you can do with the family on your next visit to the OKC Zoo.
A Full Day of Fun at the OKC Zoo
You can easily spend the entire day at the OKC Zoo. Covering over 100 acres with over 1900 animals, there is a lot to see. We find it easiest to start the day at the back of the zoo in Sanctuary Asia and work our way back to the front entrance. There are few trees or shady spots in the Savanah area, so plan to do those before noon. Then during the heat of the day, you can enjoy the shady areas in the Cat Forest, Great EscAPE, and Children's Zoo areas.
Bring a water bottle with you. Due to COVID-19, the water foundations on the trails are turned off. Yet there are refill stations at the zoo's restaurants.
Outside Food & Drink Allowed
The OKC Zoo is one of the few attractions that allow guests to bring outside food in. You can store your ice cooler in your car or store it near the entrance by the children's playground.
OKC Zoo Keys are Back
This Oklahoma zoo has many, many stories to tell. It did, after all, begin back in 1902. Do you know the song "All I Want For Christmas is a Hippopotamus" sung by Gayle Peavey? The song was a fundraiser to raise enough money to bring Pygmy Hippos to the zoo.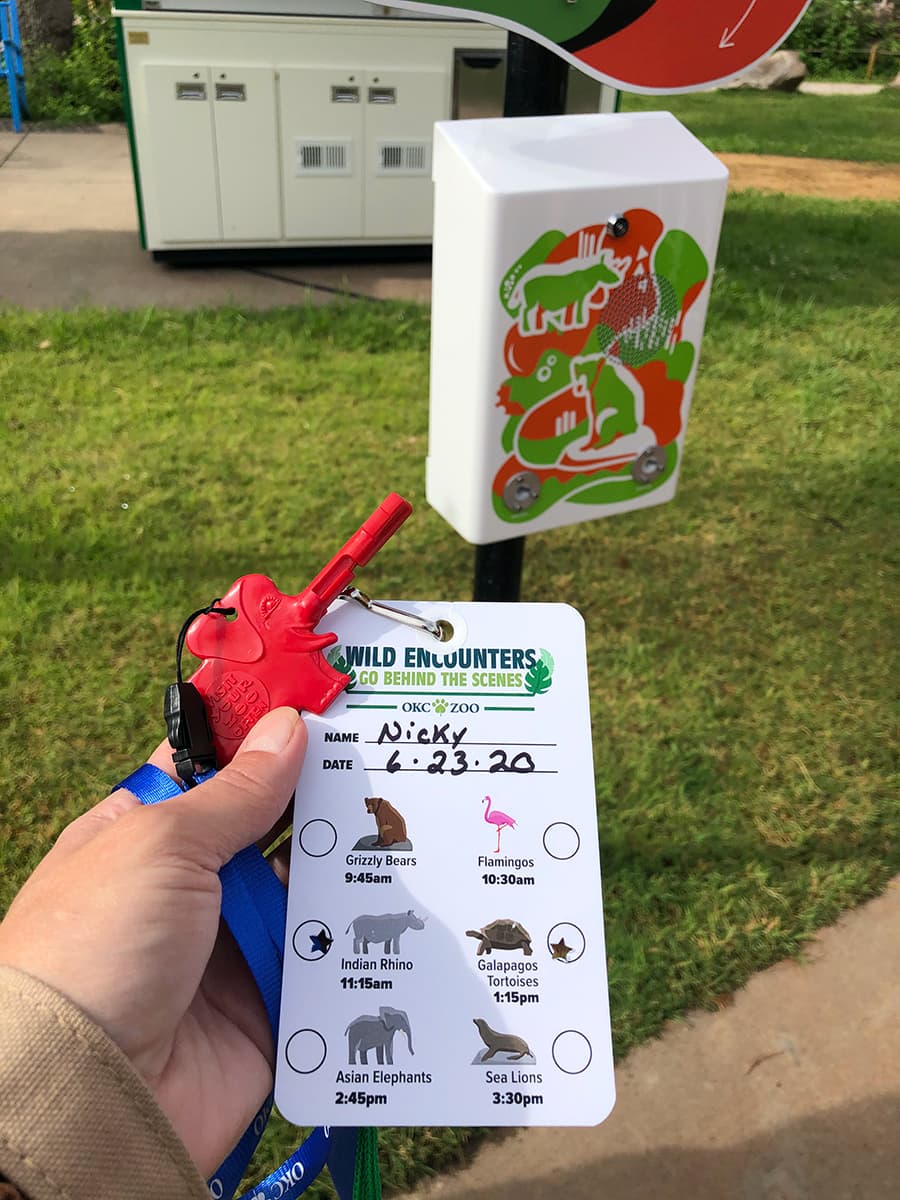 Buy a $4 OKC Zoo Keys to unlock and hear these zoo stories as well as animal and habitat information. They are molded plastic that slide into displays located throughout the zoo. During our visit in June 2020, there were 20 displays that included stories narrated in English and Spanish by local News9 staff.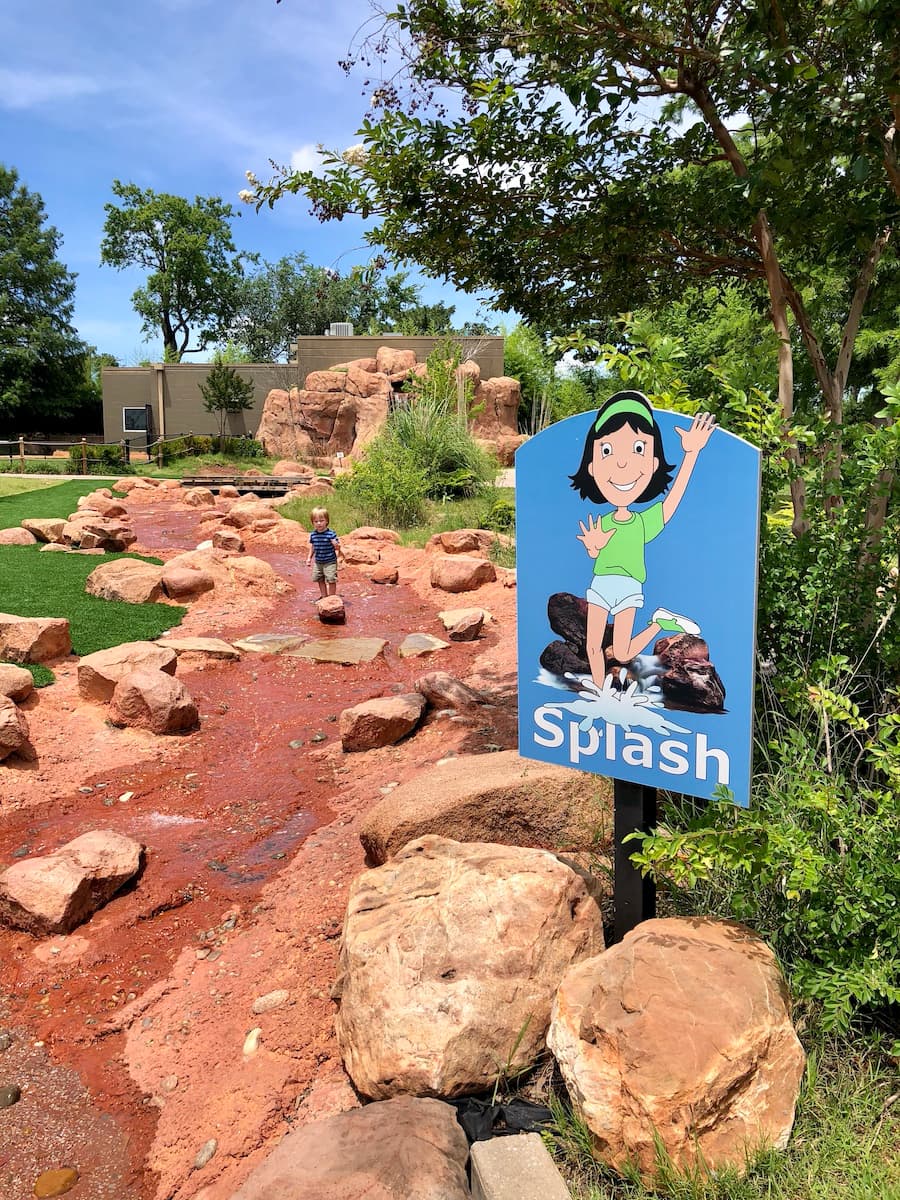 Make a Splash to Cool Off
Oklahoma summers can be HOT! So when temperatures begin to soar, children love the splash areas located in Sanctuary Asia in front of the pavilion and in the Children's Zoo. They both offer great places to cool off and take a break.
Don't Walk, Ride
The Oklahoma City Zoo and Botanical Gardens is a beautiful place to walk, but you can also ride a train, a tram, or a camel. Yes, a camel! New in 2020, camel rides return to the zoo. Guests ride atop one of two Dromedary Camels in the yard in front of the former Pachyderm Building. Cost is $6 per person.
Guests can also travel aboard the Elephant Express Tram. This non-stop train will take you from the zoo's front entrance back to Sanctuary Asia. It's the quickest way to get there and back.
Did you know Sanctuary Asia was voted one of the top zoo exhibits by USA Today 10 Best readers?
Keeper Chats
Keeper chats are another way to learn about animals. Chats allow guests to ask questions and learn more about the animals the zoo cares for. It also is a great opportunity to learn how conservation efforts are helping animals in the wild. These chats are scheduled throughout the week and times can be found on the daily schedule.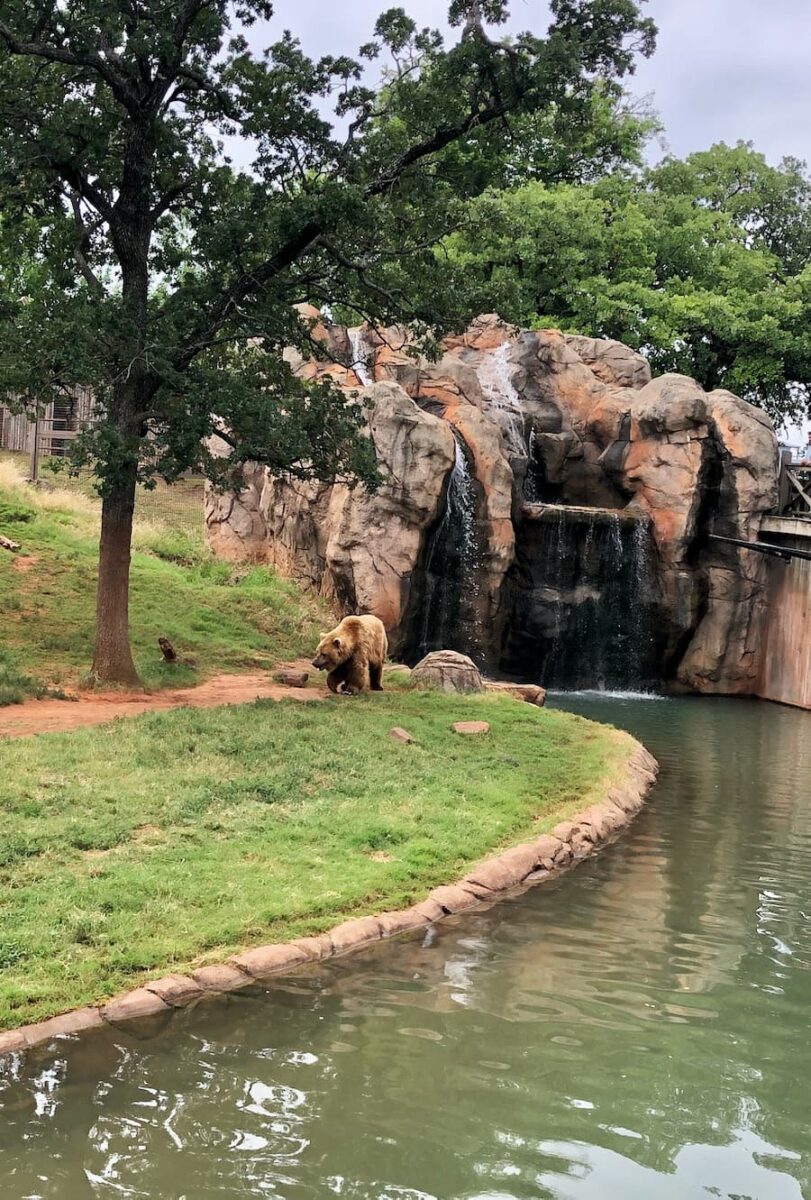 We love heading to the 8 acre Oklahoma Trails exhibit to see native Oklahoma animals including Grizzly Bears, White Tailed Deer, Bison, and Bald Eagles. There are more than 100 different species and keepers can talk about many of them. Also, half way through the Oklahoma Trail is a General Store next to the bat house. You can get hand scooped ice cream there. Welcome cold treat ona hot summer day! Another favorite exhibit is Great Escape with their Lowland Gorillas, Chimpanzees, and Orangutans.
Wild Encounters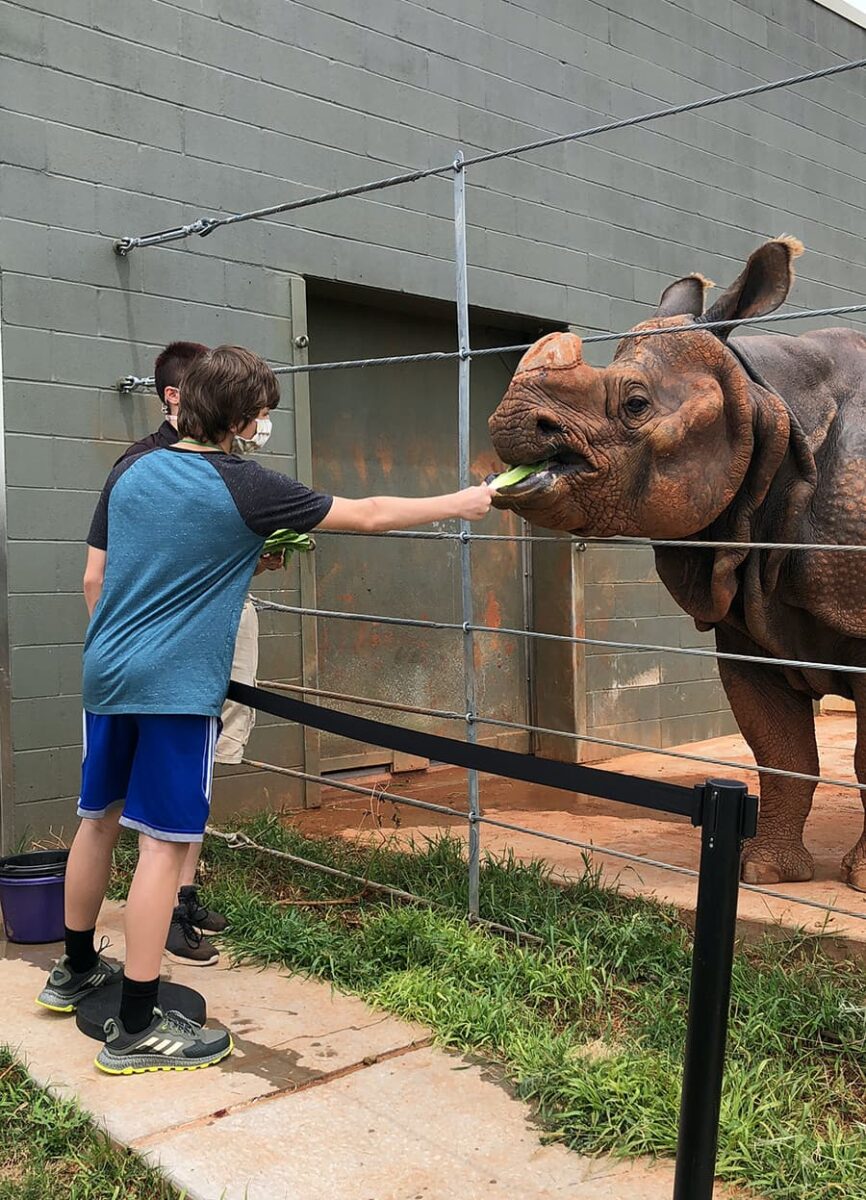 Imagine going behind the scenes to ethically get up close with one of your favorite animals. Guests can upgrade their zoo visit with an animal experience known as a Wild Encounter to see, interact, and feed sea lions, Grizzly Bears, flamingos, Indian rhinos, Asian elephants, and/or Galapagos Tortoises. Read more about our OKC Zoo animal experiences when we interacted with the tortoises and the rhinos. Each encounter takes groups of 6 or less people on a private tour before connecting guests with zookeepers to learn more about the animals and lead interactions.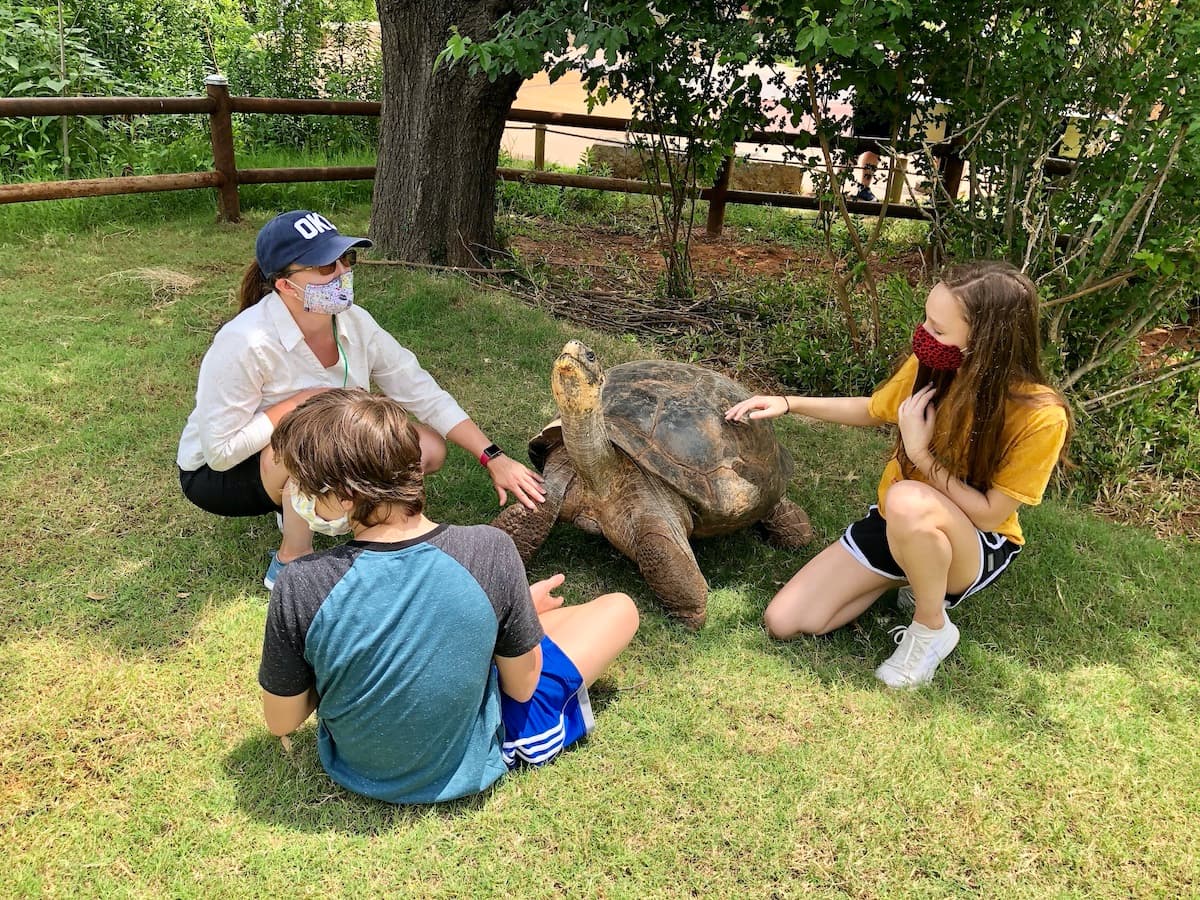 Cost is $36-$50 per person in addition to zoo admission.
Read more about the best Oklahoma City Zoo animal encounters we did on a recent trip.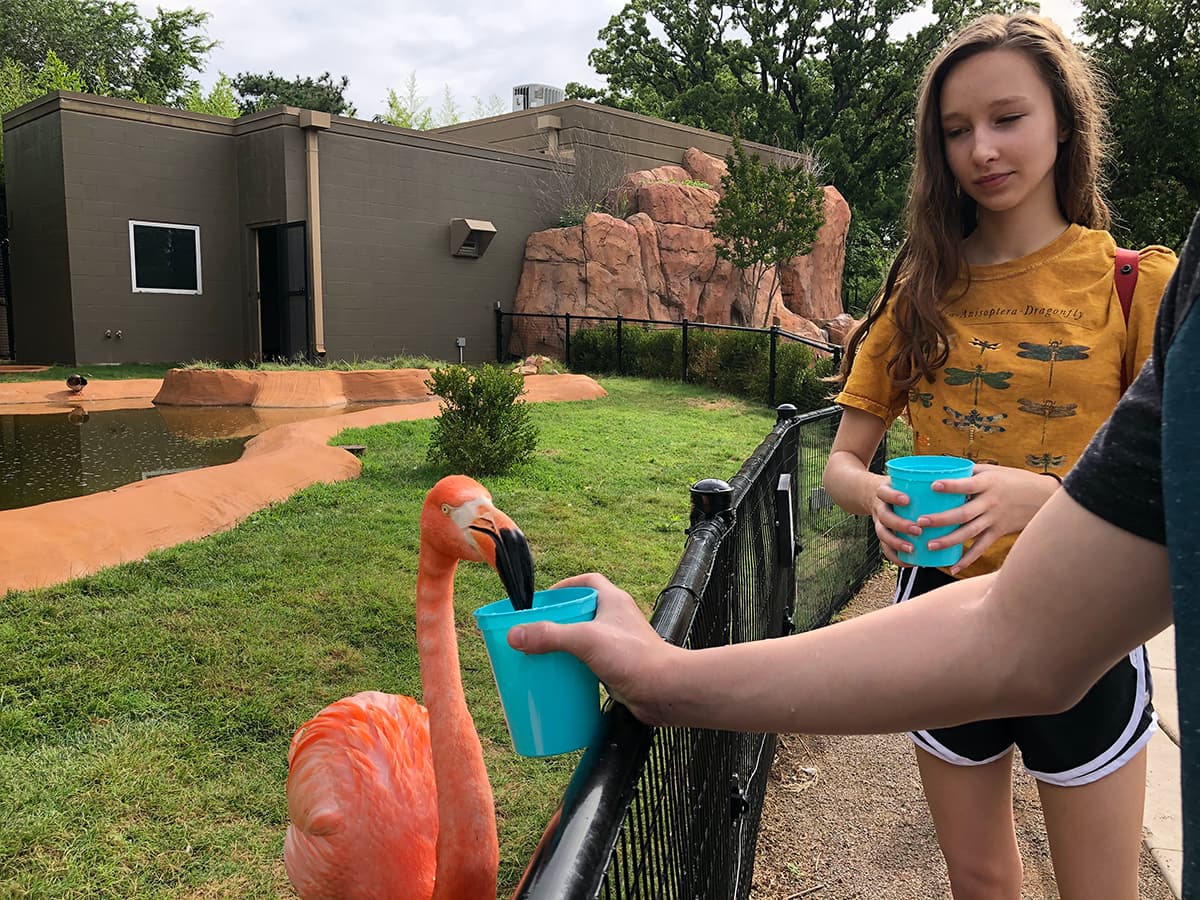 For lower cost interactions, you can feed the giraffes, American Flamingos, Lorikeets, or sting rays. The OKC Zoo is a member of the Giraffe SAFE (Saving Animals from Extinction) program and they donate annually to giraffe conservation programs in Africa.
Animal Conservation Efforts
Speaking of conservation efforts, there are a number of ways you can help the zoo in their local and global conservation efforts.
Round Up for Conservation – When you make any purchase at the Oklahoma City Zoo, tell the cashier to round up for conservation and keep the change. All money received goes towards conservation programs.
Conservation Wristbands – These $2 wristbands are a great souvenir that gives back. There are now ten designs in all. All proceeds go to conservation efforts.
Annual events – The zoo's annual events like World Oceans Day, Sip & Stroll, and Bowling for Rhinos also help raise money. They offer both family-friendly and adult only events. Check the zoo's website for a list of current events.
Oklahoma City Zoo Information
Address: 2000 Remington Place, Oklahoma City
Hours: The zoo is open daily 9am to 5pm. During the summer months, the zoo opens early at 8am.
General Admission: Adults $12, Seniors and Children (ages 3-11) $9, Children 2 and under are admitted free. Military Member Admission is ½ off for servicemember/veteran/retiree and up to 4 guests with valid military ID.
COVID-19 Update: For entry into the zoo, online reservations are required for all guests. These advance tickets help in limiting the number of guests and maintain appropriate social distancing. Online reservations are available online for entry between 8am and 3:30pm.
You can get tickets/reservations at OKCZoo.org. Face masks are mandatory for zoo staff throughout the property. Guests are required by Oklahoma City ordinance to wear face masks indoors that are open to the public at the time I'm updating/writing this article through early September 2020.
Need a Hotel While You are in Town?
Try these nearby hotels off NW Expressway (west of the zoo) via Expedia
North of the zoo off Interstate 35
You can also see recent reviews on Tripadvisor. For more information on what to do in the area, also check out our list of favorite things to do in OKC and these recent articles on Oklahoma.