If you love animals, these six animal experiences at the OKC Zoo are sure to excite, thrill, and amaze you! Imagine going behind the scenes at the Oklahoma City Zoo for a guided tour that allows you to get up close to hand feed an Indian rhino or feel how smooth the inside of a Galapagos Tortoise shell really is. Are you curious about how an American Flamingo eats or maybe what color a giraffes tongue is? Upgrade your next zoo visit with an animal experience.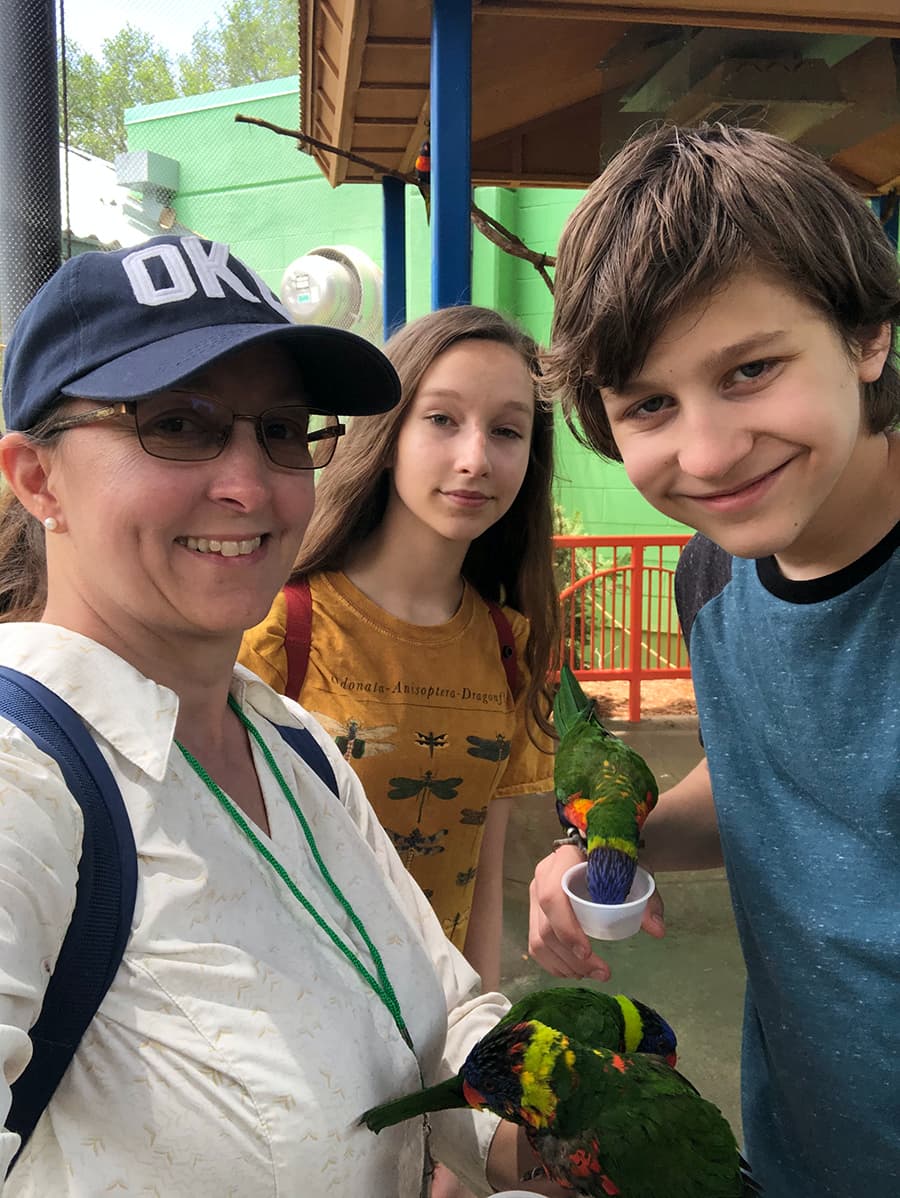 We recently visited the zoo for a fun filled day complete with animal experiences that we share with you here. The activities range from short feeding experiences to one hour small group tours called Wild Encounters. Each experience is sure to thrill and excite any animal lover. Below our daughter writes what she loves best about each and why you'll want to schedule your own animal adventure.
Since COVID-19, our family seeks out outdoor activities and those that make it easy to social distance. A trip to this Oklahoma zoo is great for locals and visitors alike that wish to do the same. Discover all the fun you can have and at the end there is a short note on protocols that the zoo has in place (current as I write this).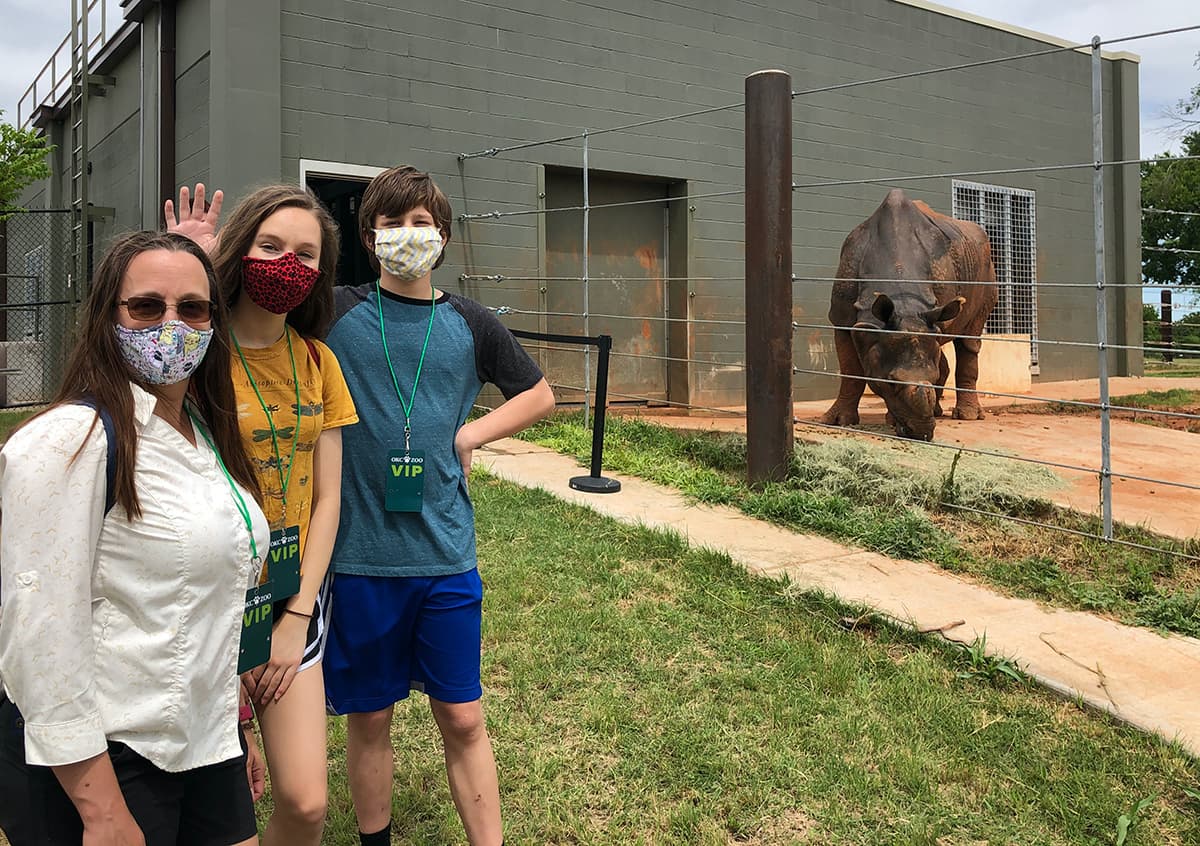 Go Behind the Scenes for Wild Encounters
For the true animal lover, book a Wild Encounter and get a personal behind the scenes tour to visit the zoo's resident Grizzly Bears, Indian Rhinos, Galapagos Tortoise, Sea Lions, and/or Asian Elephants. These animal encounters guide a group of up to 6 people through the animals homes/exhibits to learn more about them, their care, and conservation efforts. The most thrilling part is getting the unique opportunity to offer them a tasty snack.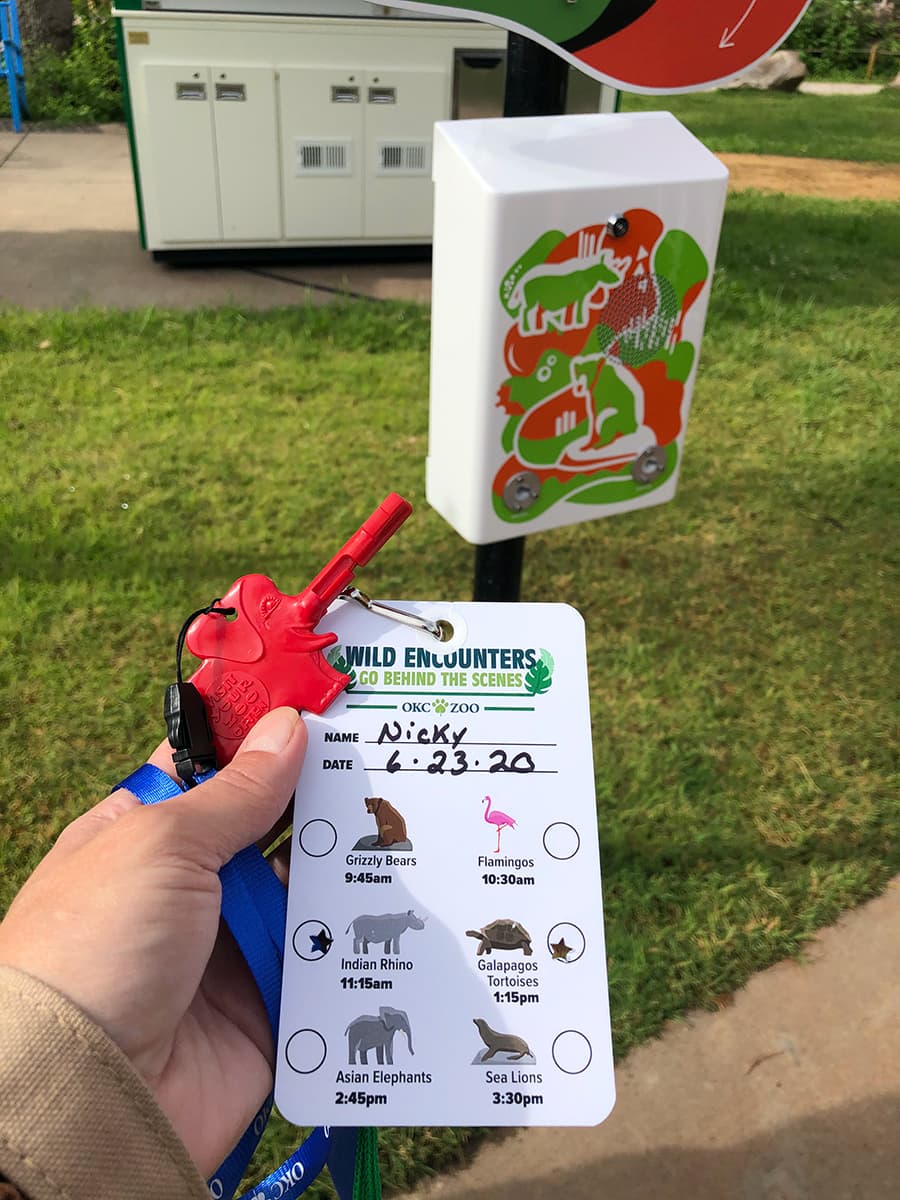 Each Oklahoma City Zoo Wild Encounter is offered once daily. Therefor advanced reservations are strongly encouraged. All animal experiences are in addition to general admission.
Pin This for Later…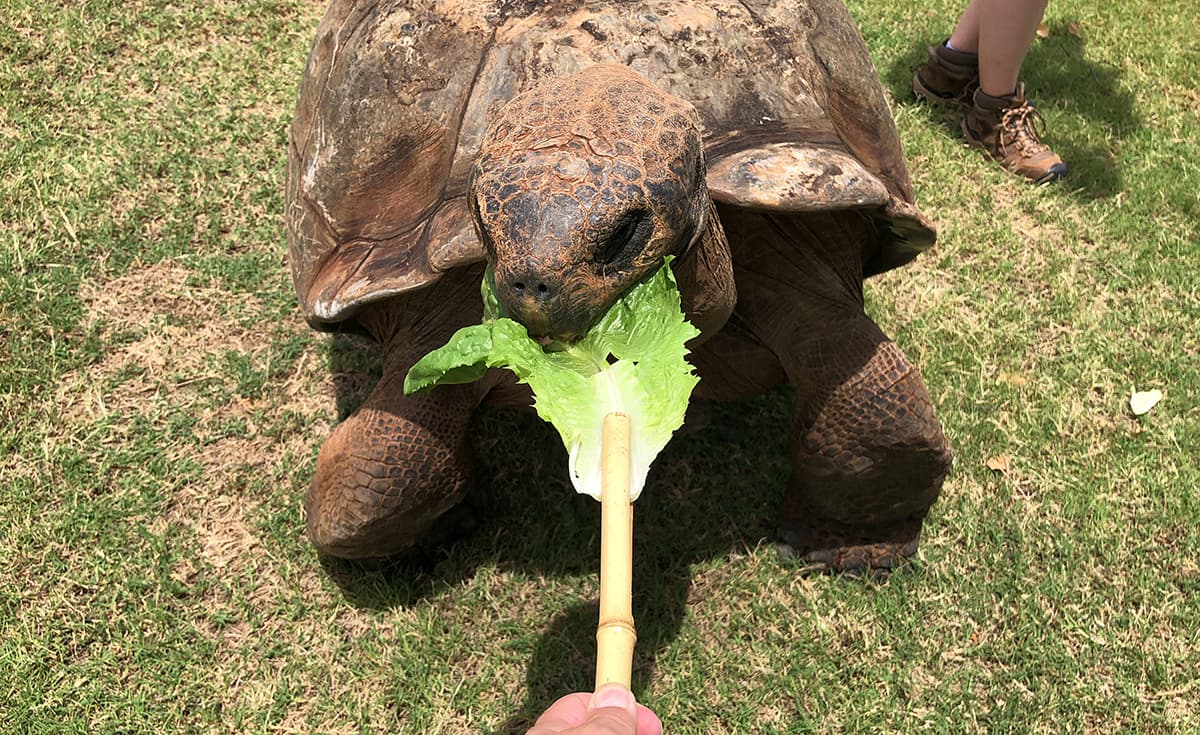 Galapagos Tortoise
The Galapagos Tortoise experience was by far one of my families favorites! The experience includes lovable and important information on each of the zoos special Galapagos tortoises. From historical facts about how the keepers know their ages due to poaching techniques used way back when to fun tidbits about each of the different personalities and favorite scratching spots of each tortoise. This wild encounter is extremely hands-on for everyone. Your zoo friend will take you into the enclosure for a full upfront view of the tortoises. You get to greet them all and use the information you learned about their personalities to scratch their most loved spots.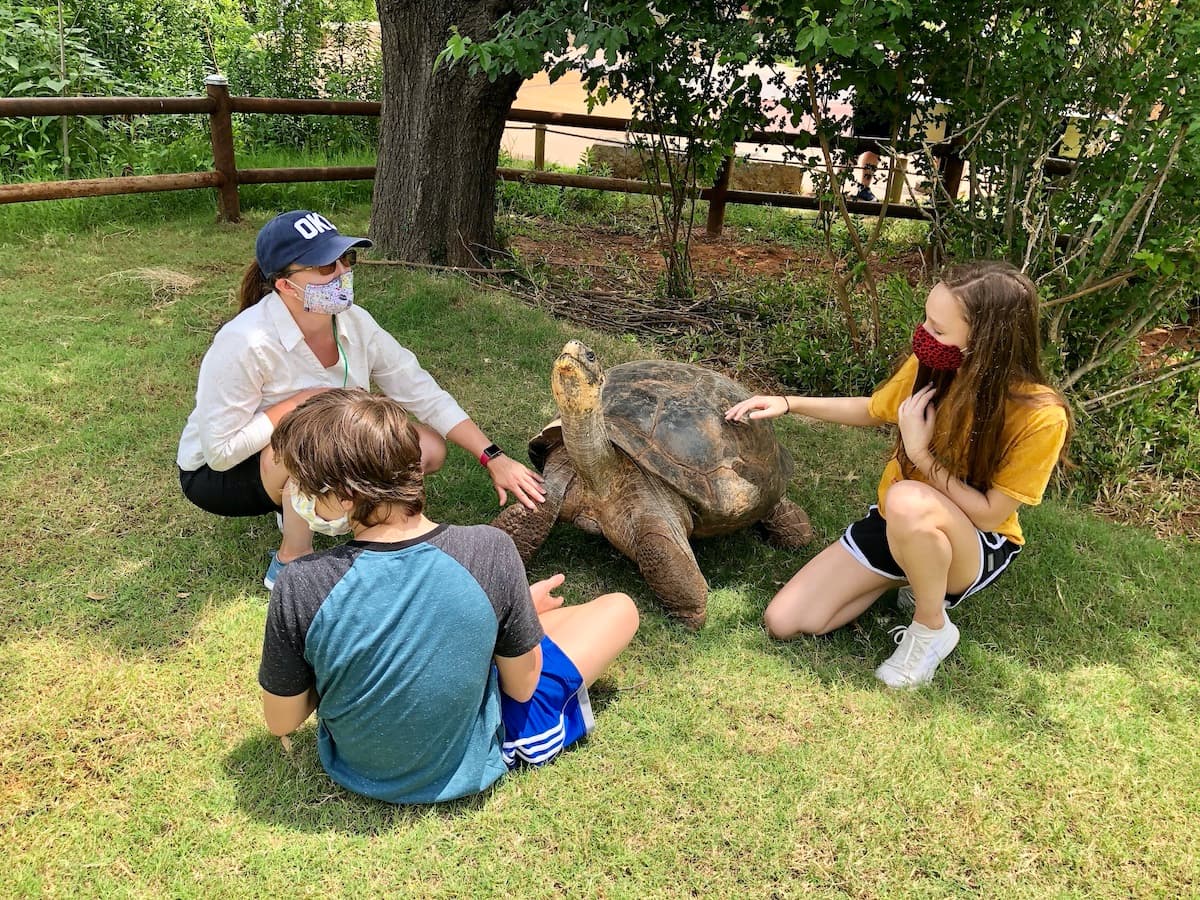 Some may be a bit shy at first, but they always seem to warm up for a good scratch on their neck. After meeting each of the large tortoise friends you will be able to feed them some of their favorite snacks. It's super fun watching them chomp down. Just because they are tortoises doesn't mean they are slow to get some grub. They might even sneak up on you if you aren't paying attention. Try wearing some bright colors when taking this adventure as it reminds the tortoises of food, but don't worry they won't try to chomp your shirt just get closer for a look.
Cost $36 ZOOFriends Members/$40 nonmember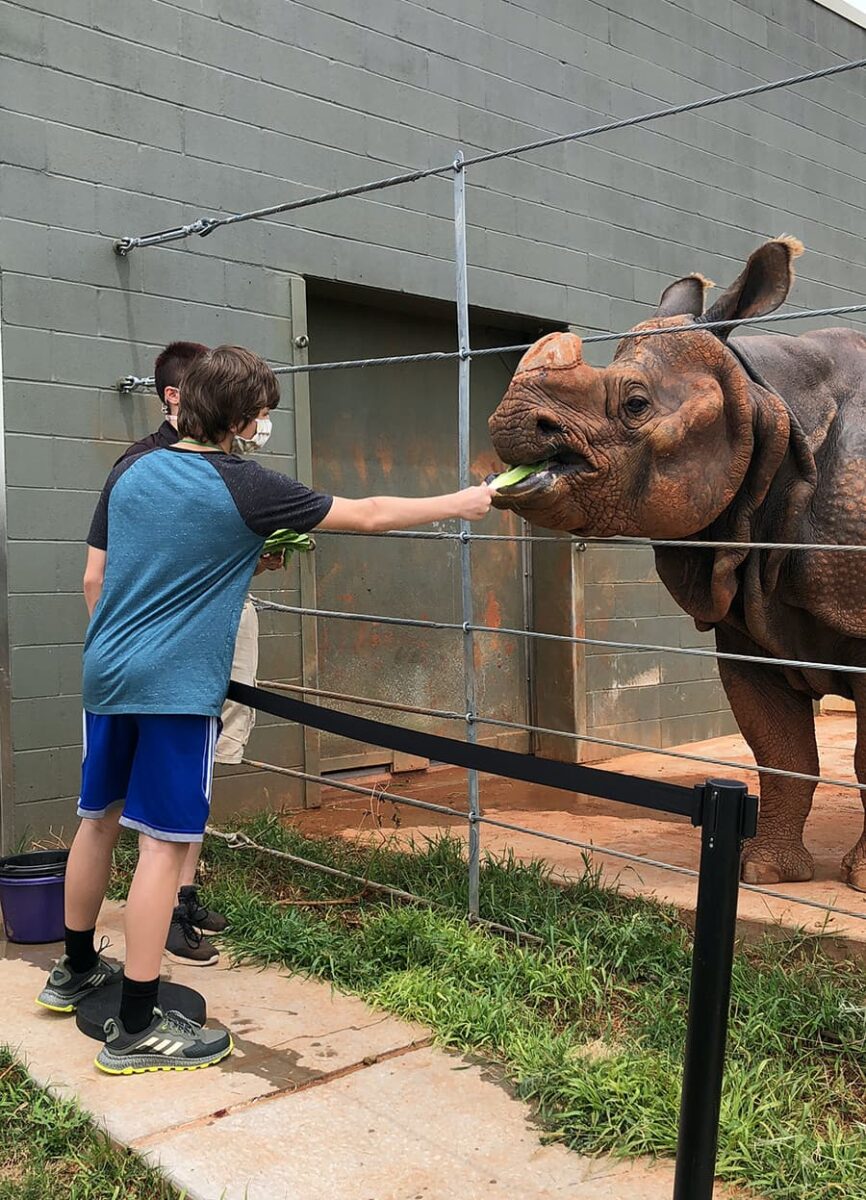 Indian Rhinos
The Indian Rhino encounter provides a guided tour of Sanctuary Asia and a behind the scenes look at the zoo's resident rhinos. The encounter starts off with an adventure around the zoo's Asia exhibits. You will learn all about the inhabitants from Komodo dragons to red pandas. As the Zoo keepers talk with you and your family through each section, some key points talked about are the important breeding programs to keep each species alive and thriving. These conservation programs effect many animals which call the OKC Zoo their home.
After your brief adventure, the main exhibit will start by your zoo friends taking you down to the Rhinos exhibit. The encounter takes you to an area gated off to regular zoo guests where you will come face to face with an enormous Indian Rhino. The Rhino will be gated where a keeper will hold the resident's attention with various snacks for them to munch on as you learn more about them. After learning more in-depth with the keepers about Indian Rhinos you will have a chance to feed the Rhino up close if you dare. This opportunity provides an up-close look at a rather unique creature. Overall the Indian Rhino encounter is a very good learning experience for the whole family to become more educated about the zoo's programs and inhabitants in Sanctuary Asia.
Cost $36 ZOOFriends Members/$40 nonmember
Find more family fun activities in Oklahoma City with this list of favorite OKC attractions and events.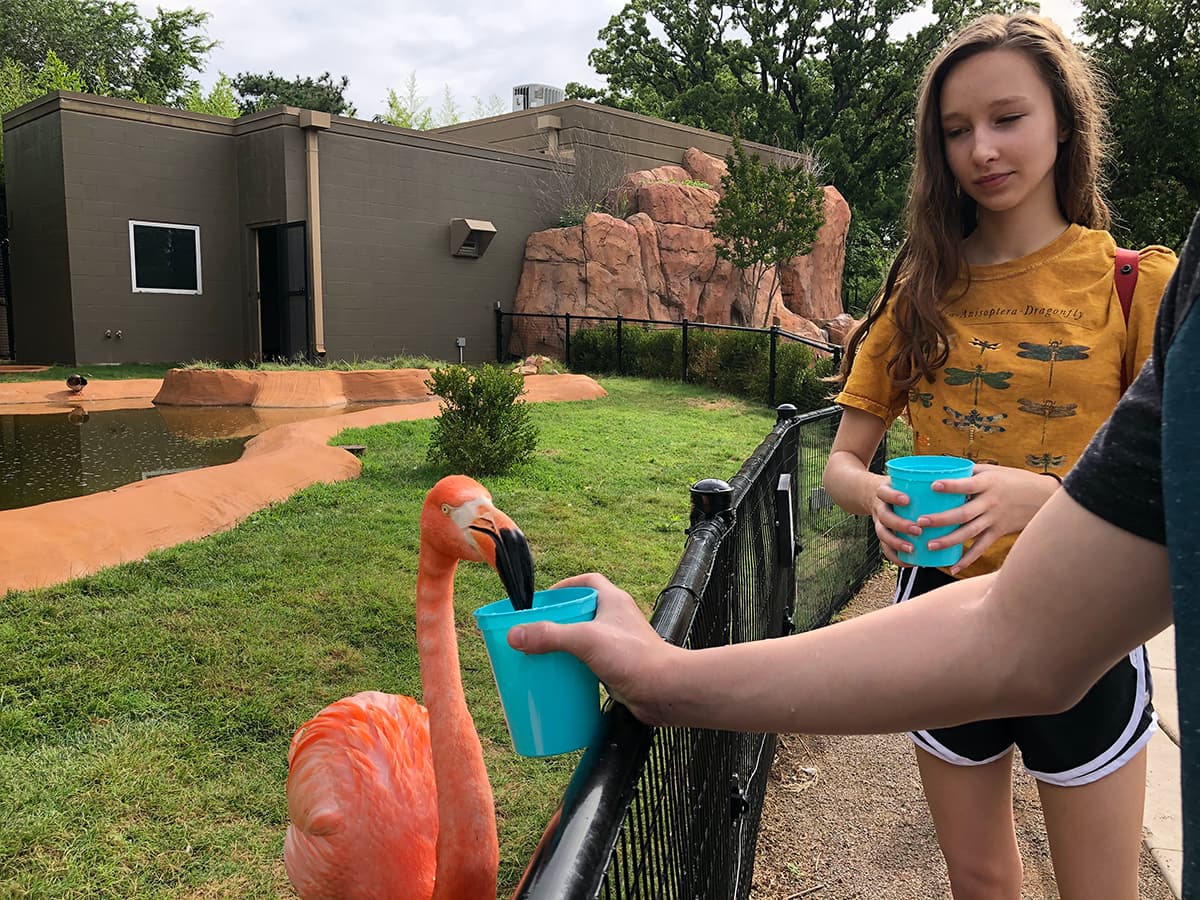 Flamingo Mingle
The Flamingo Mingle is a super fun animal experience to bring you closer to these colorful residents. It starts when a keeper giving you a cup filled with water and food for the zoo's American Flamingos. The food might be pellets or krill depending on what the flamingos will have that day. The water might seem strange but it is very important in simulating how the pink birds eat in the wild. They naturally eat by sticking their heads upside down and filtering their food from the water. Once you have your cup you can present the food to the residents. They will actually strut towards you for their meal. It is a bit messy and they aren't scared to get water all over your hands. So hold on tight as you watch the flamingos slurp up their grub. At the end of your encounter, a keeper will give you a fresh cup to take home!
Experience available twice daily (one hour AM and one hour PM) – Cost $7 per person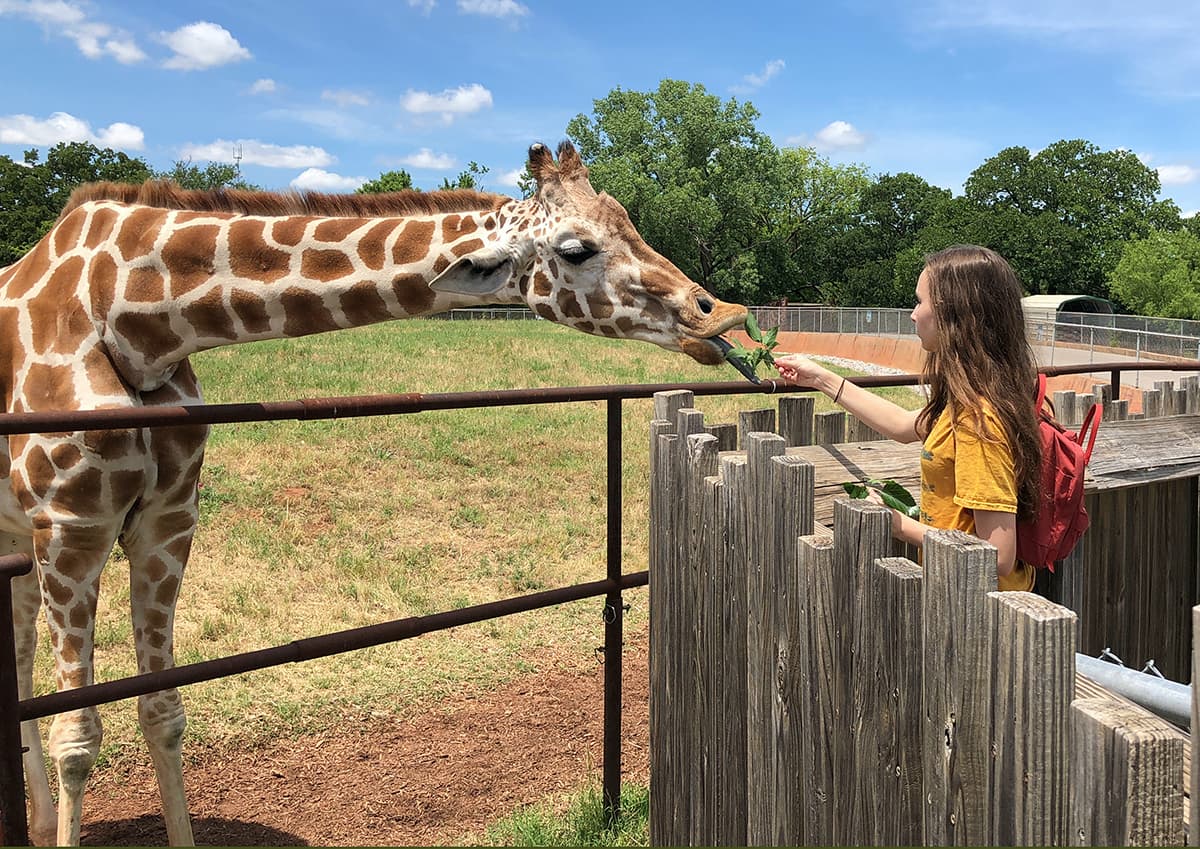 Giraffe Feedings
Giraffe feeding is a must do animal encounter for our family. We enjoy this encounter for its up close time with the amazing giraffes at the OKC Zoo. Each of the giraffes have their own personality. They might be ready to chow down or sometimes be a little aloof. You may feed them a variety of green, leafy snacks including romaine lettuce and foraged leaves collected from various trees on zoo property.This encounter does go by rather fast, so have your cameras out and ready for when this long necked resident pulls in their food with an eighteen to twenty inch long purple tongue.
If you live in or around Oklahoma City, be sure to check out the savings you on area attractions get when you buy an annual OKC Venture Pass.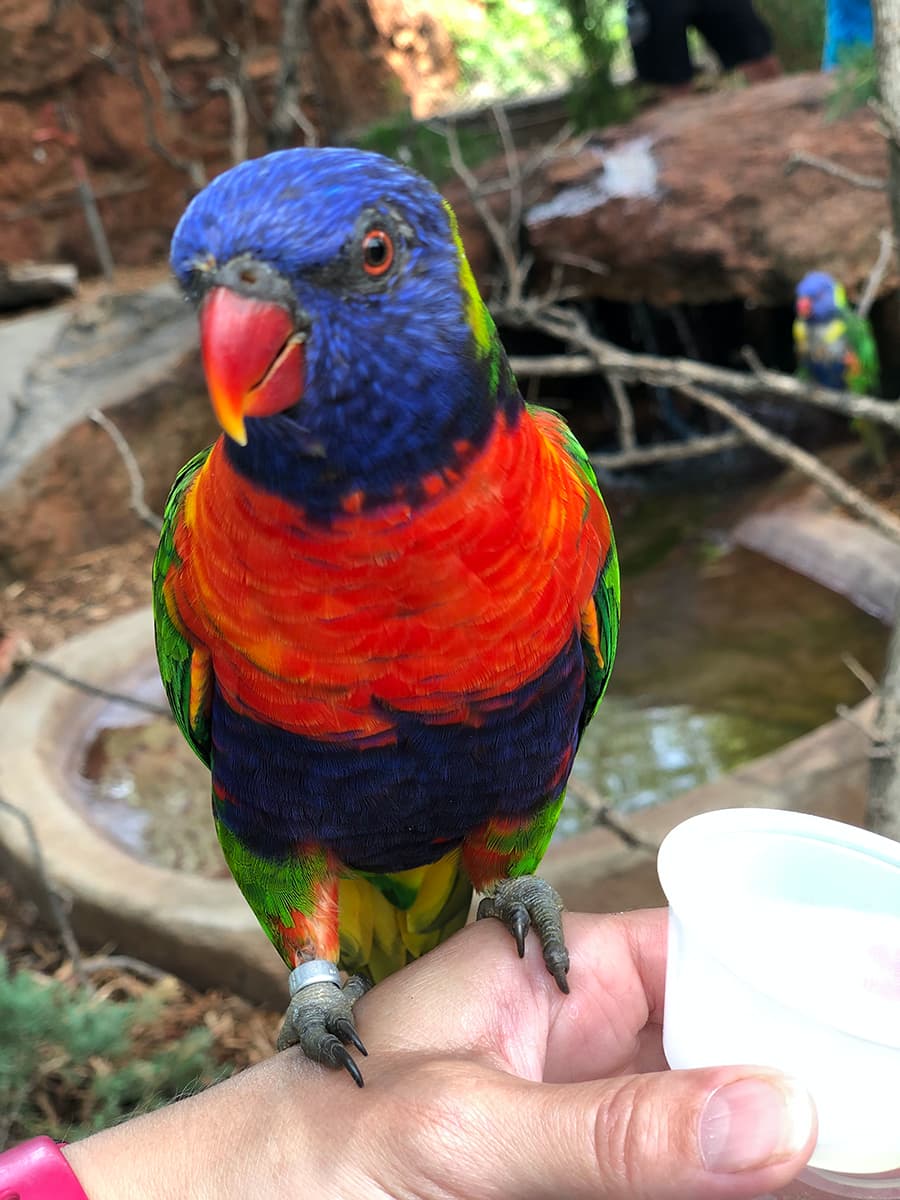 Explorikeet Adventure
Feeding Lorikeets is such a fun interactive feeding activity. This adventure allows you to feed juvenile lorikeets from the palm of your hand. When entering you are given a small cup full of nectar that you open after you enter their enclosure. In this space, the birds walk and fly freely under you, under the close eye of zookeepers. Be careful though, as you open your cup the lorikeets will fly towards you to get their sweet nectar. The birds aren't afraid to get up close. They will land on your arms, hands, back, and maybe even your head. One cup is all you need for a sleeve full of birds, but the more snacks the more they will be all over you. A very fun experience for anyone that absolutely loves feathered friends.
Available throughout the day with a break at midday – Cost $4 per person
These are just six of the animal experiences you can have at the Oklahoma City Zoo. We did ALL six of these in a single day and you can too! Check the Zoo's Website for more on currently happenings, zoo hours, recent zoo animal babies, and more. This year they have added Camel Rides, Flamingo Mingle that we talked about above, the return of Zoo Keys, and later this year they expect a baby rhino to join the family.
Be sure to check out the other things you won't want to miss at the Oklahoma City Zoo.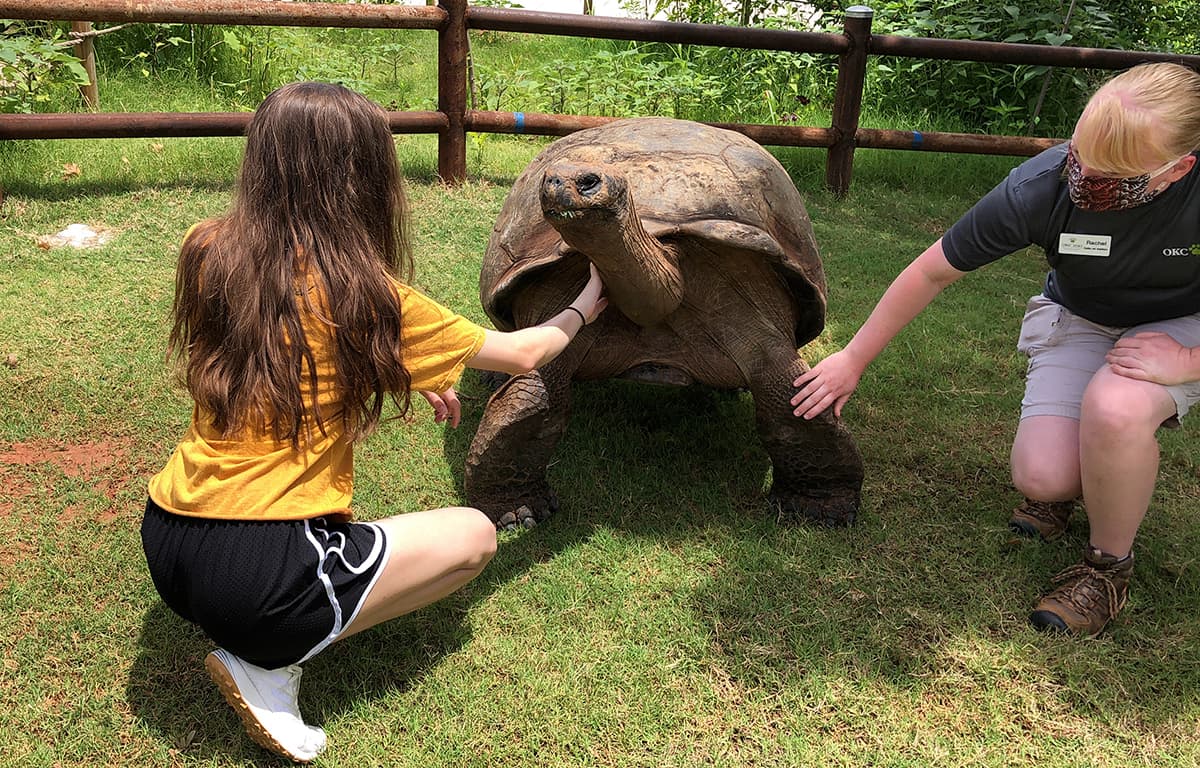 COVID-19 Update: Admission capacity is currently limited to allow for ample social distancing. Therefore, guests and ZOOfriends members are asked to make advanced entry reservations. It's easy to do online at OKCZoo.org. Oklahoma City currently has a mask ordinance in effect that required all people age 12 and older to wear a mask indoors. Yet wearing a mask at all times is strongly encouraged. OKC Zoo staff wear masks at all times and masks are required for the Wild Encounters experiences.
See more things to do, see, and eat in Oklahoma: