Oklahoma City is named one of the TOP travel destinations by Travel and Leisure magazine in 2020. You'll find an array of things to do in Oklahoma City that you'd never expect. But don't take their word for it. Take mine because I LIVE HERE. This local guide is written by someone who loves to explore her backyard. Here you'll find the best in local outdoor recreation, seasonal activities, the best museums, things to do with teens and kids, events, and restaurants. You'll find plenty to fill your vacation itinerary on your next visit.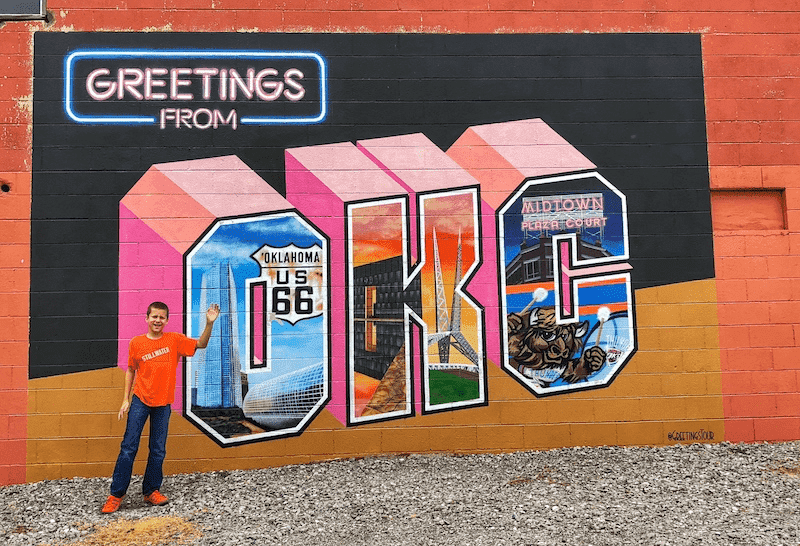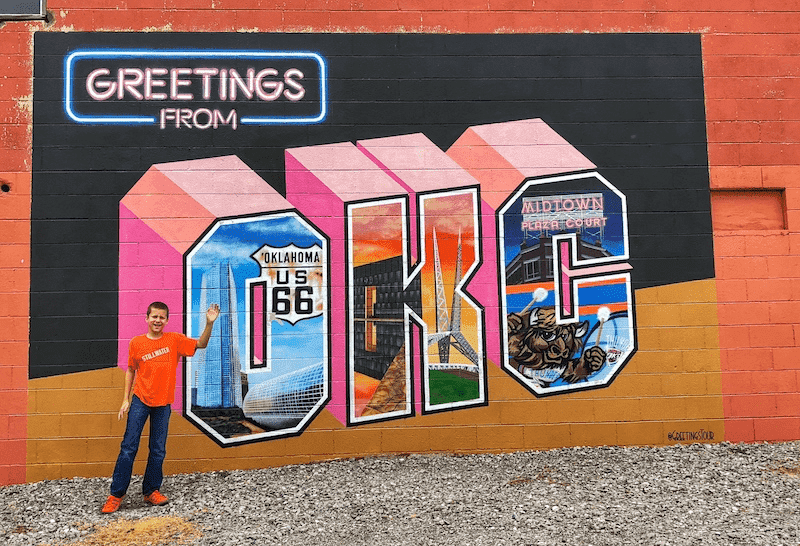 As a family lifestyle and travel writer/blogger, I travel quite a bit and when I'm out of town, I often hear "I've never been to Oklahoma. What is there to do there?"
Let me start by saying that the city is BOOMING! There are new places opening ALL the time. The First American Museum will be opening too. So I'm updating this list regularly!! Be sure to save bookmark this or just pin this article so you can come back to in the future.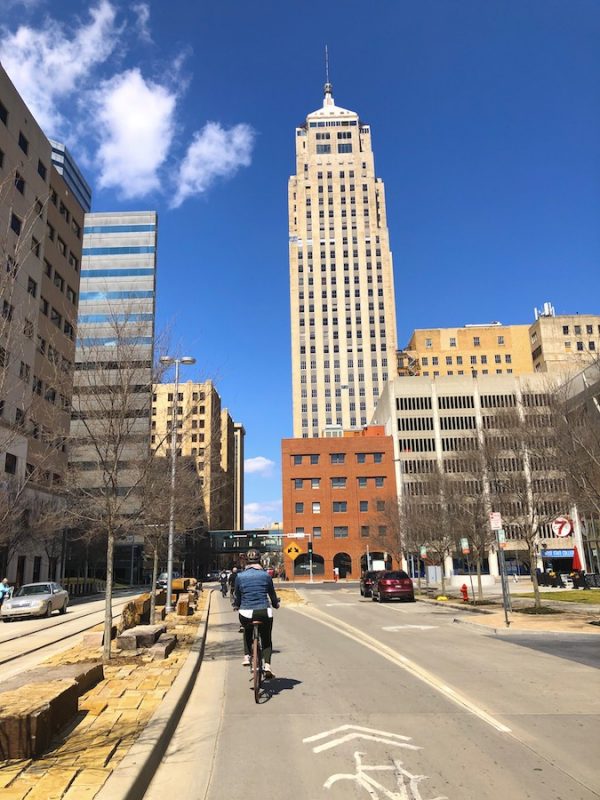 This is a GREAT city to live in and to visit. I am proud to call OKC my hometown. I've been an OKC resident off and on now for over 20 years. I may not be a native Oklahoman, but I can say I've lived here more than anyplace else. When people hear I chose to move to the city, I get the same question. So let me start this list with the 'short' answer.
What is there to do in Oklahoma City?
There is ALWAYS something to do in OKC. If you love to get outdoors, head to one of the city's trails, the Oklahoma River, dowtown's Scissortail Park, or an area lake. We have only one of two inland white water rafting courses in the country. If you want to head indoors, there are world class museums with a rotating schedule of events like the Oklahoma City Museum of Art, Science Museum Oklahoma, National Cowboy and Western Heritage Museum and Oklahoma Railroad Museum. For sports fans, there are the Thunder basketball team, OKC Energy soccer, and OKC Dodgers baseball. Then there is the food…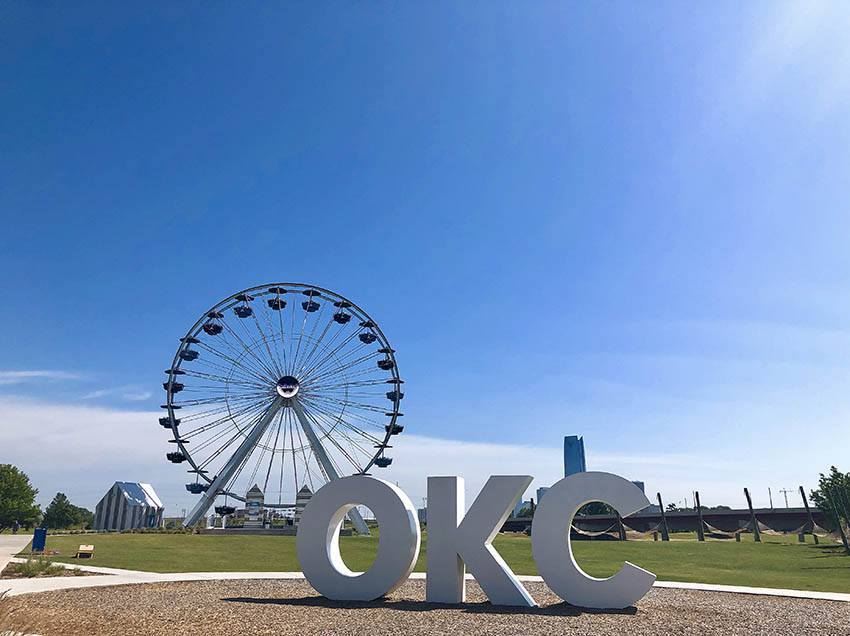 If you are look for tours and guided activities, take a look at these offered through Viator.
Follow me on Instagram at @okcityfamily to see current happenings and more things to do in Oklahoma City with kids (and without). If you have a question, email message me!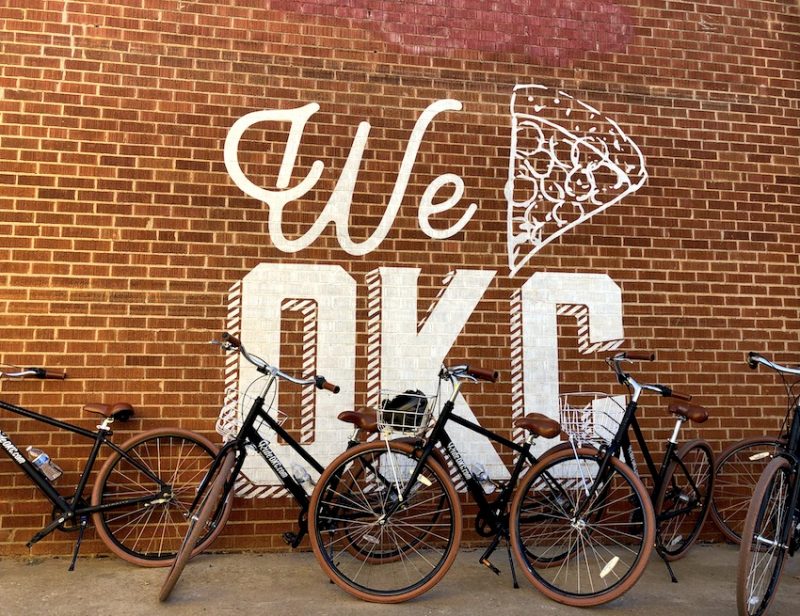 Hotels and Airbnbs near Oklahoma City, Oklahoma
Whether you live here and are looking for a few staycation ideas, planning a road trip, or just planning a visit to the area, I am excited to share some of my favorite places to see, stay, and eat at with you here.
Outdoor Things to Do in Oklahoma City, Oklahoma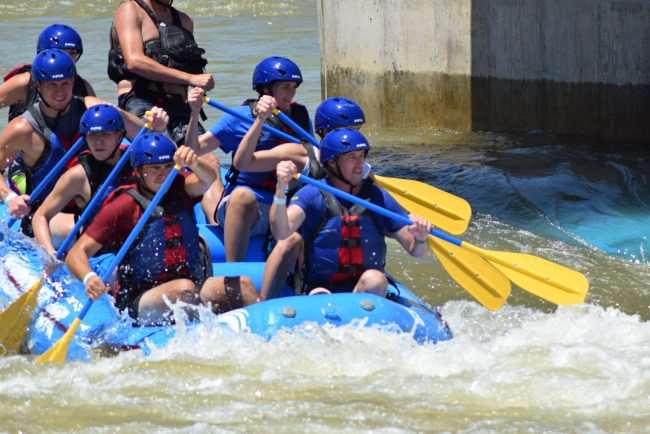 1. Urban White Water Rafting at RIVERSPORT Adventure Park
If you are looking for an adventure, then you want to start here at RIVERSPORT OKC along the Oklahoma River. You can paddle white water rapids on the same site Olympic hopefuls train on. This is one of only two inland white water courses in the country. Training guides help teams navigate the turns and rapids for a thrilling experience. If you aren't quite as adventurous, try tubing during scheduled times.
On land, the Adventure Park offers more fun with an elevated adventure course, high speed slides, flatwater kayaking, a zip line. You can read more about one of our trips to RIVERSPORT OKC here. Check their calendar for weekly events and family friendly festivals like the Oklahoma Regatta Festival, OG&E Night Sprints, and Friday Night Glow with live music and food trucks.
ALSO SEE: How you can save $$$ on Oklahoma City Attractions with Venture Pass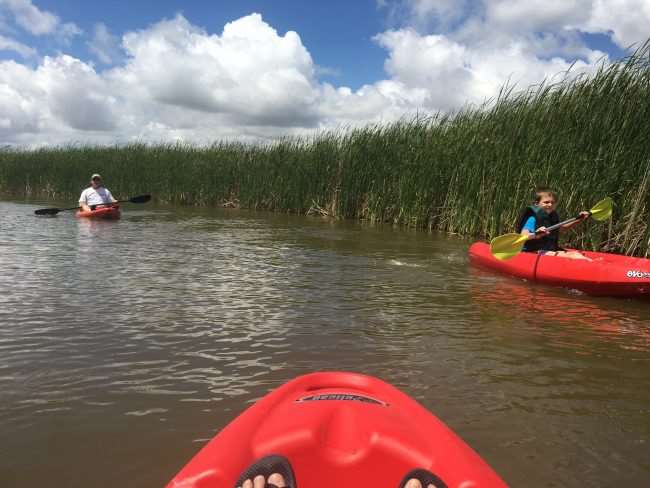 2. Paddle board or Kayak in Stinchcomb Wildlife Preserve
Looking for something not quite as wild? Enjoy a flat water paddle through Stinchomb Wildlife Refuge south of Lake Overholser. This is my favorite place to paddle in the city. Meander through reed lined tributaries, enjoy the quiet, and watch local wildlife. There are rentals options on-site and nearby.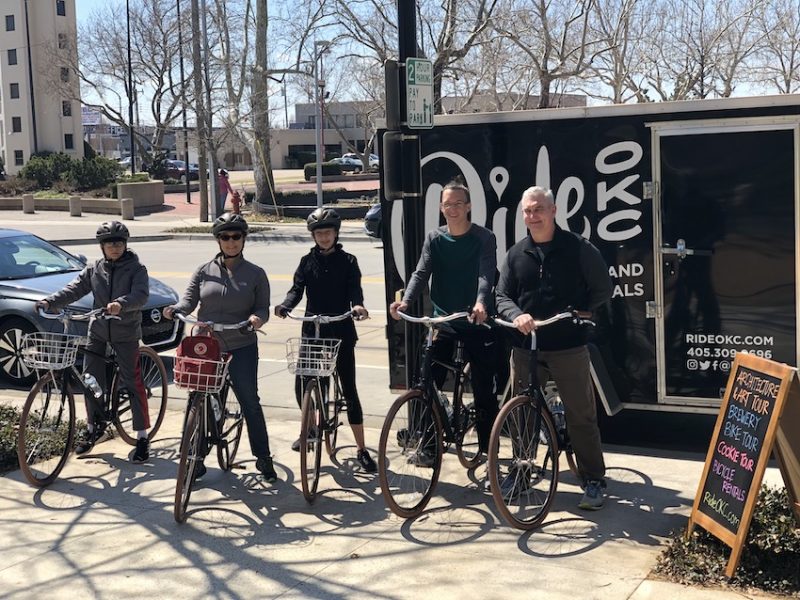 3. Tour Downtown by Bicycle with Ride OKC
Downtown OKC and surrounding areas are walkable and totally bicycle-friendly. The city has done a fantastic job installing an interconnecting system of bike paths throughout the city. Be sure you pack your comfortable walking shoes when you visit! You can rent a bike at a number of places and ride around or you can take a guided tour with local Ride OKC.
I like the latter, touring with Ride OKC because you can get local guides who know the area, the history, and the best food stops. We have taken media tours with them and can say that they are fantastic! Owner Ryan is a local architect and has a wealth of knowledge (plus there are several downtown buildings he had worked on). If you like cookies, definitely take the Cookie Tour that stops at 5 local restaurants all serving a killer chocolate chip cookie. You can book current tours with Ride OKC through Viator too.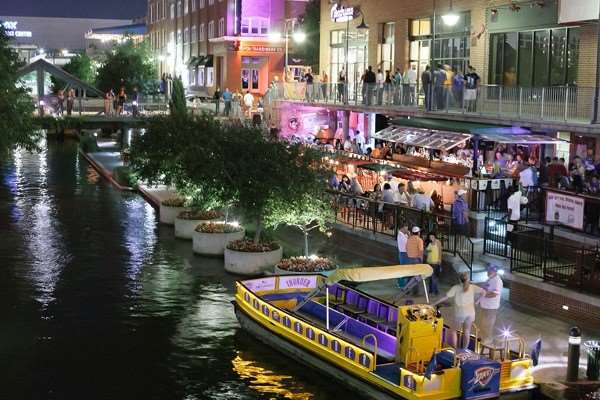 4. Be Entertained in Bricktown
Bricktown entertainment district is a favorite with locals and tourists. The Bricktown Canal runs through this 10 block area lined with restaurants, shopping, and entertainment. Grab a bite to eat, watch a movie at the Harkins Theater, play miniature golf at Brickopolis, take a horse-drawn carriage ride, listen to dueling pianos, or ride the Bricktown Water Taxi.
5. Watch the OKC Dodgers Play Ball
Oklahoma City's Chickasaw Bricktown Ballpark is home to the Los Angeles Dodgers' minor league team, the Oklahoma City Dodgers. Grab a Dodger dog, soda, popcorn and enjoy a home game.

6. Take a Spin on the Wheeler Ferris Wheel
You know you can buy most anything on Ebay, even a ferris wheel. When the Santa Monica Pier ferris wheel was listed on the auction site, an Oklahoma businessman bought it and transported it to Wheeler Park. Now the Wheeler Ferris Wheel, you can take a spin on this iconic wheel, play free games in the park, or relax in one of the hammocks looking out over Oklahoma River.
Also See: Downtown in December Activities Happening in OKC
7. Watch the Sunset Over Lake Hefner
The evening view from Lake Hefner's eastern shore is spectacular. Enjoy drinks or dinner on one of the restaurants' outdoor patios or stroll along the trails.
8. Explore the Myriad Botanical Gardens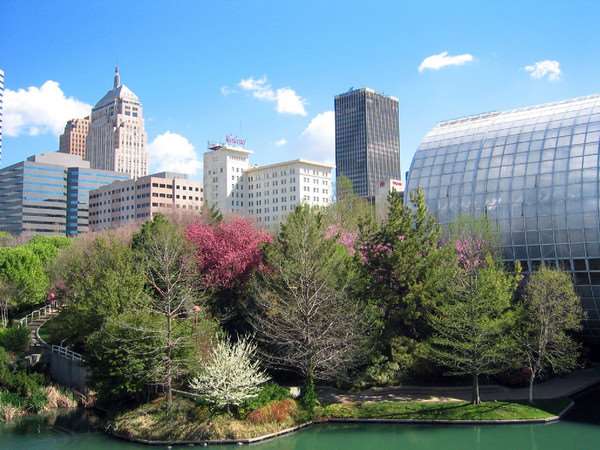 Escape into this urban oasis in the heart of the city. Stroll through this beautiful 17 acre downtown city park, let the kids play in the splash pads and children's garden, let your dog off leash in the dog park, or visit the tropical Crystal Bridge Conservatory. On Sundays, find your zen with a yoga class on the lawn. Other scheduled classes run throughout the week. During the summer months, bring a picnic dinner or a lawn chair to sit out on the lawn for free concerts and movies in the park.
9. Go Cruising Along the Mother Road – Route 66
This is the iconic road trip from Chicago to Santa Monica that weaves thru the city. Popular stops along the route are the Lake Overholser Bridge, Gold Dome and the Milk Bottle Grocery buildings on Classen Boulevard, and a former Texaco Station that is now the Pump Bar on North Walker.
Find more U.S. Road Trip Destinations with Kids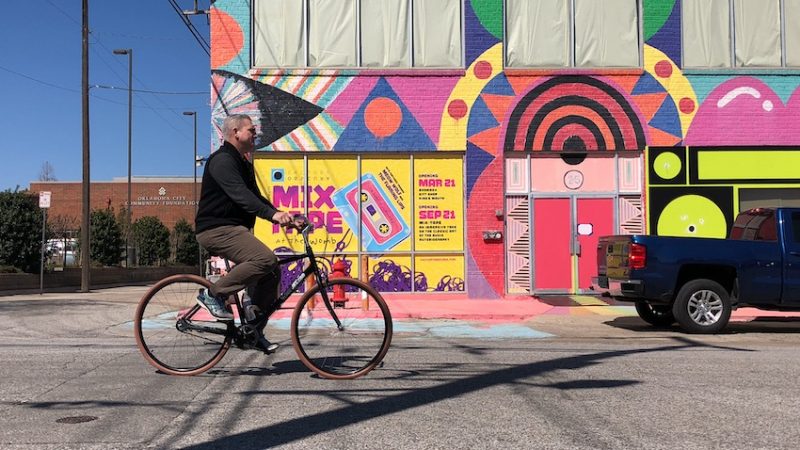 10. Visit the Most Instagrammed Spot in OKC
The Womb is an art complex founded by Flaming Lips frontman Wayne Coyne. It is one of the most infamous spots in the city and is now home to the OKC art collective Factory Obscura. Take your picture outside and head inside to see the new permanent immersive art installation called "Mix-Tape."
ALSO SEE: Best Instagram Worthy Oklahoma City Murals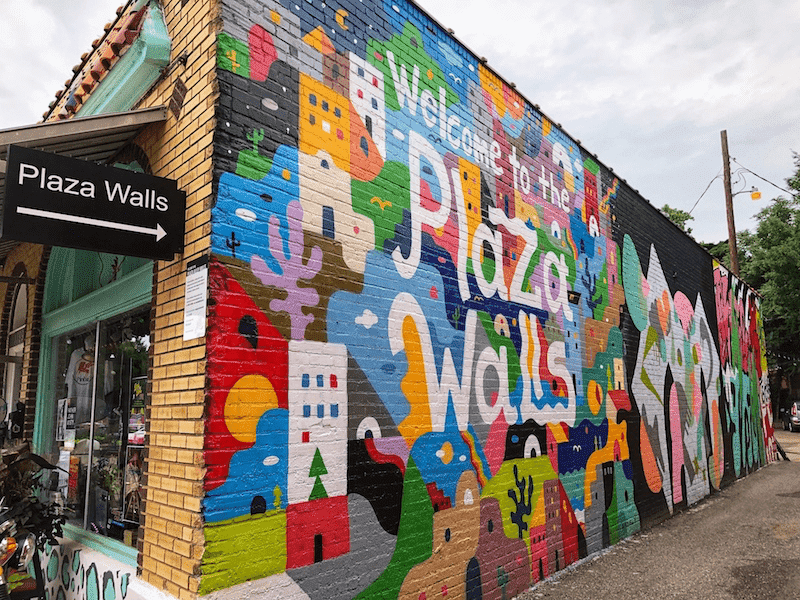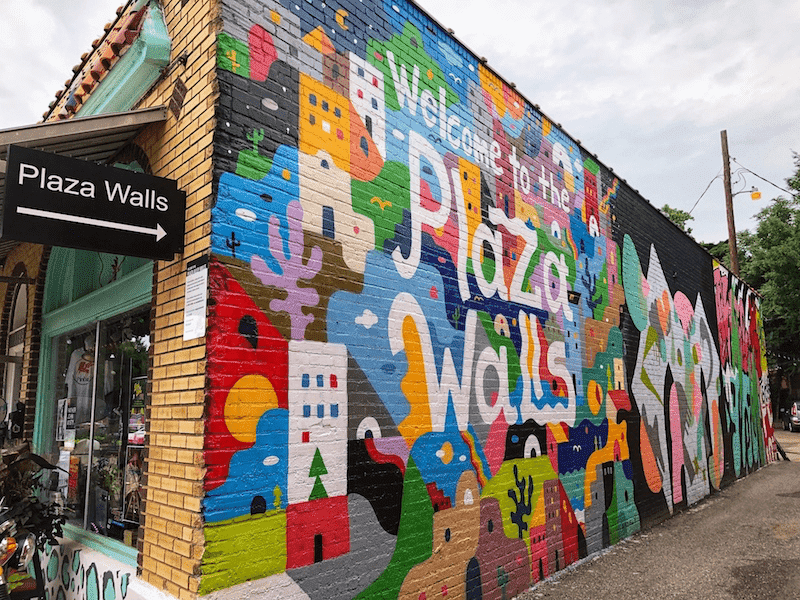 11. Experience Local Street Art at the Plaza Walls
The Plaza District is one of my favorite places to visit in Oklahoma City. The local restaurants here are on point offering everything from ramen to ice cream. The local art scene is alive and well here too. Plaza Walls is a rotating mural project featuring local artists. STop into the indoor gallery with "Graff Roots", an exhibit highlighting the city's graffiti heritage.
Top OKC Museums & Indoor Attractions
12. Smell the Flowers at the Crystal Bridge Tropical Conservatory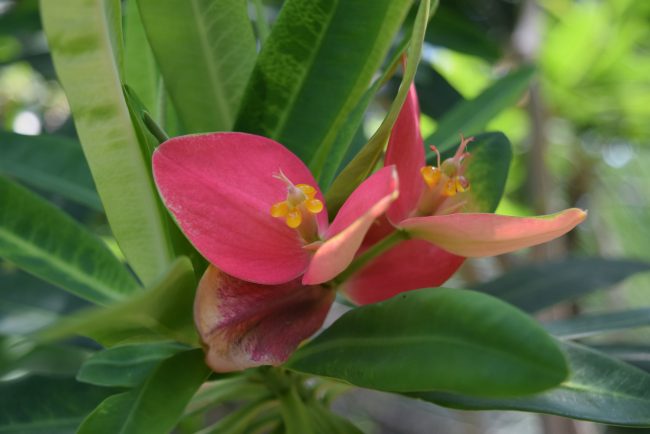 For those that love flowers and plants, a stroll through this 13,000 square foot greenhouse at Myriad Gardens. Fondly known to locals as the Crystal Bridge, the conservatory houses more than 750 plants, waterfalls, and animals.
13. Watch New & Classic Movies at Banquet Cinema Pub
This isn't your cookie cutter movie theater. It's truly a destination on its own. Here you can come to hang out, grab a bite to eat, watch a movie, or play shuffleboard. The food here is elevated, made from scratch, pub fare. Definitely try the baked chicken wings with homemade ranch or the Jurassic Park salad.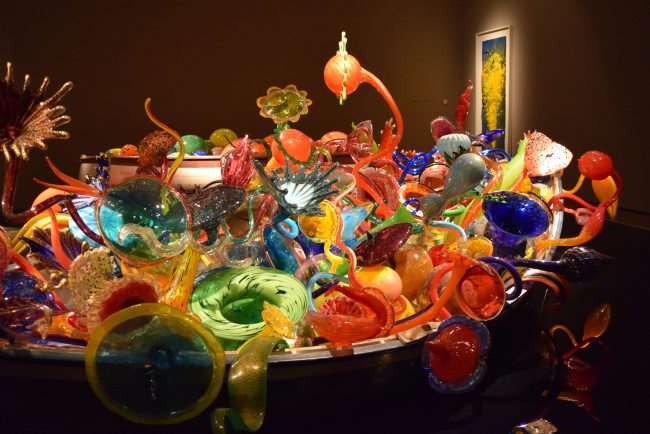 14. Oklahoma City Museum of Art
Housing one of the largest collections of Chihuly glass in the world, you'll want to start with the 55' tall glass tower in the Museum's atrium. My favorite is the Chihuly glass ceiling walkway located upstairs. Other exhibits include permanent and traveling shows. Families love the hands on projects featured during Drop In Art Saturdays. Free with paid admission.
15. Oklahoma City National Memorial and Museum
This solemn memorial and museum commemorate the 1995 bombing of the Murrah Federal Building. Rated as one of the top museums in the country, this is the place you should visit to reflect on that day's events and how the community came together afterward. Duer to COVID, reservations are highly recommended. You can book directly or through Viator.

16. Tour the Oklahoma State Capitol
The state capitol building has quite the art collection and the building itself is beautiful. Take a self guided tour to view its Greco-Roman architecture and artwork. You can also call ahead to schedule a guided visit. From there, you can head down the street to learn more about Oklahoma at the Oklahoma History Center.
17. Thunder Up at the Chesapeake Energy Arena
If basketball is more your game, then come watch the Oklahoma City Thunder NBA team play at the Peak.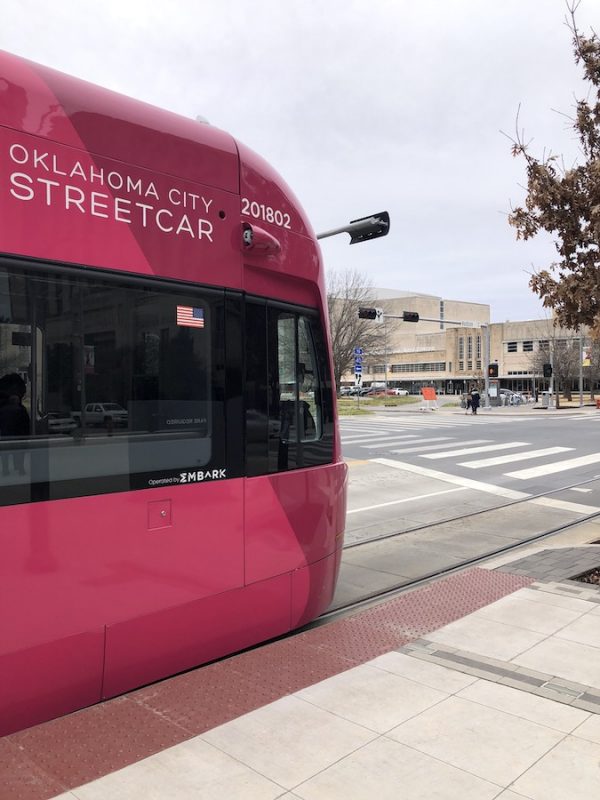 18. Cruise the City by Streetcar
The downtown neighborhoods have many places to visit in OKC. The streetcar loops through them and provides you a great way to get around. We like parking and then hopping on the streetcar. It is a great way to see the city. If you are staying downtown, there are stops near most of the area's hotels. A few friends talked about doing a Nacho/Taco Tour and a Brewery Tour and visiting stops along the streetcar route. I think this idea has GREAT potential.
Things to Do With Kids in OKC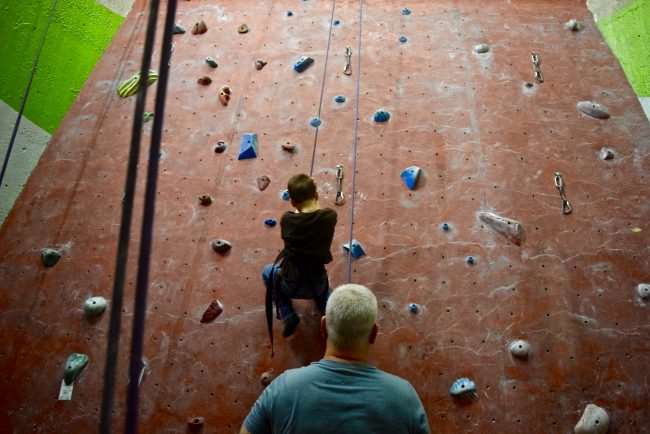 19. Climb the Walls at Summit Climbing

OKC

I do literally mean "climb the walls". The city is home to several indoor rock climbing gyms, but the Summit OKC just south of downtown allows you to climb 90 foot tall converted grain silos. I joke with my children that they are part monkey because they love to climb, always have. They love climbing gyms. This one offer indoor and outdoor climbing (weather permitting).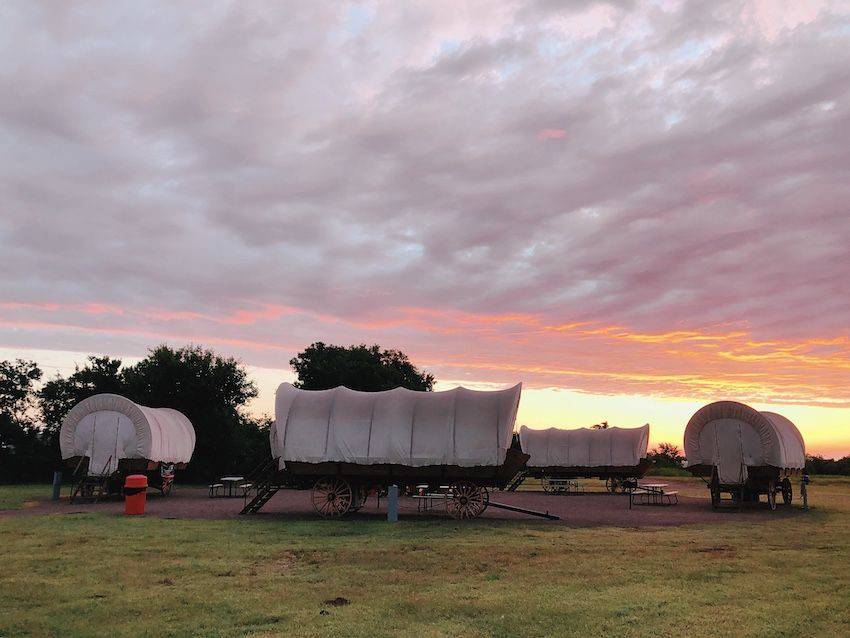 20. Orr Family Farm
There's no place like a farm where you can pet farm animals, go for a pony ride, play in the tractor tire sandbox, or take a tractor ride. Here you can have a full day of fun, food, seasonal events, and more kids activities in OKC's favorite farm. New in 2019, the farm opened their Conestoga Wagons and Teepee Glamping. Here more about Conestoga Covered Wagon camping at Orr Farm here, but let me just say this is SOO MUCH FUN!!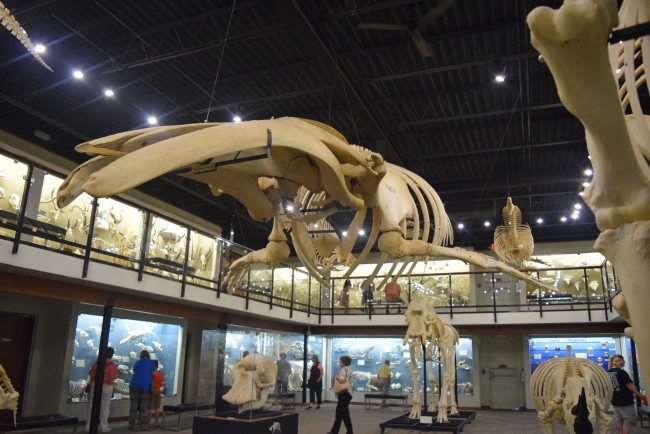 21. Pretend You Have X-Ray Vision at the Museum of Osteology
The city has the only skeleton museum in the country. It's not as creepy as you might think. At the Museum of Osteology, you can see skulls and skeletons ranging from small rodents to a Humpback Whale, attend an educational presentation, or put on your sleuth hat for a Forensic Night.
See How Can Save Money on This & Other Attractions and others with the OKC Venture Pass
22. Go Wild at the Oklahoma City Zoo
Who doesn't love animals? At the Oklahoma City Zoo, see a wild variety of animals and exhibits; apes and chimpanzees in the Great EscApe, tigers in the Cat Forest, Asian elephants in Sanctuary Asia, native animals in the Oklahoma Trails, and more. The Sanctuary Asia Exhibit was recently nominated as one of the country's best zoo exhibits by 10Best.


The zoo is one of our favorite things to do in Oklahoma City with kids. Head to the zoo during the summer months and enjoy Wayback Wednesdays with $1 admission. If you want something a little different see the different OKC Zoo animal experiences you can book.
Also See: 5 Things You Don't Want to Miss at the OKC ZOO
23. Get Curious at Science Museum of Oklahoma
Set your children's imagination free at the Science Museum of Oklahoma. Here they have It is 20,000 square foot of hands-on, science themed fun. The CurioCity (pronounced "curiosity") exhibit is unlike anything else in the country and its guaranteed family fun.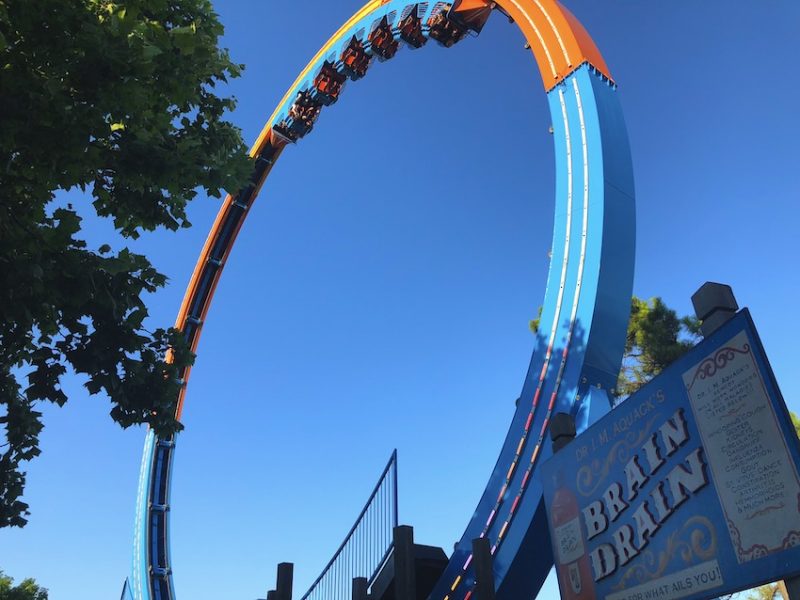 24. Frontier City Theme Park
Thrill seekers head to Frontier City amusement park for rides, roller coasters, and shows. If you enjoy live music, check out their free summer concert series included in your admission ticket.
25. Ever Dream of Being a Firefighter?
What child doesn't dream of being a firefighter? At the Oklahoma State Firefighter's Museum and Memorial, families can see antique fire trucks, replica fire stations, and see what it would be like to be a firefighter for a day. Free admission is a nice plus.
26. White Water Bay Water Park
Oklahoma summers are HOT! What better way to cool down than a trip to the water park. White Water Bay is a huge park featuring slides, raft rides, zero entry wave pool, children's area, and more.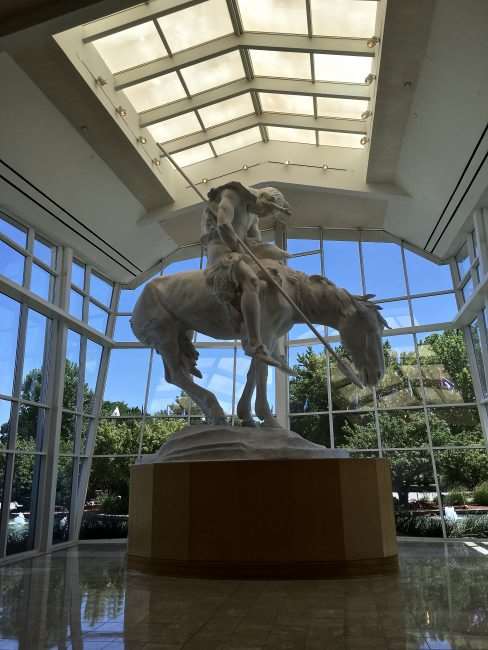 27. Step into the Wild West – National Cowboy and Western Heritage Museum
Oklahoma City was once a western cattle town along the Chisholm Trail. So a visit here isn't complete without a visit to a museum celebrating the American West. There are exhibits on Native American life, American Rodeo, Western movies, frontier life, antique firearms, and Western art. Children have their own interactive section here too called Liichokoshkomo' ('The' Place to Play). They can son a pair of chaps and boots to dress like a cowboy, try their hand at camp cooking, or saddle up and pretend they're riding a horse.
28. Soar to New Heights at iFly Indoor SkyDiving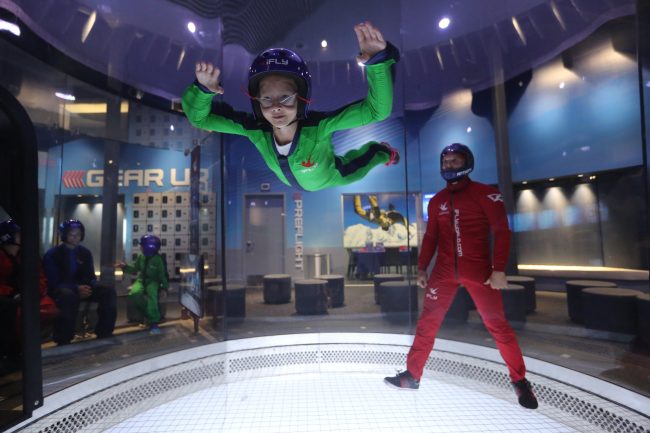 Not all adventures happen on the ground. Head to iFly for indoor skydiving. You will feel the wind rushing through your hair as you float on a column of air. The experience is unlike anything you've ever tried.
Also See: Virtual Reality Experience at iFLY
Restaurants in OKC You Should Try
29. I LOVE Waffle Champion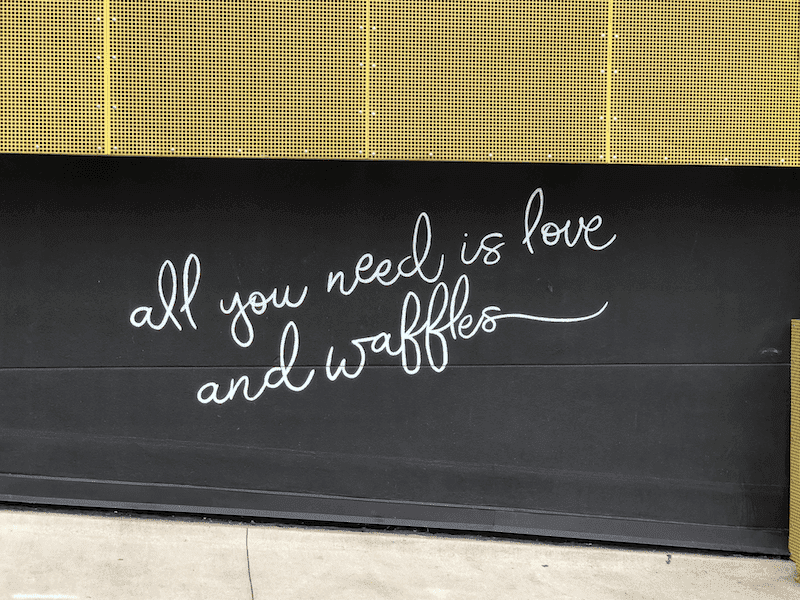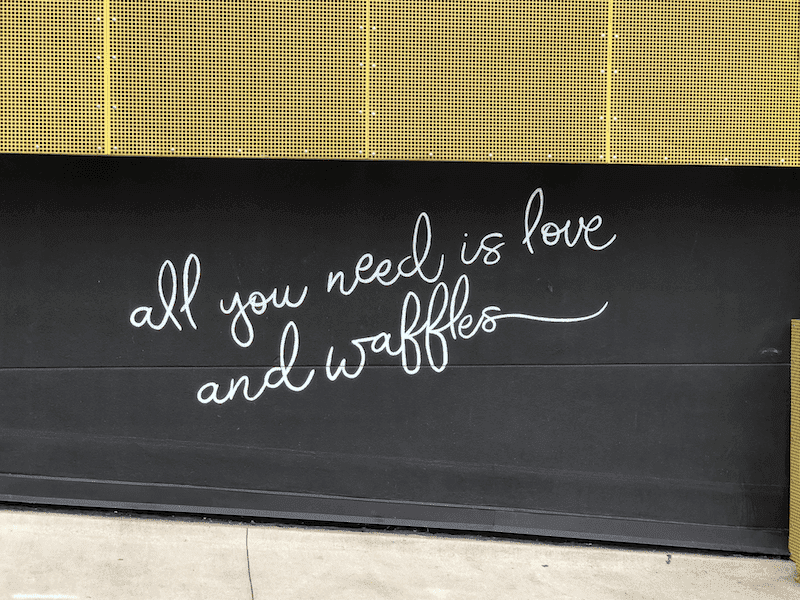 Everything is better served on a waffle, right? This is a local favorite that is packed on the weekends. Order up your own combination or one of their creations
30. Oklahoma Original Onion Burger at Tucker's Onion Burgers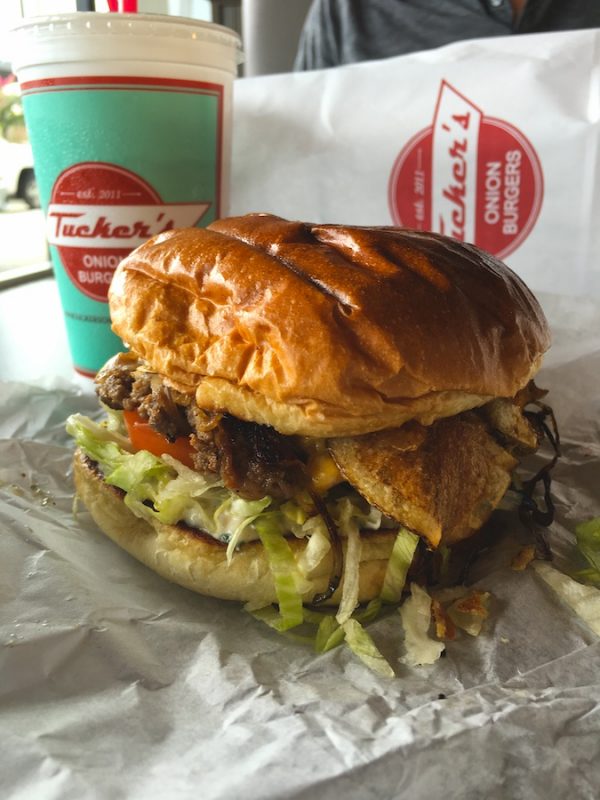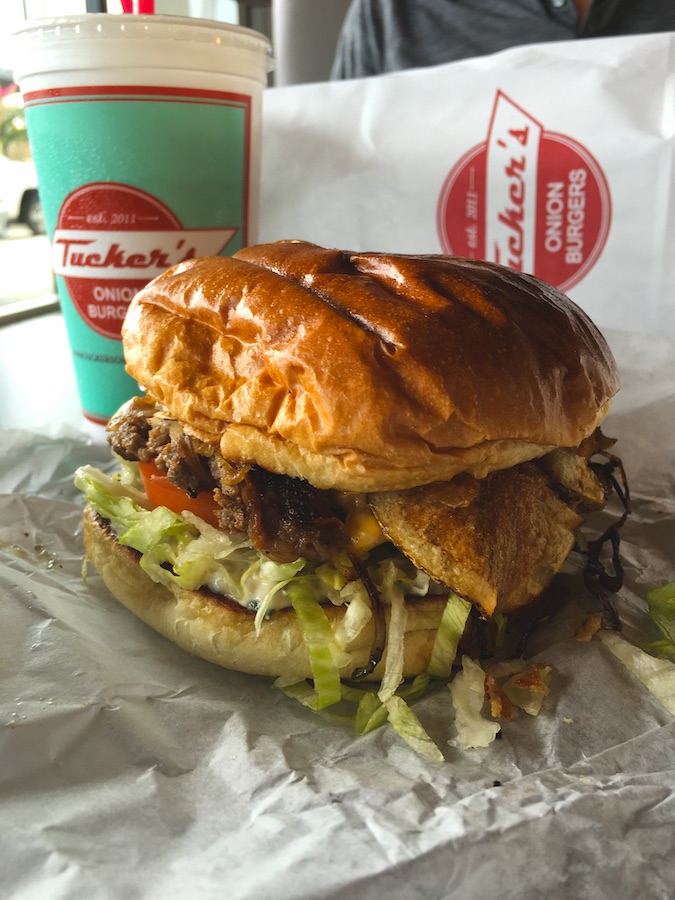 Onion burgers date back to the Depression where onions were added to beef to stretch a food budget. Now it's a staple. Here order the Mother Tucker, a full pound burger loaded with fried onions, jalapenos, and cheese. Staff will tell you to "Shit Your Mouth" when you order one.
31. Slice of Pie at Pie Junkie
Their Bird Dog Pie with Kentucky bourbon is my favorite. But there isn't a slice here that you could ever go wrong with.
32. Vegan Chocolate Chip Cookies at Elemental Coffee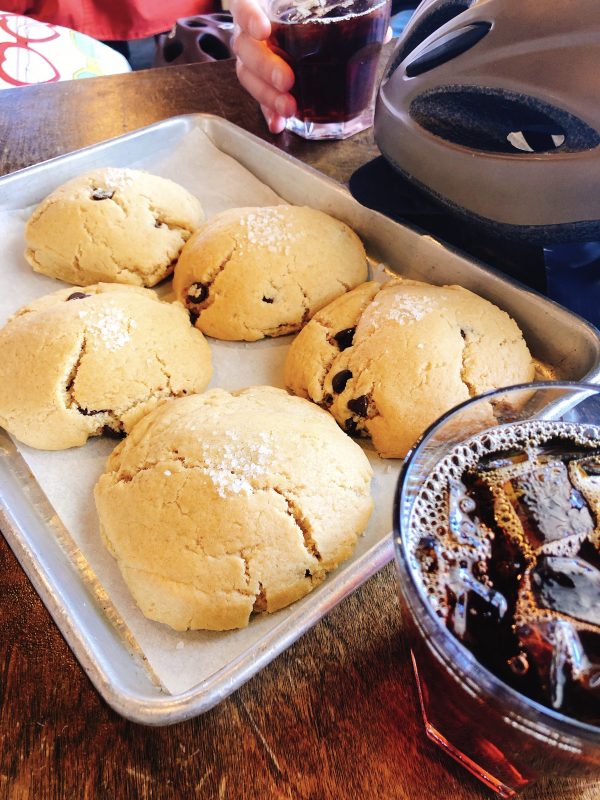 This local coffee house serves a carefully crafted cup of joe. They actually put a lot of care and thought into everything they do. Food is locally sourced and they their cookies are a MUST!
See my listy of the Best Oklahoma City coffeeshops here.
33. Fassler Hall's German Beer Garden Vibe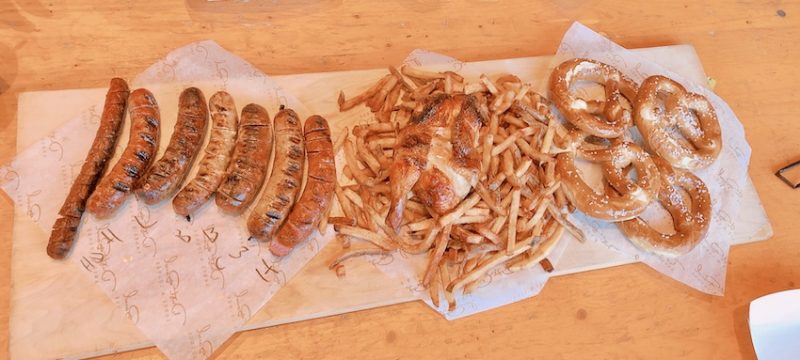 Come for the house made sausages, pretzels, and a rotating menu of beer on tap. Indoor/outdoor makes this a great place in great weather.
34. Roxy's Ice Cream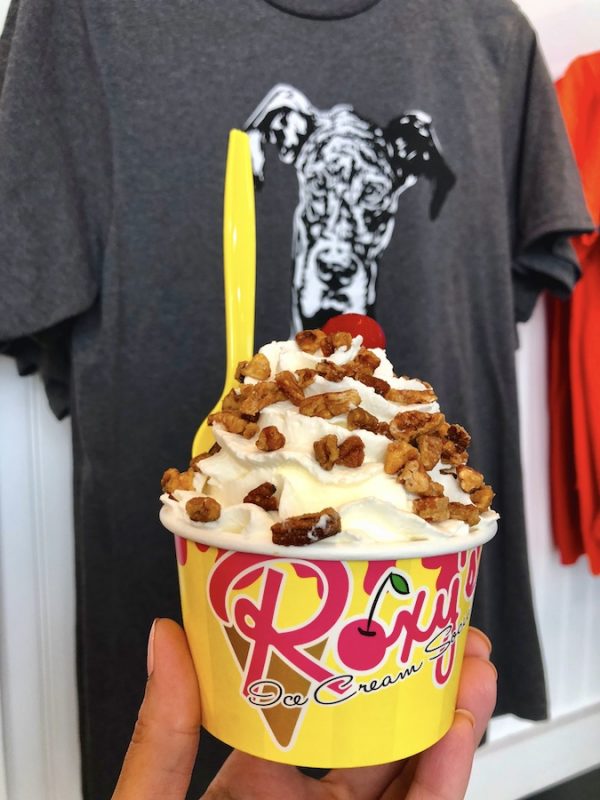 There are so many reasons why this popular local ice cream food truck turned into a brick and mortar business. Their house-made ice cream is great on a hot OKC day and their ice cream cookie sandwiches are even better.
ALSO SEE: Best Brunches in OKC
Another recommendation is Scratch Kitchen and Cocktails in the Paseo District. Friend and fellow OKC blogger Lisa Sharp at Green Oklahoma loves it and recommends it highly.
Annual OKC Events You Don't Want to Miss
There is always something happening in Oklahoma City. Some of our favorite events include:
Festival of the Arts (late April) – Juried art festival held in Bicentennial Park across from the Civic Center. Great food, entertainment, and art exhibits.

Oklahoma City Memorial Marathon (late April)

Chuck Wagon Festival (Memorial Day Weekend) – Western themed entertainment, food, and family fun at the National Cowboy & Western Heritage Museum.

Red Earth Festival (early June) – Award winning Native American festival with dancers, artists, and more.

deadCENTER Film Festival (early June) – 4 day film festival

H and 8th Night Market (summer) – Summer street fair held in Midtown with street vendors, live music, and food trucks

Oklahoma Regatta Festival (early October) – 3 days of boat racing in the Boathouse District. Our favorite is the dragon boat races.
Whether you are looking for family fun in OKC or an adults' only trip, these are some of my favorite places. Make plans today to discover what Oklahoma City has to offer.