Route 66 may be where you get your kicks, but Adventure Road in Oklahoma is where the tradition of a classic road trip is being kept alive. Adventure Road is 130 miles of highway along Interstate 35 between the Red River and Oklahoma City. Travelers along Adventure Road can explore and enjoy unique destinations. There is something for everyone; thrill seekers, families, nature lovers, and more. You just have to get out on the road and explore to enjoy them. My family recently headed out and went exploring on the Adventure Road in Sulphur, Oklahoma and had an amazing time.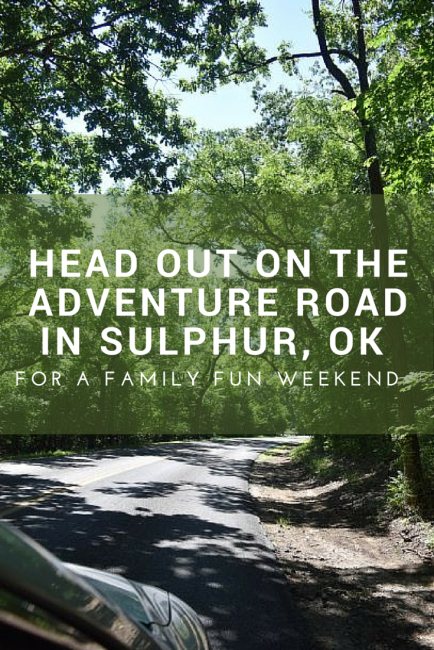 Sulphur, Oklahoma is a great road trip destination being 1.5 hours from Oklahoma City and 2 hours from Dallas. If you are in the area, you can head there for a day trip or make a weekend trip out of it, like we did. My husband and I took the kids and explored for 2 full days. On the first day we toured the Chickasaw Cultural Center and ate lunch in their café, roaming around the countryside on horseback at Arbuckle Trail Rides, relaxed with a wine flight at the Rusty Nail Winery, and checked into the Chickasaw Retreat and Cultural Center. It was a very full, but enjoyable day.
The Chickasaw Cultural Center is a destination for anyone wanting to learn more about native people and their culture. This is a beautiful campus that features a Living Village with reenactmeants and demonstations (open on weekends), interactive exhibits, films, gardens, history center, and a cafe.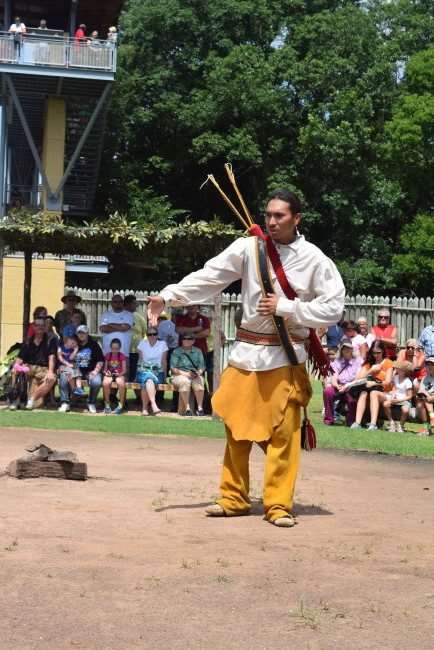 We have been to the center several times and enjoy it each time we go. If you get the chance, go on a weekend and watch the Stomp Dance that is performed several times a day. Visitors are also invited to participate and join the dance. The kids, especially my daughter, love doing that.
On this particular occasion, the center hosted a Children's Festival so they were offering additional activities and event for families. Read more about our visit.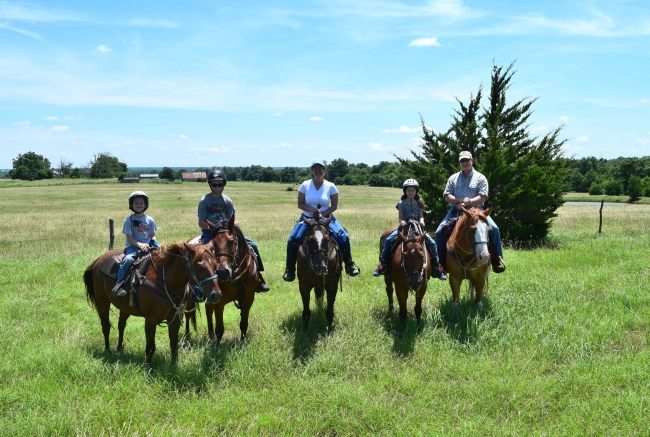 Horseback riding in the Sulphur area is gorgeous. With all of the rain they have had, fields and pastures were green and lush. A gentle breeze helped keep the day cool while we viewed wildlife, woods, and enjoyed the trail ride.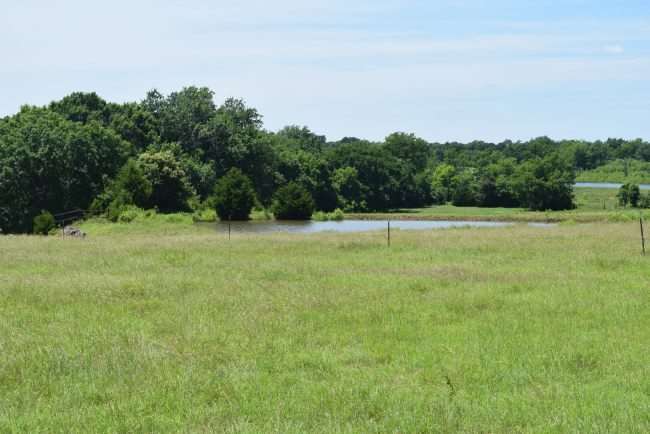 A horseback ride is a great way to explore an area in a new way.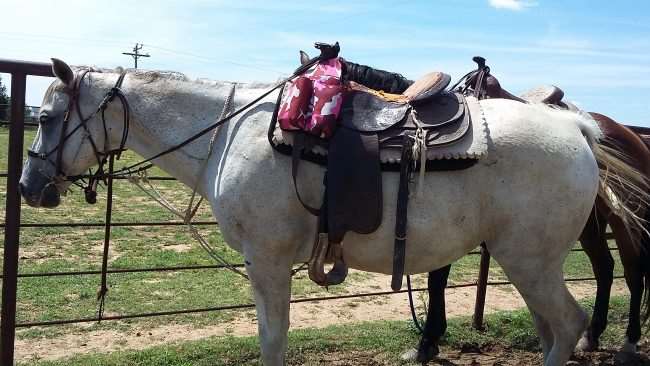 You can see new things every time you go out. Check out our ride here.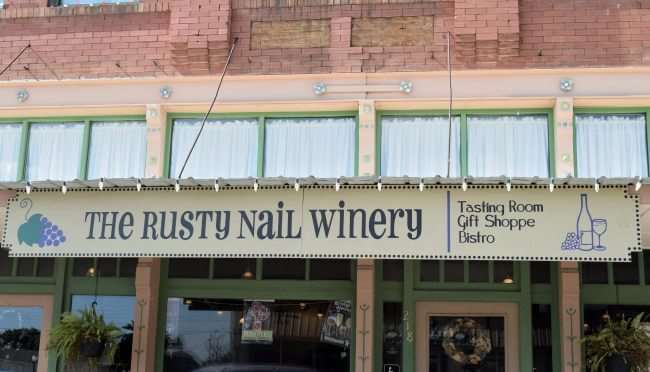 After all this activity with the kids, it was time to enjoy some adult fun. So we headed to Rusty Nail Winery in the downtown area.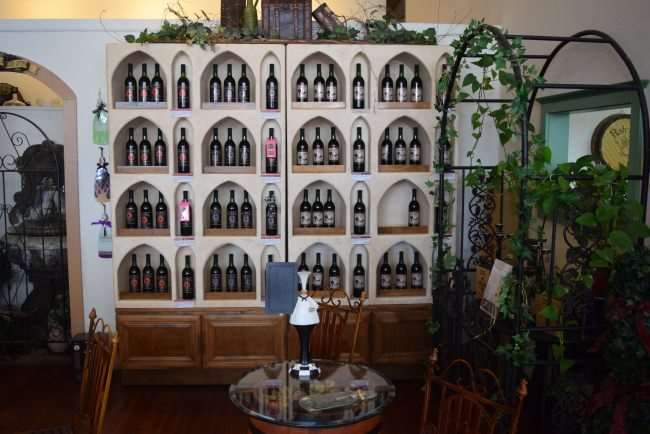 This locally owned winery produces a variety of wines to fit every palette. It's a great place to sit back and relax after a long day or a long drive. Read more about it here.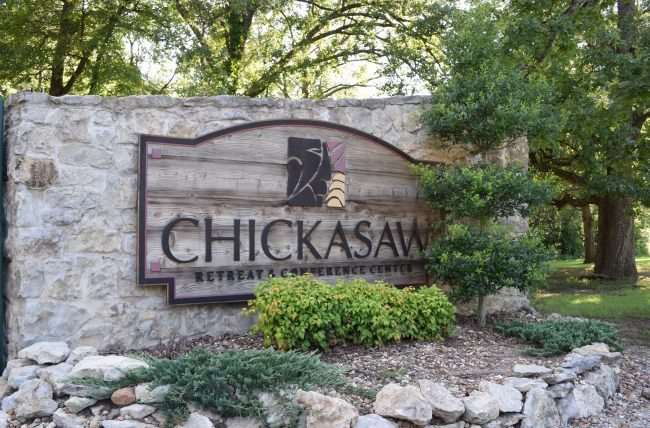 For the night, we would be staying at the Chickasaw Retreat and Conference Center.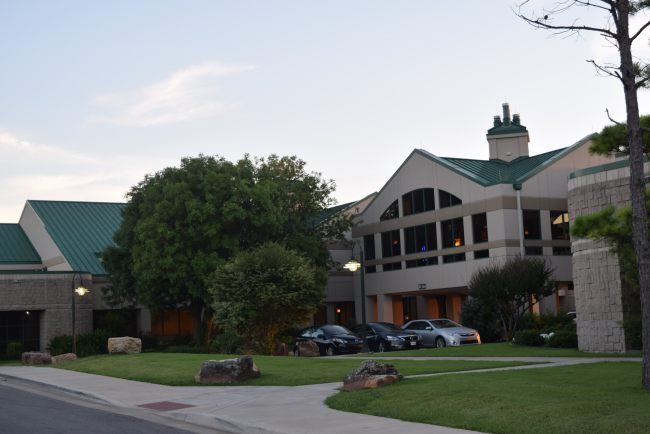 Located on a hill overlooking the southern shore on Lake of the Arbuckles, the views from this hotel are nothing short of spectacular.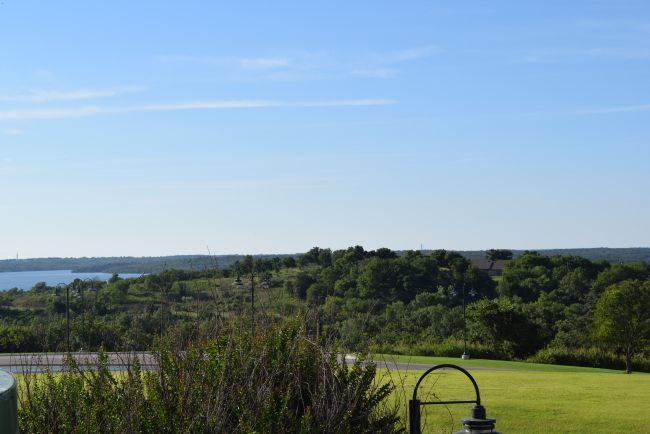 This is the view from our balcony. Here you can escape and getaway from everything as you relax and put your feet up.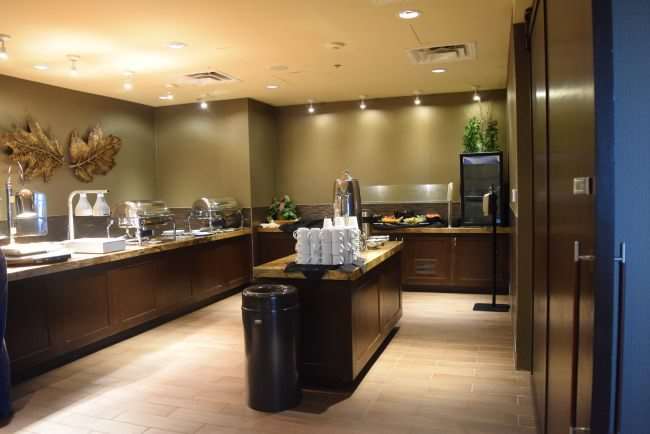 Serving dinner on weekends, we were treated to a dinner buffet with Southern favorites like chicken fried steak, pot roast, fried okra, and peach cobbler.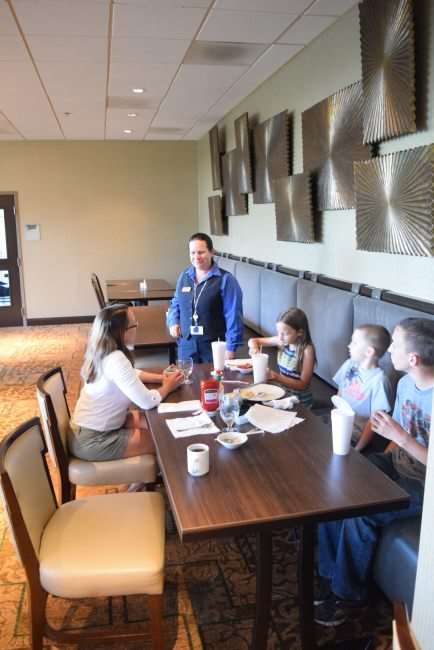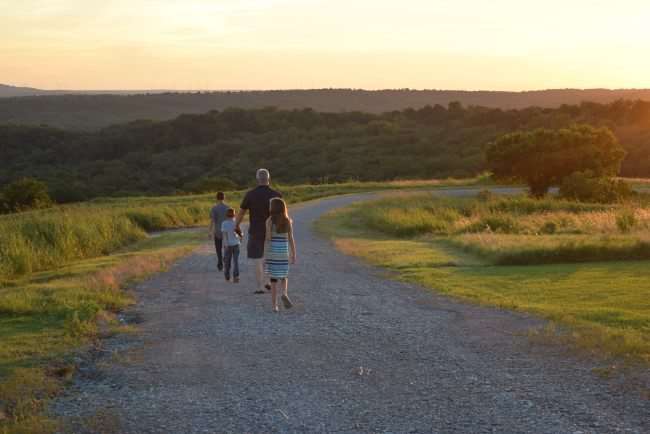 After dinner, we headed out for a sunset walk around the property. Views were stunning. The resort is located on a hill, so you had beautiful views in all directions.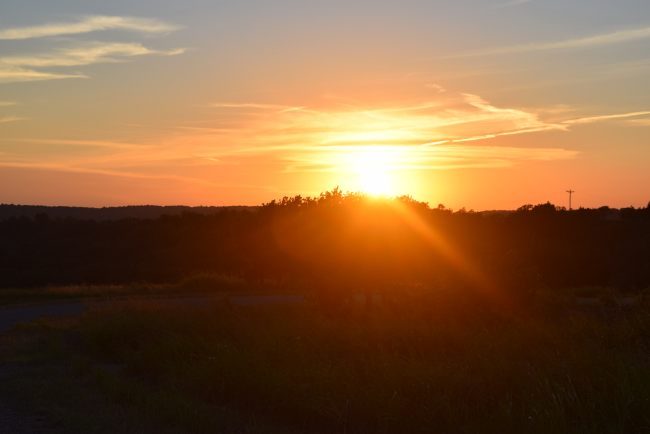 Can you beat this sunset? I don't think so.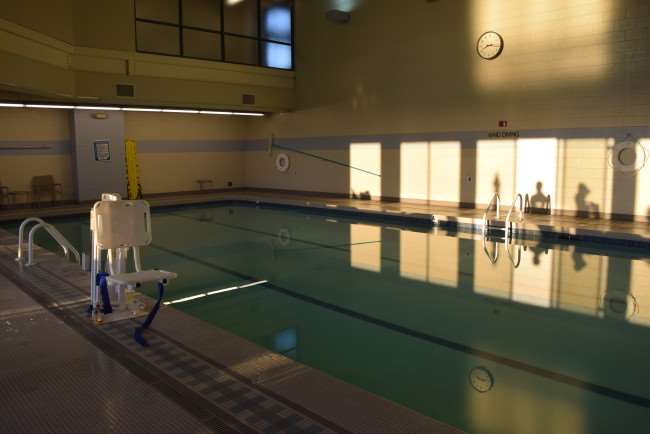 After dinner and our walk, the kids went for a dip in the huge indoor pool as hubby and I relaxed in the hot tub. The pool and hot tub are part of a huge fitness area and spa. We didn't stay to work out, but it was tempting.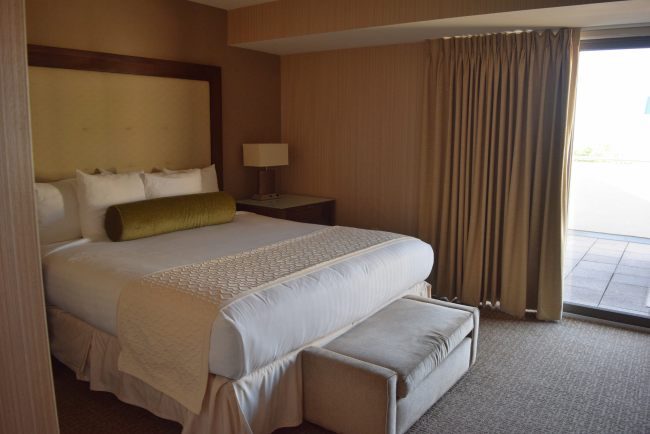 The room was spacious and really comfortable. We stayed in a king suite that could sleep 5 with an extra bed.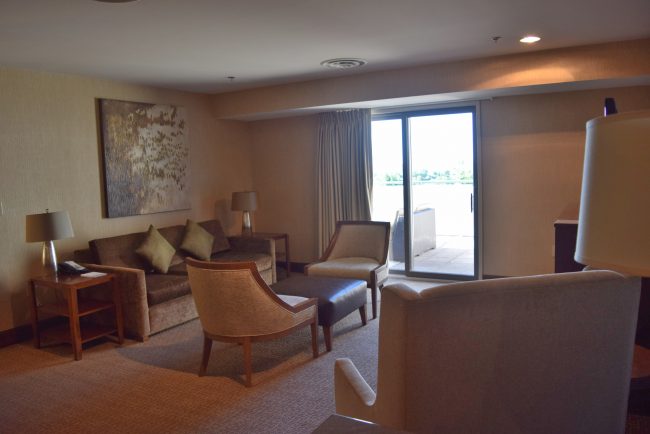 We had plenty of space to relax and the beds was so comfortable that we all slept like babies.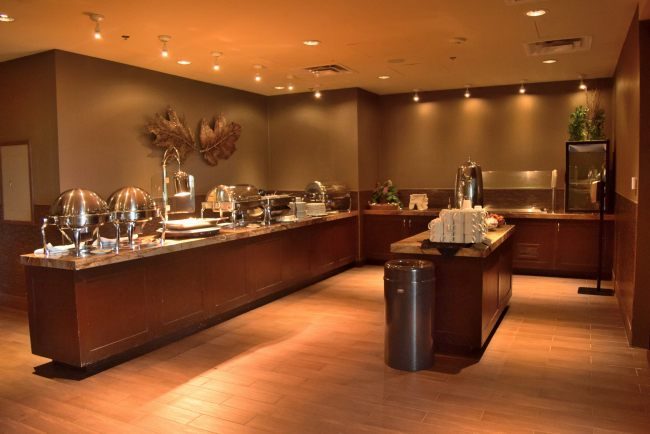 For breakfast, we headed back down to the restaurant for a breakfast buffet.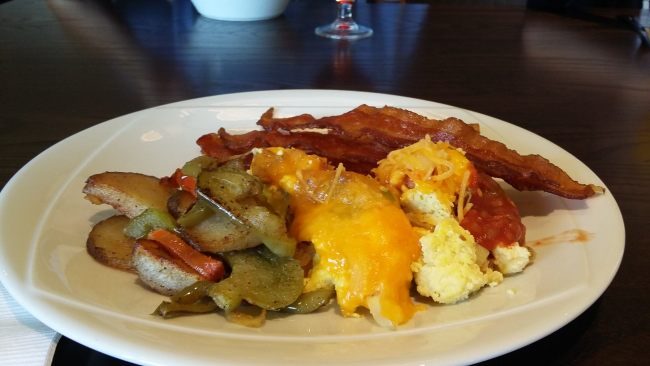 They offered a good variety of items from a scrambled egg bar with different toppings like ham and grilled vegetables to pancakes. This was my breakfast plate. Note the extra bacon.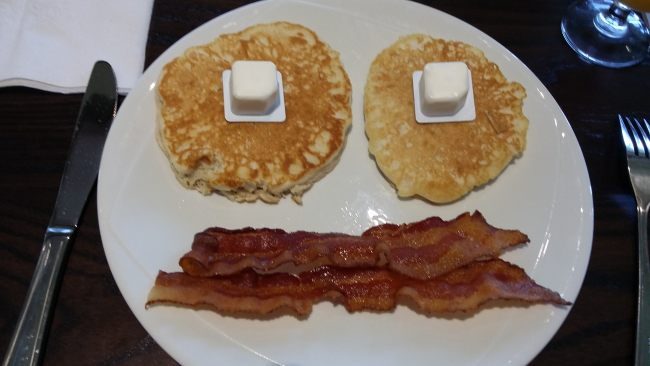 My youngest son decided to play with his food and create a pancake face complete with pancakes, bacon, and plenty of butter.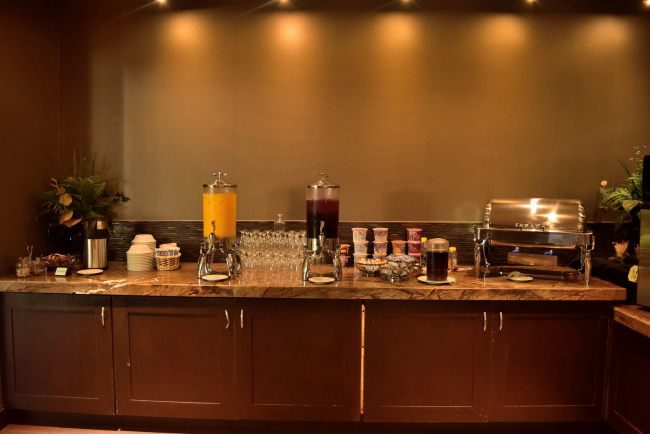 After filing up, we were ready to continue exploring in Sulphur. On our second day, we went to the Chickasaw Visitors Center, Chickasaw National Recreation Area, and the Bedre Chocolate Factory.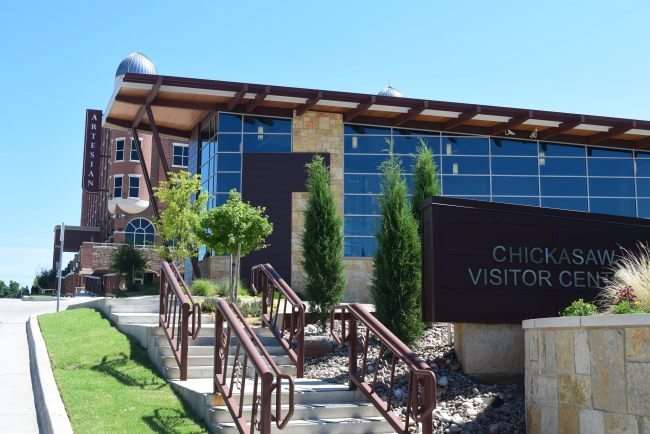 The Chickasaw Visitors Center is located in downtown Sulphur right across the entrance to the National Recreation Area. This is a beautiful building featuring modern design.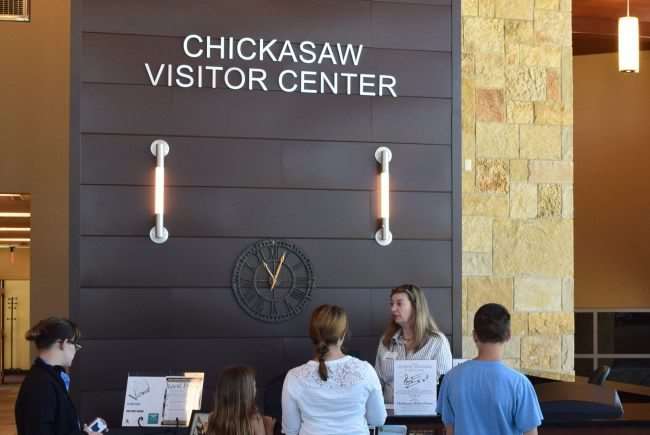 At the Visitors Center, we picked up maps for the park, a cup of free coffee, and toured the different maps and displays.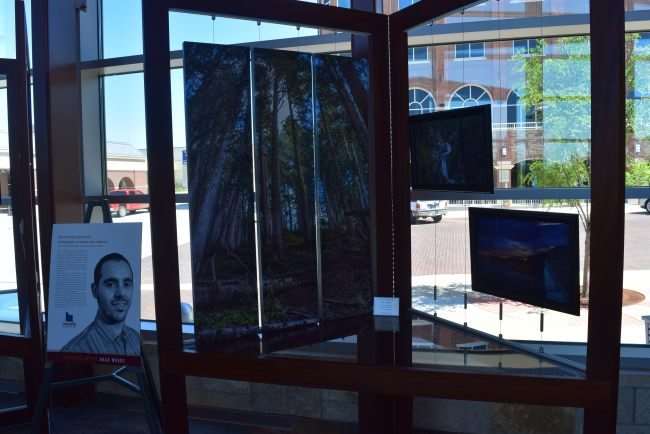 The Visitors Center features a Chickasaw artist and displays their work. These pieces are amazing.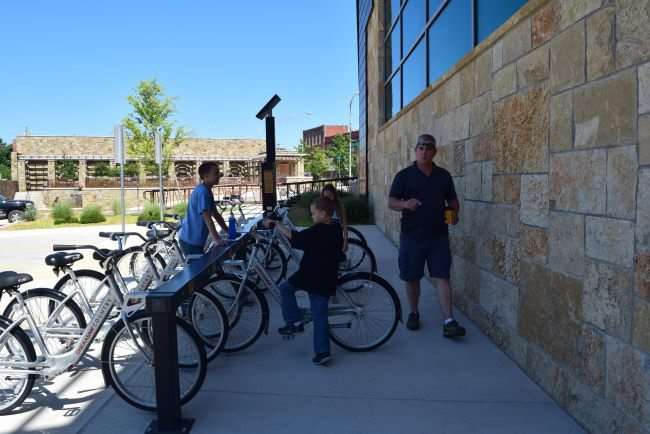 If you are interested in cycling around the park, the Visitors Center offers bicycle rentals by the hour. The bikes are really comfortable and lightweight. It's a great way to tour the park.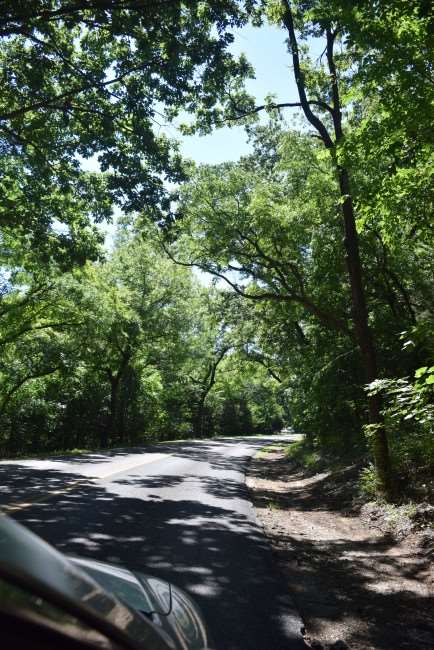 Unfortunately, I was really saddle sore from the previous day's ride. So we opted to drive into the park and then take a short hike on the trails.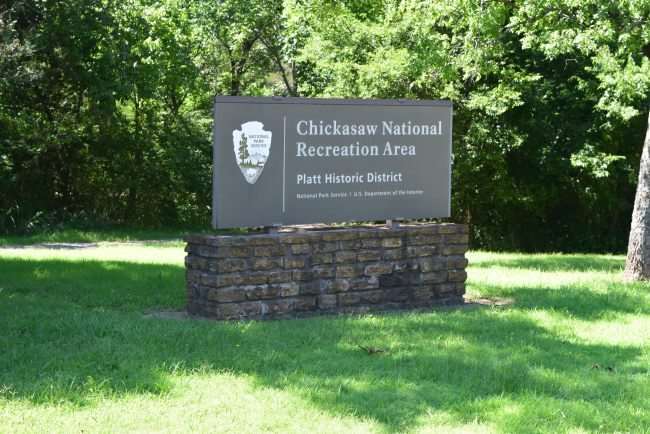 The Chickasaw National Recreation Area is one of the national parks in Oklahoma.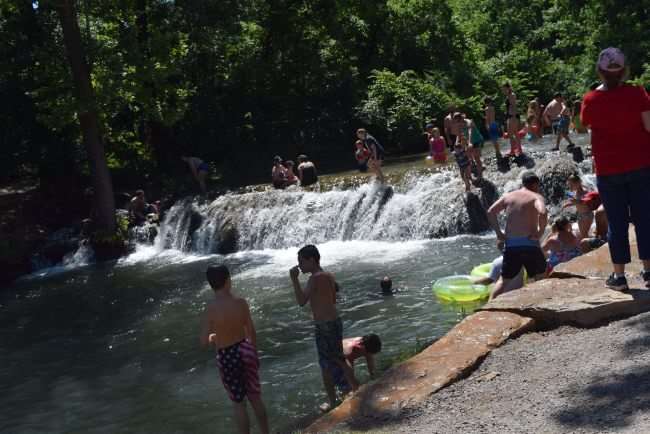 One of the park's attractions is Little Niagara, a small waterfall and swimming area. People like to gather there to swim and tube down the creek.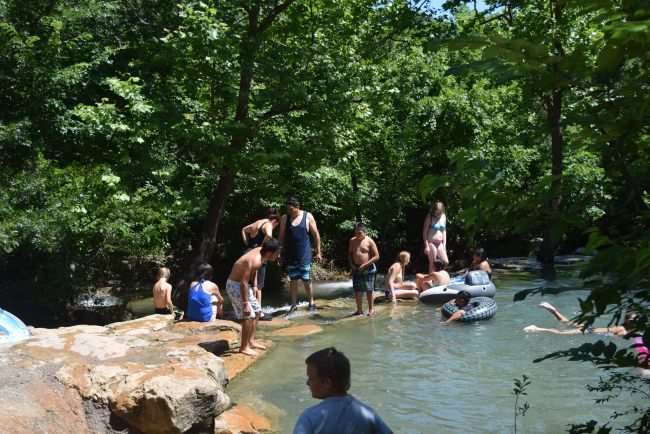 On summer weekends, it's a little busy, but it's so much fun. If you would prefer not to get weight, you can go for a walk, a hike, or visit the nature center.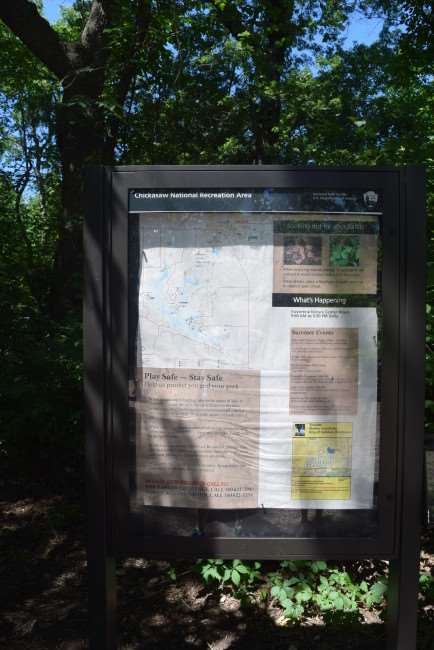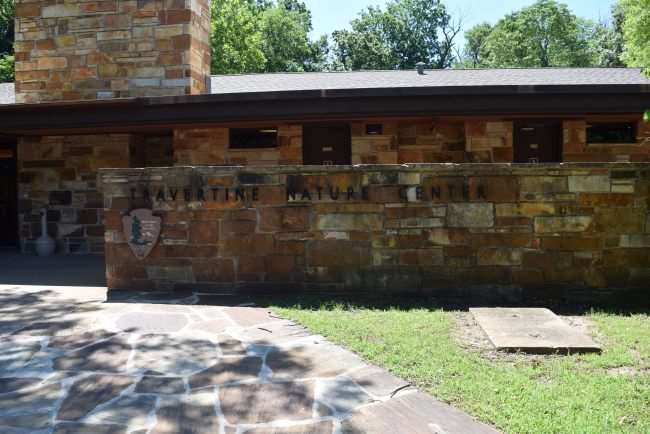 There's a small creek running under the nature center. Since there weren't a bunch of people, the kids and I went in to walk around and cool off in the spring fed creek. It was coooold.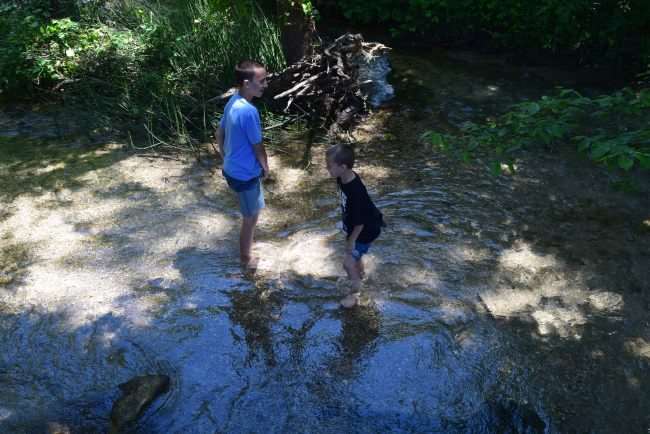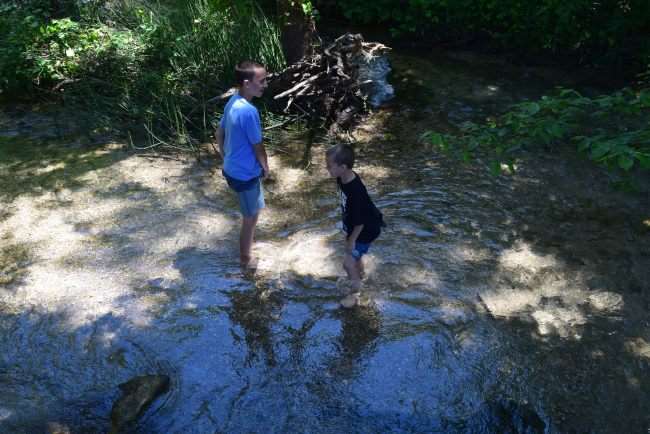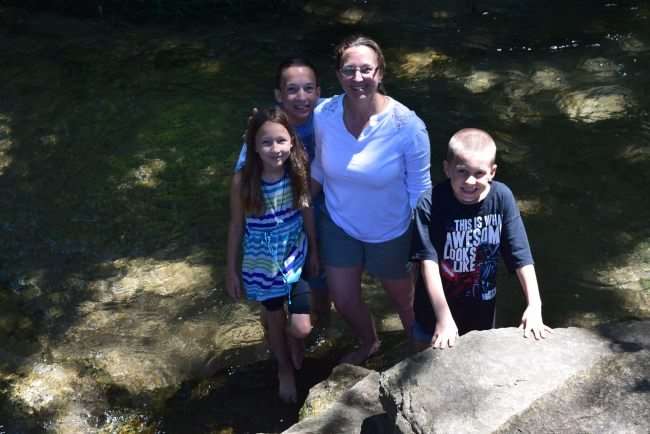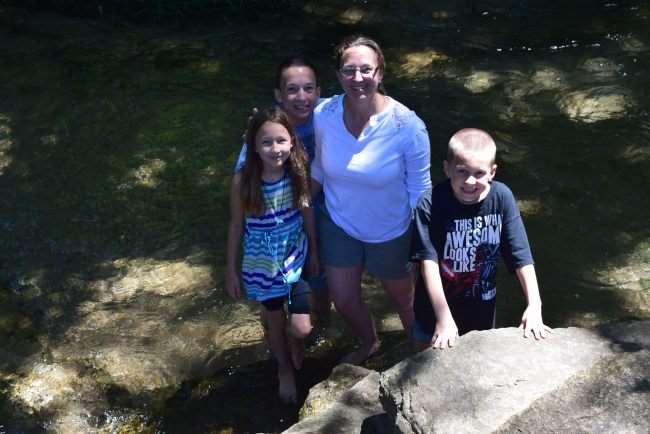 The nature center is a fun place to pick up a Junior Ranger book and learn more about the area. The kids loved seeing all the displays and the animals.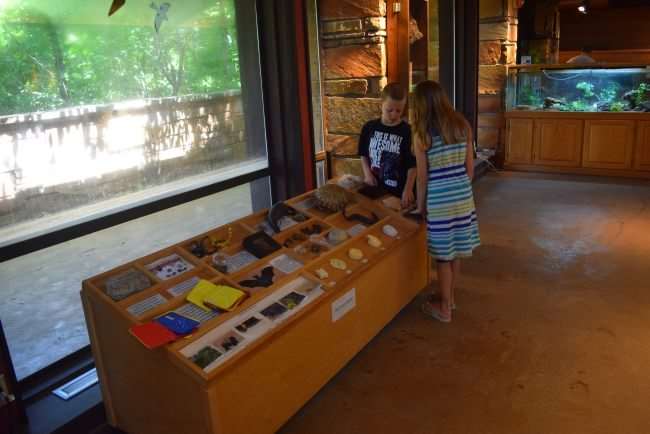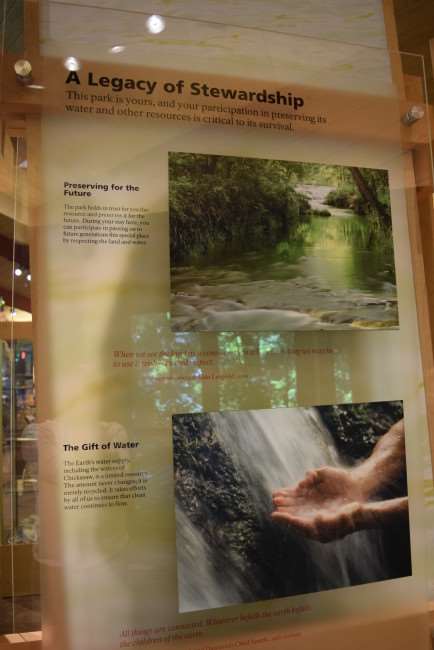 We could of spent so much more time in the park, but it was getting late as we had to get back on the road.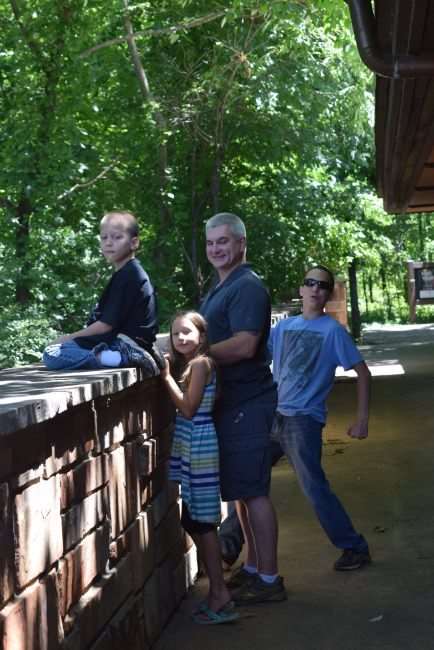 The Chickasaw National Recreation Area is my list to return to in the fall and go camping and tubing in the creeks. The kids want to go back too so they will hold me to it.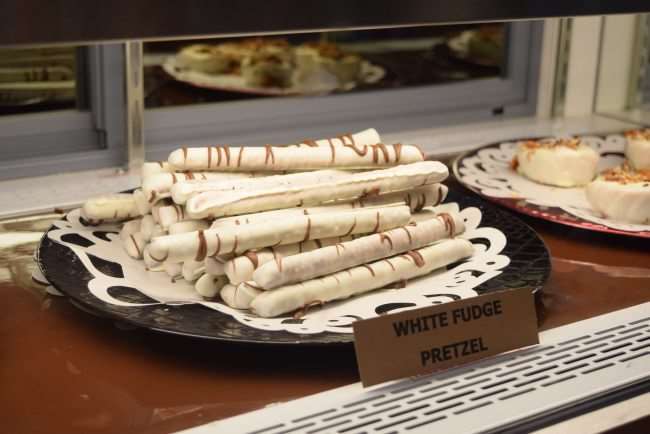 Our last stop was Bedre Chocolate Factory and Shop in Davis. Just off Interstate 35, Bedre creates fine chocolates that are sold at the onsite store and throughout the state. During the week, you can stop in to see how they are making these fine treats. Since we showed up on a Sunday, the factory was closed. The shop offers free samples to try. We tried chocolate covered potato chips and corn bugles. We ended up picking up a few chocolate bars and Meltaways for our trip home. Read more about the chocolate factory here.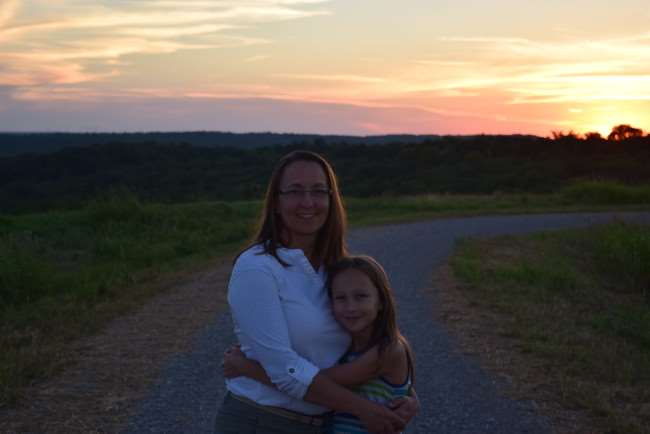 Sulphur, Oklahoma is a great family fun destination on Adventure Road. Our trip to Sulphur was a lot of fun and our whole family really enjoyed it. There are so many destinations to enjoy and explore there. We toured just a few of them on our trip. To create your own fun on the Adventure Road in Sulphur or surrounding areas, visit the Adventure Road website.
What adventures would you like to experience on your next vacation?
The activities, lodging, and meals were provided for free to help facilitate this and other Adventure Road articles. All opinions expressed are 100% my own.