Looking for a road trip or even just a day trip within two hours of Dallas or Oklahoma City? Then take Interstate 35 and head to Sulphur, Oklahoma and the surrounding area. Here you'll find the state's tallest waterfall, outdoor fun at a former national park, the Chickasaw Cultural Center, a drive thru wildlife safari, and a regional chocolate maker offering free samples to visitors.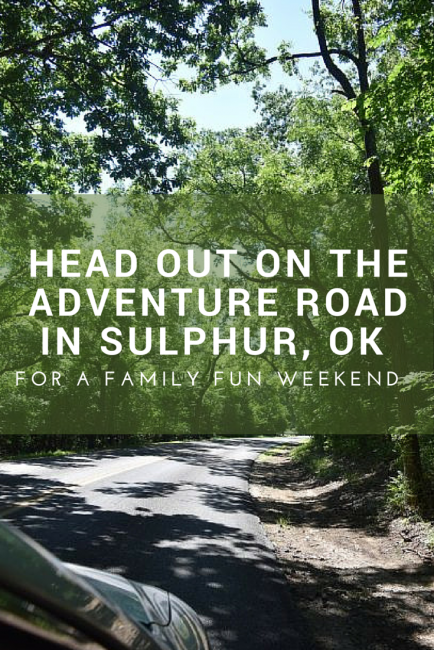 There are so many things to do in Sulphur, Oklahoma. Whether you're a thrill seeker, a family looking to get away, a nature lover, or a history buff, you'll find loads to do here. You just have to hit the road as they saw to find them.
Oklama Adventure Road Trip
Most everyone knows Route 66 as the "Mother Road" of the classic American Road Trip. Fun fact – Oklahoma has the most miles (over 400) of any state along the historic Route 66.
Few know of Oklahoma's "Adventure Road," the 130 mile stretch of highway along Interstate 35 between the Red River (Texas/Oklahoma state line) and Oklahoma City (OKC). The city of Sulphur, Oklahoma is in the middle of the Adventure Road and is the perfect place for an adventure filled road trip. Our family heads to this area often and always have a great time. So will you! I've gathered a list of our favorite things to do in Sulphur and nearby Davis to help you plan your next road trip.
Where is Sulphur, Oklahoma?
Sulphur is in south central Oklahoma's Murray County. Situated in the Arbuckle Mountains, it is just one and a half hours south of Oklahoma City and two hours north of Dallas, on State Highway 7 just off Interstate 35.
Things to Do in Sulphur, OK
Here are a few of our favorites in the area that you'll enjoy. Drive-up for the day or make it a weekend trip. I created a Google Maps list with everything listed below. Get it here. I've added a few hotels and camping options towards the end.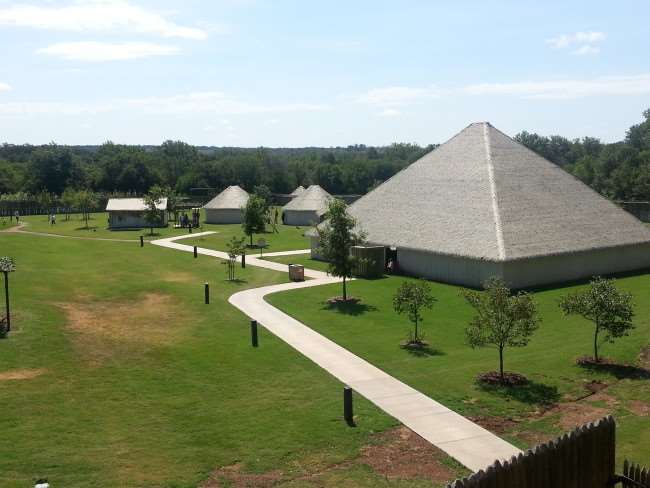 Chickasaw Cultural Center
The Chickasaw Cultural Center is a destination for anyone wanting to learn more about the Chickasaw people and their culture. This is a beautiful 184 acre campus that features a Living Village with reenactments, craft demonstrations conducted by docents in traditional dress, interactive exhibits, films, gardens, history center, and a cafe (try the fry bread and grape dumplings).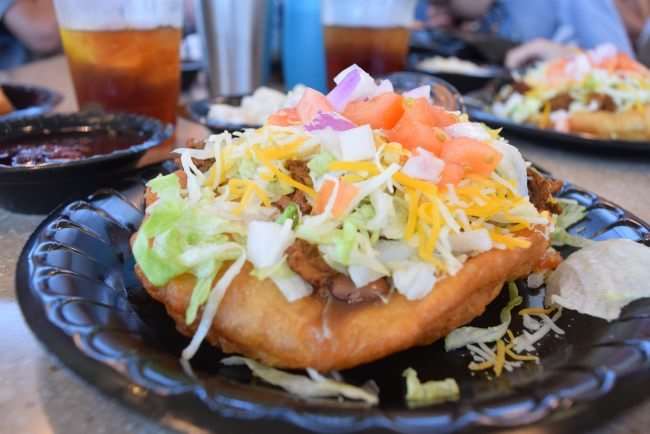 We have been to the center several times and enjoy it each time we go. Visitors can explore most of the canmpus including the Living Village free of charge. However, the Chikasha Poya Exhibit Center has an admission fee of $6-7 for adults. It's an extremely informative exhibit and one I highly recommend.
The cultural center hosts many annual events perfect for the whole family. Their Children's Festival is one of our favorites, offering additional activities, and events for families. If you get the chance, go on a weekend and watch the Stomp Dance that is performed several times a day. Visitors are also invited to participate and join the dance. The kids, especially my daughter, love doing that. Read more about our visit to the Chickasaw Cultural Center during the Children's Festival.
Arbuckle Trail Rides
Exploring on horseback is a great way to enjoy this area. Arbuckle Trail Rides offer trail rides on their ranch just north of Sulphur, the Chickasaw National Recreation Area, as well as large private ranches throughout the Arbuckle Mountains.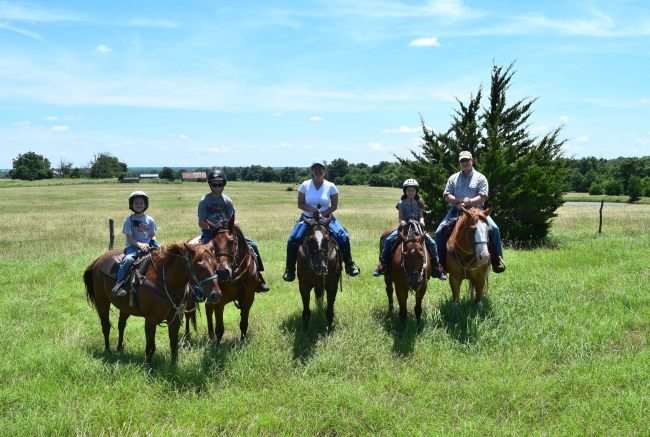 We went out with the owners of Arbuckle Trail Rides, Pete and Cheri Wolfe, for a ride on their property, Wolfe Ranch. You can ride more about that trip to go horseback riding in Sulphur here.
Chickasaw Visitor's Center
Located in downtown Sulphur right across the entrance to the National Recreation Area, the Chickasaw Visitors Center is full of information for visitors. We enjoy stopping in to see the featured artist on exhibit. Each quarter, a Chickasaw artist is chosen to display their work. .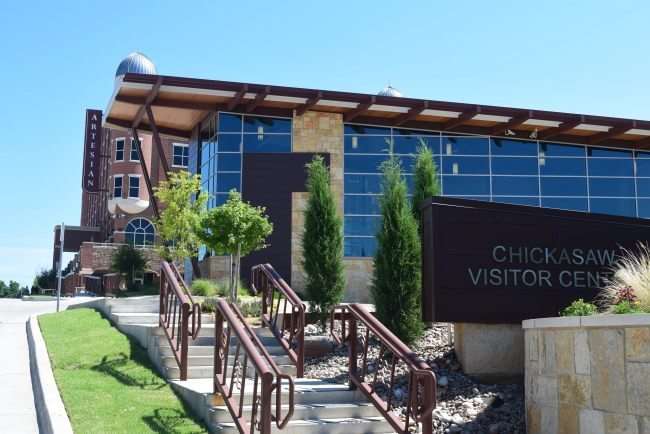 At the Visitors Center, we picked up maps for the park, a cup of free coffee, and toured the different maps and displays. The center also offers a pressed penny machine which makes great, inexpensive souvenirs, and free hot coffee.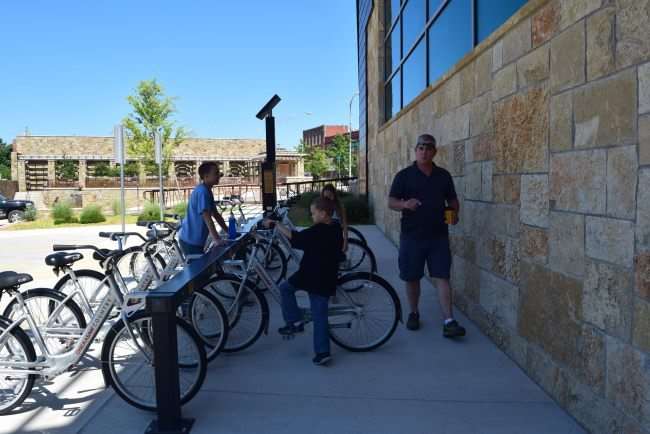 If you are interested in cycling around the park, the Visitors Center offers bicycle rentals by the hour. The bikes are really comfortable and lightweight. It's a great way to tour the park if you don't want to hike.
Pin This for Later…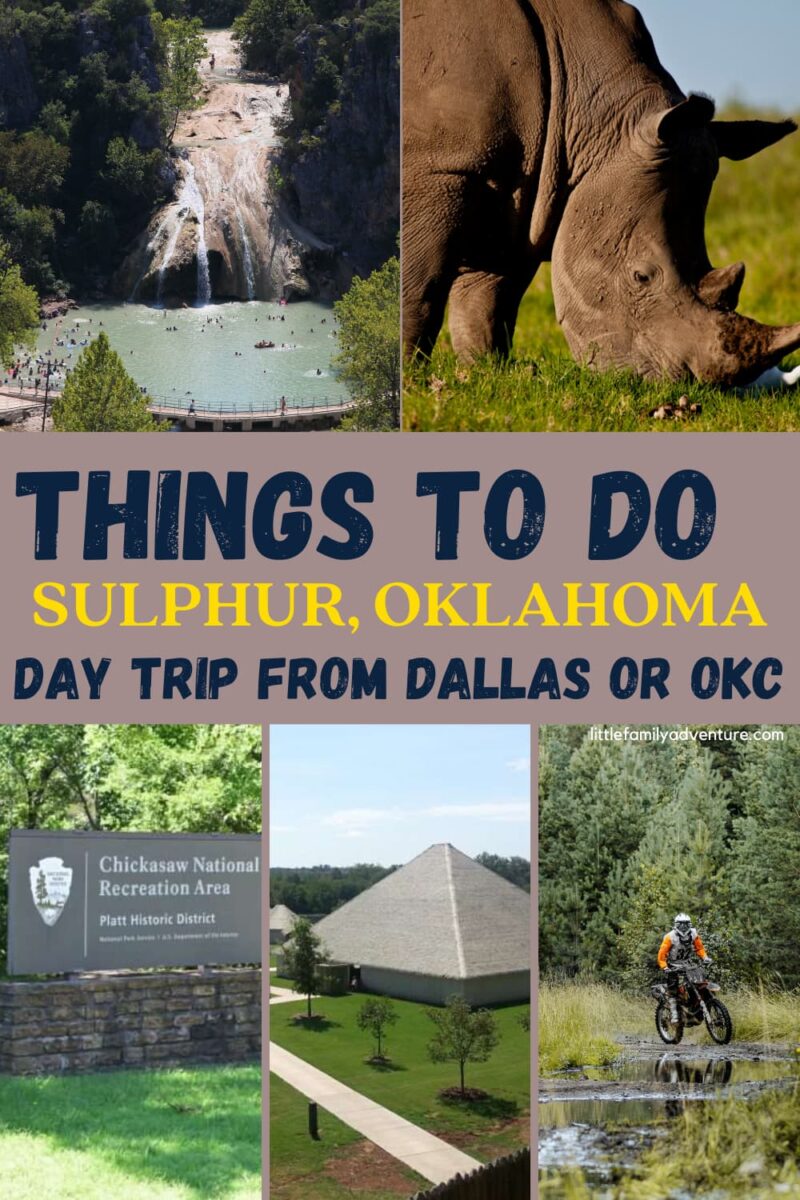 Chickasaw National Recreation Area
The Chickasaw National Recreation Area spans 10,000 acres with twenty miles of trails for hiking and cycling, plus lakes and spring fed creeks for swimming, fishing, and boating.
This area was once designated as a US National Park known as Platt National Park. As of 1976, it is no longer a national park, but it is still under the management of the park service as a national recreation area. There is no admission fee but there are charges for boat launch and camping.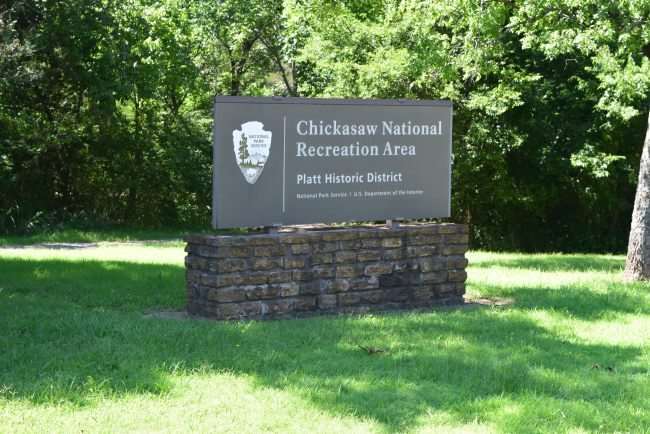 Little Niagara
One of the park's attractions is Little Niagara, small rock waterfalls and swimming area. People like to gather here to swim and tube down the creek. The creek's spring fed water cool and almost chilly. It is a welcome treat during hot summer days here in Oklahoma.
On summer weekends, the creeks and Little Niagara can get busy, but it's so much fun. If you would prefer a less crowded area, there is a small creek running underneath the nature center.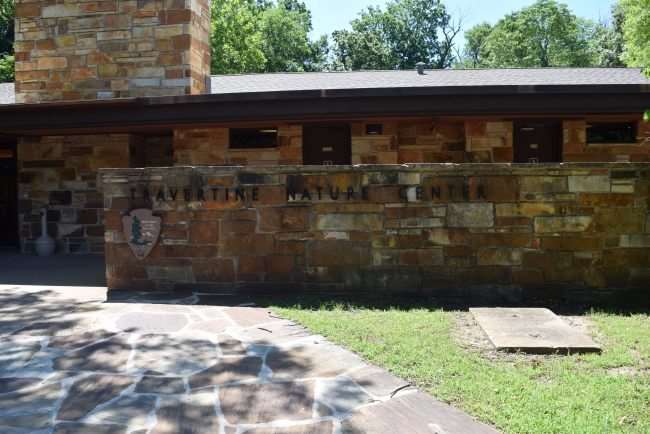 Travertine Nature Center
The nature center is a fun place to pick up a Junior Ranger book, learn more about the area, and earn your park Junior Ranger Badge. You can also find the Junior Ranger booklet here. The kids will also enjoy seeing all the nature displays and the stuffed animals that call this area home.
Lake of the Arbuckles
This 36 mile lake is the perfect spot for fishing; catfish, white bass, and sunfish. If you need an Oklahoma fishing permit, you can pick one up at the Chickasaw Visitor's Center. Our favorite campground, Buckhorn Campground, borders this lake.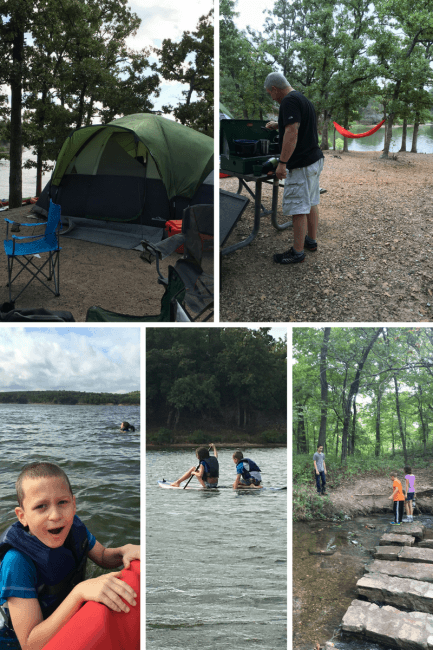 Buckhorn Campground is one of six campgrounds found inside the Chickasaw National Recreation Area. It has both first-come, first-served, and reserved campsites available. We prefer the lakefront sites as they allow for easy in/out access with kayaks and SUPs.
Bison Pasture Lookout & Trail
Pull over at the Bison Viewing Area on US Route 77, just south of Sulphur. There is a trail there where you can stretch your legs and glimpse the local herd of bison.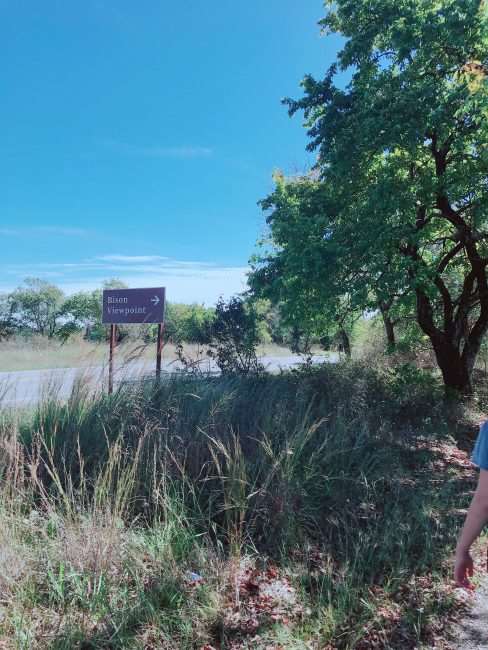 Rusty Nail Winery Tasting Room
After a day out, relaxing with a nice wine sounds delightful. Rusty Nail Winery is a locally owned winery located in the downtown area. The winery produces a variety of wines to fit every palette and the bottle labels feature shoes in some way. It's a great place to sit back and relax after a long day. Grab a bit at the bistro if you are hungry or do a little shopping in the gift shop. Read more about our experience at the Rusty Nail Winery here. Like much Sulphur, Rusty Nail is casual and family friendly.
Things to Do In Davis, Oklahoma
Davis is a town right on Interstate 35.
Bedré Chocolate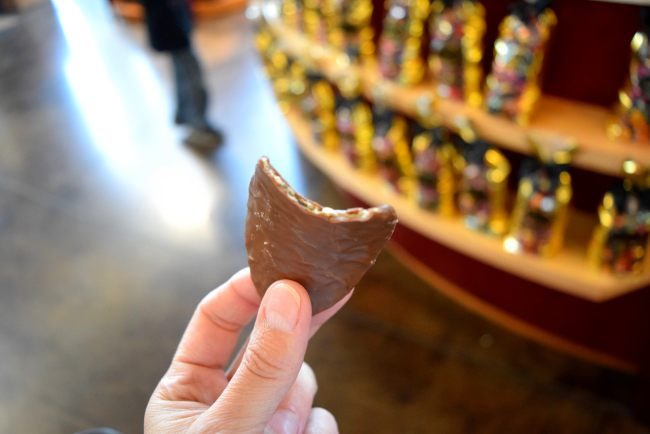 Just off Interstate 35, in Davis, OK is the Bedré Chocolate Factory and Shop. It's right next door to the Chickasaw Welcome Center. This Oklahoma chocolate factory creates fine chocolates that are sold at the onsite store and throughout the state. During the week, you can stop in to see how they are making these fine treats. Since we showed up on a Sunday, the factory was closed. The shop offers free samples to try. We tried chocolate covered potato chips and corn bugles. We ended up picking up a few chocolate bars and Meltaways for our trip home. Read more about the chocolate factory here.
Arbuckle Wilderness
Within the Arbuckle Mountains is this 200 mile drive thru safari with animals from around the world. Here you'll see bison, giraffe, rhinoceros, deer, antelope, lemurs, kangaroos, and other animals from around the world. You can drive your own car or take a hay bus ride for the safari. Afterwards, get out and tour the House of Reptiles on foot or go to the petting zoo. Hours are 9am to 5pm weather permitting. Admission – Adults are $16.99, Seniors and Children $14.99.
Crossbar Ranch and ATV Park
This is the place for adventure in the Arbuckle Mountains with 2 or 4 wheels. At 6500 acres, Crossbar Ranch is the largest offroad park in Oklahoma. Here you can bring your dirt bikes, ATV, UTV, or full-sized vehicle and play through creek beds, trails, and rocky hills. There are also 3000 acres of dedicated mountain bike trails. Admission – $10 for ages 10-15, $20 ages 16+. Primitive and improved tent camping as well as RV sites with hookups are available if you want to bring your toys and stay awhile. Website
Turner Falls Park
This is the site of the state's largest waterfalls, but there is so much more to see here. Turner Falls is an outdoor adventure destination with natural swimming areas, hiking, cave exploring, cabins, and camping. Read more about a trip we took to Turner Falls Camping and get out tips for visiting yourself. Admission to the park is $9-16 per person.
Hotels and Airbnbs near Sulphur, Oklahoma
There are a few lodging options in and around the Sulphur area.
Chickasaw Retreat and Conference Center
Overlooking the southern shore on Lake of the Arbuckles is the Chickasaw Retreat and Conference Center. The resort features large, spacious rooms, huge onsite fitness area, indoor pool, hot tub, and spa. There is also an onsite restaurant. The views from this hotel are nothing short of spectacular.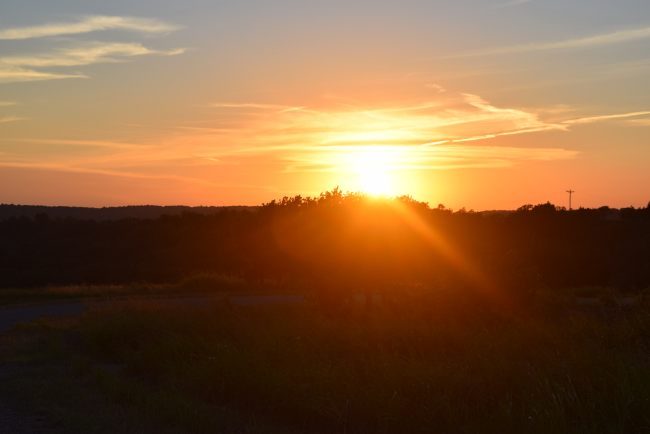 I highly recommend a sunset walk around this property. The resort is located on a hill, so you had beautiful views in all directions.
On a past visit, we enjoyed a King Suite which had plenty of space for the five of us. A small kitchenette provides everything we needed to whip up something. Rooms are well appointed and the perfect spot to relax after a day filled with outdoor activity with the kids.
Artesian Hotel, Casino, & Spa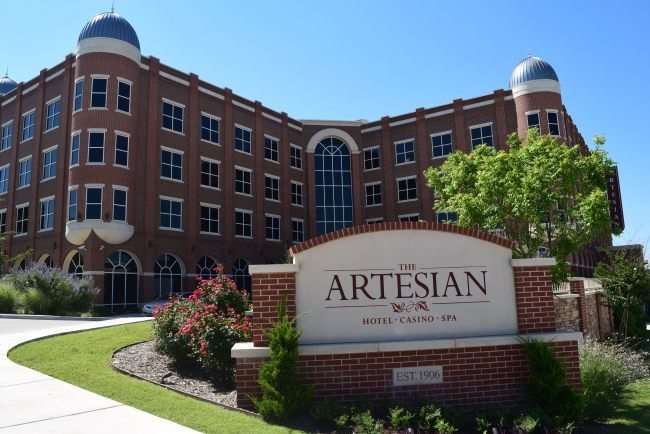 In downtown Sulphur, you'll find the luxurious Artesian with 81 guest rooms, 15,000 square foot casino, indoor outdoor pool, Sole'renity Spa, and the kids only Little Soles Spa. Whether you are looking for a little pampering, a hotel in the heart of Sulphur, or local shopping, your family will find it here. There's even a candy shop, Sweet Swirl for the kids to satiate their sweet tooth.
For more rustic accommodations, I've mentioned a few options throughout the article.
Chickasaw National Recreation Area offers rental cabins and six campgrounds

Turner Falls offers RV with hookups and tent camping

Crossbar Ranch offers RV with hookups and tent camping
Sulfur, Oklahoma and surrounding towns like Davis are great destinations on a Dallas to OKC road trip or as an Oklahoma day trip. Make plans yourself to see why this is a great family fun destination. Find more local spots and restaurants on the Adventure Road website.