After a long day, sometimes you just want to sit back and relax. On a recent trip to Sulphur, Oklahoma we had a full day of exploring with the kids. We took them to the Chickasaw Cultural Center for their Children's Celebration, went Horseback Riding at Arbuckle Trails, and went splashing around in the springs at the Chickasaw National Recreation Area.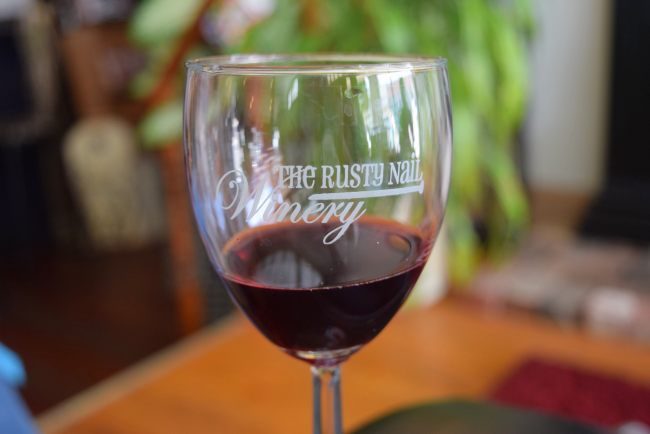 It was a really full day, but when we saw the Rusty Nail Winery in Sulphur's downtown area, we had to stop and enjoy it for ourselves.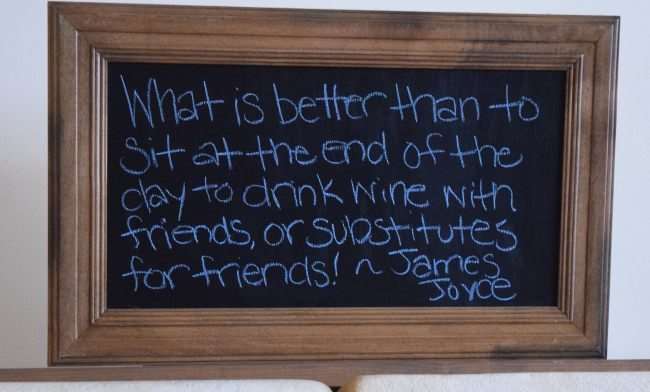 This was such a fun place to unwind in. Don't you love this quote? It's so true! Even if you don't drink alcohol, you should be able to enjoy the end of your day relaxing and visiting with your friends. If your friends can't make it, then you can make a few new ones. The atmosphere here is laid back and because they also serve food, children are allowing earlier in the day.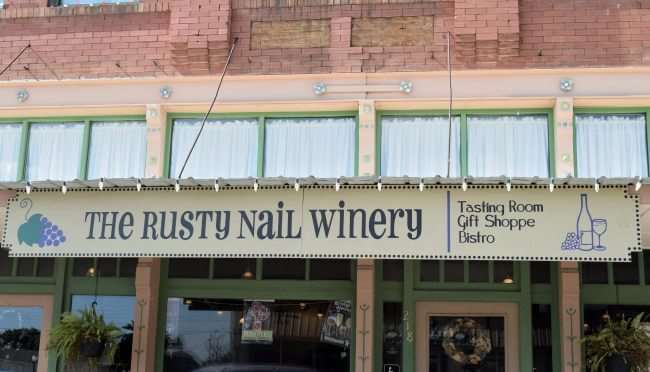 We really enjoyed this place. While we were there, we were able to meet and chat with one of the owner's Debbie Alexander. She and her two daughters opened the winery a few years ago.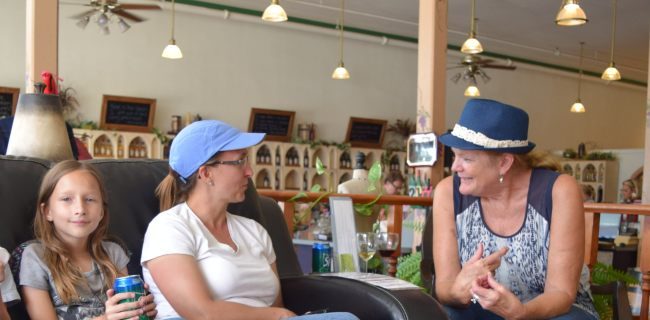 This is Debbie and I chatting here. We had a great chat. She said she's at the winery most days making wine, which is made onsite, and visiting with customers. She started out making wine at home before she and her daughters decided to open up their winery. Blackberry wine was one of the first wines she ever made, but she has loves her reds. She's a girl after my own heart. Now the winery offers a great variety of wines, from dry to sweet and everything in between.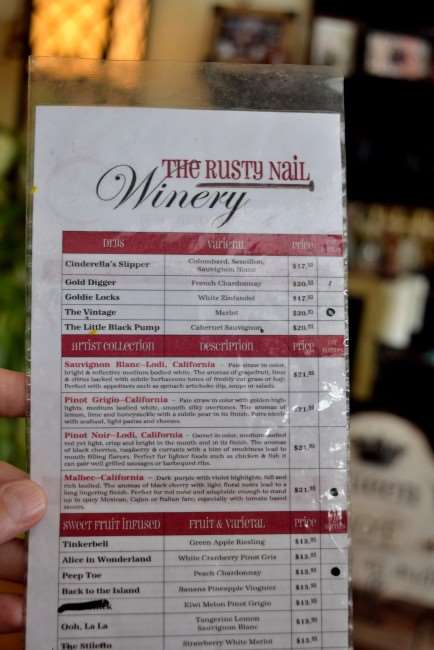 These were some of the wines being offered when we visited. You could buy by the glass, by the bottle, or as part of a wine flight. When I visit a winery, I like to sample a little of everything, so I almost always choose a wine flight.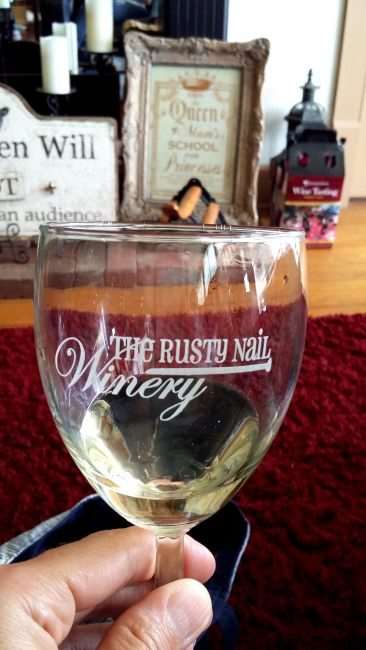 I tried The Vintage (Merlot), California Malbec, Peep Toe (Peach Chardonnay), Little Big Heel (Pomegranate Wild Berry Zinfindel), and Southern Belle (Sangria).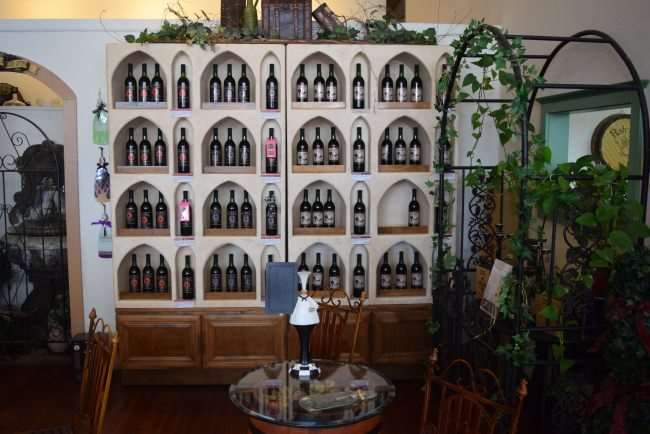 Do you notice anything about the names of the wines? They are all (with a few exceptions) named after shoes.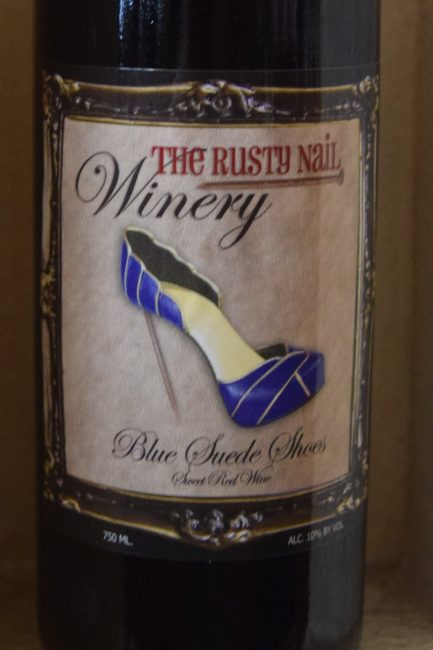 You have to the love their sense of fun. The winery is in an historic building that was once a hardware store. To pay omage to the building's history, the winery is named after all the rusty nails they found when renovating the building. You'll also find nails in the wine labels. Take another look above, do you see them?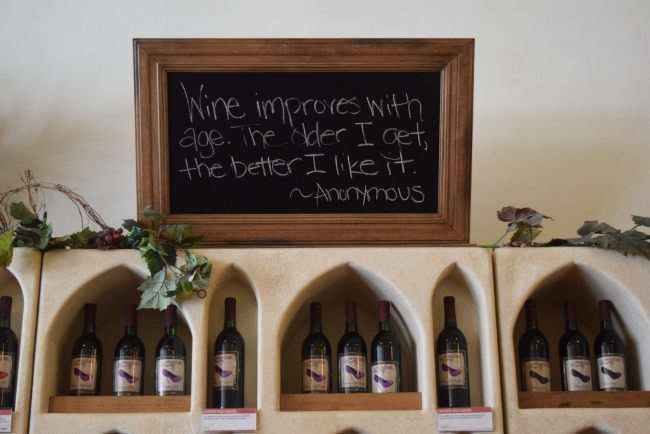 I have to agree with this one too!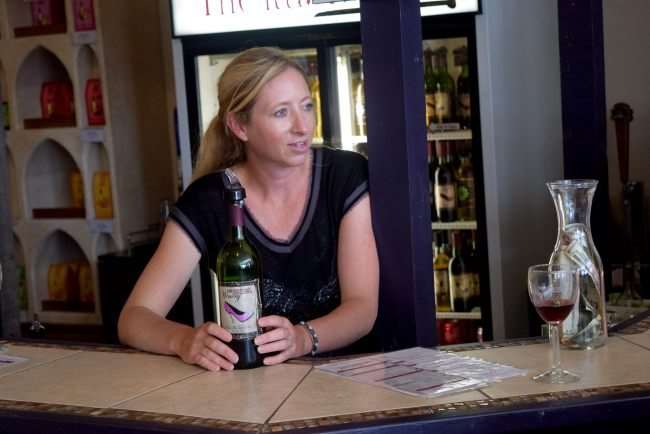 The Rusty Nail Winery is a great place to come and unwind from a long day. It's also a fun destination for a girls trip. We met these ladies and they were enjoying their visit at the winery, just as much as we were.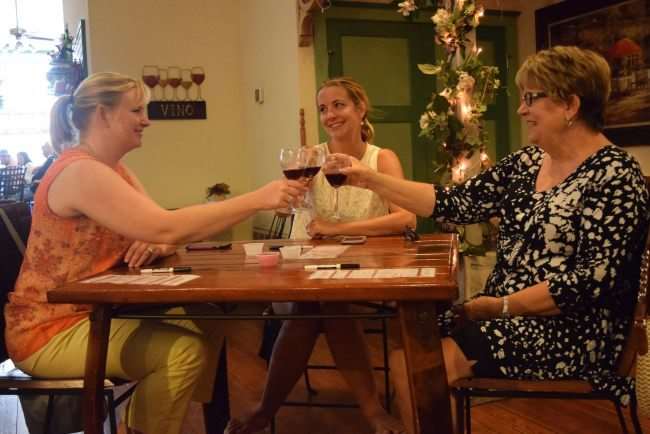 When you are on a family getaway, it doesn't mean you have to do only kid friendly activities. You and your partner can enjoy things you like to do too. Everyone should be able to choose something they would like to do on a trip. This winery was definitely "us" time and we loved every minute of it.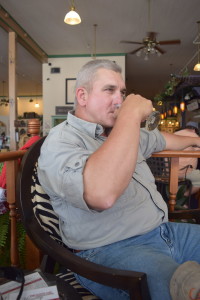 We enjoyed our wine so much, we had to bring a few bottles home.
If you are in the Sulphur area, be sure to stop by the Rusty Nail Winery for some great wine and food. It's a short drive from either Dallas/Fort Worth and Oklahoma City. If you get the chance, I highly recommend making a weekend trip to the area and exploring some of the other great attractions and destinations. I have been using the Adventure Road website to find lodging, restaurants, events, and attractions in the area. The site has travel partners that are perfect for any kind of adventure you are looking for. So be sure to check them out and "Find Your Adventure Road".
I was provided with free wine tastings so that I could write this article. I received no other compensation for writing this article. All opinions expressed are 100% my own and I wanted to share this local Oklahoma destination with you. Always remeber to drink responsibly.