Do you want to have a great time with your family? Are you looking for a way to unplug and have fun together? Take the family on a trail ride. We recently had the chance to saddle up and go on a trail ride together. We had SOOO much fun that we didn't want it to end. A trail ride can be a great way to get outdoors, explore an area, and just have fun together. Join us as we hit the Adventure Road for a trail ride and have fun as a family.
Adventure Road is a website that has a ton of travel ideas and travel partners in southern and central Oklahoma. You can choose from fun-family adventures, water adventures, cowboy adventures, and more. You can find special events and great restaurants there too. I have been using it the past few weeks to plan a few day trips and a staycation. It's really easy to navigate and includes everything you need to plan the perfect getaway.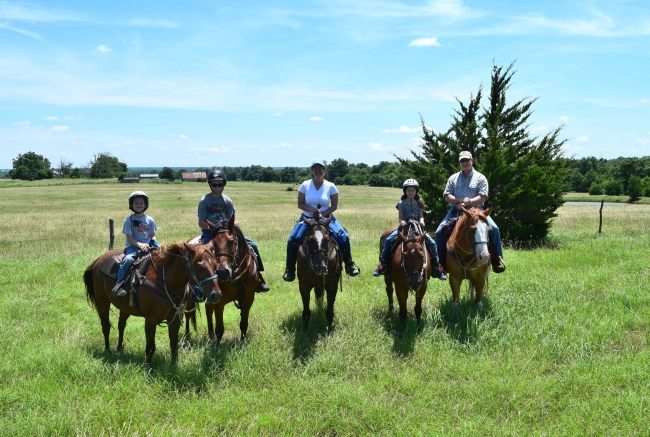 My family and I were looking for something to do together and we found Arbuckle Trail Rides just outside Sulphur, Oklahoma. With all the rain we have had here, we thought it would be a great way to explore the countryside and everywhere we looked, things would be green. Since we have had a few years of drought, green would be a VERY welcome sight.
Since turning 40, I promised myself that I would do and see more every month. Instead of the same old thing, we're doing something different and experiencing that together as a family. Although we have all ridden on horseback before, we've never been on a trail ride together. It was about time to saddle up (pun intended) and have some fun.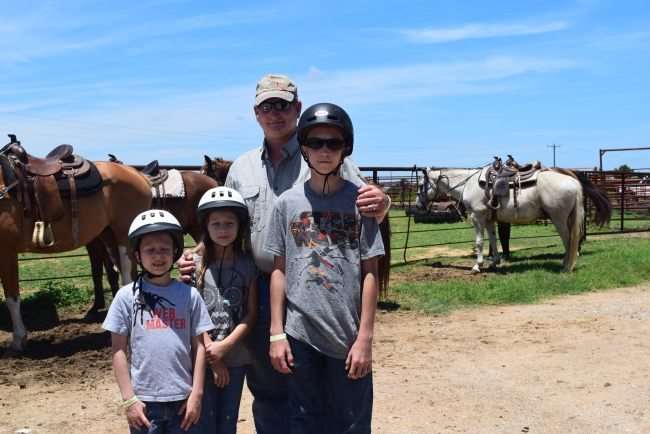 The day of our ride was ideal for a trail ride. It was in the mid 80's (that's rare for late June in Oklahoma) and there was a gentle breeze. We arrived at the ranch and got ready for our ride. The kids were all fitted with helmets (safety first) and taken to the arena to work with their horses.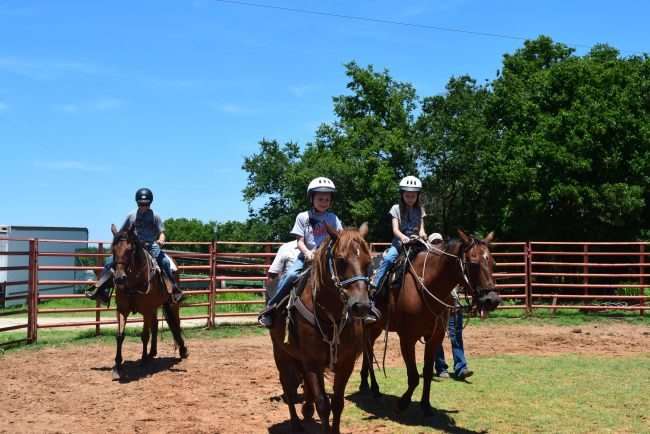 Since we haven't been on horses in years, we arrived early so that we could all get comfortable being in the saddle. As part of the safety procedures, we were all put on our horses prior to the trail ride and allowed time in an enclosed arena. There we worked on directing our horse, getting the horse to go forward, and just built confidence as a rider. I really appreciated that extra time, because it would have been awful if we got out on the ride and we couldn't get our horses to work with us.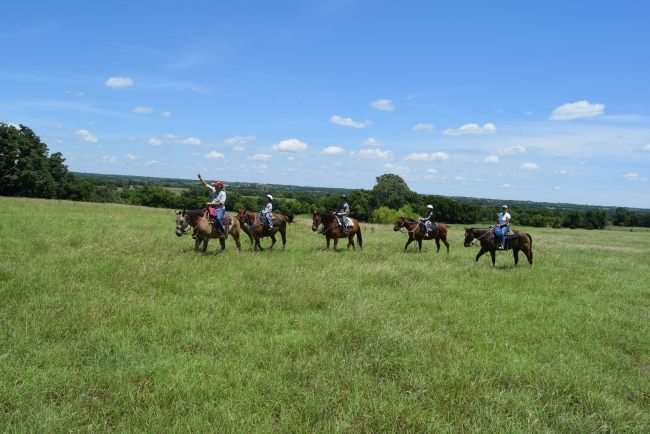 When we were all ready, we headed out on a hour trail ride with owner Cheri and another rider.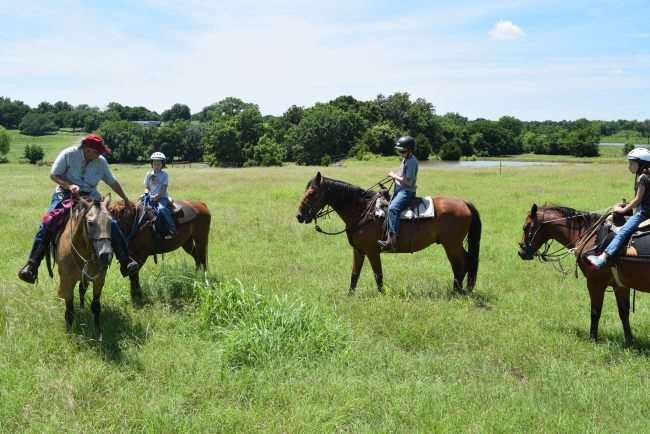 Cheri guided us through the ranch, through wooded areas, and around ponds. She pointed out wildlife and other areas during our ride. In that clump of grass, there was a coyote den, a place where pups were raised. I never thought about where a coyote had her pups before, but I now I know.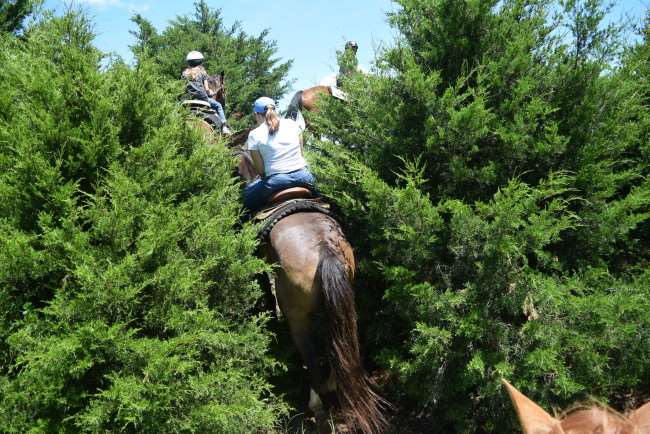 The kids had a great time. They would point out all kinds of things as we rode. When asked, they were ready for some "fun" riding up and down hills. They loved taking the horses up the pond banks and across streams. I'm sure they would have galloped across the fields if they were allowed to.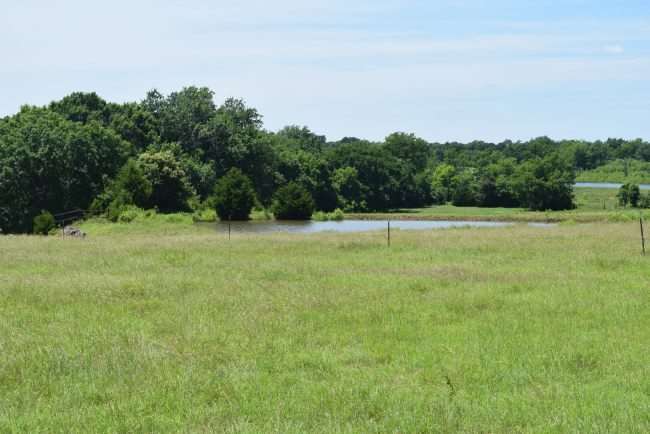 I loved how beautiful the ranch was. Everything was lush and green after all the rain the area received. I have to agree that an hour went way too quickly, but I loved every minute of it. As we were heading back, the kids said they were ready for their next ride. That made me smile.

Taking a trail ride with my husband and children was an amazing experience, one that I'll have to do again. It was a great way to unplug from everything and have fun with them outdoors. Riding on horseback gives you a different view of things that you can't get from a car or even from a hike. It's an natural adventure everyone should have.
Cheri at Arbuckle Trail Rides was a great guide. Planning this ride with her was easy and I'd welcome the chance to visit her ranch again. She offers trail rides year around. You can choose between one hour and full day rides. Two fundraising rides (one in the spring & one in the fall) are offered that benefit St. Jude's Hospital. My family would love to participate in one of these rides because it takes place on one of the largest ranches in southern Oklahoma. This ranch only allows riders on their property during these rides. Cheri says that they are great experiences and they benefit a great cause.

Sulphur is only a little over an hour's drive from Oklahoma City and 2 hours from Dallas. It's perfect for a day trip or a short weekend getaway. The area is absolutely beautiful too and has several great attractions unique to the area. If you are in the Sulphur area, you should definitely check out Arbuckle Trail Rides for a unique outdoor experience. You'll love the opportunity to ride in this beautiful country. If you looking for other fun adventures, be sure to check out the Adventure Road website. You can find great opportunities to get out and explore Oklahoma. Their travel partners cover every adventure and budget. You are sure to find the adventure that is perfect for you. I know we did.

Take a look at a few of the places, we have been so far on the Adventure Road.
What adventure will you do next?
My trip to Arbuckle Trail Rides and this post were sponsored as part of the Adventure Road Campaign. This ride was provided free of charge and I didn't not receive additional compensation. We loved this ride and all opinions are 100% honest and my own. We loved our family time in Sulphur, Oklahoma and hope this helps you plan an awesome trip for your family too!