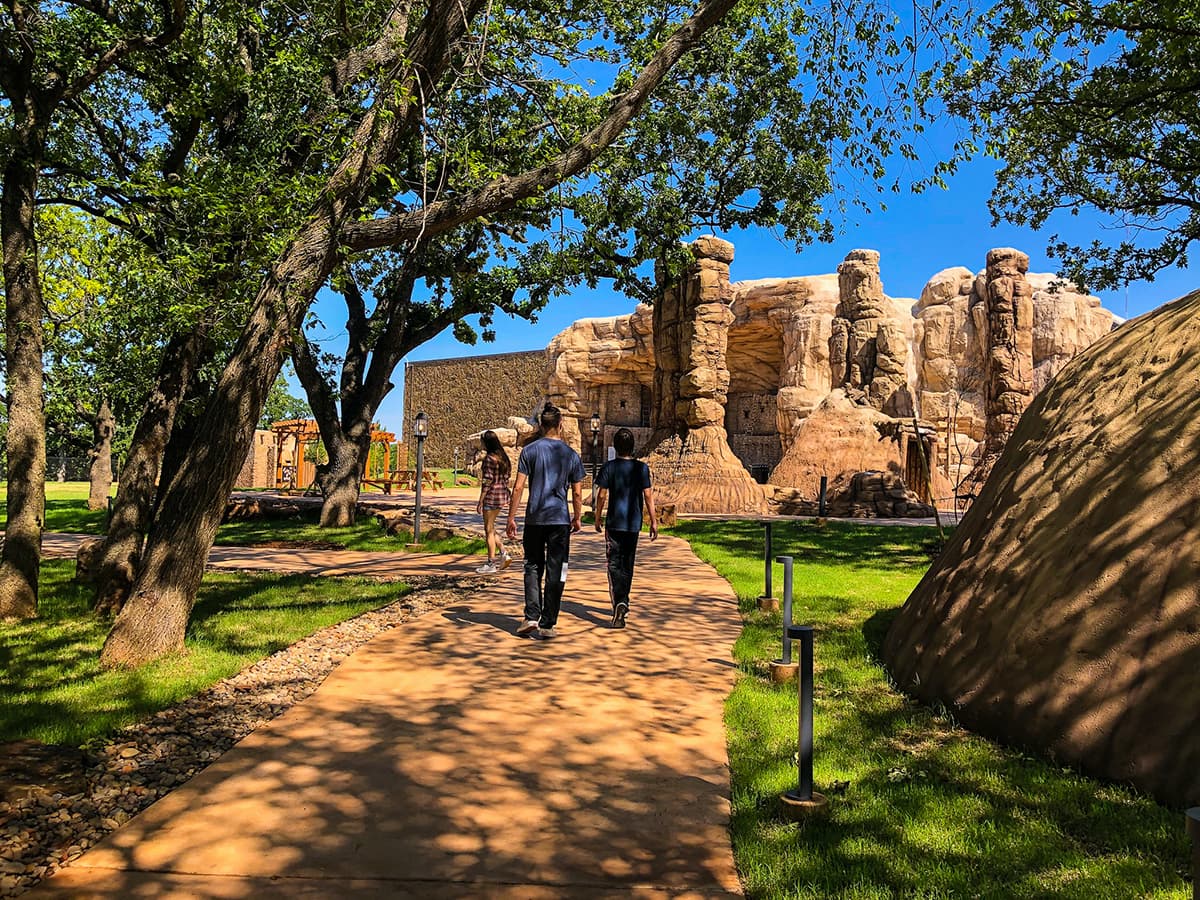 Liichokoshkomo' – Let's Play
The Liichokoshkomo'(pronounced Lee-cho-kosh-ko-MO) outdoor exhibit opened May 2020 and families love it! The word Liichokoshkomo' is the Chickasaw phrase for "Let's play" and this 100,000 square foot space is filled with opportunities for active, purposeful play. We recently visited the museum and found that it is a place for all ages to come together, learn about the West, and have fun.
Here are some of the spaces you will discover when you visit this National Cowboy & Western Heritage Museum exhibit.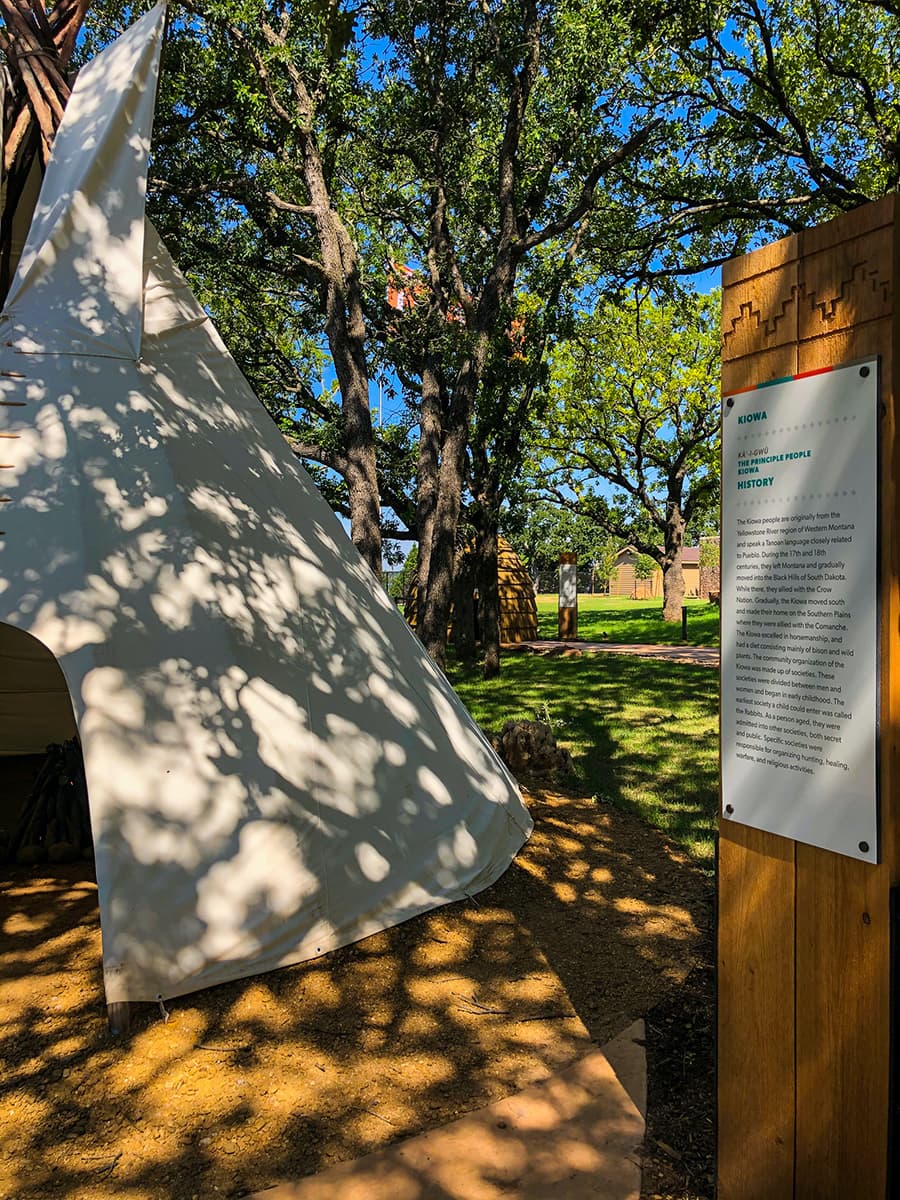 Native Village Structures – The exhibit focuses on the people and the places of the West. Dotted throughout the exhibit are buildings representing the Puebloan, Chickasaw, Navajo, Hopi, Caddo, Kiowa, and Pawnee. Each site offers visitors the opportunity to learn about Native people, their culture, and some of their traditions. There are games, recorded stories, and hands-on educational activities like tipi construction, corn grinding, and loom weaving.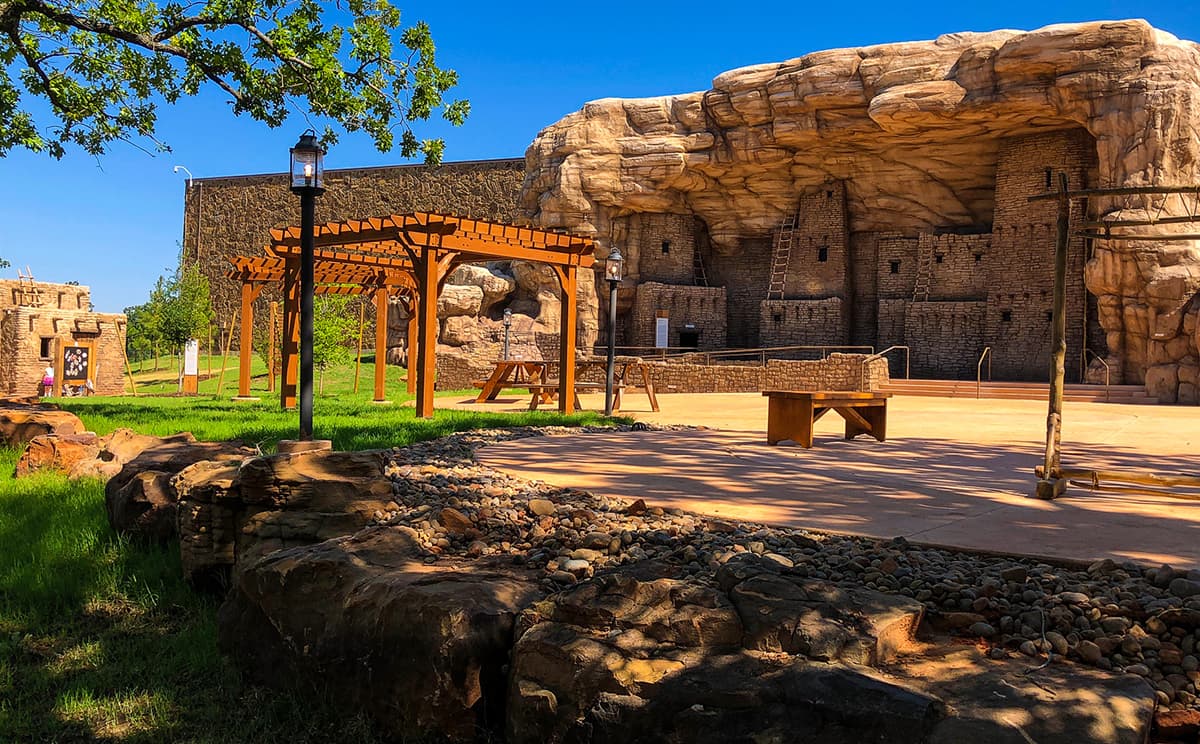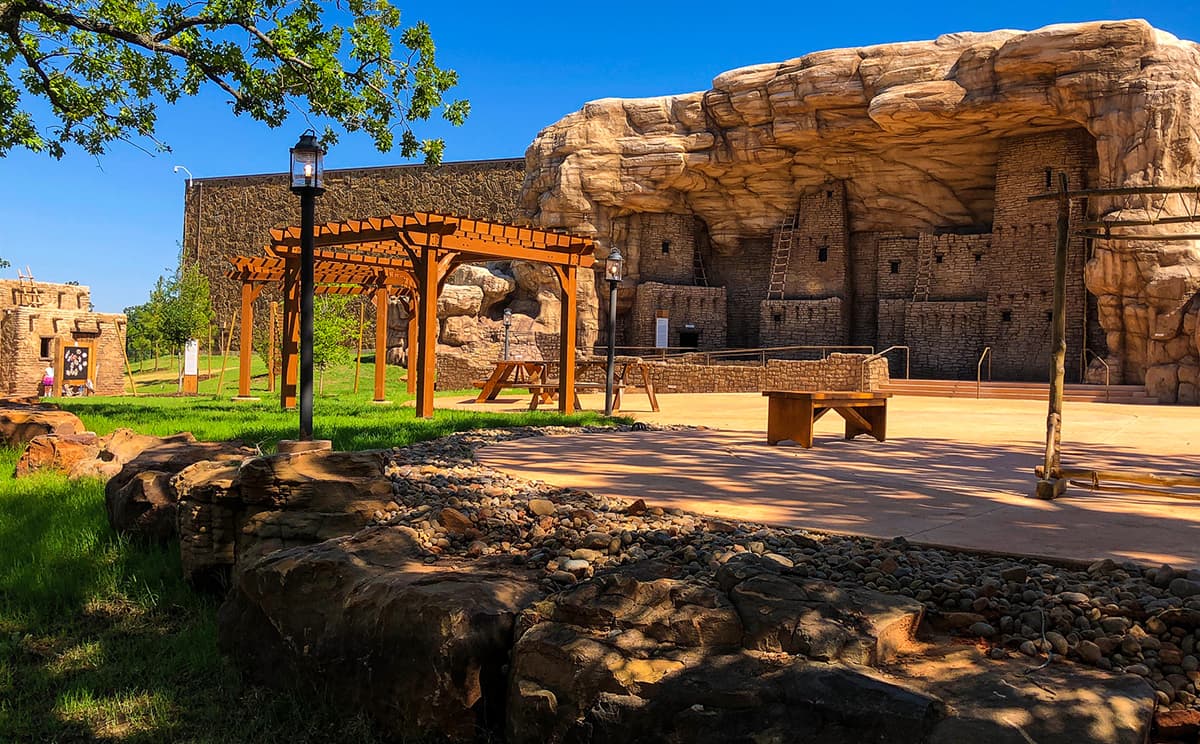 Friess Family Playground – Children enjoy this area for free play on the jungle gym, slides, and grassy area. There are picnic tables too nearby if you want to be a picnic lunch.
Did you know cowboys wear masks? It's "the cowboy way" to wear one. You'll see the museum staff sporting their own too. Through September 7, 2020, face masks are required for visitors per OKC ordinance. You can pick up a Tim #HashtagTheCowboy Mustache mask at the gift shop or bring your own.
Note: If you are looking for a great selection of reusable facemasks, I've found the best options at Jane.com.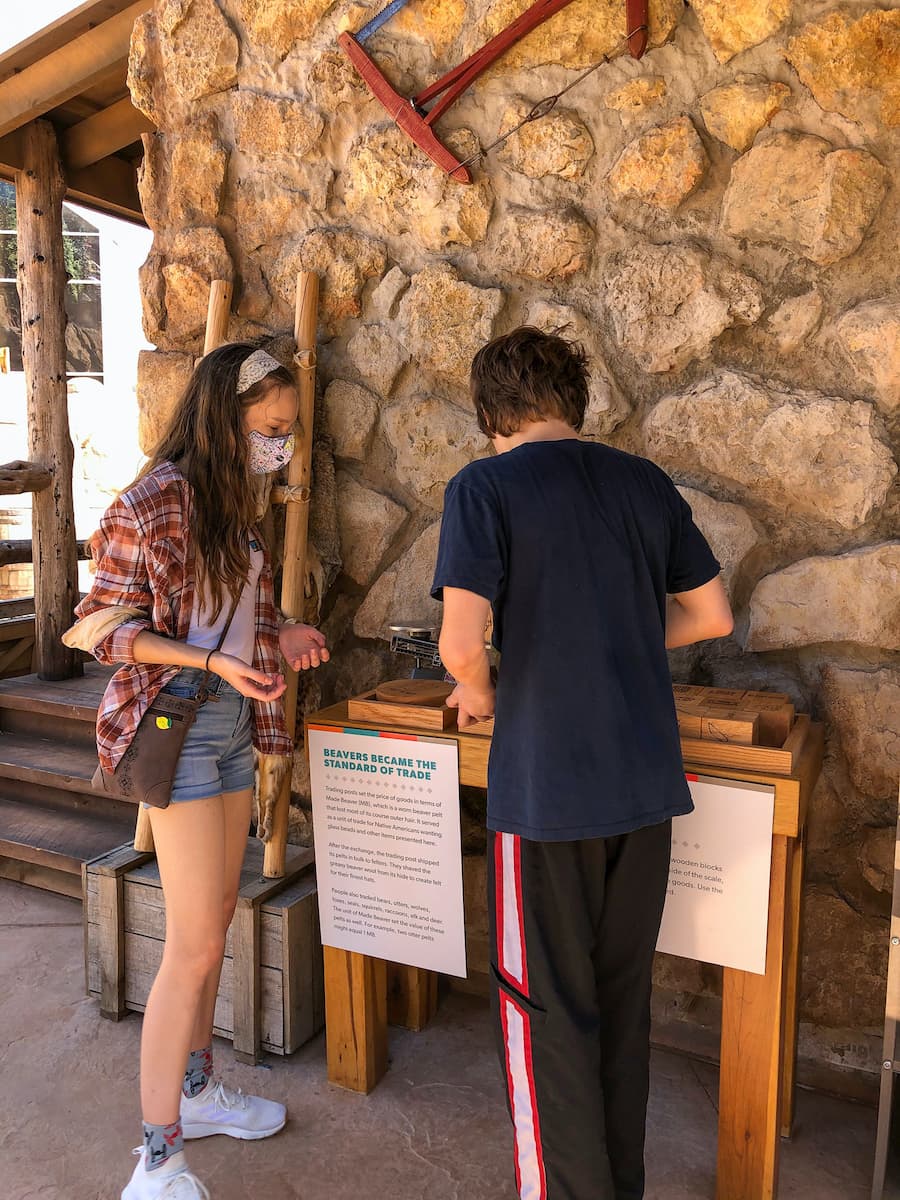 Be a Pioneer Heading West – Just imagine what you will need to make the journey in a covered wagon. Head to the Trading Post to get what you need, learn how to barter, and send a message by telegraph.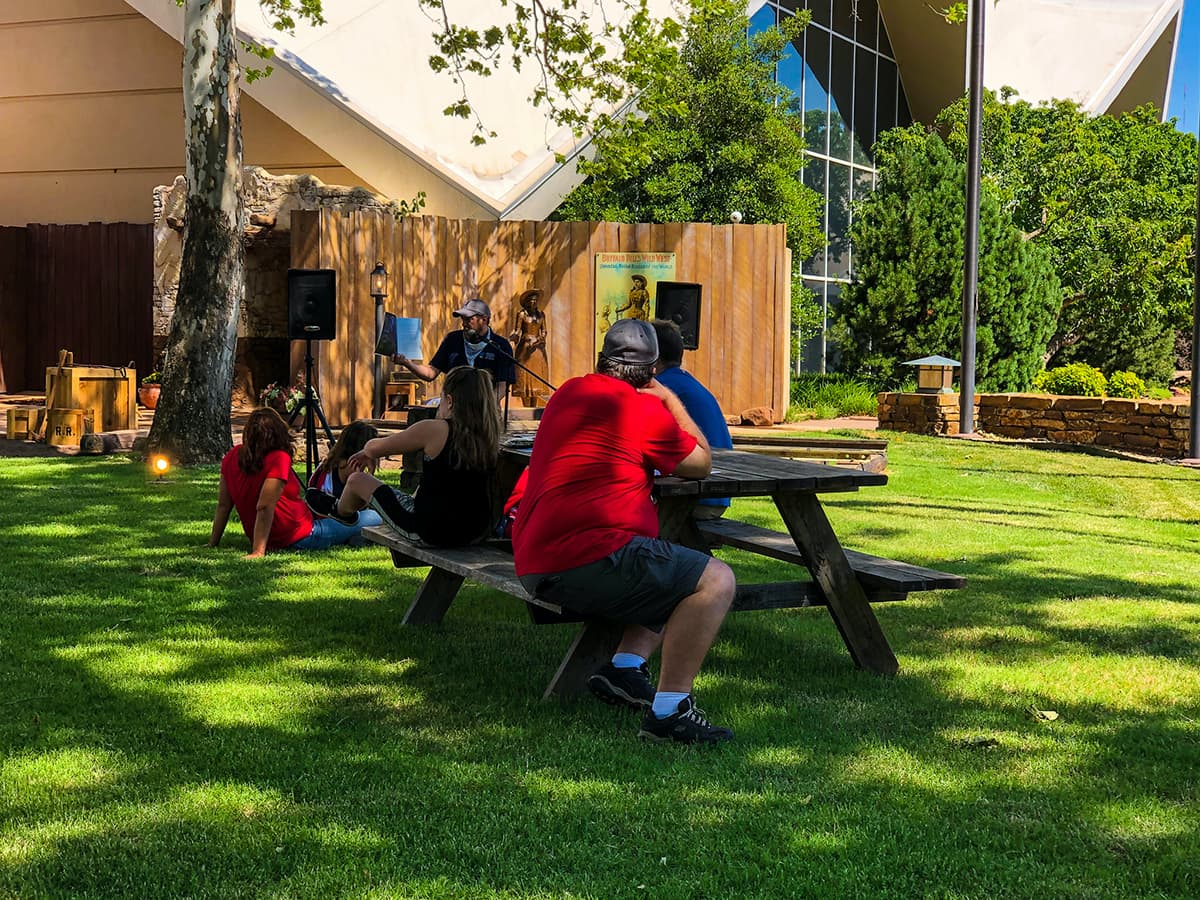 Storytelling on the Lawn – With all the social distancing, many places have canceled storytime. But being outdoors here, visitors can easily space out on the Town Square lawn and listen to storyteller share stories three times a day. There are other daily scheduled activities. Check the schedule for what's available.
Get Your Passport to the West
Upon arriving at the National Cowboy and Western Heritage Museum, pick up copies of the Passport to the West and the Hidden Code Message Scavenger Hunt.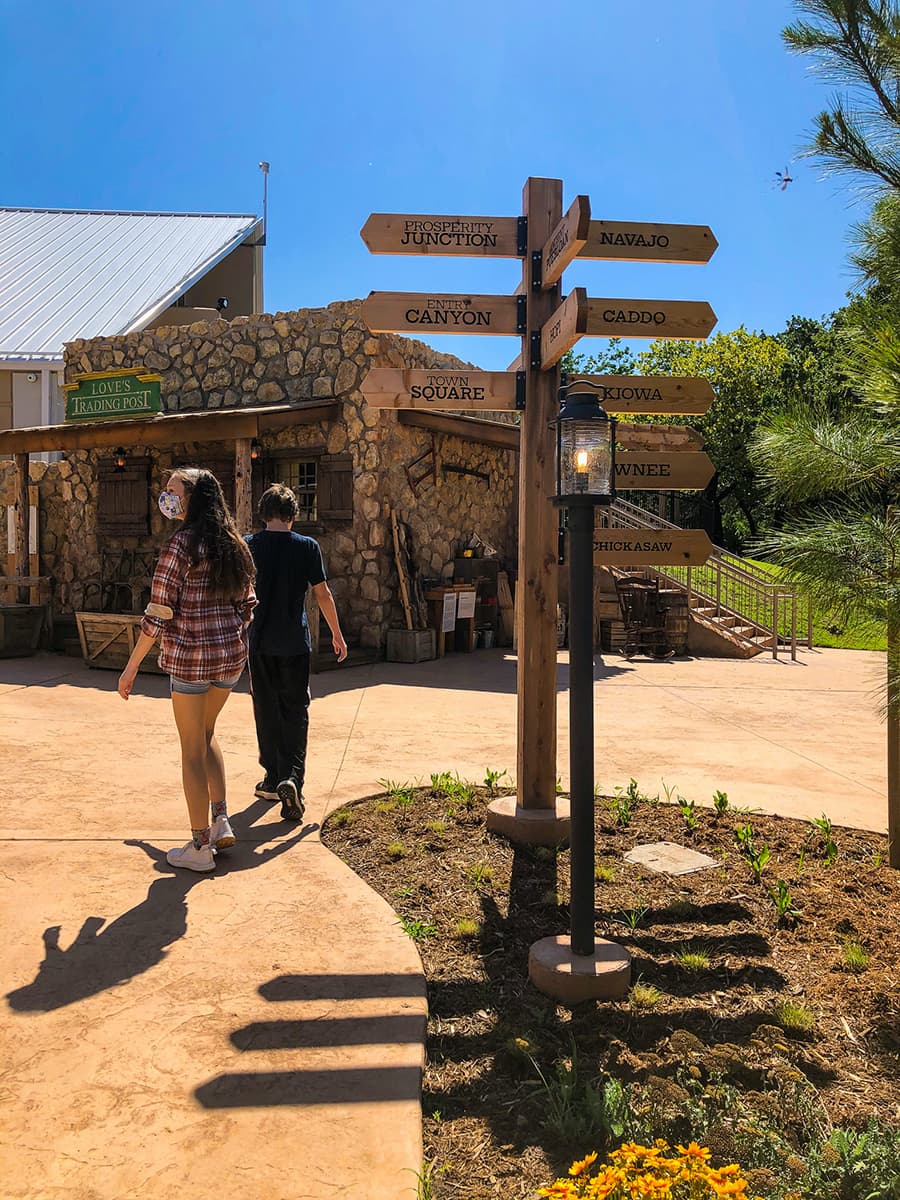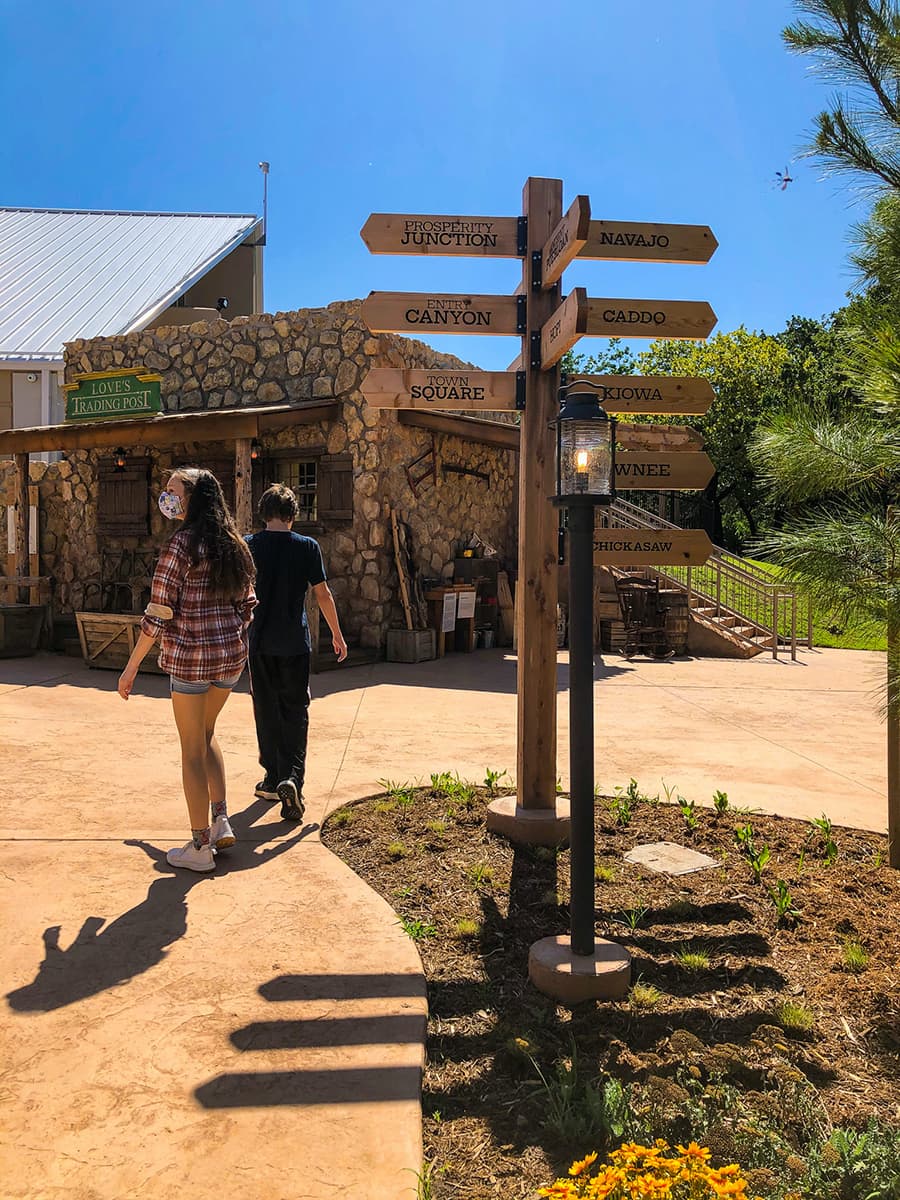 National Cowboy & Western Heritage Museum Live Events
The museum has many scheduled events for families to take part in. Check the current events calendar for a full list of activities.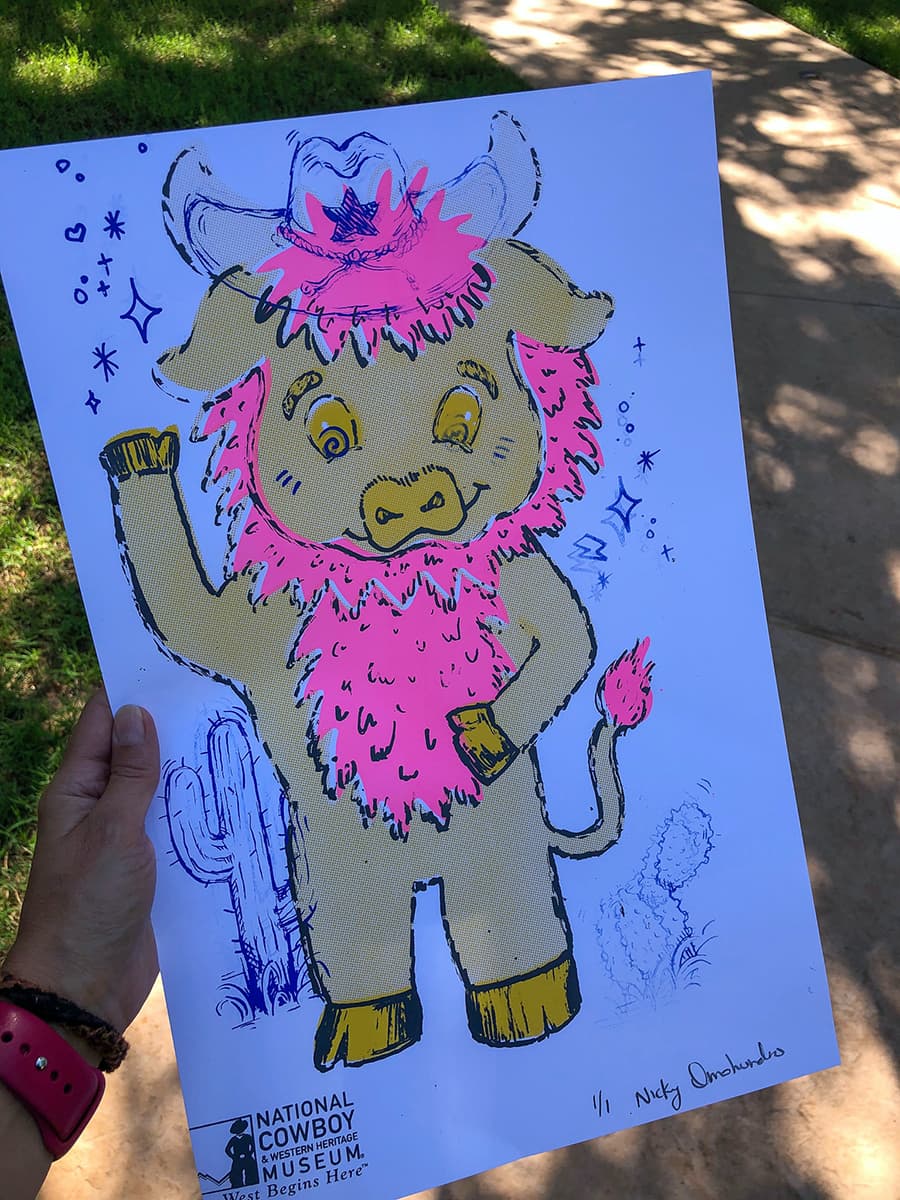 During our visit, we took part in a screen printing project being offered. Everyone who participated made their own screenprint of Rumble, the OKC Thunder mascot, wearing a cowboy outfit.
In late July, celebrate the National Day of the Cowboy with cowboy and pioneer themed crafts, activities, and a mustache judging contest.. Throughout Liichokoshkomo' there are demonstrations, stories on the lawn, and more.
Throughout the year, Kids Take Over the Cowboy. Each month, this series is host to different themed events and activities. In September (2020), the series will take over the annual Chuck Wagon Festival is reschedule to September 5-6 because of Covid-19. This event is something our family returns to year after year. Make plans to go and don't miss the Dutch Oven cooking.
In the future, museum visitors will find more guided learning opportunities and expert-led classes offered. Until then, check these Crafts and Art Education Projects that kids can do at home before they visit.
Location:
Cost: Free with general admission
Need a hotel nearby? Here are a few we'd recommend:
Try these nearby hotels off NW Expressway (west of the museum) via Expedia
North of the museum off Interstate 35
You can also see recent reviews on Tripadvisor. For more information on what to do in the area, also check out our list of favorite things to do in OKC and these recent articles on Oklahoma.