When you're traveling with teens, you want active fun you can do together. There are more than a dozen Oklahoma City attractions here that are sure to thrill your teenagers on your next visit. These things to do in OKC are all about fun indoors and out. We've thrown in a few quirky places along the way and a few local foods you'll want to try.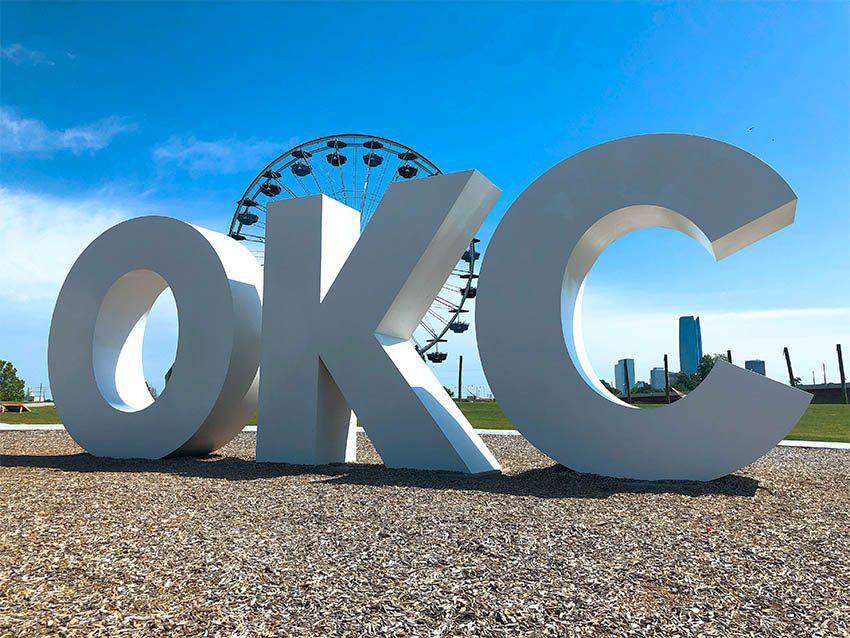 Best Things to Do with Teens in Oklahoma City
When I talk about traveling with kids and all the family-fun things to do in Oklahoma City, I don't usually break things down into age groups. Recently, a friend was asking me what teens could do when she brought his family here. I started listing off places before she asked, "Where's the list?" I didn't have one, but now I do!
This map was created with
Wanderlog
, the best trip planner app
Hotels and Airbnbs near Oklahoma City, Oklahoma
A Word About Covid & What's Open?
These are all Oklahoma City attractions that cater to families with teenagers. I live here and when I take my teens out, these are the places we go and where their friends go. At the time of this article (June 2020), I have listed attractions and businesses that have reopened since the COVID stay-at-home order was lifted. Some populars things families and teens in Oklahoma City enjoy like professional sports at the Chesapeake Energy Arena haven't returned yet. When making your plans to visit, always call ahead or check the business's website for the most up to date information.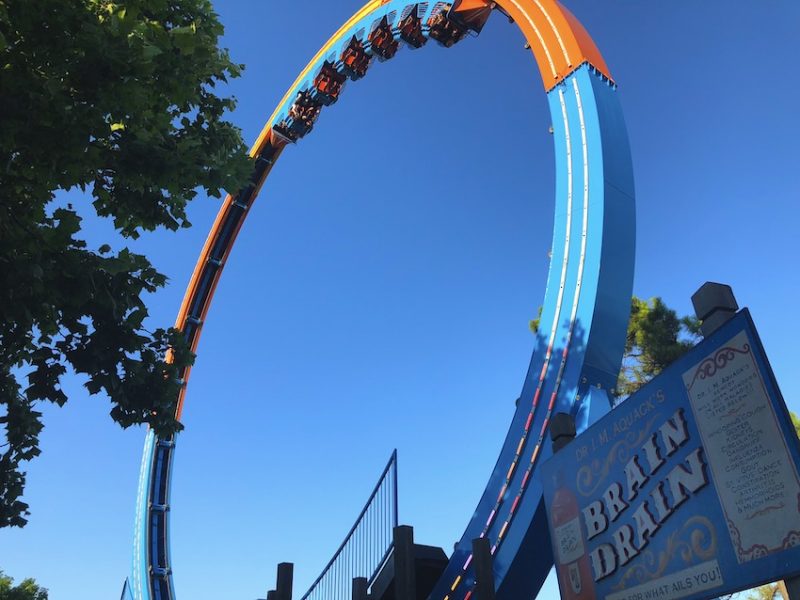 Six Flags Frontier City
For thrill seekers, head to the city's only theme park with thrilling roller coasters. As part of the Six Flags family, this Wild West themed attraction offers over 40 acres of fun. Throughout the summer months, Frontier City's Summer Concert Series offer free concerts with park admission. Season pass holders at any Six Flags park enjoy free admission here. If you are planning to stay in the area for several days or are local, consider a OKC Venture Pass which includes season passes AND admission of other Oklahoma City attractions.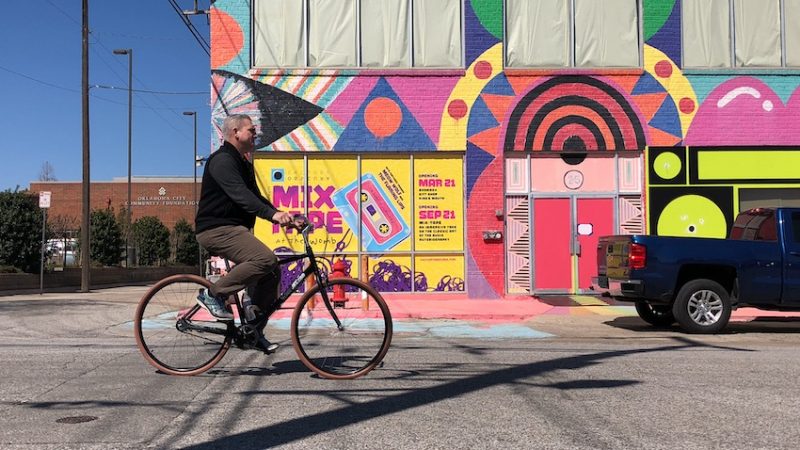 Factory Obscura
Factory Obscura is an Oklahoma City-based art collective providing visitors fully immersive, ever changing art experiences. This is unlike any art exhibit you or your teens will ever experience. Here you can touch anything, climb on stuff, sit on, lay back into, and take plenty of photos. Housed in The Womb, a building owned by the lead singer of the Flaming Lips and the MOST Instagrammed Place in all of Oklahoma City.
Oklahoma City Zoo & Botanical Garden
The Oklahoma City Zoo is family-friendly fun for all ages. For older children and teens, you will want to schedule one of the animal encounters the zoo offers. Visitors can meet with the animal caretakers, learn more about specific zoo residents, and get up close to the Grizzly Bears, Galapagos Tortoises, rhinoceros, California Sea Lions, or a few other animals.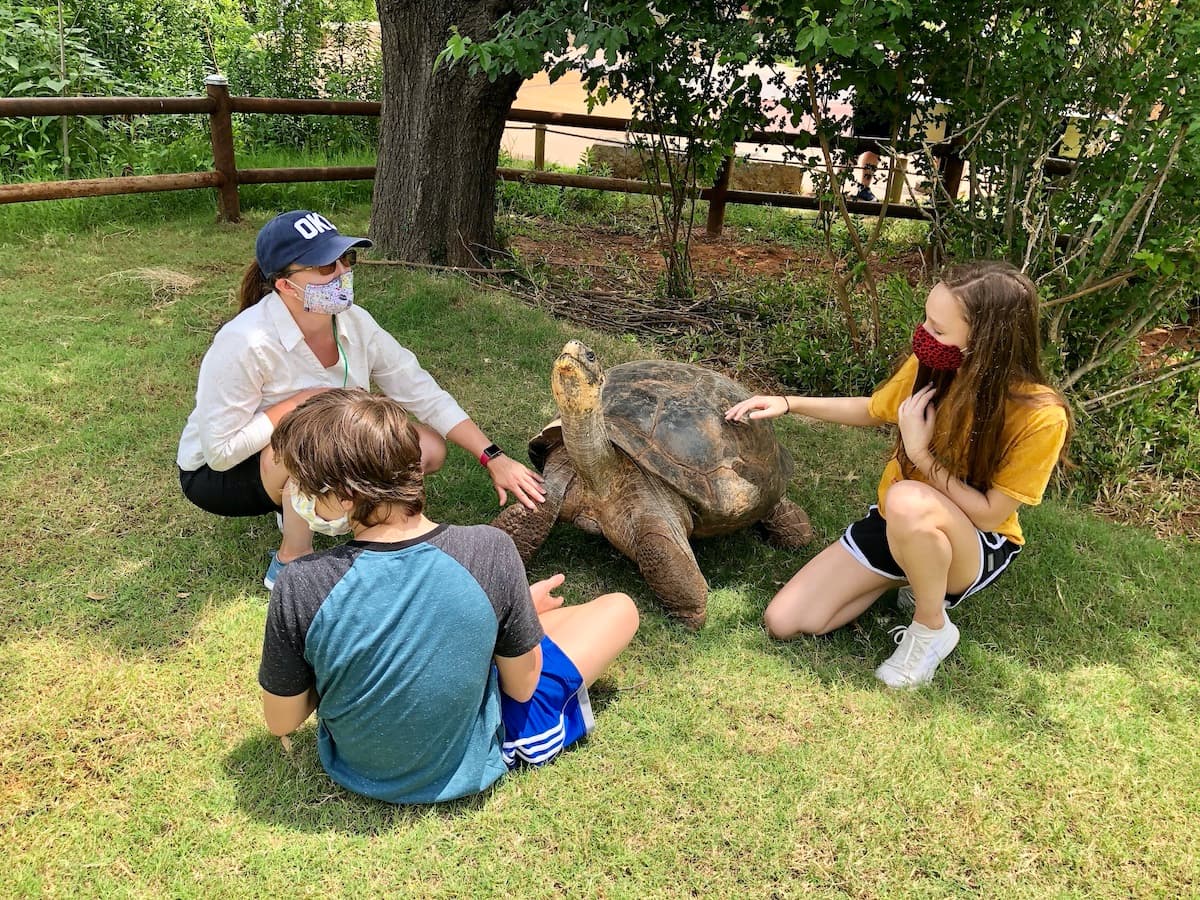 Above is a picture from when we did the Galapagos Tortoise Wild Encounter. It is definitely one that you don't expect to be SOO much fun. But you get to go into the encounter with their keeper and interact with them. They are gentle giants that LOVE a good neck scratching. In the past, we've done the Sea Lion Wild Encounter and you can read more about that or these other OKC Zoo animal encounters. New in 2020, visitors can ride one of the zoo's dromedary camels, Fred or Bill.
Glamping at Off Family Farm
Orr Family Farm is a 50+ acre agritainment farm with u pick pumpkins in the farm, petting zoo, train rides, pedal boats, super slides, and barnyard education experiences for all ages. At the time of this writing (June 2020), the farm is closed to the public unless you are staying in one of their covered Conestoga Wagons or Canvas Teepees. That's where the fun is for families with teens.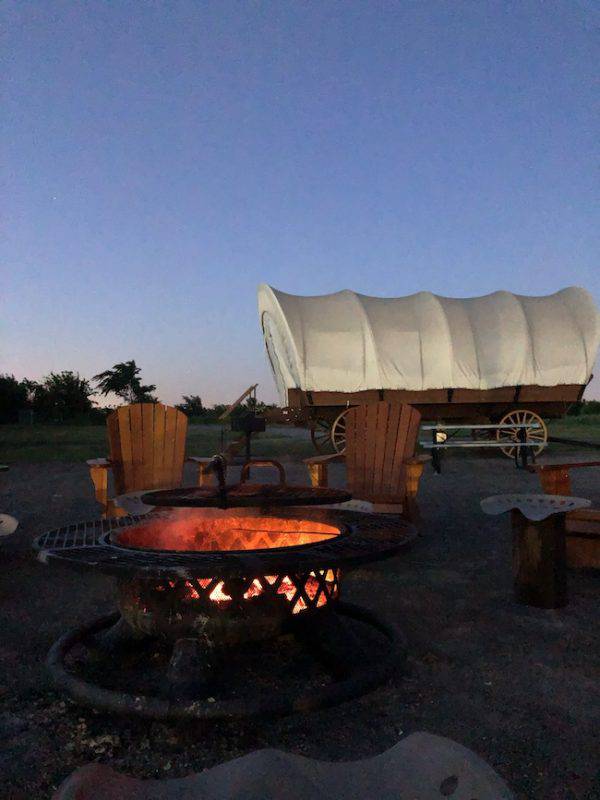 Here at Orr Family Farm, families can go glamping in air-conditioned and/or heated canvas-covered wagons or teepees on Heavenly beds. There really is no roughing it here AND you are within the OKC city limits. Gather around the campfire before bed to roast marshmallows and tell ghost stories. Then settle in for the night.
If you live in or around Oklahoma City, save $5 off an OKC Venture Pass that provides big savings on local attractions, restaurants, and stores including Frontier City, Andy Alligator, Museum of Osteology, iFly, and more.
Historic Route 66
The state of Oklahoma has more miles along the historic Mother Road than any other state. Here in Oklahoma City and nearby Edmond and Arcadia you can drive along and see many of the historic sites; Milk Bottle Grocery, The Gold Dome. Arcadia Round Barn, and Pops. Stop along the way and take a few pictures with the Route 66 sign behind you.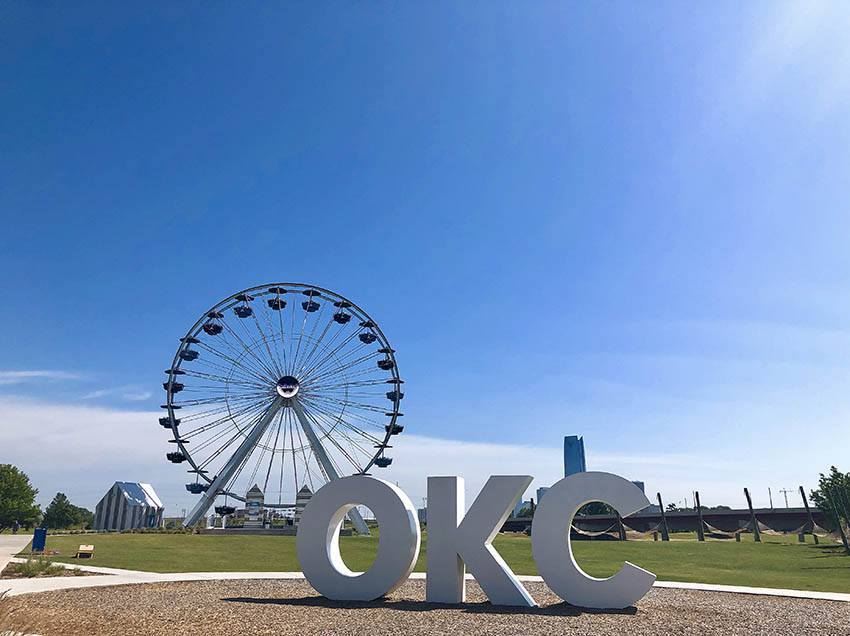 Wheeler Park & Wheeler Ferris Wheel
The story behind the Wheeler Ferris Wheel is a fun one. It was once the famed Santa Monica Pier Ferris Wheel. It was up for sale on EBay and was purchased by a local businessman. Now it is the crowning jewel of Wheeler Park along the south bank of the Oklahoma River. From atop the ferris wheel, you get a great view of the OKC skyline. Back on the ground, you can relax in hammocks that sit along the grassy lawns, play free lawn games, or check out the food trucks that regularly stop by.
RIVERSPORT Adventures
Teens and adventurous families come to the city specifically to visit this inland white water center. It's one of the few places you can white water rafting on a man made course. It's also the home of the US Olympic and Paralympic Training Site.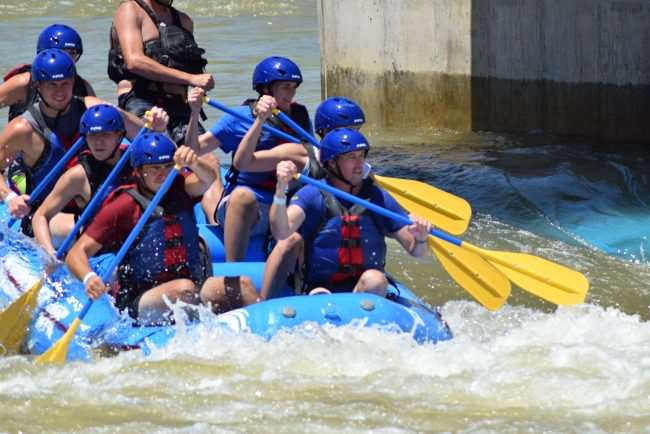 Here at Riversport OKC, visitors find not just white white rafting, but also tubing down the rapids, flat water kayaking and SUP on the Oklahoma River, elevated adventure ropes course, ziplining, and more. In Fall 2020, surfing will open to visitors too. Teens can easily spend the entire day here.
Tour Downtown with Ride OKC
The city has over 80 miles of interconnected multi-use trails making many areas bicycle-friendly. A great way to see the sites and learn more about the city is to take a guided tour with Ride OKC. Their 2.5 hour History and Architecture Tour takes riders through Bricktown, Midtown, Heritage Hills, and other areas near downtown to learn about the area's history, art, and architecture.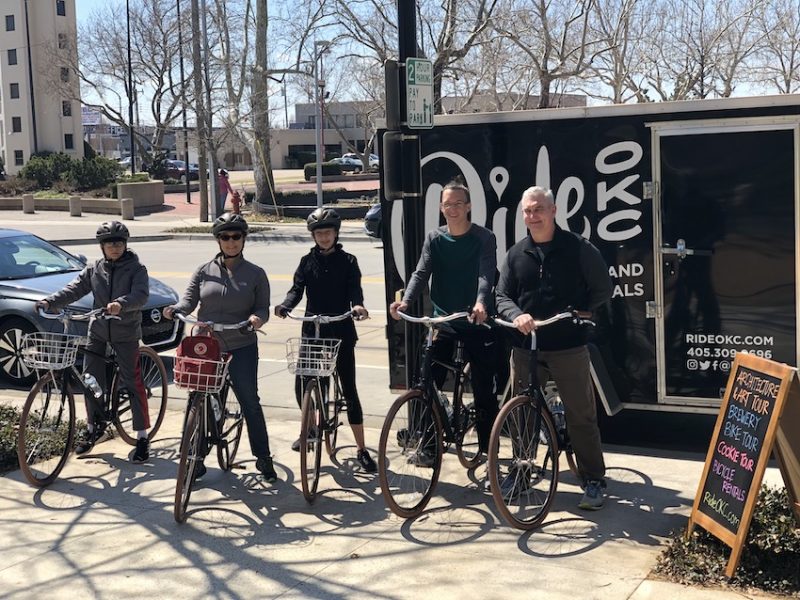 Currently this is the only tour being offered due to COVID restrictions. Daily rentals are also available and later this season they will resume other tours including their 3 hour Cookie Tour, out favorite. This tour takes you to top local restaurants for some of the best chocolate chip cookies in the city.
Bricktown
The Bricktown Entertainment District is filled with local and chain restaurants, entertainment venues, the Chickasaw Bricktown Ballpark, and the Bricktown Canal. Visitors can usually catch a baseball game and maybe even a fly ball with the Oklahoma City Dodgers April through late September (Triple A Los Angeles Dodgers team). However, due to COVID, the season has been cancelled as it has been for the OKC Thunder and all other sports teams. The Bricktown Water Taxi provides easy transportation along the canal, similar to the San Antonio Riverwalk, with hop on/off access. The boat captains share great stories of the area and OKC history no matter where you board and you get to see some great city murals along the route too. During the month of December, water taxi rides are free as part of Downtown in December.
National Cowboy & Western Heritage Museum
The American West is on display at the National Cowboy and Western Heritage Museum. Here you'll see western expansion, Native American art, cowboys, rodeo, and the wild west. One of the best weekends to visit is during the annual Chuckwagon Festival with its chuck wagon food, live entertainment, reenactors, and scheduled events.
Still haven't been able to catch them moving. Lol! What about you, Tina? Not Tina, my beautiful wife, Disneyland Tina. #HashtagTheCowboy Thanks, Tim https://t.co/TK1HgMkZ82 pic.twitter.com/0qDdaTAdi3

— Nat'l Cowboy Museum (@ncwhm) May 26, 2020
In the weeks the museum was closed due to the state's stay at home order (COVID), the museum's security Tim took over Twitter with #HashtagTheCowboy and breathed new life into the exhibits with his humor and antidotes. Since reopening, visitors are encouraged to use the hashtag and see the exhibits with fresh eyes. The new Liichokoshkomo' exhibit opened summer 2020 and is an outdoor educational experience. The exhibit's name means Let's Play in Chickasaw and is suited for all ages. After seeing this, head further back to see the gravesites of famous rodeo animals.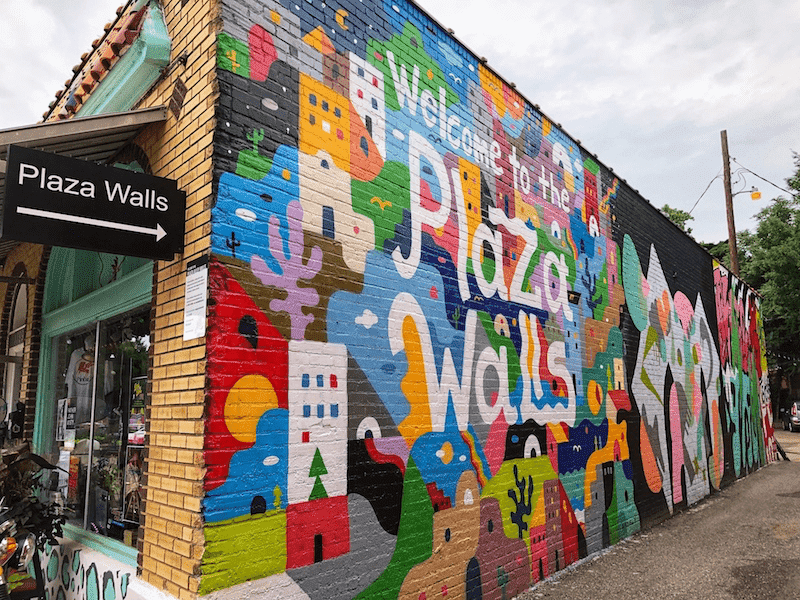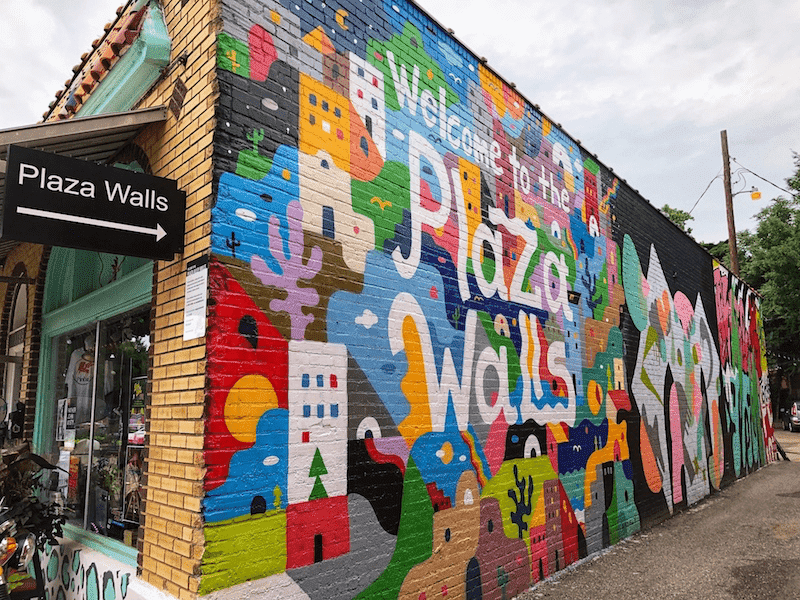 Plaza District – Plaza Walls Mural Project
The city has wonderful, engaging art museums like the Oklahoma City Museum of Art, 21c Museum and Hotel, and the Oklahoma Contemporary Museum, yet many teens enjoy heading to the Plaza District and the ever-changing collection of street art murals known as Plaza Walls. This mural project is managed by The Oklahoma Mural Syndicate and featured many local artists. It's located in the alley behind Bad Granny's Bazaar, a local vintage shop. After seeing the murals, stop into one of the local shops or grab a bite to eat in the area.
Museum of Osteology
This is the only museum dedicated solely to skeletons. It may seem a bit creepy, but the Museum of Osteology is a great stop that is both fun and educational. There are more than 300 skeletons on display including a humpback whale, rhinoceros, and birds.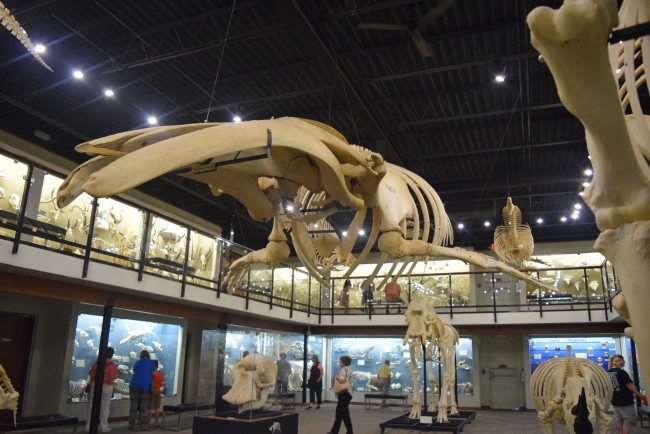 The Escape OKC
Escape rooms are a lot of fun with families with teens and young adults. The Escape OKC was Oklahoma's first ever live action escape challenge. There are six themed rooms here that range in difficulty. We've done the alien themed Area 405 that was both fun and challenging at the same time. No matter the room, it's a fun experience that everyone can join in on.
Check Out Groupon for discounted attraction tickets to local escape rooms, restuarants, and more.
Top Golf OKC
Tee off with food and fun here at Top Golf. Reserve an outdoor bay and play a variety of golf related games. Order from a full menu and enjoy your time here. On Tuesdays, visitors enjoy half off game play.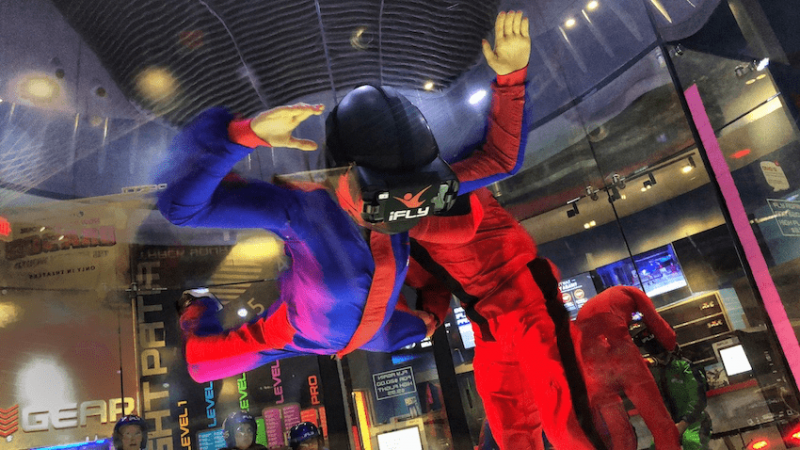 iFLY OKC
At iFLY, you can get the experience of skydiving without having to jump out of an airplane. If you want the outdoor airplane experience you'll have to drive halfway to Tulsa to visit Oklahoma Sky Diving. At iFLY, flyers, as young as 3 years old, get suited up and fly inside a 12 foot tall wind tunnel. With the help of an instructor, flyers float on air and learn how to navigate maneuvers around the tunnel. You can add to the experience with VR technology to fly over different cities or do like we did on a past trip when How to Train a Dragon movie debuted with a special VR experience.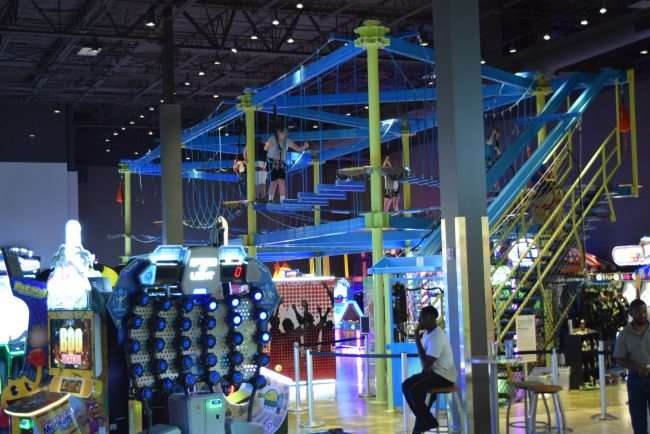 Main Event
Finishing out the attraction in the Chisholm Creek area is Main Event, a huge entertainment destination with over 60,000 square feet of fun. Here you can go bowling, play laser tag, traverse an elevated ropes course, play pool, play arcade and ticket redemption games, and laser tag. They have a fun menu when you get hungry and the Food and Fun Combos make for a great value. Is you are celebrating a birthday, they have celebration packages too.
Where to Eat in OKC?
Speaking of food, we have a few recommendations for you and your teen to try while you are here. Oklahoma City has just about every cuisine you can imagine. So if you crave it, you can find it. Here are our picks with a healthy mix of variety and some quirkiness mixed in.
Local Food Trucks
For variety, you can't beat a food truck park. Bleu Garten is a permanent park in the Midtown area with a rotating schedule for lunch and dinner. Here you can also hang out, play corn hole, try life sized Jenga, or watch a game on one of the outdoor tvs. Scissortail Park located along Robinson Avenue on the south side of downtown has food trucks every Friday, Saturday, and Sunday. You can see who's there on their events page. Also Saturday, you'll find the local OSU-OKC Farmers Market Scissortail Park.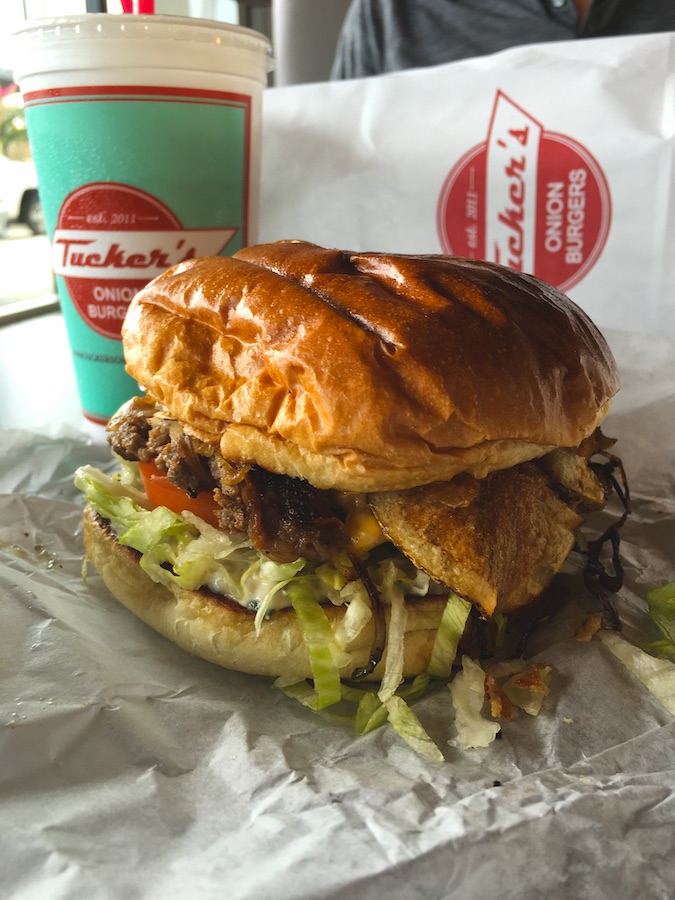 Onion Burger
Flat top seared burgers with thinly sliced onions were a mainstay during the Depression. The onions helped stretch the meat back when people had less. For the classic version head to Bunny's on NW 50th or for a modern twist head to Tucker's Onion Burger.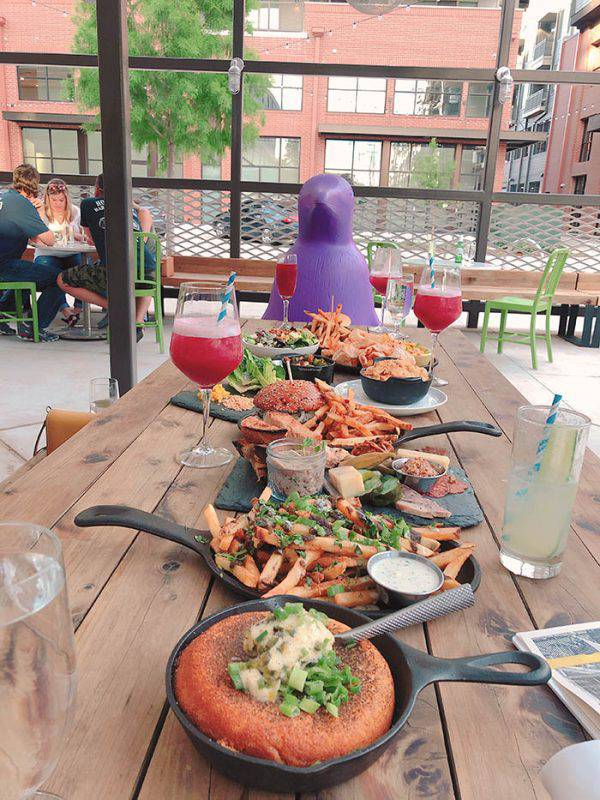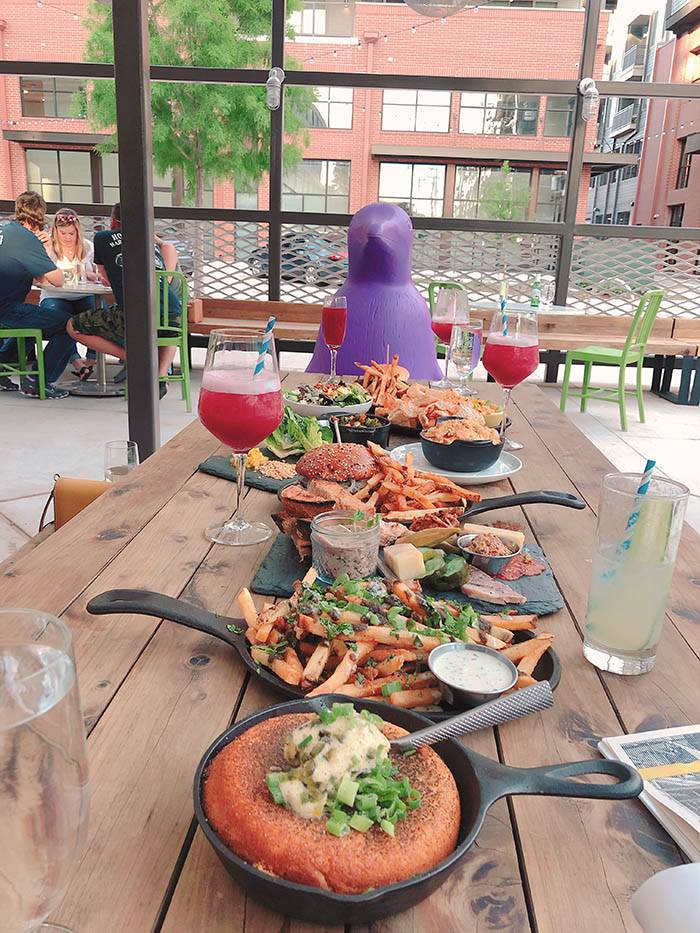 Dinner with Penguins
Every 21c Hotel and Museum has their version of large molded plastic penguins that call the place their own. In OKC, penguins are purple. Whether you are staying here while you are in town or dining at either Mary Eddy's or the outdoor dining space called The Train Shed, you can dine with penguins. The menus are French-American inspired featuring fresh, local ingredients. Always order the cornbread and if you like spicy, try the spicy chicken.
Sunday Brunch
There are so many local restaurants doing brunch well. Head over here for my list of the Best Brunch in OKC where I list my favorite including a Guatemalan restaurant that is worth the wait.
Pizza
I don't know a child that doesn't like pizza. In Midtown, head to Hall's Pizza Kitchen and save room for their chocolate chip cookies. Seriously the next in the city. Hideaway Pizza and Bricktown Brewery are favorite local chains with several locations around the city.
For more to see in Oklahoma, take a look at: