Oklahoma City Murals + Local Food = Winning combination
Some of the best travel memories start and end with great food. Recently the kids and I set out to discover free things to do in OKC. We ended up searching for art murals in Oklahoma City. Along the way we discovered that many of these happened to be very near our favorite eateries. SO…. I've put together this list of OKC murals and suggestions for nearby restaurants or coffee shops (because coffee IS adventure fuel).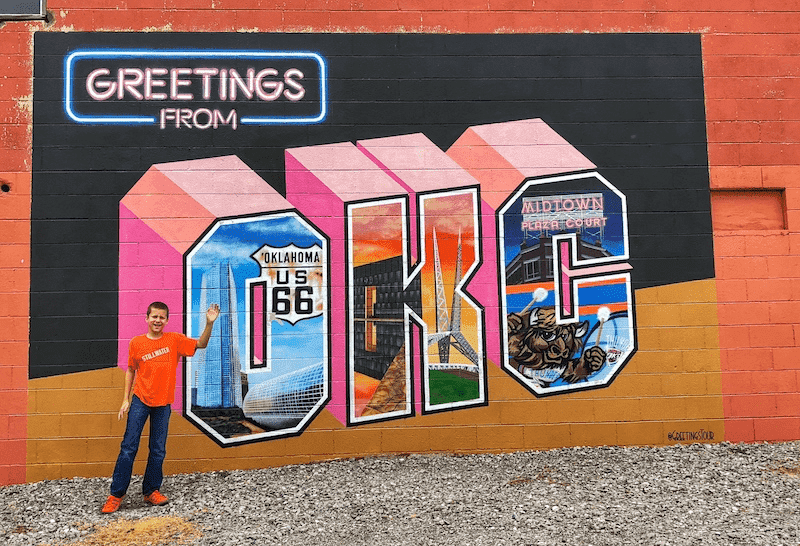 This article contains affiliate links. Purchase through our affiliate links and we receive a small commission without any extra expense to you! Our family was provided with Keen shoes this summer. All opinions are my own.
I am almost ashamed to say that I haven't sought out Oklahoma City street art until now. On recent trips to Pittsburg, Huntsville, Branson, Quebec City, and Dallas, I have actively sought out Instagram-worthy murals there. But I haven't done it in my backyard. It's kind of ironic that when we think about exploring we think about doing so in places away from where we live. We often think that we need to go someplace else to be entertained or to see something new. It wasn't until I saw this Instagram picture from Kristin Luna with Camels and Chocolates that I was reminded to spend more time exploring my hometown of Oklahoma City.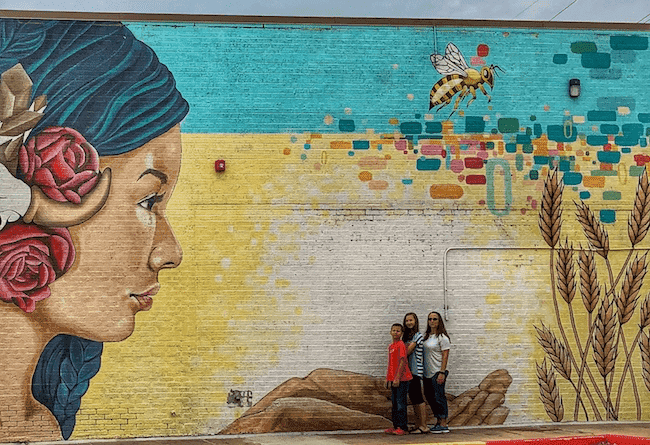 The kids and I recently made it our mission to explore the city and look for murals. We put on our Keen sandals, because they aren't just for the hiking trails and set off. Here is my list of favorite murals you should check out, an address to help you find them, and the nearby local restaurants serving up great food.
Murals Bricktown/Downtown OKC
Bricktown is just one of the city's entertainment districts. It features some of the city's largest murals. Plus it's filled with entertainment venues and restaurants. Local favorites include Charleston's and Mickey Mantle's Steakhouse restaurants.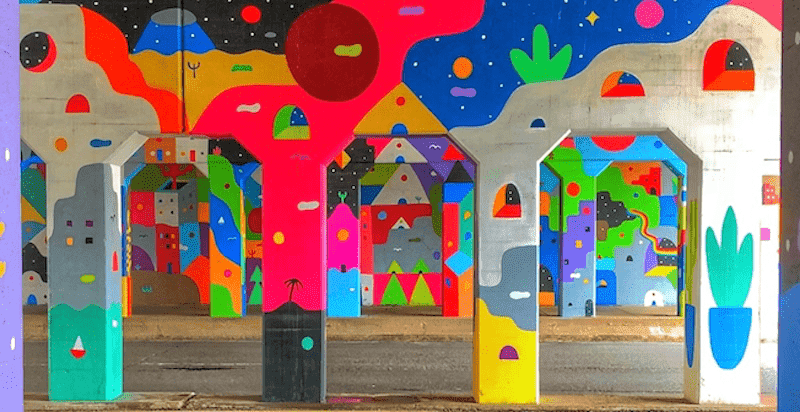 Abstract Passages
Under railroad bridge between Downtown and Bricktown – 2 East Main Street
Not only is this mural fun, its also interactive. The mural has its own website and photo scavenger hunt. Throughout the passages you'll find hidden objects painted in. See if you can find the state of Oklahoma, a strawberry, or the Devon Tower among the various items.
Oklahoma! Bricktown Mural
Along the Bricktown Walls – N. EK Gaylord Blvd
Walk through the Abstract Passages and you'll find some of the largest murals in the city. Walls on each side of the railroad line feature murals depicting the state, its history, and its people.
This Land Mural
Climb Up – 200 SE 4th Street
Whether you're enjoying the mural or engaging in active fun, make a stop here. This mural is part art, part outdoor climbing structure. Climb Up is an indoor climbing gym that has converted grain silos into climbing walls. The exterior is painted with symbols that represent the city such as the OKC Thunder mascot Rumble, the scissortail bird, and more.
Midtown OKC Murals
Midtown is experiencing a boom with new restaurants and shops opening all the time. We will often head to midtown for dinner at places like Kitchen 324, Fassler Hall, Packard New American Kitchen, and Bleu Garten.
These next few murals are on the outside wall of Bleu Garten or across the street on the painted red building. The Bleu Garten food truck park is a fun place to eat and hang out. It features local food trucks for lunch and dinner, plus a full bar. You'll find yard games too.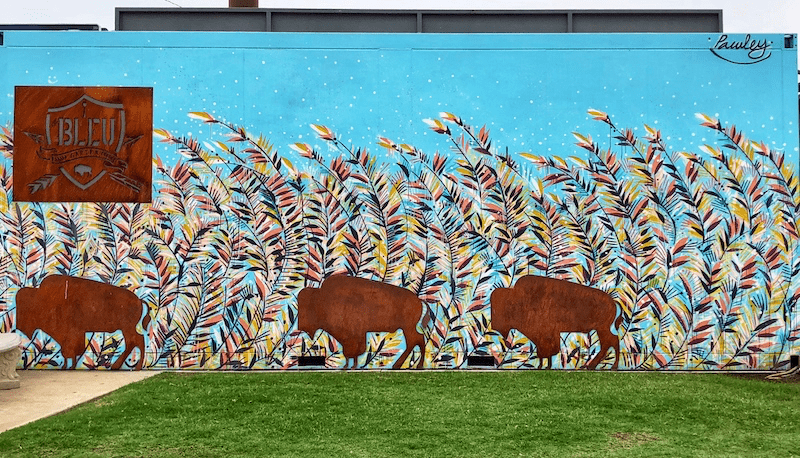 Buffalo Mural
Bleu Garten (outside wall) – 301 NW 10th Street
You can't come to Oklahoma City and not take a picture with a buffalo. Whether it's one of the city's many buffalo statutes of this colorful mural, you will find plenty of opportunities for pictures.
Greetings from OKC, Wings, All About The Music
Painted red building across the street from Bleu Garten – 320 NW 11th Street
All of these murals are on one building. It's a fun stop when you are in the area. There's also some street art like the "I Am Art" and paint splatter wall.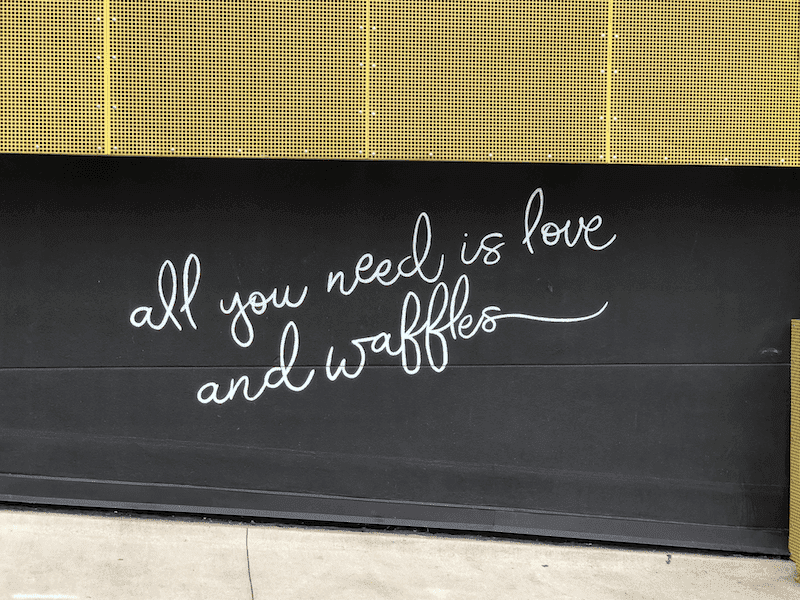 "All you need in love and waffles"
Waffle Champion (north wall) – 1212 N Walker Avenue
This one is more word art and creative suggestion than traditional art mural. But there are no words that are truer spoken. Stop in for breakfast or lunch and snap pictures of both the mural and your food. May I recommend the Fool's Gold Waffle with candied bacon, bananas, peanut butter mousse, and strawberry-anise jam. Yum!!!! Plus they have Main Root soda.
Automobile Alley Murals
These two murals are right across from local eateries NashBird, S&B Burger Joint, and others.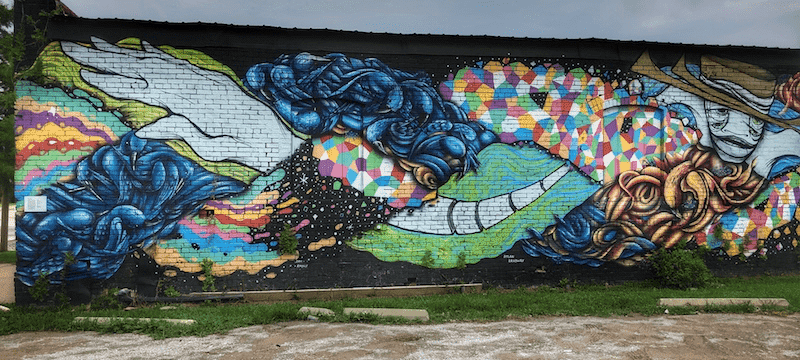 The Braid
Across the street from NashBird – 1 NW 9th Street
Here is another long mural with dark colors. When here you can head to Nashbird for their Nashville Hot Chicken. Try it and their house made cucumber and onion salad. So Good!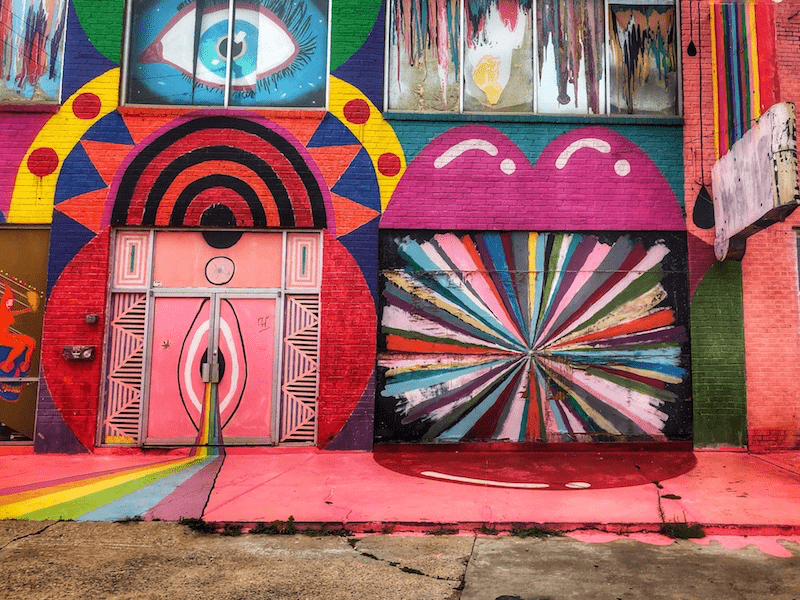 The Womb
Across from S&B Burger Joint – 25 NW 9th Street
This is a colorful one with a lot of visual elements. This picture of the Womb was taken on a cloudy day, so the colors are a little muted. Visit in person!
Uptown & Plaza District Murals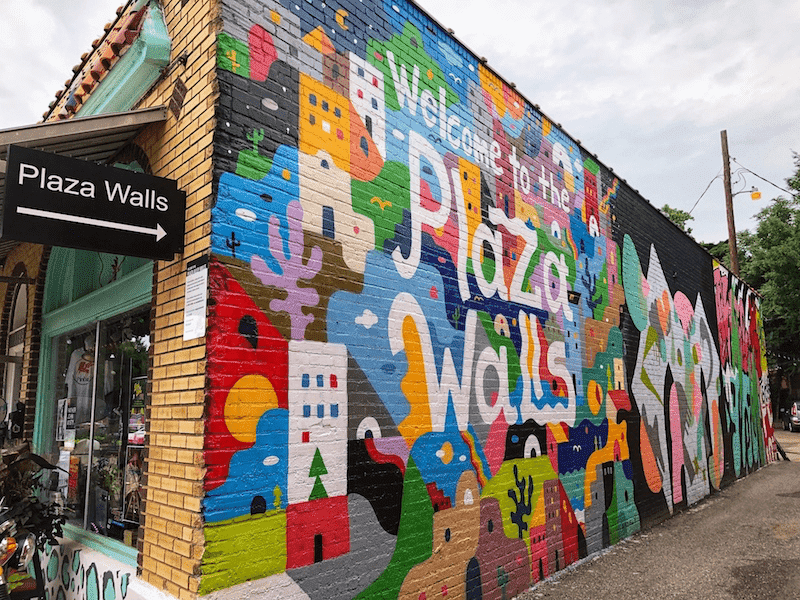 Plaza Walls OKC
The alley behind Bad Granny's Bazaar and Well Beauty Studio – NW 16th Street between Gatewood and Indiana
This mural project has been ongoing since 2015 and this trip was the first time I'd ever heard of Plaza Walls OKC. Funny how you don't know about things until you look for them. Then everyone you know is like, "Oh yeah! We didn't tell you because we thought you already knew."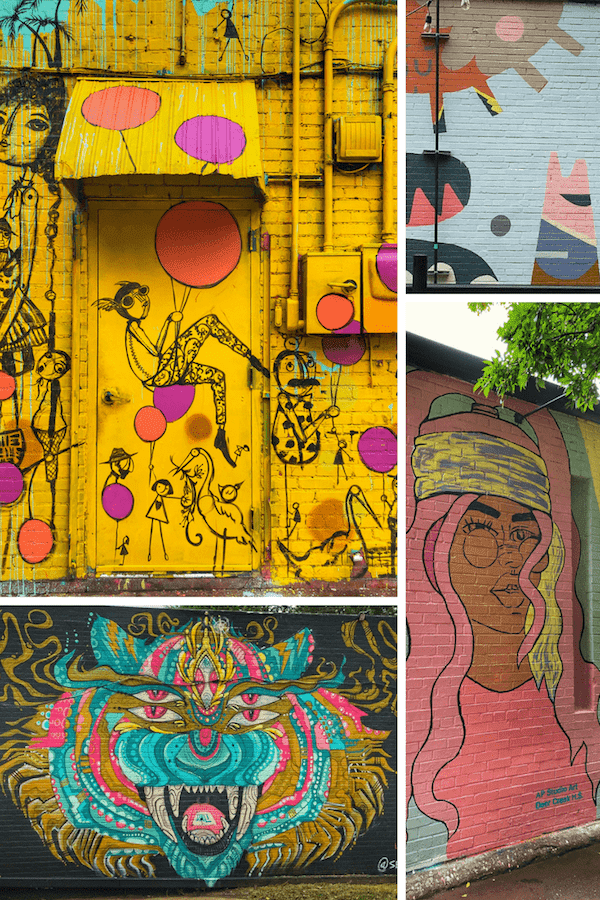 The murals here change regularly, but they always feature local and regional artists.
So you may see something new on your next Plaza Walls OKC visit.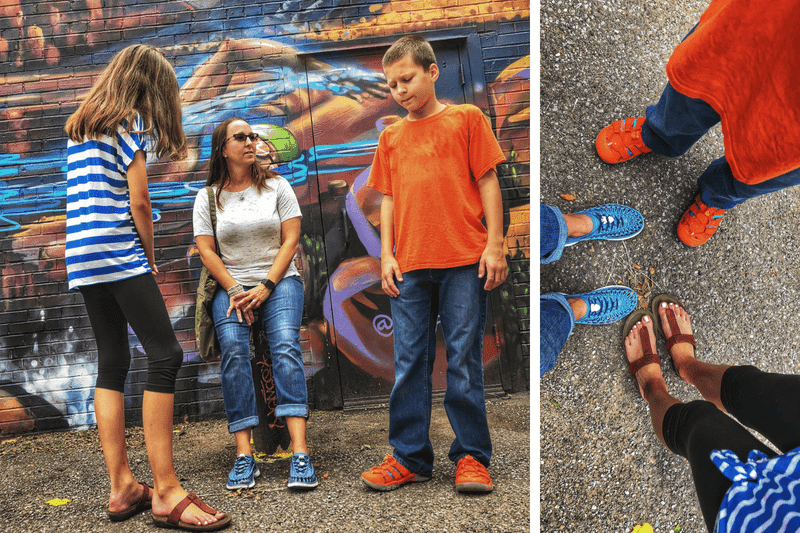 Check out the Keen shoes we are all wearing in this picture. My son's Keen Newport H2's are just as colorful as the art behind us. Orange is his favorite color and he wears it often. My daughter is wearing the Ana Cortez Flip and I'm wearing the Uneek-W. Whether it's shoes for the kids or for me, Keens are always super comfortable and great for any adventure.
Roam
Studio 7 Dance – 520 NW 23rd Street
Here's another buffalo mural that makes the perfect backdrop for an Instagram photo. This is just a small section of mural. But you get the idea. The kids LOVED that this was down the store from Hurts Donuts.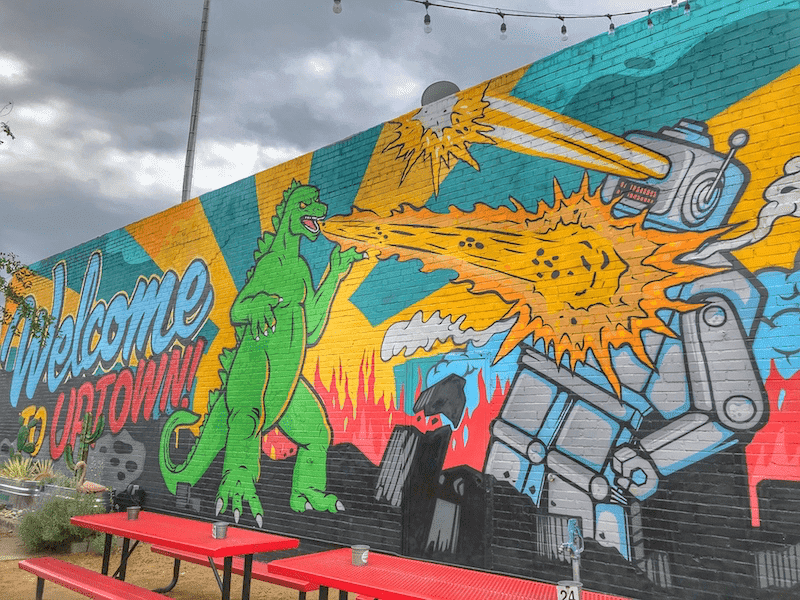 Welcome to Uptown/Godzilla meets Mr. Robot
Pizzeria Gusto/The Pump Bar – 520 NW 23rd
Not sure what the name is on this one. When I googled it, it was listed as a T-Rex mural. A dinosaur it is NOT. The kids said it was Godzilla meets Mr. Robot so that's what I'll call it. The mural is on the outside of a really good pizza restaurant. But it's also the backdrop of a patio bar. Either location is good for a pit stop for foods or drinks.
Western Avenue Murals
This area of Western Avenue is a fun place to explore. You can start with a cup of coffee from Stella Nova or Vintage Coffee or sit down for lunch at nearby Sushi Neko or The Wedge Pizzeria. The neighborhood has cute shops and Classen Curve is just north of this area with additional shopping and restaurants.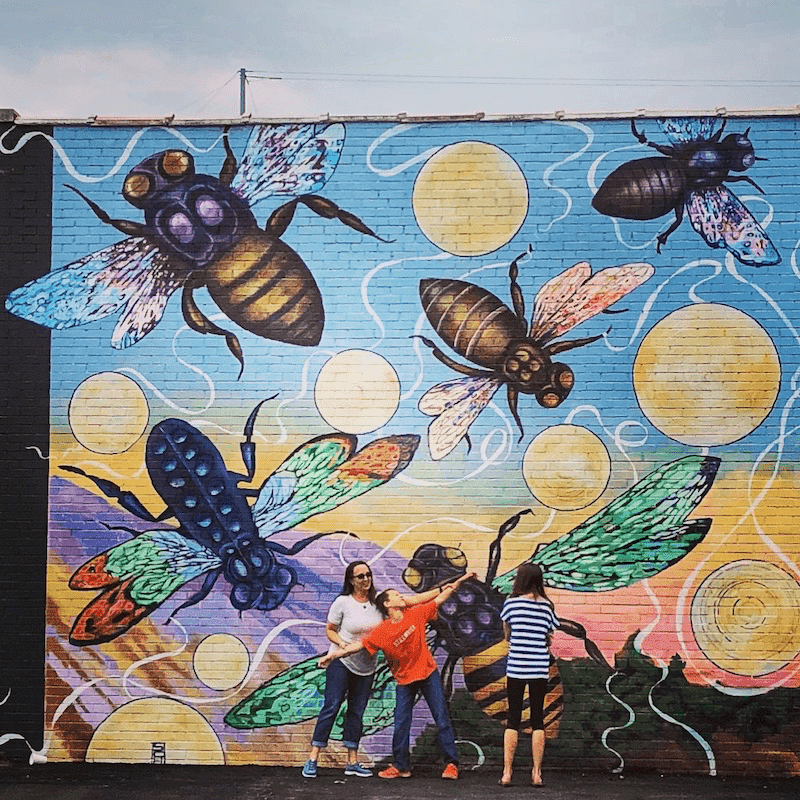 Vibratory Messages Generated by Tethered Bees
Antique Avenue Building – 5219 N. Western
Kids love this mural's larger than life insects. You could say it's Bee-utiful! When you are here, walk next door to see the huge chicken statute. Snap a picture if you like.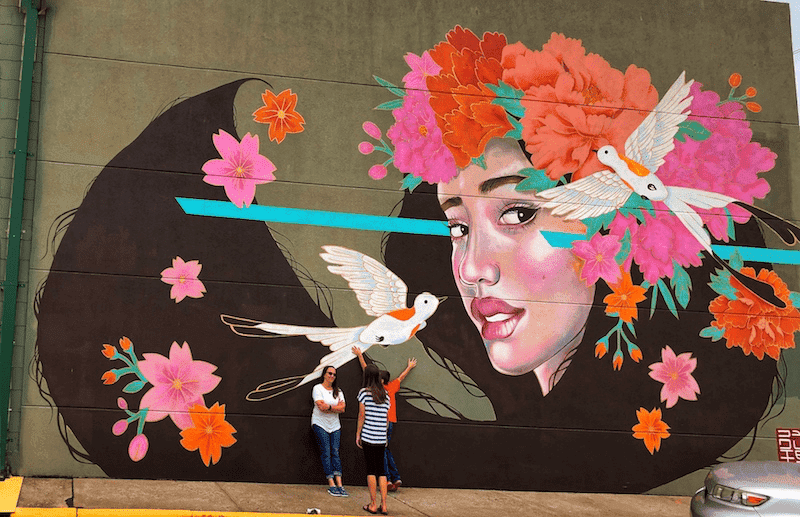 Fortune Favors The Brave
Ketch Design Centre (north wall) – 4416 N. Western Avenue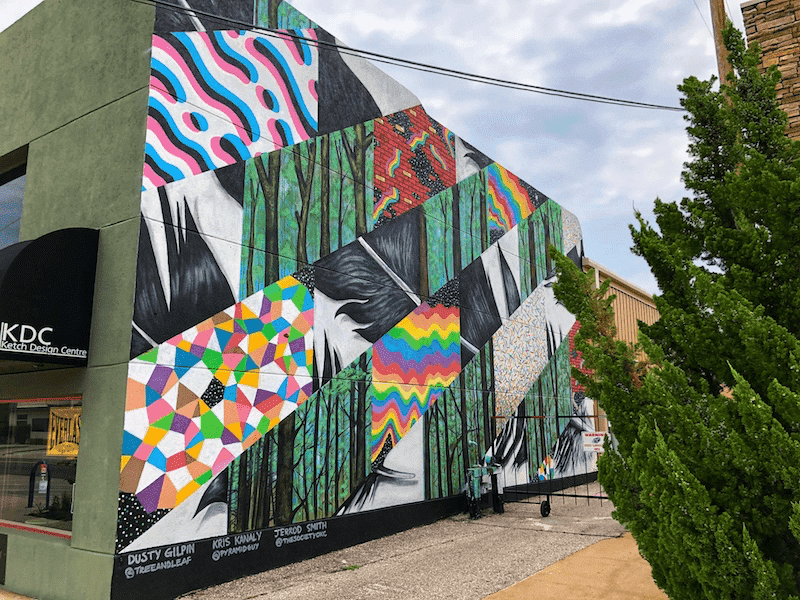 The Nature of Things
Ketch Design Centre (south wall) – 4416 N Western Ave

Oklahoma Aiukli
K &N Interior Consignment (north wall)- 3704 N. Western Avenue
This is one of my favorites. It depicts a young girl and natural elements such as fish, bees, wheat, and butterflies. Fun Fact: Aiukli is the Choctaw word for beauty.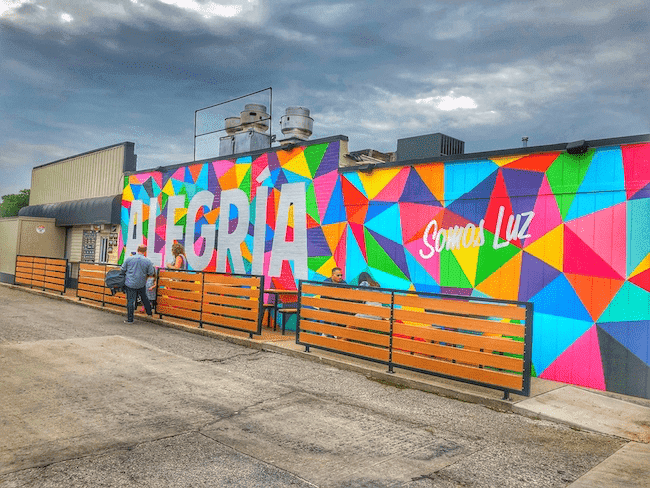 Alegria
Cafe Kacao (north wall) – 3325 N. Classen Blvd
This newer geometric mural adorns the side of popular Guatemalan restaurant, Cafe Kacao. The coffee here is fantastic so grab a cup from the to-go window or stop in to eat. Favorites include Tikal, Pacifico Azul omelet, and the Motuleno for breakfaomelet re is a lot of great Oklahoma City murals and street art. If you are looking for free things to do in OKC, you can easily spend an entire day searching for murals. The areas you'll find them in are perfect exploring with their unique shops, restaurants, and area parks. If you are looking for more ideas to spend the day, take a look at these things to do with kids in OKC.
Disclosure: Keen provided shoes for review. Fjallraven provided products for review. All opinions are our own.