Brunch overrated? NEVER!! Personally, I think there should be brunch every day and these places are my picks for the best brunch in OKC. Whether it's just us as a family or when we have friends in town, we love heading to one of local restaurants for a mix of breakfast, lunch, coffee, and sometimes cocktails.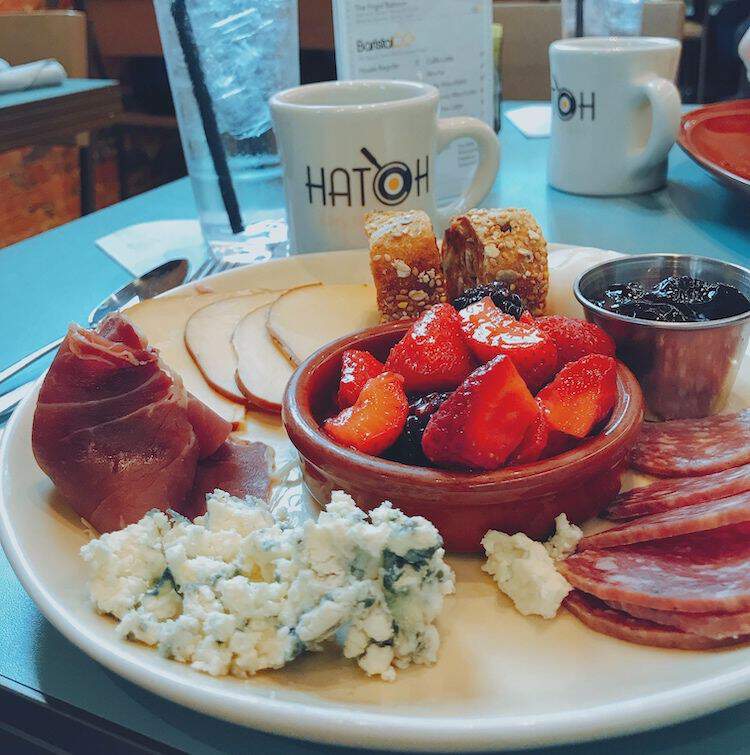 When you visit my hometown of Oklahoma City, I have a list of things to do in OKC for you and the family. But be sure to check the local food scene. I've been home the last few weeks, diligently "researching" and by that I mean eating my way around the city to bring you my favorite breakfast and brunch spots.
Best Brunch in OKC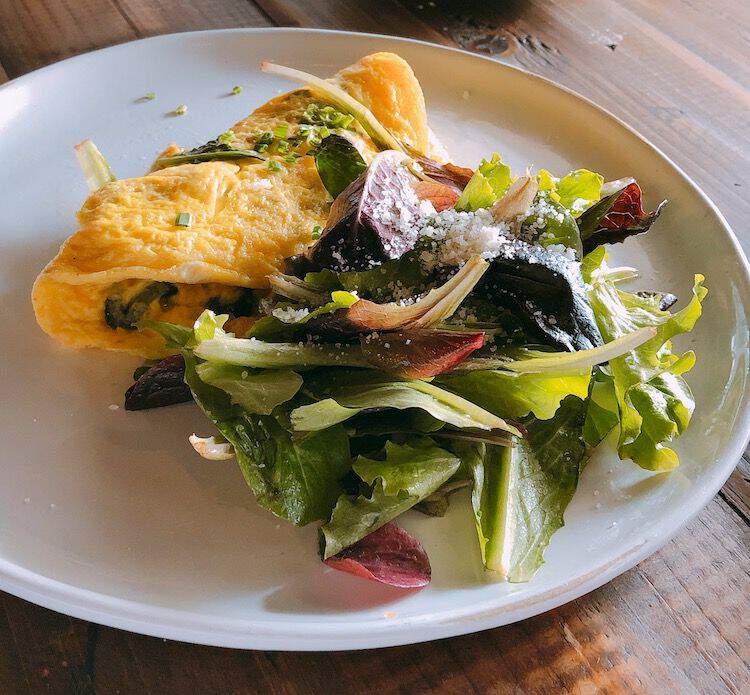 There are many restaurants that could make this list of the best brunch in Oklahoma City. But I'm going to start with the five local restaurants we keep coming back to again and again. These are the places where food is consistently great, service is stellar, plates are Instagram worthy, and the vibe is one where I would bring my kids. Plus if you want a drink from the bar, some have a full bar too. However, I won't talk much about them here, because I didn't have THAT kind of time to research fully. But come and try these places for yourself and let me know what your favorite cocktails are if you enjoy one.
Brunch is one of the best meals of the day and I hate to limit it to just weekends. So all of these restaurants, except Osteria, serve breakfast weekdays and brunch for Saturday and Sunday. No matter when you go, you'll enjoy a delicious meal with friends and family.
Note: Be sure to make reservations or use Yelp Waitlist to get a table.
Café Kacao
There is a reason Café Kacao has been voted Readers Choice Breakfast in Oklahoma City by OKC Gazette and highly rated on Yelp. This Latin restaurant serves up traditional Guatemalan dishes and it's all delicious. No matter what you get here, it's always good and the portions are plentiful.
One of our favorites is the Motuleno. It had fried eggs served over black beans topped corn tortillas and topped with ranchero sauce and cheese. It's simple but oh so good. Be sure to order up a side of fried plantations too.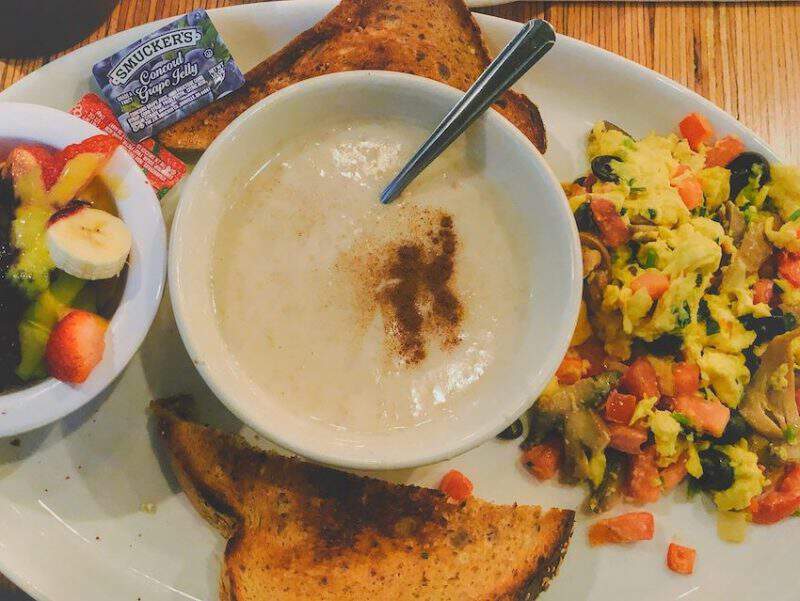 Café Kacao is the only place I'll order oatmeal when I dine out. Their style of oatmeal, called Mosh, is cooked in three kinds of milk and has a different texture than American old fashioned oats. Order it alone or as part of the Migallas entree with sides of loaded scrambled eggs, black beans, and fresh fruit topped with mango fruit sauce. This fruit sauce is always REALLY good drizzled atop the oatmeal.
The coffee here is shipped in directly from Sierra de las Minas Biosphere Reserve in Guatemala. You won't get fresher roasted coffee unless you travel to Costa Rica yourself. (Which by the way I HIGHLY recommend.) Café Kacao uses local grassfed, non-homogenized milk from the Marak Family Farm. Don't do dairy, they have a host of other options too. But it's little things like this that make the food taste so good here.
Use Yelp to add your name to the waitlist and chorten your wait.
Hatch
Their motto is Early Morning Mood Food and eating here is a great way to start the day or weekend. Their original location is in Automobile Alley and 2nd restaurant is in Chisholm Creek. Hatch's menu is eclectic with a blend of your breakfast and brunch favorites with a twist. Definitely start with the Loaded Tumbleweeds. Instead of traditional hash brown, they have made them into bite sized fritters stuffed with cheese and bacon.
One of my favorite things here is their beer braised pork. That slow cooking packs in the flavor and the pork is fork tender. Order the Chieftain's Revenge and you will enjoy that braised pork served over spicy grits and over runny eggs.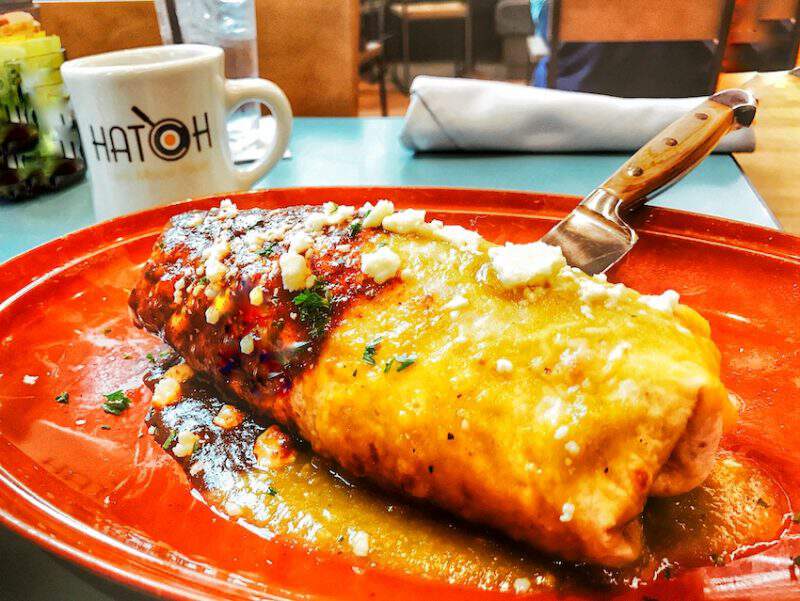 If you like New Mexico style Green Chile, then you need to try another dish with that same beer braised pork, the Burro St. Nick. Sink your teeth into a Christmas chile smothered burrito stuffed with pork, pepper, and onions. As I write this, I realize I have an affinity for their chile and their beer braised pork. Because the third breakfast item on this list if the Benedict Johnny with grit cakes, pork, and red chile.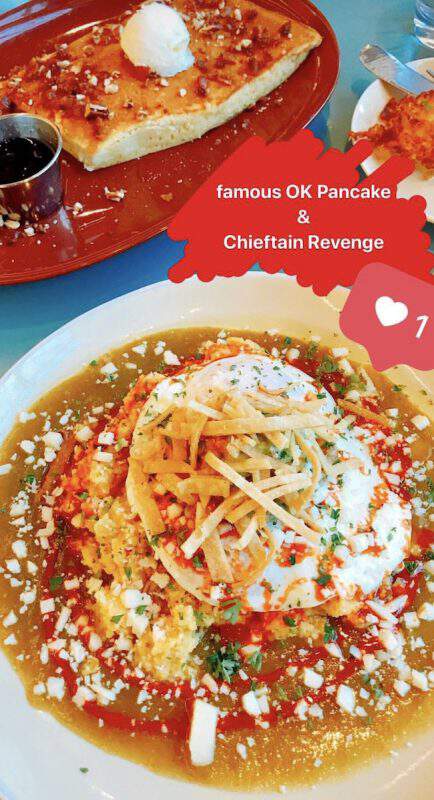 Not interested in chile? How about the Famous PanOK Cake, an Okahoma shaped pancake with a Bourbon Maple Glaze, bacon, and local pecans. It's fluffy just how a pancake should be and it covers the plate. It's a favorite with my kids !
Kitchen 324
For a weekend brunch downtown, my favorite is Kitchen 324. Everything is created in house and they work with local farms to source the freshest seasonal ingredients. For me this place is where fine dining meets the neighborhood diner. It's the place where the chefs get creative in the kitchen and make comfort food better than you ever thought possible.
One of my favorite things here are the vegetable sides. This Breakfast Bowl is loaded with roasted Brussel sprouts, sweet potatoes, avocado, crispy bacon, and topped with poached egg (I swap the fried egg for poached). On the brunch, lunch, and dinner menu, the Untraditional sides are some of my go-tos. I will often order a plate of sides for my meal.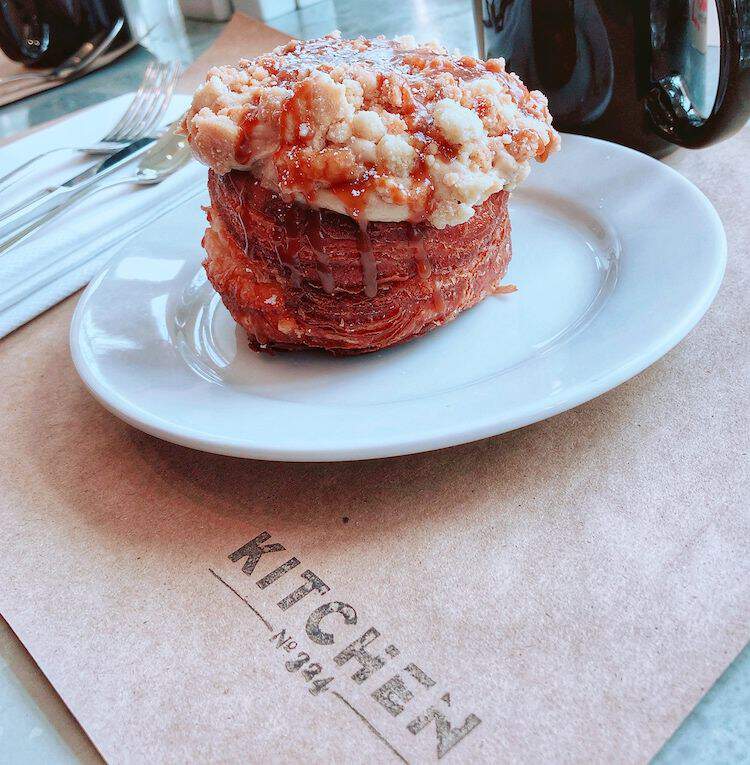 If you are craving sweet carbs, take a look at the bakery case and grab whatever strikes your fancy. Their Joenuts are legendary with their light flaky pastry and decadent filling. How about a Joenut of the Day like this one with it's creamy maple filling goodness?
Osteria
Osteria is one of the newer places in OKC that I can't recommend enough. It's a casual Italian eatery from chefs Jonathan Stranger and Fabio Viviani. This Nichols Hills restaurant is the only one on this brunch OKC list that doesn't offer their brunch menu every day. So here you'll definitely need reservations in advance for Saturday or Sunday brunch.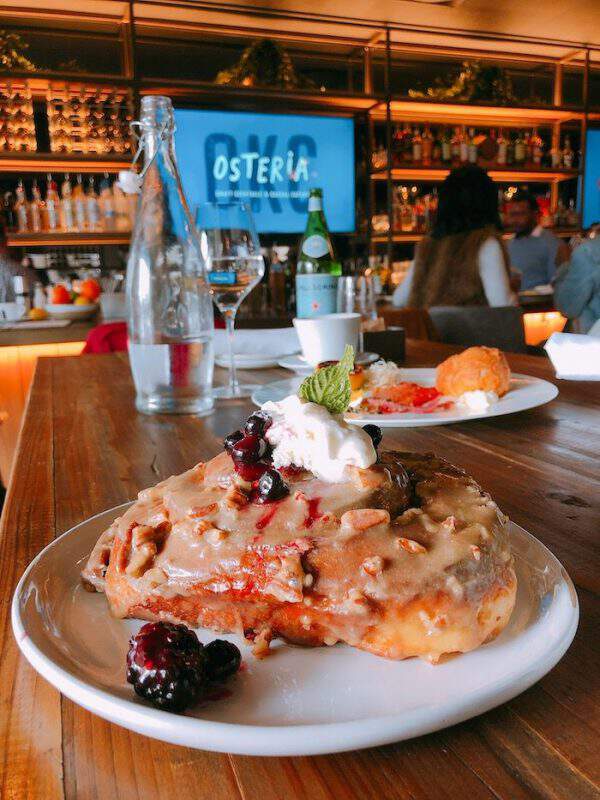 Start with the very shareable Chelsea's Cinnamon Roll Supreme with caramel cream and Arcadia Pecan Praline. It's lighter on the icing and not as sweet as you'd expect. I appreciate that because you can enjoy all the cinnamon flavor going on within.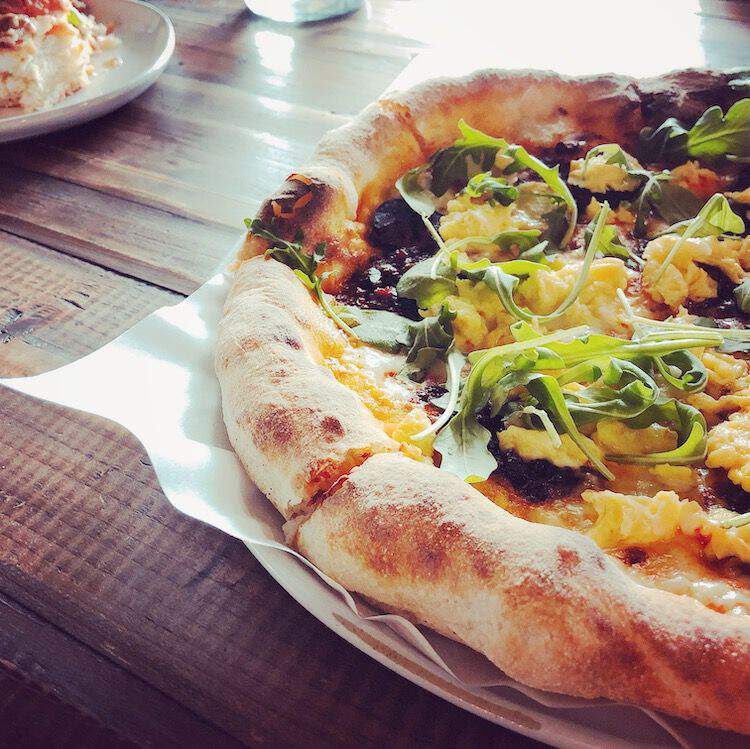 The Calabrese Breakfast Pizza is a great choice if you like spicy sausage. Topped with spicy Calabrese sausage, scrambled eggs, potato slices, and arugula, this is a great breakfast/brunch option. It's more of a fork and knife pizza than eat with your hands type of thing.
This thin crust pizza is a little different as it has a crisp outer edge, but the crust under the toppings is softer. Don't miss the Local Greens Salad. Its anchovy dressing tossed over local seasonal greens is remarkable. It will convert even the pickiest eater.
Syrup
Friends rave about this place and I finally got the chance to dine here. Now I see what the fuss was about and love it too! There is one location in Norman and another in OKC on NW 23rd. This place is everything pancake, waffle, and syrup goodness.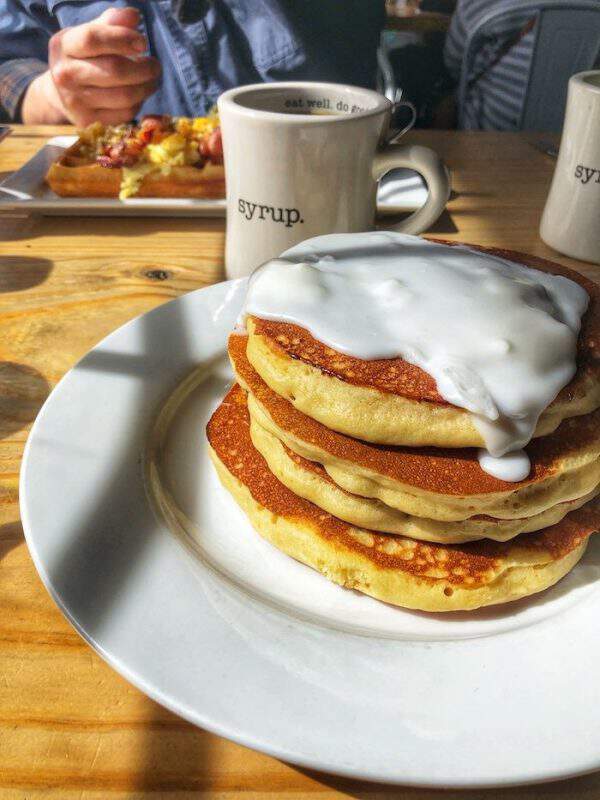 I'll start you with three words, Cinnamon Roll Pancakes. A short stake of fluffy pancakes swirled with cinnamon and topped with cream cheese frosting are by far my favorite. You need to try them. They are that good and your sweet tooth will love you.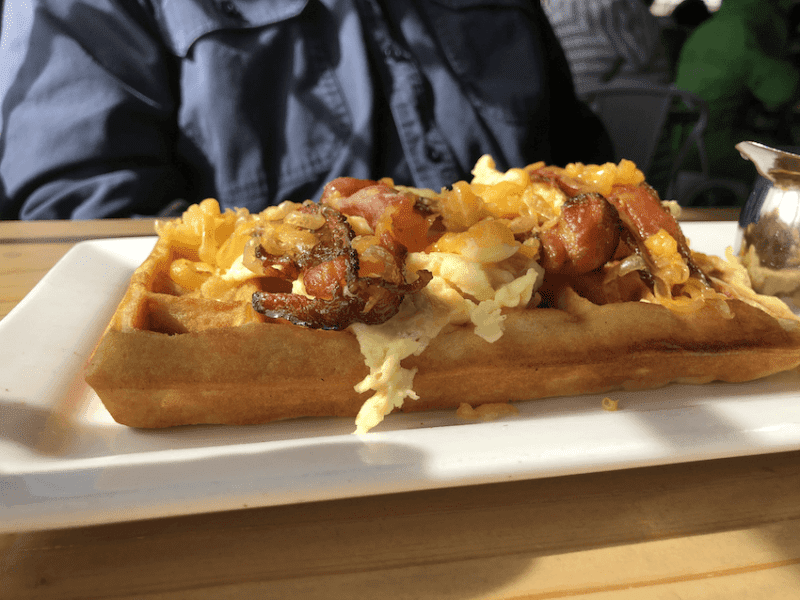 It you crave something not so sweet, try the Morning Glory. It's a Belgian Waffle topped with scrambled eggs, Tillamook cheese, and bacon.
These 5 local restaurants are at the top of my favorite places to enjoy brunch in OKC. Many are also open for breakfast too during the week, so brunch doesn't have to limited to just Saturday and Sunday. Let me know which ones are your favorite in the comments below. I'm sure I'll be adding more to this list too, so let me know what places are your favorites too.