This Downtown in December article features a host of family fun things to do in OKC this winter. We recently partnered with Visit OKC to share "24 Hours of Winter Family Fun" on their website and Instagram account. Now I want to share all the fun with you here.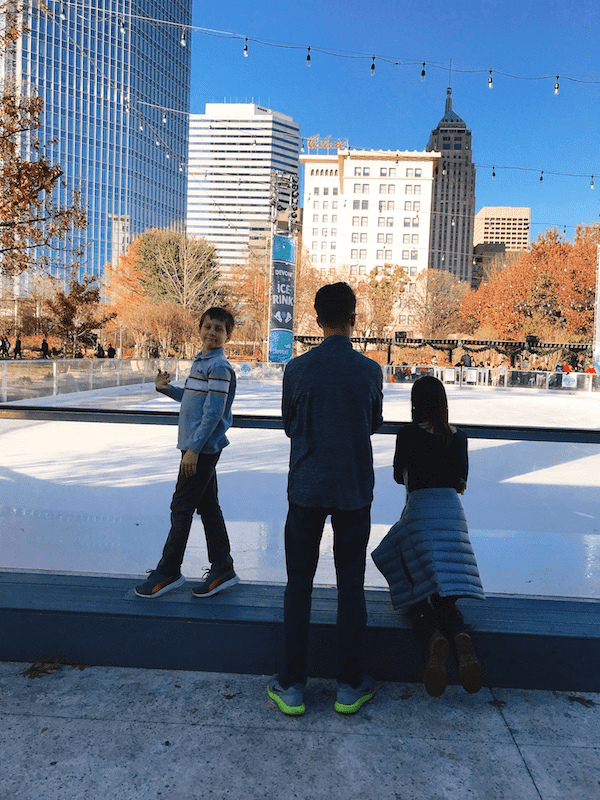 Oklahoma City is FILLED with opportunities for family fun. For over 10 years, we have called OKC home and know that there is still so much we haven't explored yet. So this December we took 24 hours and made a plan to revisit some of our favorite places and try a few new things. We teamed up with VisitOKC and shared our adventures live on their instagram page. Take a look at the video Visit OKC created of our weekend.
It was a lot of fun, but I quickly discovered that there is so much I haven't done or seen in my own hometown. Bad thing is, I'm sure I'm not alone.
Whether you are visiting Oklahoma City this winter or live here, like I do, this article is for you. It will give you a few ideas that will spark family fun featuring Downtown in December events and area attractions.
Downtown in December Events
Fun Things to Do in OKC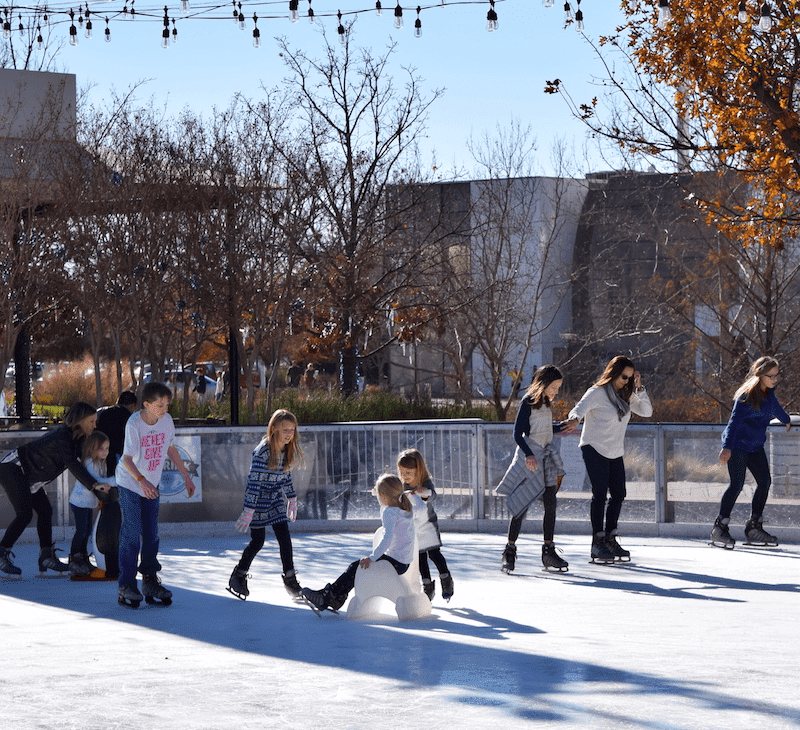 All over downtown Oklahoma City, there are special holiday events. One of the most popular is the Devon Ice Rink in the Myriad Gardens. Oklahoma winter weather can be a little unpredictable an temperatures are often mild. On the weekend we visited in mid December is was in the high 60's outside. But at the Devon Ice Rink, we can strap on ice skates and ice skate no matter what the weather is outside.
Ice skating is a lot of fun, even for a beginner like me. The kids have been before and ice skating was like riding a bicycle to them. They didn't forget and were often skating circles around me. Friends advised to stick to the side rail and that's exactly what I did. I held on for dear life until I found my balance. I look forward t going back, maybe on a Friday night when they have Rock 'N Roll Night with a live DJ.
Our family loves the downtown Myriad Botanical Gardens. The kids love playing in the Children's Garden, even the teenager. During Downtown in December, the gardens have scheduled activities, holiday decorations, and special events throughout the month.
We had other plans this last trip and didn't get the chance to see the OG&E Merry & Bright Free Admission Sundays. The Crystal Bridge Conservatory offers free admission from 6-9pm every Sunday in December. It's decorated with holiday displays, lights, etc. and makes for a fun family activity.
I love shopping local and every year Holiday Pop-Up Shops feature different vendors from around the state for holiday shopping. These shops are fun geodesic domes that are set up in Midtown to make it easy to shop locally. Every week the vendors change. If you are hungry or just need a beverage, visit The Roaming Bison for kettle corn and Katiebugs for hot chocolate with handmade marshmallows. I highly recommend both. If you'd rather have a beer, climb aboard The Big Friendly Craft Beer Bus for a cold brew.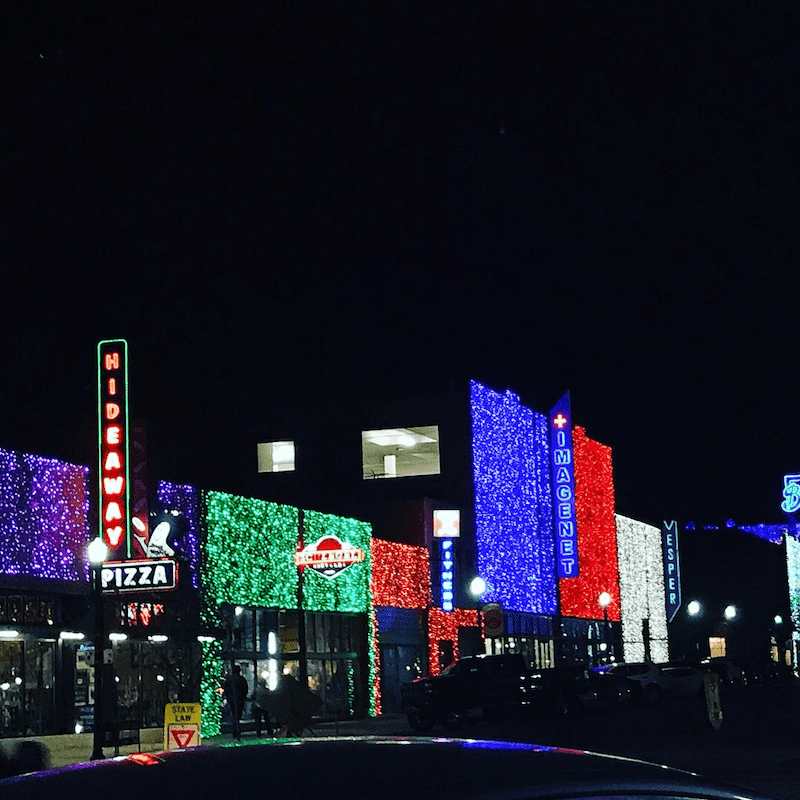 Strolling Automobile Alley to See Christmas Lights
Personally, I could spend every night in December looking at Christmas lights. Instead of putting lights on my house, I'd rather go see other's colorful displays. Along North Broadway Avenue, also known as Automobile Alley, building are covered top to bottom in Christmas lights. I think they look like brightly covered Christmas gifts. Walk down the street and then grab a bite to eat at one of the many restaurants or drive through.
The Bricktown Canal is always aglow with lights at the holidays. You can easily walk along it and see the lights or in the evenings, you can climb around one the Bricktown Water Taxis for a free tour Thursday through Sunday from 6-9pm.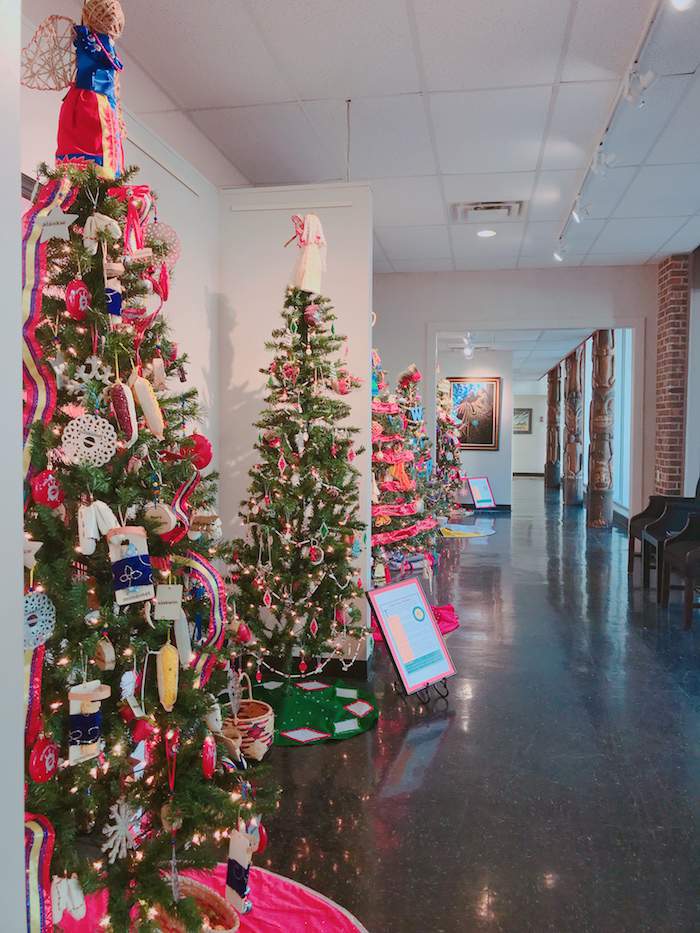 Oklahoma City is home to the Annual Red Earth Festival held in June. The non profit organization responsible for the festival also operates the Red Earth Art Center. This art center is open year around and promotes Native culture through traditional and contemporary Native art. Their permanent collection highlights a variety of artists and is a great place to many Tribal Nations represented in one place.
For the holidays, you'll want to see Treefest. This special holiday exhibits invites Native Tribes to decorate one of 25 Christmas trees. Each tribe decorates their tree with handmade ornaments and art pieces. One tribe added a rotating tree this year and the kids loved it!
Families can view the trees, ornaments, and learn more about what they are seeing. Plaques are nearby to explain the significance of objects and more. Staff is super helpful if you have questions too. You'll find the Red Earth Art Center next door to the Skirvin Hotel on Park Avenue.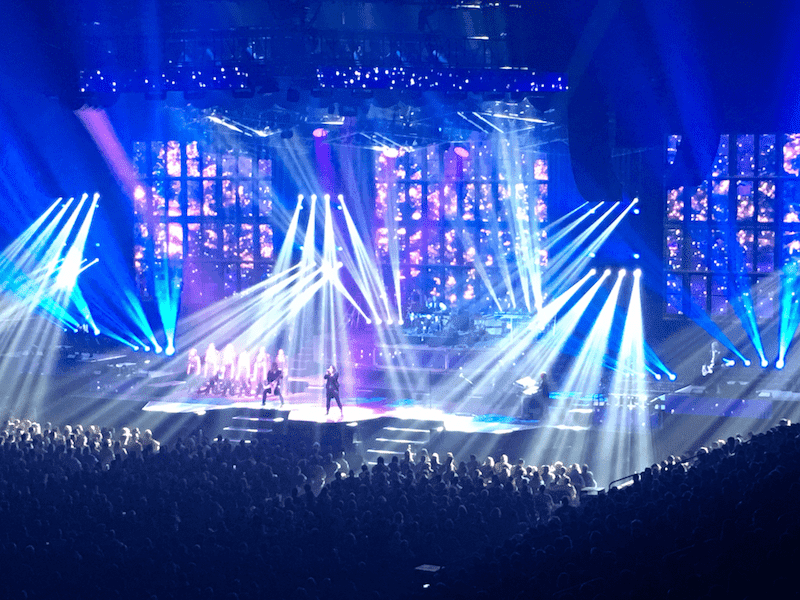 Catch a Live Performance Downtown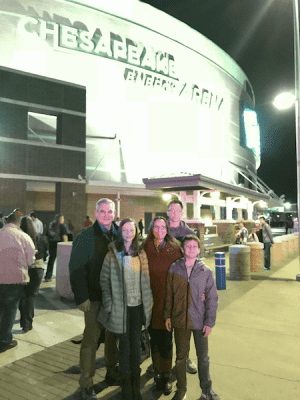 Oklahoma City hosts world class live performances, events, and concerts. The night before our hosted VisitOKC trip, Lady Gaga was in town. But an annual event we see year after year is Trans-Siberian Orchestra at the Chesapeake Energy Arena. It's a blend of holiday music and rock concert. It's quite the stage performance complete with laser light show and pyrotechnics.
Other annual holiday performances occurring in Downtown in December include Lyric's A Christmas Carol, Oklahoma City Ballet's the Nutcracker, Canterbury Christmas (choral music), and OKC Philharmonic's Christmas Show.
There is also a host of other live performances downtown. From street performers to scheduled artists, there is always something happening downtown for the holidays.
Where to Stay in Downtown OKC
If you are coming in from out of town or want to make your day of family fun into a staycation, you'll want a place to rest your weary head. In the past, we have stayed at Aloft, Hampton Inn and Suites, and the Skirvin Hilton. I really like the Skirvin Hilton, especially at Christmas time. Their lobby features a gigantic Christmas tree and there are holiday touches all around this historic hotel.
If you request a room on an upper floor facing north, you can see the Automobile Alley lights from your window (but double check with staff to ensure that view). Take time to visit the new artist in residence whose studio is located on the 1st floor.
Rooms are spacious, beds are comfortable, and the restaurant, Park Avenue Grill is fantastic!
Oklahoma City Restaurants to Try
Skirvin's Hilton's Park Avenue Grill recently revamped their entire menu to offer more grill and a la carte options. We recently had brunch and ordered from that new menu while the kids opted for the full breakfast buffet. The buffet offers all you care to eat breakfast classics like pancakes, eggs, oatmeal bar, omelet station, pastries, and more. When ordering off the menu, I highly recommend the Crab Benedict but I'm told that the Steak and Eggs is even better. During the Sunday Brunch, local musician Edgar Cruz performs his acoustic guitar for diners. If you haven't heard him yet, this is a great casual setting to hear him and enjoy a great start to the day.
Charleston's just opened up a new location in Bricktown along the canal. The restaurant is a local favorite with other locations around the OKC metro area. It is a casual, upbeat atmosphere that is great for families. They serve American classics that made from scratch. Be sure to try the Barbecued Baby Back Ribs and Key Lime Pie.
Hatch OKC is another fantastic breakfast/brunch spots in the city. They currently have one location in Automobile Alley with a second opening in Chisholm Creek in February 2018. At Hatch, you'll find a little bit of everything to start your day. From house made beignets and specialty coffees to Benedicts and cocktails, everything here is a winner. Some of my favorites are the Famous PanOKCake (pancake shaped like Oklahoma) and Coyote Omelette ( Duroc Ham, Chorizo, Peppers, and Christmas Chile Sauce).
These are just a few of the many fun things to do in OKC this winter. Downtown in December gets better every year. So start here and we'll be sure to offer more ideas and other things to do in OKC soon.