Whether you call Oklahoma City home like I do or are just visiting, I want to share my favorite local coffee shops (OKC Metro area) that serve a great cup of plain black coffee. Blended coffee drinks are delicious (and there are a few on this list), but first you have to have a truly great cup of brewed coffee or espresso. Without a great brew, the rest just don't measure up. So this list of local OKC coffee shops is all about where to find great brewed coffee in addition to blended beverages.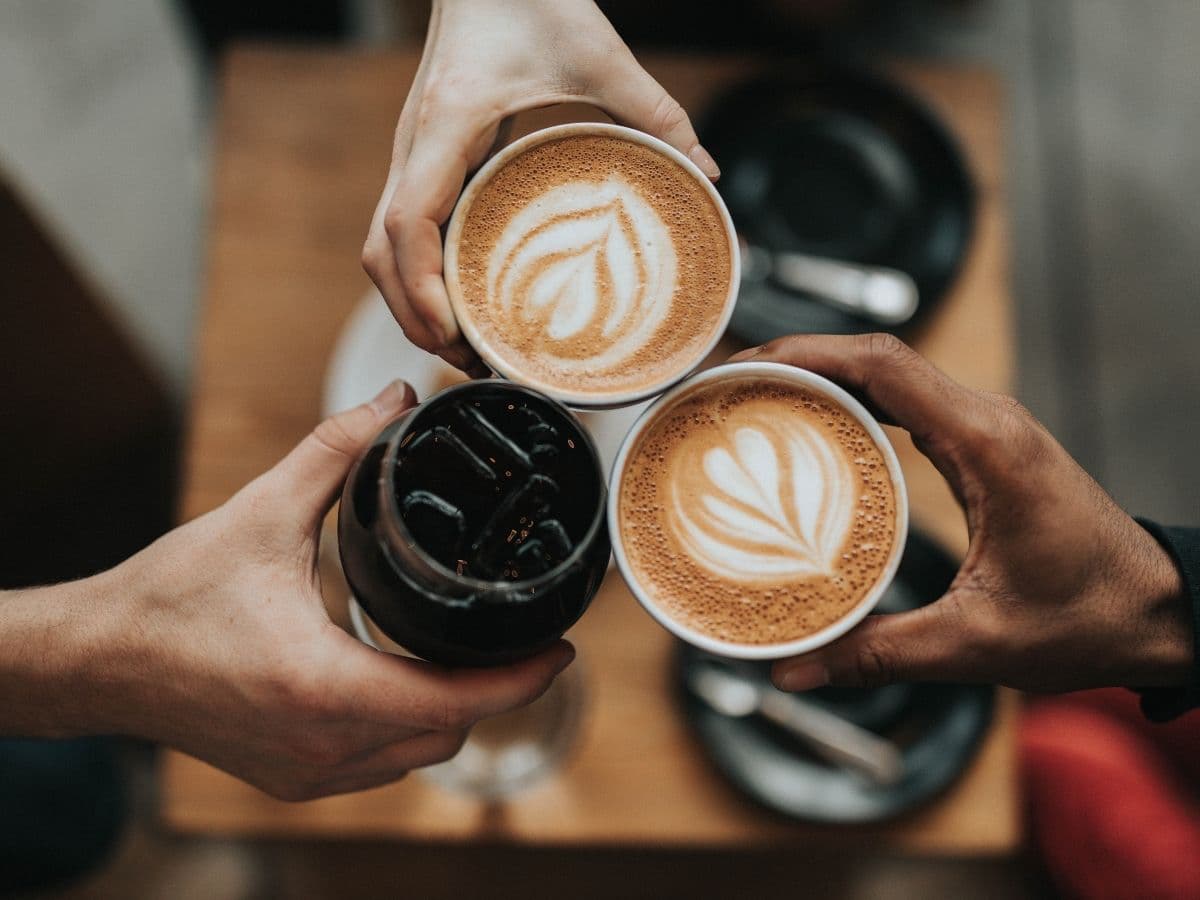 If I were to name one positive thing that came out of the pandemic, it would be my lack of travel which gave me time to explore closer to home. When able, I sought out new-to-me shops, locally-owned restaurants offering take-out, and local coffee shops near me. If you want to explore OKC, check out my favorite brunch spots in OKC, things to do in Oklahoma City, and the places to take teens in OKC.
I know many people love Starbucks and will visit locations close by their home or while traveling. However, I really don't like their brewed coffee. It's oftentimes bitter and too acidic. After having visited Costa Rica and tasting what coffee is supposed to taste like, it's really hard to stomach bad coffee. So sorry, not sorry there are no chain coffee shops on this list.
This list included the OKC metro area. So whether you are seeking a downtown Oklahoma City coffee shop, find yourself in Moore or Mustang, or up in NW OKC, you'll find a locally-owned coffee place to visit, grab a coffee to go, and continue on your day. The city has more to offer than just the downtown area and as you venture out, you'll find much to see and do all around the metro.
Pin this for later…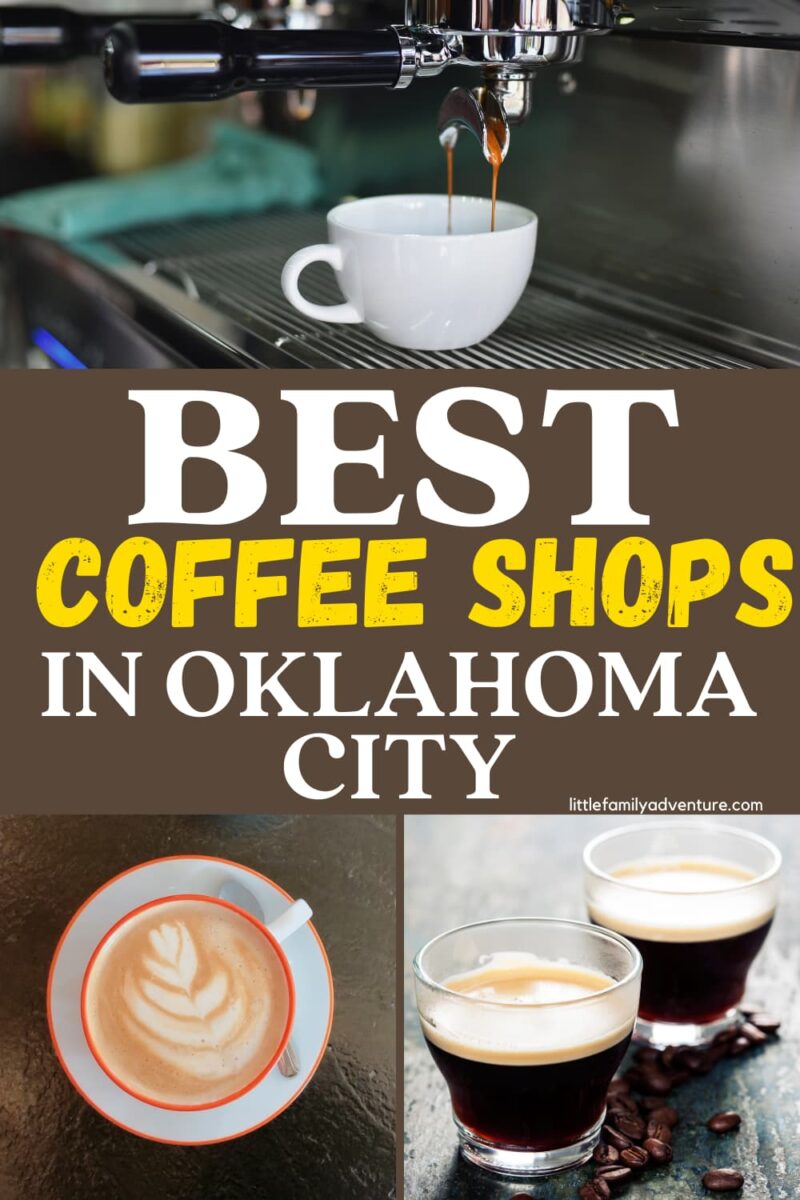 Due to the pandemic, I don't share much about the inside of the shops here because some businesses offer to-go only. However, if there is an outdoor space, I've included that. When things open back fully, I'll be sure to come back here and talk more about atmosphere, complimentary wi-fi, and such.
Coffee Shop Midtown OKC: Elemental Coffee
815 N Hudson Ave, Oklahoma City, OK 73102 https://elementalcoffee.com/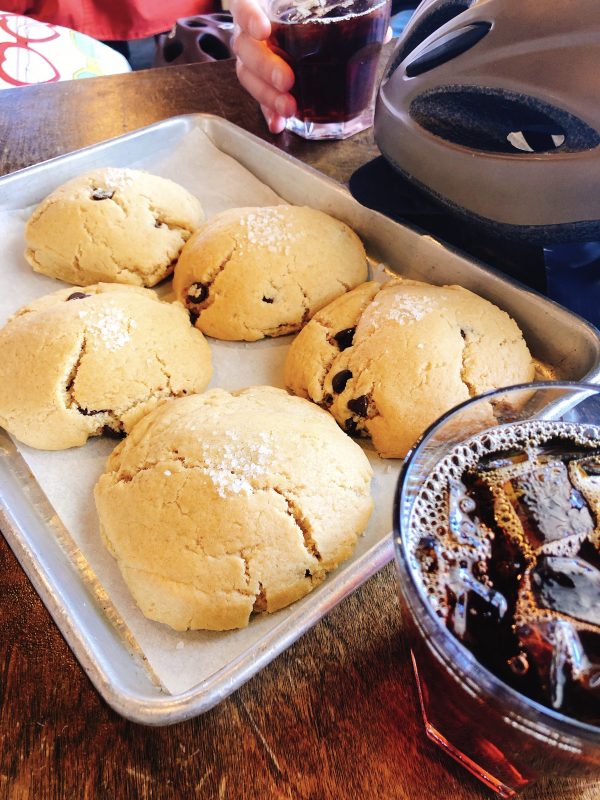 Elemental Coffee is a community focused small-batch roaster and cafe. It's my favorite coffee shop near downtown OKC located across from the Federal Building and very near the Oklahoma City National Memorial and Museum. They have a fantastic iced brew, daily brew, and espresso.
Elemental Coffee ethically sources their coffee beans and roast in-house along with a variety of teas, and other drinks. Working with local farms, many of the ingredients used in the cafe are sourced locally gorwn, season products. The chocolate chip cookies shown above are vegan and one of the best you'll find in the city. The café serves breakfast and lunch with a variety of baked goods, salads, and sandwiches plus a large selection of vegan options.
Open Monday to Friday 7am-6pm, Saturday 8am-6pm, Sunday 9am-6pm
Coffee Shop Downtown OKC: EÔTÉ Coffee
7 NE 6th Street, Oklahoma City, OK 73104 (Basement of the Central Exchange Building) https://eote-coffee.square.site/
EÔTÉ Coffee is a small-batch, craft coffee roaster and coffee shop in downtown Oklahoma City. EÔTÉ stands for Ends of the Earth and they source their beans from around the world, then roast them in house. You'll find their coffee served in popular restaurants throughout Oklahoma City. But come here to the source to pick up a cup and a few bags of beans to take home.
There is an outdoor seating area to meet up with others or sit and practice a bit of self-care enjoying your coffee. Also, EÔTÉ has free parking for patrons in a covered parking area. Great find in downtown OKC!
Open Monday to Saturday 7am-7pm, Sunday 8am to 3pm
Hotels and Airbnbs near Oklahoma City, Oklhahoma
Coffee Shops in NW OKC: Zero Tolerance Coffee and Chocolate
913 W. Britton Road, Oklahoma City, OK 73114 https://zerotolerancecoffee.com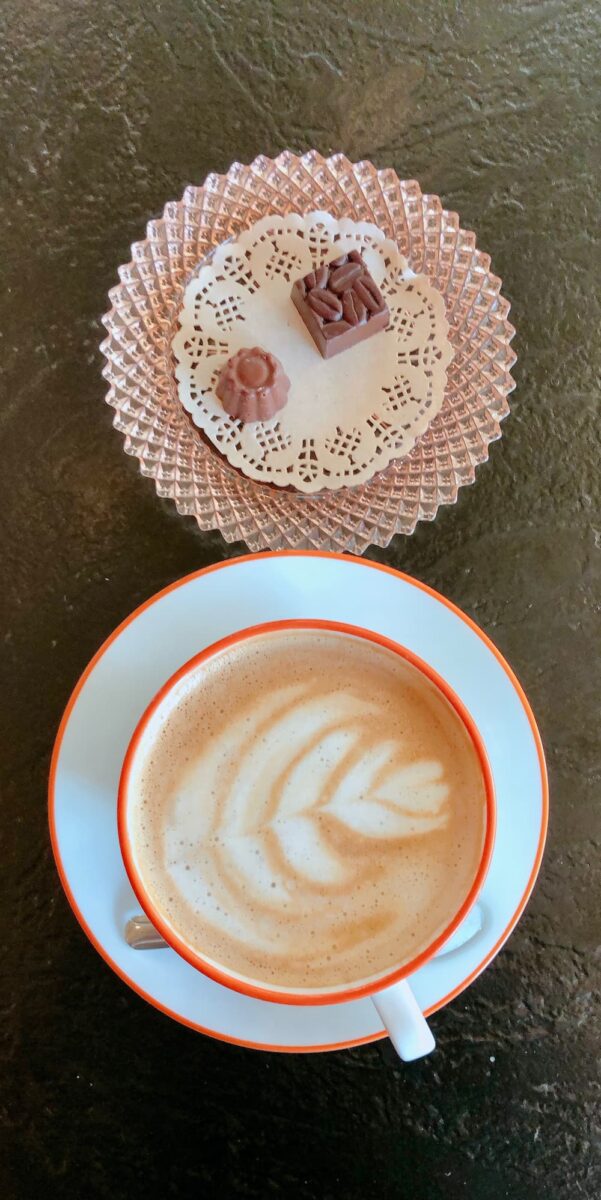 Zero Tolerance Coffee is a family-owned small-batch coffee roaster, artisan coffee shop, and bean-to-bar chocolatier. Here they not only roast their own coffee beans, but also Cacao beans for delicious house-made chocolate. I didn't discover this coffee shop until a friend mentioned it and it's now one of my top recommendations. Of course it's chocolate and coffee!
Their single source daily brew coffee is fantastic. Well balanced and very smooth. If you want to try the chocolate with you coffee order one of their hand crafted bonbons or order a mocha. The mocha here is a MUST try with a homemade syrup made with untempered chocolate. It's not as sweet as others (which I love) and can be made eve less sweet as a dry mocha. Not visible from the street, this shop located on historic riute 66 has a quaint back patio where you can enjoy your coffee and chocolate.
Open Monday to Thursday 7:30am-2pm, Wednesday to Friday 7:30am-5pm, Saturday 8am-5pm
You are reading "Start Your Morning at One of the Best Local Coffee Shops – OKC Metro Area" or local coffeeshops near me. Curious where should I go this weekend for fun, where to stay in OKC, fun things to do in OKC: See 6 animal experiences to try at the OKC Zoo, Go Glamping at Orr Family Farm, Kayaking in OKC (Stinchcomb Wildlife Refuge).
Woodshed Coffee & Tea
7518 N May Ave, Oklahoma City, OK 73116 https://woodshedtea.com/
Woodshed Coffee & Tea is best place in the city to find responsibly sourced loose leaf teas. If you are a tea drinker, this is where you need to visit. The hot teas, iced matcha lattes with oat milk, and iced teas are all fantastic. Their dedication to tea is fully apparent and their focus on quality is matched with their coffee. They source Fair Trade, single-origin coffee for their 2 blends, Woodshed Drip and espresso. Whether as a cup of black coffee or blended beverage, each crafted cup is wonderful. Their cold brew coffee is also a must try, especially in the Oklahoma summer heat.
Open Monday-Saturday: 7am-5pm, Sunday: 8am-5pm
SW OKC Coffee Shop: Theory Coffeehouse & Juicery
2209 SW 104th St suite l, Oklahoma City, OK 73159 https://www.theoryokc.com/
Theory Coffeehouse & Juicery is a great coffee shop and cafè in SW Oklahoma City serving great coffee, cold pressed juices, and while fruit smoothies. Their coffee beans are ethically sourced and roasted by KLLR Roasters, a small batch roaster in OKC. I don't get to this one as much, but when I'm in the area it is a must stop.
Open Monday – Friday 7am-4:00pm, Saturday and Sunday 8am-4:30pm
Coffee Shop in Midwest City: The Underground Coffee
1621 S Douglas Blvd C, Midwest City, OK 73130 https://theundergroundcoffee.com/
The Underground Coffee is Midwest City's longest running locally-owned coffee shop. A visit here and it is easy to see why it's a favorite among local residents. Grab your favorite coffee or tea inside or go through the drive-through.
This MWC coffee shop makes a great cup of coffee, yet I love the names of their specialty drinks like the Holy Mocha Batman, a sweet mocha with shots of toffee and butterscotch then topped with whipped cream and a drizzle of caramel. They serve breakfast items, baked goods, and sandwiches that aren't expensive.
Open Monday to Friday 6am-7pm. Weekends 7am-6pm
Coffee Shop in Mustang: Wild Hero Coffee Co.
331 N Mustang Rd, Mustang, OK 73064 https://www.wildherocoffee.com/
Wild Hero Coffee Company is a great local, family-owned coffee shop in the Yukon/Mustang area. They serve up great coffee with beans roasted by a roaster in Stillwater, teas, and a food menu with delicious baked goods, breakfast, and lunch items.
You can enjoy your coffee inside the shop or pick up via the drive through. I love the strong drip coffee here but many locals love their specialty drinks, especially the Frozen S'mores and Iced Wild Honey and Cinnamon.
Open Monday to Saturday 6am-8pm. Sunday 7am-2pm