Whether you're pitching a backyard tent, heading down the trail, taking a camping trip, or cycling with the kids, carrying a well-stocked outdoor first aid kit is essential. You can buy a premade kit, but I think it's easier AND CHEAPER to create a DIY first aid kit specific for the types of activities or situations you'll encounter outdoors. So here I am sharing my camping and hiking first aid kit, specific products I love, plus a handy checklist to help pack it all.
When in the great outdoors, especially with kids, a well stocked first aid kit is something you should always have on hand and know how to use. If everything goes well, you'll never need it. But it's always better to be prepared.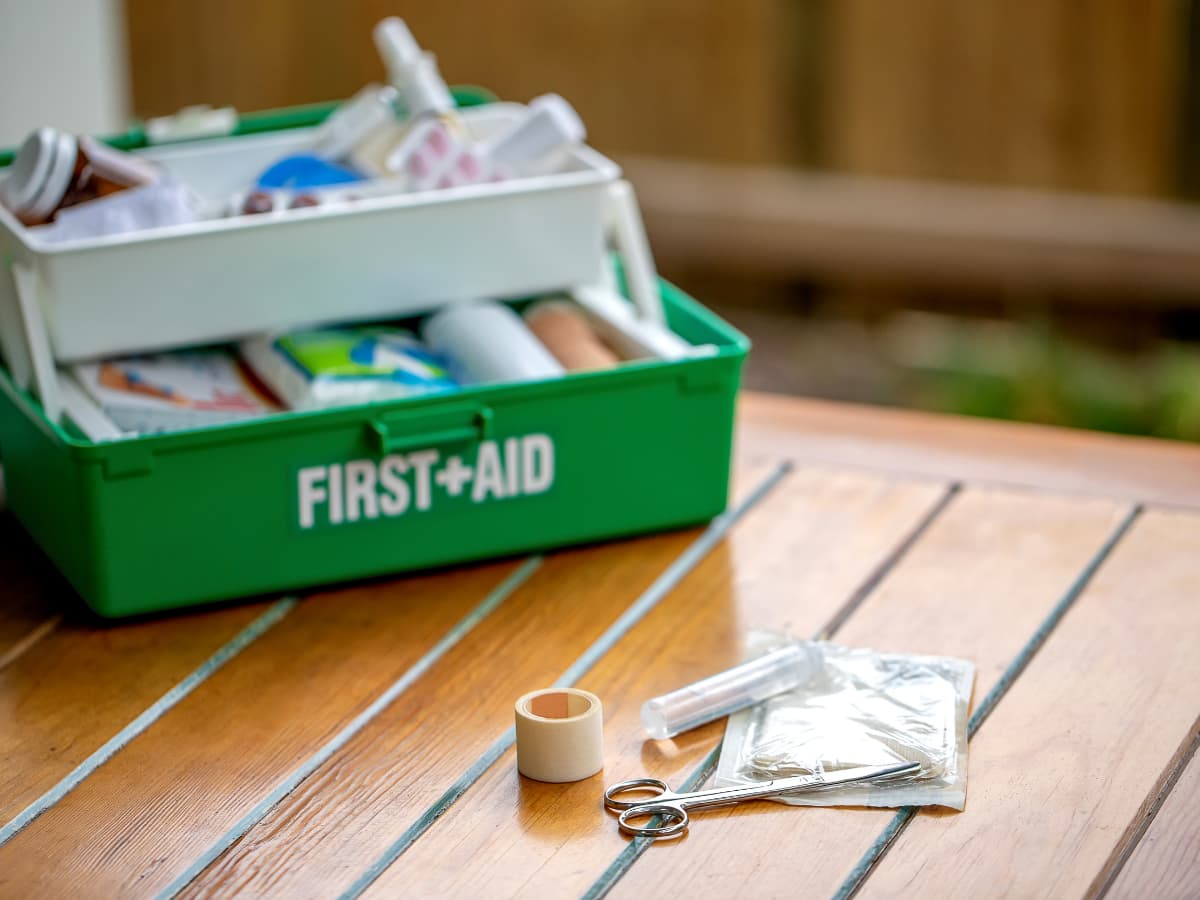 What to Put in a First Aid Kit For Camping?
Your outdoor/camping first aid kit should include remedies and supplies that provide relief for most minor situations that could arise; cuts, abrasions, sunburn, snake bites (haven't had this happen and pray it never does), insect stings, sprained ankles, etc. At a minimum, that includes band aids and materials for wound care, sting and bite relief, allergic reactions, and pain relief.
DIY First Aid Kit
Below, this is what we pack when we go hiking and camping. We actually carry two sets of supplies. First, I have a campsite kit/box that has everything on the camping first aid checklist. This is kept at the campsite or in the car. Then a second, smaller waterproof bag contains the basics and goes in an adult's hiking pack.
Note: As a general rule, I opt for homeopathic and naturally derived first aid products. I find them to be as effective, if not better, than more traditional options. I've listed the products I use in the list below. Some, like the Green Goo First Aid salve, do the job of multiple items so they take up less space in the kit/box.
Related: Will you be traveling with kids? See what I pack in my travel first-aid kit.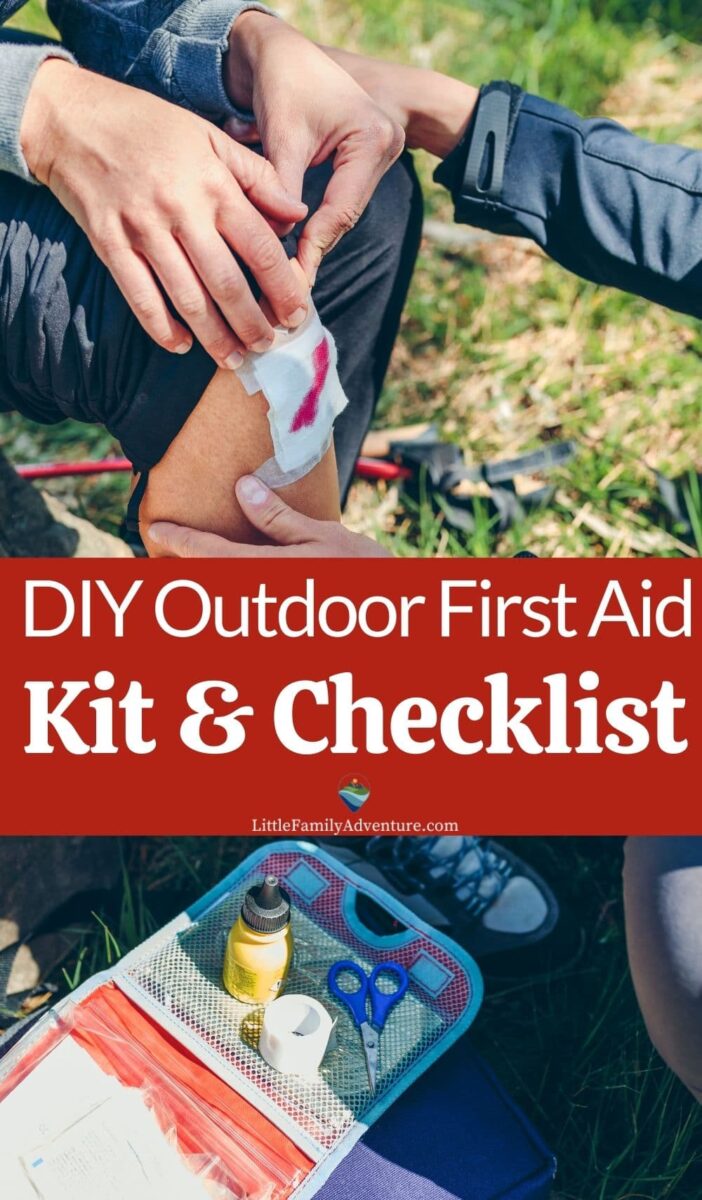 Basic First Aid Supplies
Abrasions, Sprains, and Wound Care
OTC Ointments, Sprays, and Treatments
Prescriptions/Other
Camping First Aid Checklist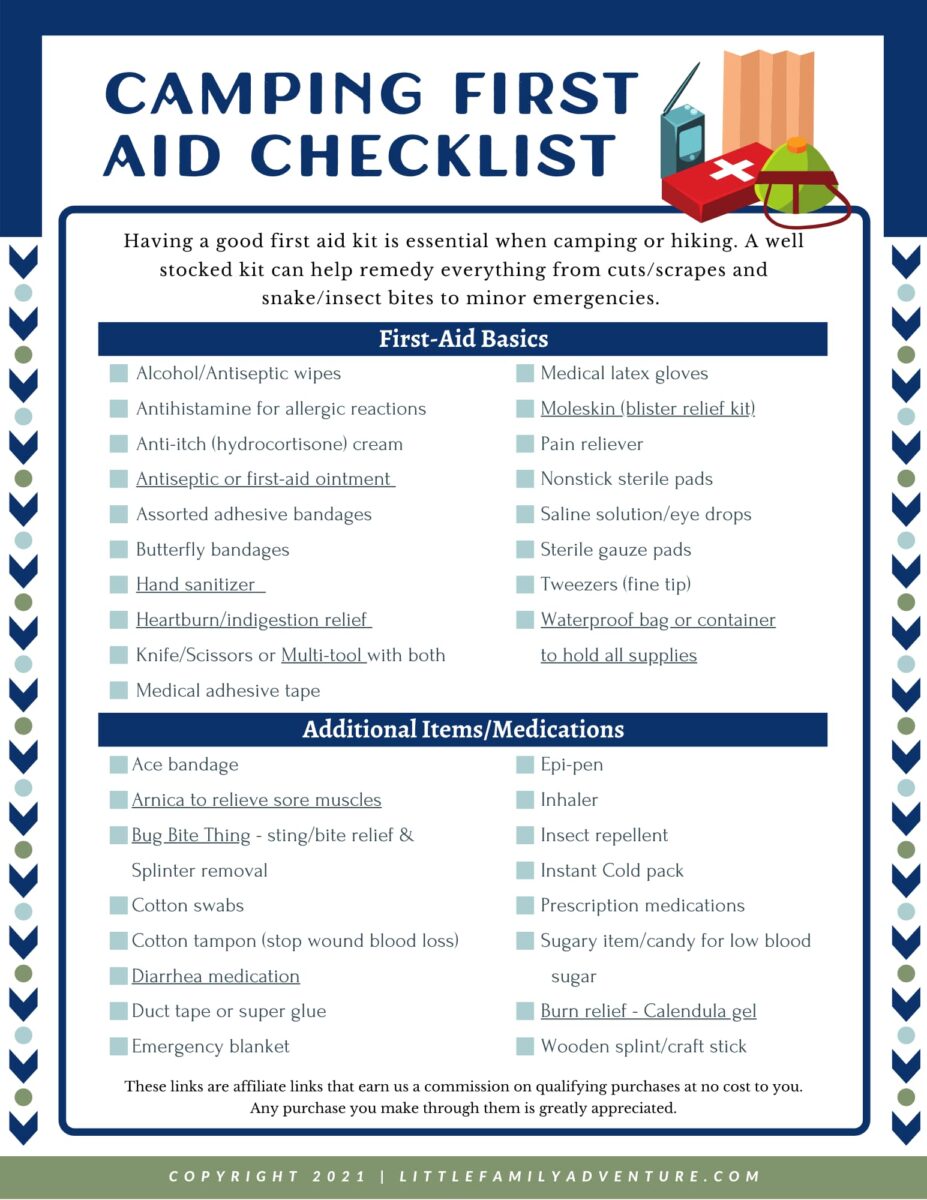 Download this First Aid Checklist here.
Ready Made First Aid Kits for Kids
For anyone that wants to skip the DIY and buy a pre-assembled camping first aid kit, there are some good purpose-specific options on the market. You'll find high-quality kits specific to traveling with dogs, hiking, climbing, etc. These purpose-specific kits feature remedies and aid supplies for the most common injuries you'd experience doing a specific activity.
Adventure Medical Kits has complete kits for nearly every activity and situation. The Adventure Medical Kits Ultralight/watertight (available at Backcountry) is a good option for a day hike or for a base kit that you can add onto.
For a complete multi-day hiking or family camping medical kit you can buy, the Explore Kit from Adventure Medical Kits is a great option. It includes enough supplies for 4 people for up to 7 days.
The More You Know
Having a camping first aid is important, but knowing how to use the items inside is equally beneficial. You can buy or check out an outdoor first-aid book specific to wilderness medicine from your local library or enroll in training aid courses near you.