In our house, we call it Eggs in a Hole. Other families call it Eggs in a Basket, while others….
Toad in a Hole
Egg in a Frame
Egg in a Nest
Bullseye Eyes
Pirate's Eye……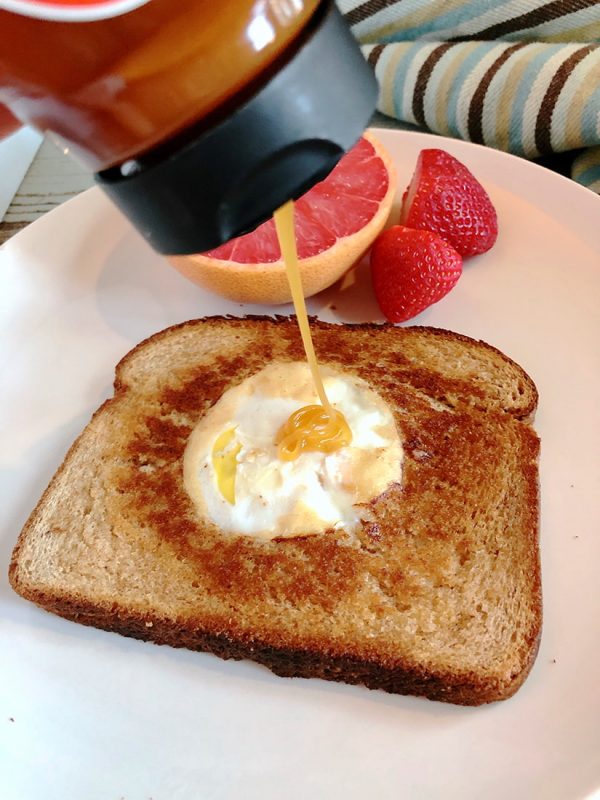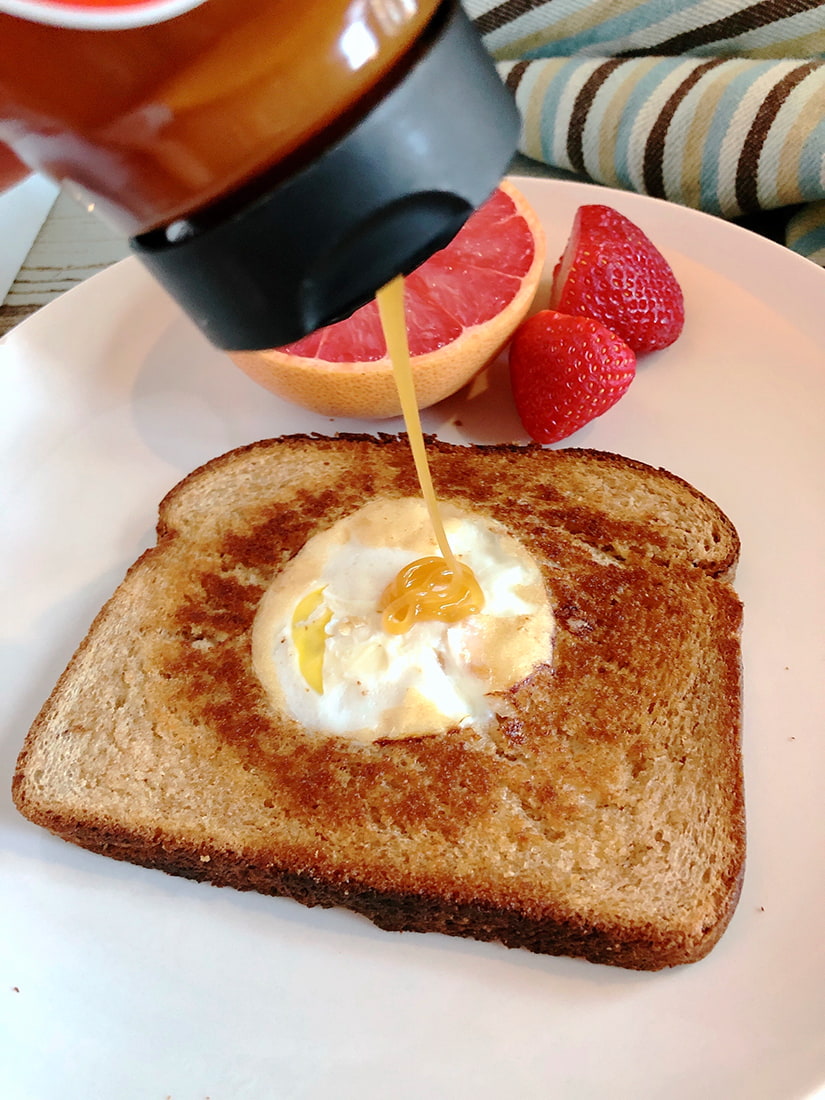 (the list goes on) Yet all of these are just funny names for a simple recipe for eggs cooked IN toast. It's a favorite breakfast recipe on our house and when we go camping with just 3 or 4 ingredients *depending on if you count the honey or maple syrup). We've even been known to make this egg recipe for dinner with sliced avocado, honey, and red pepper flake.
Eggs in a Basket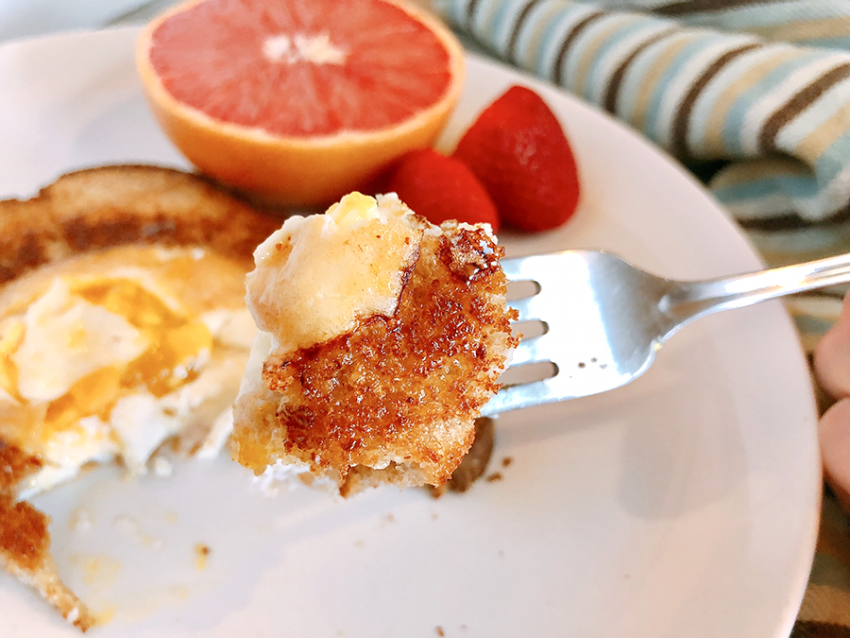 Now that I think about it, fried eggs and toast, DOES sound plain and really boring. But with a funny name, it does make it more interesting. The first time someone said they were making an eggs in a basket, recipe, I was like…"oooo what's THAT?" Imagine my surprise?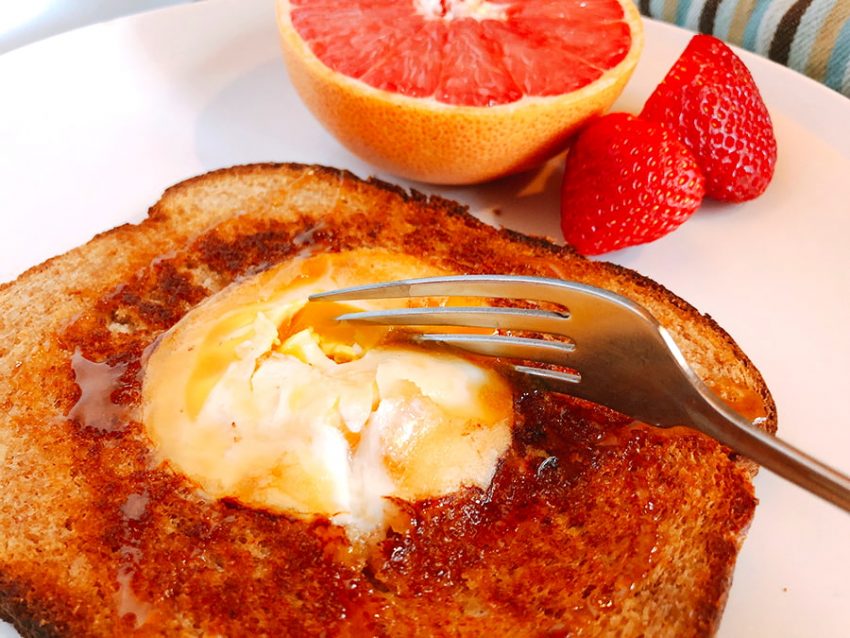 How To Make Eggs in a Basket
At home, I make this eggs in a basket recipe with a cast iron or stainless steel skillet. I will use a cookie cutter or one of my smaller measuring cups which happen to be Stacking Nesting Dolls to cut out and remove a smaller circle from each bread slice.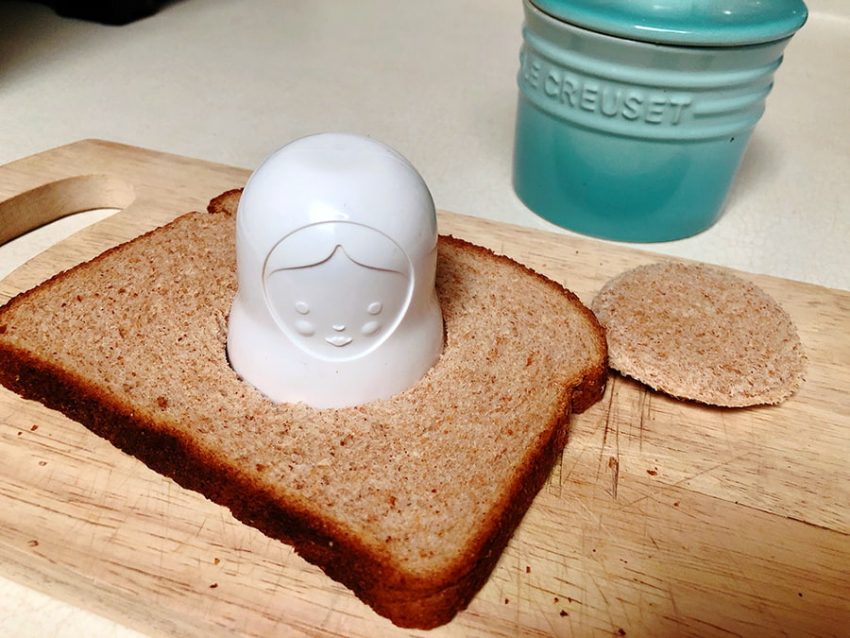 Then I generously butter both sides of my bread. I find that whole wheat or whole grain breads work best for this recipe. Flimsy sandwich bread falls apart. Also, brioche or raisin bread works REALLY well in this too and gives it a sweeter flavor.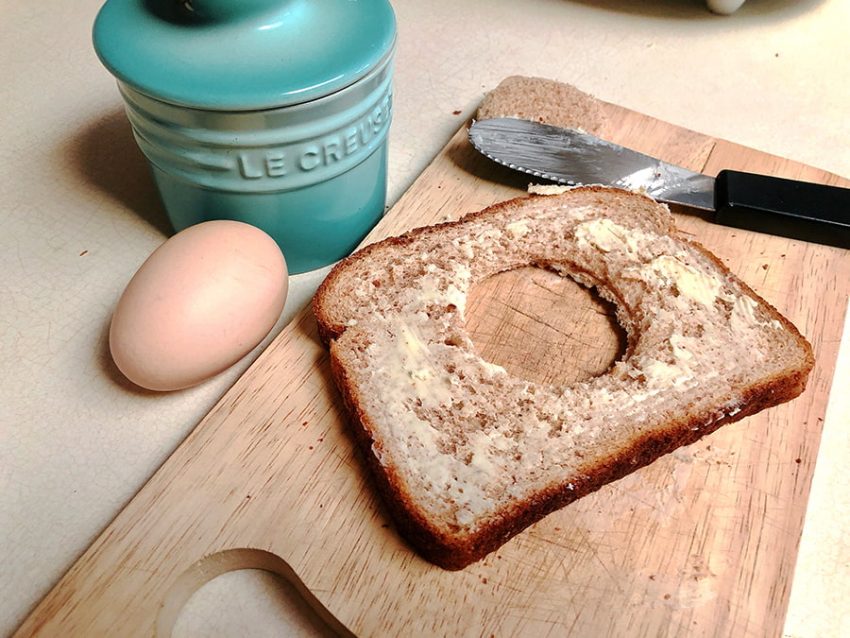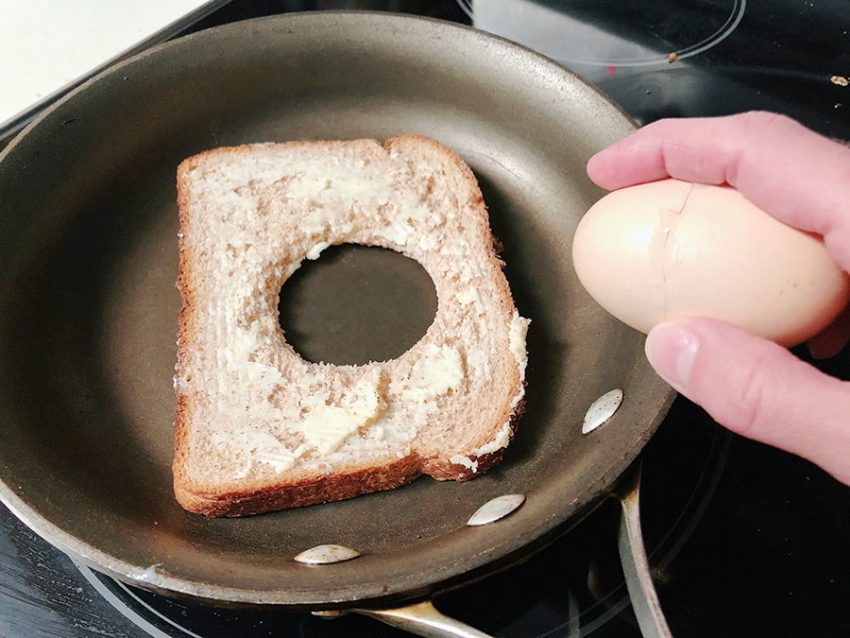 After my bread is buttered, I add it to my skillet. Then I will crack an egg and place the egg into the circle I cut out in the bread. I cook this on the stovetop over medium to medium low heat.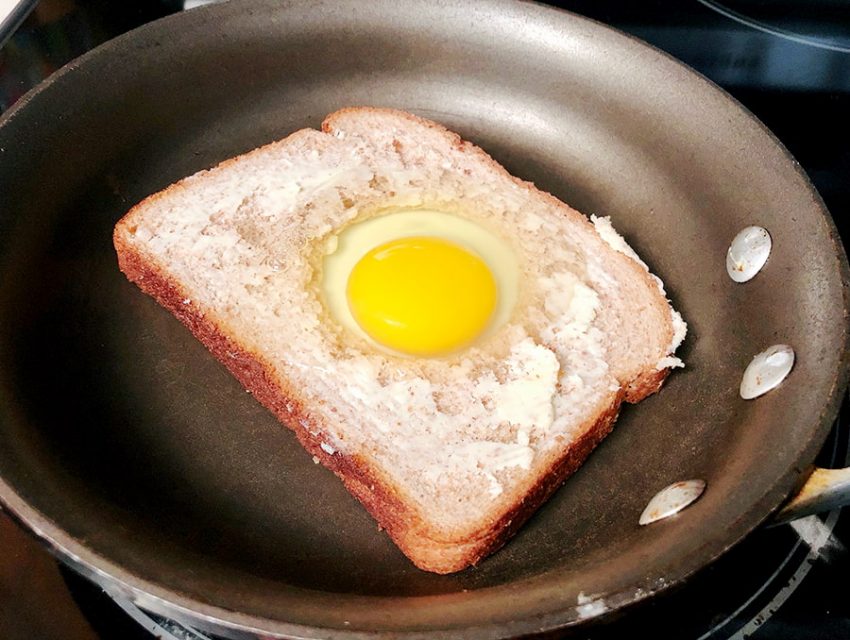 Cook time will differ depending on how you like your eggs. Medium is the way I go as I like an over easy. If you want it cooked through more, lower the heat a touch to medium low so your bread doesn't become over toasted. Flip is desired according to your desired egg style. In the printable recipe below, I'll have directions for over medium.
If cooking for a large group, you can make this recipe in larger quantities using a griddle.
Pin this for later…. If you'd like to see more like this, be sure to follow us on Pinterest too.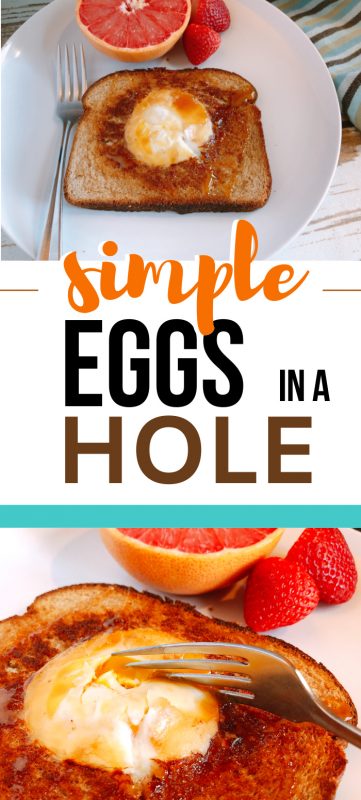 How to Serve Eggs in a Basket?
To answer that question, I start with another one. What do you serve with eggs and toast? My answer is bacon, of course!!! I started ordering bacon from Butcher Box last year when they had free bacon for life. So now with every order, I get bacon and it's REALLY GOOD! Check out the current specials at Butcher Box for yourself.

Fresh fruit is another great side for this at breakfast or brunch time. For dinner, I will serve a few slices of fresh tomatoes atop this, drizzle with Manuka honey, and a sprinkling of red pepper flakes.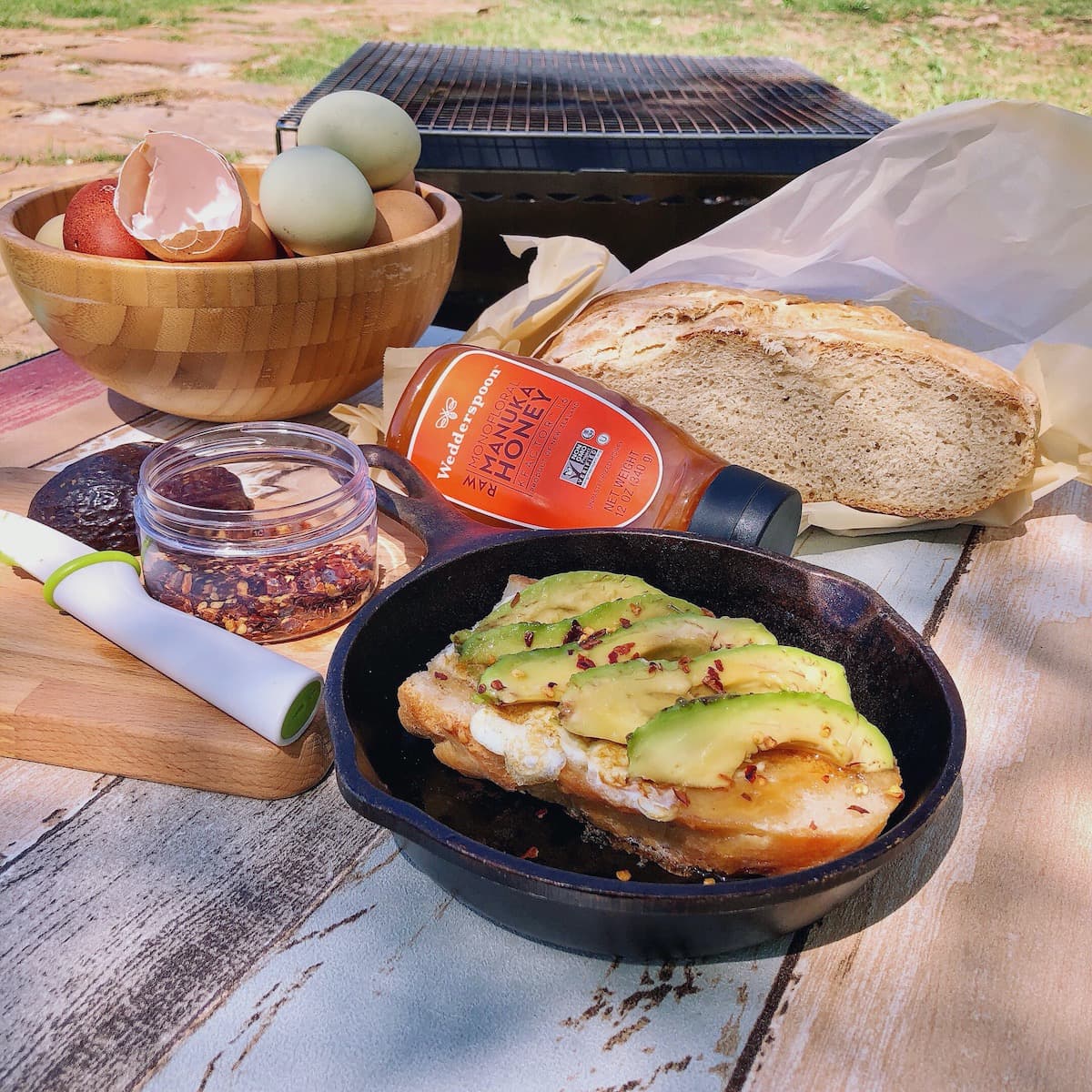 Top this with your choice of cinnamon sugar, honey, maple syrup, ham slices, tomatoes, etc. Anything you'd normally enjoy with fried eggs and toast works well with this.
If you like this Eggs in a Frame Recipe, also try these other breakfast recipes that all have multiple names: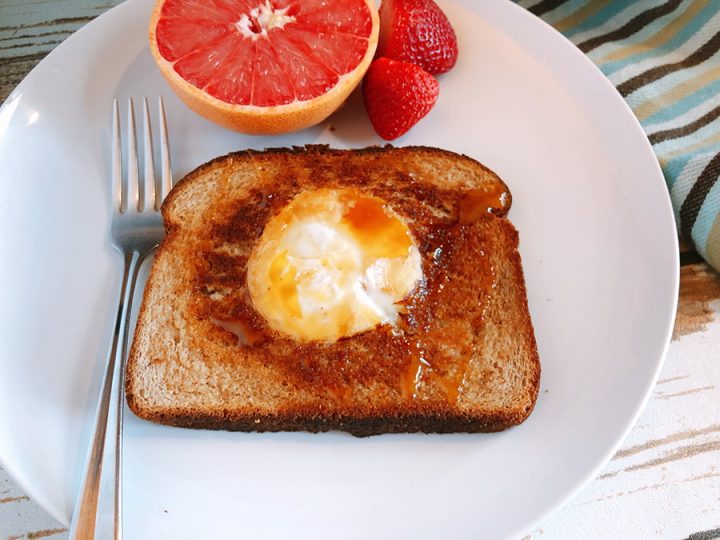 Buttered toast with an egg cooked into the middle is a breakfast classic and perfect for any morning at home, camping, or for a breakfast for dinner situation.
Ingredients
1 slice of whole wheat bread (can also use brioche, cinnamon raisin)
1 large egg
1/2 tablespoon of butter
1 teaspoon Maple syrup or honey (optional)
Instructions
Cut out a 2-inch shape/circle in the middle of the bread slice.
Butter both sides of the bread.
Heat skillet over medium-low heat.
Place buttered bread into the skillet
Crack one egg carefully and place it in the center of the bread.
For over medium, cook for 2 minutes or until the egg whites start to turn opaque.
Flip the bread over and cook for an additional minute. You want the toast browned and the egg to be over medium. When you touch the egg with your spatula, it should be soft to the touch but not wiggly for over easy.
Transfer bread from skillet to plate and top with maple syrup, honey, or powdered sugar if desired.

Recommended Products
As an Amazon Associate and member of other affiliate programs, I earn from qualifying purchases.
Nutrition Information:
Yield:
1
Serving Size:
1
Amount Per Serving:
Calories:

284
Total Fat:

12g
Saturated Fat:

5g
Trans Fat:

0g
Unsaturated Fat:

5g
Cholesterol:

201mg
Sodium:

264mg
Carbohydrates:

36g
Fiber:

2g
Sugar:

23g
Protein:

10g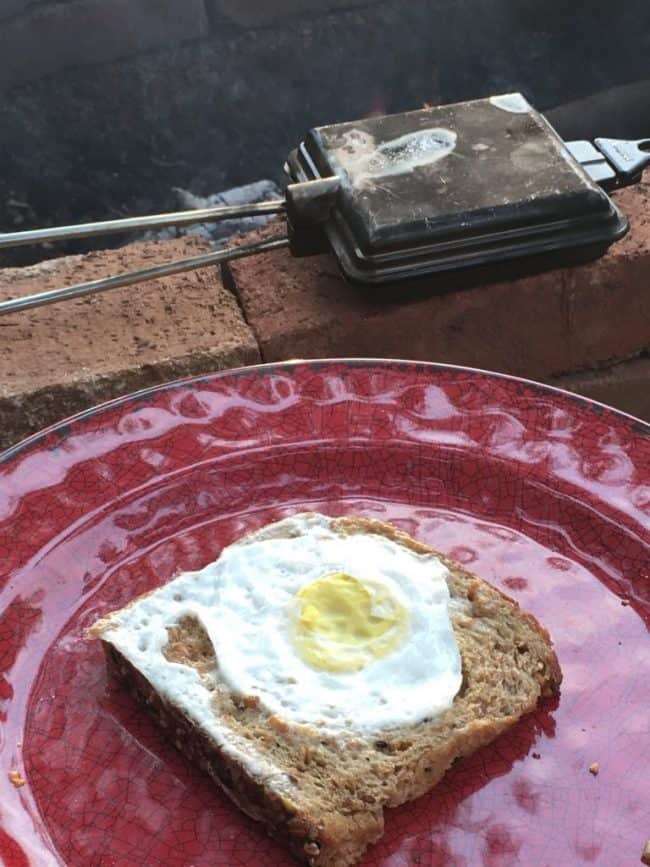 Make this Egg in a Hole Camping
I mentioned very early on that we love making this egg in a basket, toad in a hole, egg in a hole recipe (whatever you want to call it) while camping too. It's a great campsite breakfast as it has minimal ingredients. There are three ways to make this while camping using an open fire, camp stove, or using a pie iron. (If you don't have a pie iron, I recommend this one from Rome Industries.) Here are directions on how to make them using each.
Cast Iron skillet/Dutch Oven over a fire – Add an additional pat of butter to the skillet prior to add the buttered bread and egg. This helps to prevent the egg from sticking. Cook like you normally would at home.
Skillet over a camp stove or canister burner – No modifications from the original recipe.
Cast iron pie iron. This is my favorite way to make it. You follow the recipe just like you would at home, but place the buttered bread and egg into a pie iron. Close the pie iron and lay flat onto hot campfire coals or near the main fire where the temperature is medium to medium-low. Pie iron Egg in the Hole takes 3-4 minutes once the pie iron is hot. I like to preheat the pie iron before adding my bread and egg. Once on the fire, turn after each minute to prevent hot spots and burning.
Not sure how to gauge a campfire temperature? Use the Hand Test. If you place your hand 5 inches from the heat source and you can hold it there for 6-8 seconds before it feels too hot, that's medium. (Note:I feel like I need to add a disclaimer on this. Be sure you don't wear anything flammable and use common sense with the Hand Test. Blah, blah, blah. I trust you know what you're doing. But there is my disclaimer.)
You'll find more camping breakfast recipes too.