Do you call this Egg in a Hole?
Or do you call it Toad in a Hole, Egg in a Frame, Bullseye Eyes, Pirate's Eye, or something else? There are SO many names for this favoiroite breakfast dish.  But one thing is the same, everyone LOVES this easy breakfast dish.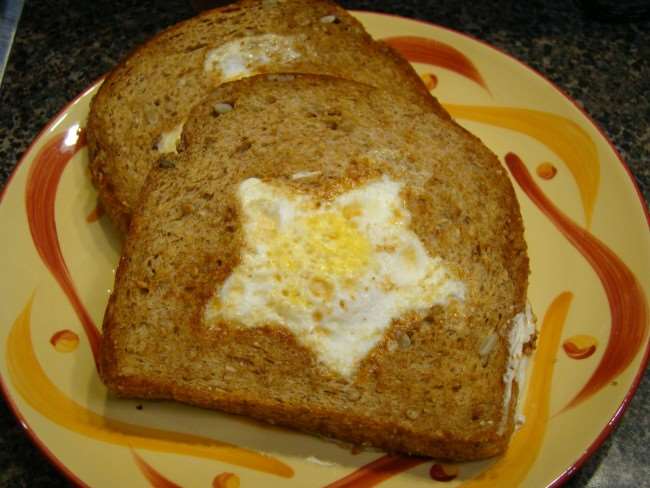 Plain eggs and toast can get a little boring. But by carving out a hole in the middle of a slice of bread, you get a FUN twist on a classic breakfast staple. In the end you get a combination of eggs and toast with French Toast all in one neat little package. Top that with a litte butter and real maple syrup and these don't last long.
* This article contains affiliate links. Purchase through our affiliate links and we receive a small commission without any extra expense to you!
Cookie Cutter Egg in a Hole
So, my picture has a star in it and you may be wondered, What the….? Well that's my kids. One day they pulled out the cookie cutters and started making shapes in their toast. They have made Eggs in a Hole with the middle in the shape of Mickey Mouse ears, hearts, ghosts, dinosaurs, bones, and of course stars.
If you don't want to pull out the cookie cutters, you can use a small glass, biscuit cutter, or your fingers to create a 2 inch diameter hole in each bread slice. You'll get the same effect.
Camping Egg in a Hole
If you are camping, you can create an Egg in a Hole with a skillet over the fire or on a camp stove. But you can also use a cast iron pie iron. This is my favorite way to make it. (Note: If you don't have a pie iron, I recommend this one from Rome Industries.) You follow the recipe just like you would at home, but place the buttered bread and egg into a pie iron. Close the pie iron and lay on the top campfire coals or near the main fire. The desired temperature is medium to medium low. Using the Hand Test, you know you have this temperature if you place your hand  5 inches from the heat source and you can hold it there for 6-8 seconds before it feels too hot. (Note:I feel like I need to add a disclaimer on this. Be sure you don't wear anything flammable and use common sense with the Hand Test. Blah, blah, blah. I trust you know what you're doing. But there is my disclaimer.)
Pie iron Egg in the Hole takes 3-4 minutes once the pie iron is hot. I lik eto turn after each mminute to prevent hot spots and burning.
What other pie iron recipes? Find more pie iron recipes here.
Egg in a Hole
Ingredients
4 slices of bread (whole wheat, brioche, cinnamon raisin, etc)
4 large eggs
4 tablespoons of butter
Maple syrup or powdered sugar
Instructions
Cut out a 2 inch shape/circle in the middle of each bread slice.
Butter both sides of the bread.
Heat skillet over medium low heat.
Place buttered bread into the skillet
Crack one egg carefully and place in the center of the bread.
Cook for 2 minutes or until the egg whites start to turn opaque.
Flip the bread over and cook for an additional minute. You want the toast browned and the egg to be runny. When you touch the egg with your spatula, it should be soft to the touch but not wiggly.
Remove from pan and place in a covered dish or plate.
Repeat steps 2-7 until all Eggs in the Hole are completed.
Take your bread cut outs and place in pan. Move them around to soak up any remaining butter. Allow it to toast on both sides.
Serve one slice of bread and one bread cut out for each person. You can top with maple syrup, powdered sugar, or eat it plain.
Nutrition Information:
Serving Size:
1
Amount Per Serving:
Calories:

1487
Total Fat:

64g
Saturated Fat:

37g
Cholesterol:

182mg
Sodium:

1685mg
Carbohydrates:

200g
Sugar:

84g
Protein:

24g
If you like this recipe, you may also like these:
Breakfast Sandwiches (Freezer friendly)
SaveSave
SaveSave