I'm partnering with my favorite Manuka honey company, Wedderspoon to share how you can boost energy naturally with honey. In our busy lives, we could all use a little extra oomph. Raw honey can do that and so much more! I've been compensated as a Wedderspoon ambassador, but all opinions are my own.
Here lately, I've been one busy momma. I have been really busy traveling for work and when I am home, I'm a chauffeur. School carpools, taking kids to cross country practice and meets, drama and dance rehearsals, friends houses, plus all the other errands. As one friend told me the other day, I need to find a way to become an Uber for kids and get paid for all of the driving I do when I'm home. Can you imagine? $$$$… In reality, all that running around and traveling is exhausting. Daily exercise and a diet filled with healthy food are essential to good health and having energy. But I still I love my coffee to get my morning started. I often joke that I have a caffeine IV most days. Unfortunately, if I drink coffee after lunch, I'm too wired to sleep. So I want, no I NEED, more options to boost energy naturally! I NEED "Adventure Fuel"! My solution is raw honey.
The reason I decided to talk about how to boost energy naturally with honey today is something that happened yesterday. I took my oldest son on a college campus tour. A college visit tour! When did I get old enough to have a high schooler looking at colleges? But during that tour, the tour guide took us through the dorm and mentioned "dorm flu". In close quarters, like a college dorm, cold and flu viruses run rampant. His solution was sanitizing wipes and hand gel. I couldn't agree with him because I knew there was so more one I could do to stay healthy. My solution again …….. Manuka honey.
Exactly, What is Manuka Honey?
Just like other honeys, Manuka honey is the honey produced from bees feeding off a specific type of nectar. In this case, it's the Manuka tree, a relative of the Tea Tree that grows throughout New Zealand. Bee hives are placed near large concentrations of Manuka trees where the bees visit, feed off the nectar, and then head back to the hive to create Manuka honey.
Unlike other types of honey, this one has special antimicrobial antibacterial properties that help the body fight off germs and viruses. Huffington Post says it's sometimes called a medicinal honey. Specific to this type of honey, the KFactor indiactes whether the honey is monofloral and multi. For example:
KFactor 16, Monofloral Manuka, is honey that is "wholly or mostly" from the Leptospermum scoparium (manuka) plant.
KFactor 12, Multifloral Manuka, is a honey blend that has a variety of plant sources, but has a significant amount from the Leptospermum scoparium (manuka) plant. As bees have a considerable flight distance and need variety in their diet, a honey will never be 100% one nectar source.
How to Boost Energy Naturally?
Here are 4 ways you can enjoy Manuka honey and get an extra boost of energy naturally.
1. A Spoonful of Honey
As I say this, I can't help but think of Mary Poppins singing "A Spoonful of sugar makes the medicine go down…." A spoonful or serving of honey has 64 calories and 17 grams of sugar/carbs making it a natural energy source.
If at home, scoop out a bit of honey and eat it straight. But when you are away, pop open one of Wedderspoon's On-The-Go Manuka Honey packets. They make it really easy to take honey anywhere without the mess.
Tip: If you have a sore throat, allow that honey to warm up on the tongue (about 10-15 seconds) before swallowing to help alleviate soreness. The honey soothes and coats as it goes down.
2. Substitute Honey for Sugar in Your Favorite Drink
Instead of reaching for a sugary soda, opt for something sweetened with honey instead. You can add honey to hot or iced tea, a chai latte, smoothie, lemonade, etc. Honey is 1 to 1.5 times sweeter than granulated sugar. This means you can use less honey to get the same level of sweetness.
Get my recipe for Honey Sweetened Watermelon Limeade (shown above) or create one of these easy green smoothie recipes and add a squeeze of honey. Note: The Cucumber Strawberry is a great one for this.
If you want to substitute honey for sugar in baking recipes, take a look at this Banana Honey S'mores recipe. It explains the conversion ratio and the recipe is really good too!
Manuka Honey Benefits
Manuka honey benefits you in several ways. It provides your body with essential minerals and nutrients. It is rich in B-complex vitamins and amino-acids too. The antimicrobial properties I mentioned earlier help boost your immune system so you can help your body fight off diseases and viruses. It is especially helpful with allergies, cough, and sinus problems. These are why our family has been eating this type of honey for a few years. Especially in the fall and winter months, when our allergies are at their worst, we take it in some form daily.
3. Honey Toast
Honey Toast has to be one of my favorite ways to enjoy honey of any kind. A little pat of butter or cream cheese spread over a slice of whole grain bread, followed by a drizzle of cream colored goodness is a great snack or breakfast. The whole grains keep you full longer and the whole thing is a delicious little pick me up.
If you want to get REALLY creative, check out this Mermaid Toast on the Wedderspoon website using natural colors to create a fun snack.
4. Honey Energy Gel
Gel isn't quit the right world for this one, but it's the best way I can describe it. Having a teenage son running varsity high school track and cross country, energy gels are a staple in our house. This year, Wedderspoon debuted a product called Manuka Honey Plus in three different varieties; Vitality, Immunity, and Clarity. These pouches are similar in texture to those gels, but they are made with natural products (which I LOVE).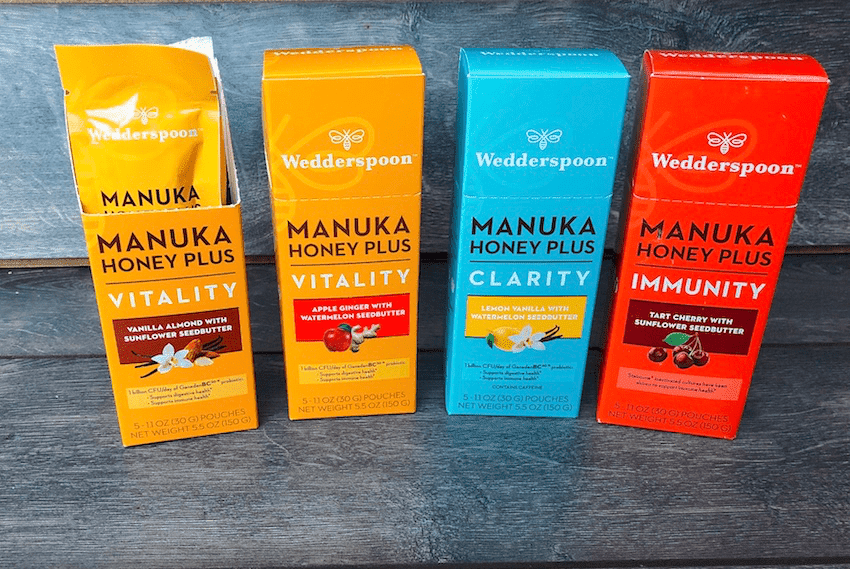 Each honey plus pouch is a combination of raw Manuka honey, sunflower or watermelon seed paste, apple juice concentrate, prebiotics, probiotics, and additional natural extracts to promote wellness. I can enjoy them in any of the ways I mentioned above. My favorite is actually the honey toast with the vanilla almond flavored Vitality.
How do I know It's REAL Manuka Honey
There's been a little confusion on what true Manuka honey really is. So in early 2018, New Zealand's MPI, Ministry for Primary Industries, announced new product standards that would provide quality assurance and consumer confidence.
To ensure you are getting the real thing, look at the label for the Fernmark Seal or "packed in New Zealand". This ensures that its been tested before export and meets the MPS standards. Wedderspoon has this seal, is produced and packed in New Zealand, and is nonGMO Project verified making it the best Manuka honey in my book. But don't take my word for it. Try it yourself and see. When looking for how to boost energy naturally, start here. It may be the start of a BEE-utiful food relationship.