You are here because you want to try a green smoothie for the first time. Right?
Well you are in for a treat today! My family and I love making green smoothies and I'm going to share 5 delicious green smoothie recipes for beginners that are so good that you'll forget they're healthy!
This article contains affiliate links. Purchase through our affiliate links and we receive a small commission without any extra expense to you!
We all want to eat healthier, but sometimes that's not always easy. Until NOW!
Green smoothies are a GREAT way to:
Start your day with a healthy meal
Add more fruits and vegetables into your diet
Get the nutrition you need for an active life.
Get kids to eat healthier
I have a few tips that helped us in the beginning and they will help you too.
Green Smoothie Recipes for Beginners
Green smoothies are great ways to start off the day. My family loves having green smoothies for breakfast. They take just a few minutes to whip up and they make an ideal choice for our busy on-the-go mornings. Plus, I like that green smoothies fill me up and help give me energy throughout the day.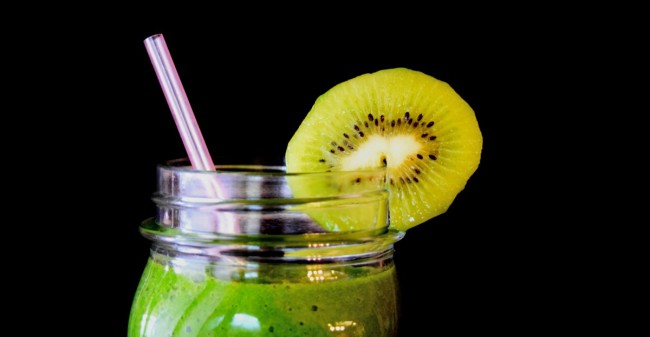 Green smoothies are quick and easy
As you may have guessed, the green in "Green Smoothie" refers to the addition of leafy greens into the smoothie. You can turn ANY fruit smoothie into a Green Smoothie by adding leafy greens.
When you are just starting out, I recommend adding one of these:
Spinach – Great for beginners
Kale
Swiss Chard
Romaine Lettuce
Herbs, etc.
You can start off with just a small handful of leafy greens and work your way up to 2 cups of greens in a smoothie. As you get more adventurous with making green smoothies, experiment with these different greens in the recipes below to find your favorite combination.
These are my family's favorite green smoothie recipes. Try them out for yourself and see just how easy it is to add greens to your diet with a green smoothie.
Citrus Green (my favorite)
1 handful of mixed greens
1 kiwi, peeled
1 orange, peeled and segmented
1 apple, quartered
3 pitted Medjool Dates
1-1 ½ cups coconut water
Coconut Mango Pineapple
1 cup mango chunks
1 handful of kale
1 cup pineapple chunks
1 cup coconut water or light coconut milk
Berry Bliss
2 cups of spinach
1 banana, peeled
1 cup of frozen berries
1 cup coconut milk or vanilla yogurt
Chocolate Banana Green Smoothie
1 cup baby spinach or kale
2 bananas, frozen
1/4 cup Nutella
4 Medjool dates, pitted
1/2 to 1 cup vanilla almond milk or vanilla yogurt
Cucumber Strawberry
1 cup spinach or kale
1 cup frozen strawberries
3 dried apricots
1/2 cucumber, peeled
1 cup water or cold green tea
Directions:
To create one these green smoothies above, add the ingredients in the order listed into a high powered blender. Blend until smooth. If the smoothie is too thick, you can add water or other liquid until you reach your desired consistency.
Go From Beginner to SUPER Smoothie Maker
Before you head to the kitchen to try your hand at making one of these green smoothies, I have some advice for you on SUPERCHARGING your smoothie. It will make your smoothie healthier and even more delicious.
A Word About The Color of Green Smoothies
I feel I should make a note right here that the color of green smoothies are often green, but not always. Two of our smoothie recipes are anything BUT green. One is kinda purple ( Mixed Berry Smoothie) and the other is brown (Chocolate Banana Smoothie). I just want you to be forewarned when it doesn't come out green.
Bring on the Super Powers
I'm not talking about the battle between Superman and Batman here. I'll save that for another day. What I am talking about it SUPERCHARGING your smoothie by adding superfoods or protein; raw nuts, flax seed oil, chia seeds, or protein powder. A little of any one of these goes a long way to keeping you fuller longer.
If you liked these smoothies, be sure you check out these 15 Fresh Fruit Smoothies You'll Crave. You can easily convert them with greens like those I mentioned on the last page.
So now you have our 5 favorite green smoothie recipes for beginners, a few tips on the greens you should start with, and a few words on being a super hero.
Be sure to SUBSCRIBE and on FACEBOOK , TWITTER , INSTAGRAM and Follow PINTEREST to see more delicious recipes, travel destinations and tips, adventures, and more of what we are up to