I'm partnering with Wedderspoon to bring you this tasty recipe for Banana Honey Smores. I really enjoy Wedderspoon's Manuka Honey and am pleased to work with them again on this campfire treat.
S'mores are a staple on a family camping trip. It's hard to resist roasting marshmallows over the campfire to create these delicious, yet SUPER messy, s'mores. But being messy is part of the fun! Instead of the classic s'mores, try mixing things up with these Banana Honey S'Mores. They are made with a homemade trail mix oatmeal cookie, marshmallow, Manuka honey, and sliced banana. They are delicious and I'll show you how to make them at home and on your next camping trip.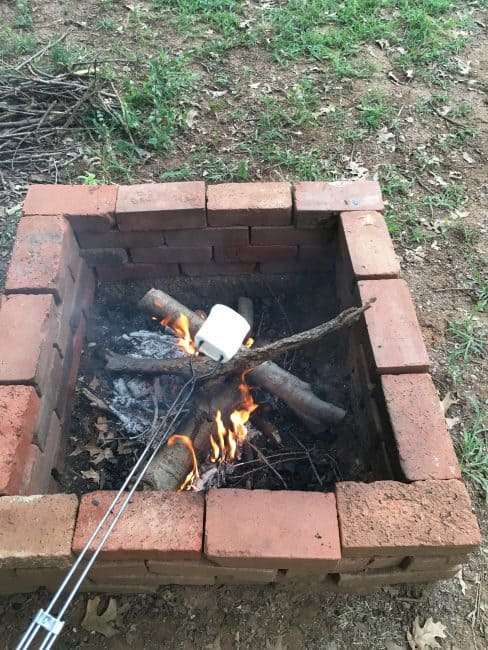 Kids of all ages love to grab their roasting stick, press that squishy, jumbo sized marshmallow onto it, and roast it until it's just right. For my kids, that's when the marshmallow is totally charred on the outside and gooey obey on the inside. For me, I like it warm and gooey, but without any burnt edges. What about you? How do you like your marshmallow?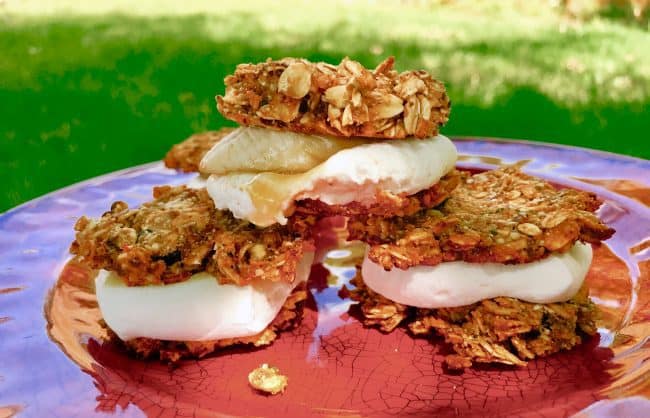 The classic s'more with graham crackers, roasted marshmallow, and chocolate never goes out of style. But sometimes you want something different. These S'mores are different because we're using a gluten free cookie made with oatmeal, coconut flour, hemp and flax seed, Manuka Honey instead of sugar, and banana. Then instead of chocolate, there is a banana slice and a drizzle of Manuka honey for sweetness.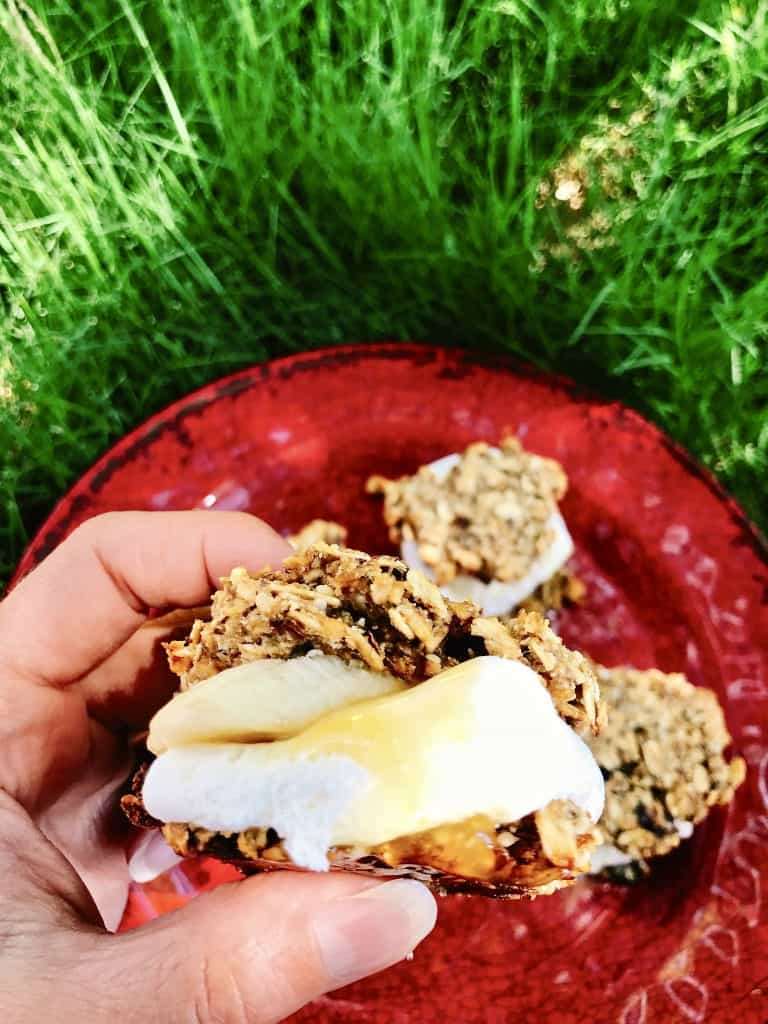 Why Manuka Honey?
Manuka Honey is produced in Australia and New Zealand from the nectar of the manuka tree (similar to the Tea Tree). It has a host of health benefits. In our family, we use it soothe sore throats and to relieve allergy symptoms. Research shows that Manuka can help with other ailments. But, I'm not a medical professional, so I don't want to go into all that here. Do an online search and you will find many reputable sites with the latest information.

I like baking with honey because unlike sugar, honey contains proteins, vitamins, and minerals. 1 Tablespoon of honey contains 17 grams of carbohydrates but has a lower Glycemic Index than sugar.
The general rule of thumb when substituting honey for sugar:
Use 1/2-2/3 cup of honey for 1 cup of sugar
Decrease your other liquids by 1/4 cup
Decrease baking temperature by 25 degrees F
Wedderspoon's Manuka honey is non-GMO, raw and unpasteurized. It contains naturally occurring bee pollen, live enzymes, and propolis that are stable. I'm using it in the cookies and drizzled over the marshmallows in the Banana Honey S'mores. It retains its healthy attributes even with baking.

Get the recipe for the Trail Mix Cookie first and bake them at home before your camping trip or anytime you want a sweet, healthy cookie that is vegan and gluten free. Then the you can create S'mores at home in the microwave, backyard fire pit, or outdoors while camping.
Yield: 15
Tail Mix Cookies (Vegan & Gluten Free)

Gluten Free and vegan cookies that make great anytime. We use them to make Honey Amores.
Ingredients
2 cup old fashioned oats
1/4 cup ground hempseed
1/4 cup coconut flour
1/4 cup ground flaxseed
2 ripe bananas, mashed
1/2 cup nut butter
2 Tablespoon Wedderspoon Manuka honey
1/4 teaspoon ground cinnamon
1/2 teaspoon sea salt
1/4 cup dried cranberries or other dried fruit
Instructions
Preheat oven to 350 degrees F.
Mix all the ingredients together in a large mixing bowl.
Using a 2 Tablespoon cookie scoop, place rounded spoonfuls of the cookie dough onto a cookie sheet with a silicone liner.
Press gently to flat into a disk about 1/2" thick.
Place cookie sheet in oven and bake for 13-15 minutes or until cookies are lightly browned and firm to the touch.
Remove from oven and allow to cool on cookie sheet for 1-2 minutes, then remove to a cooling rack.
Nutrition Information:
Serving Size:
1
Amount Per Serving:
Calories:

1317
Total Fat:

31g
Saturated Fat:

4g
Sodium:

1188mg
Carbohydrates:

246g
Sugar:

95g
Protein:

31g

Wedderspoon is mixing things up too! They started bringing Manuka honey to the United States over 10 years ago. Now they carry over 35 products including several varieties of honey, lip balm, artisanal soaps, and soon kids lollipops.
Just in time for summer campouts and travel, Wedderspoon is offering Little Family Adventure readers 15% off all website orders. Visit www.wedderspoon.com and use code MANUKALOVE to save today!

For these Banana Honey S'Mores, I use a jar of Wedderspoon Manuka Honey. But when I make these while camping, I use their Honey On the Go Packets to drizzle honey on site. It's less messy and super convenient!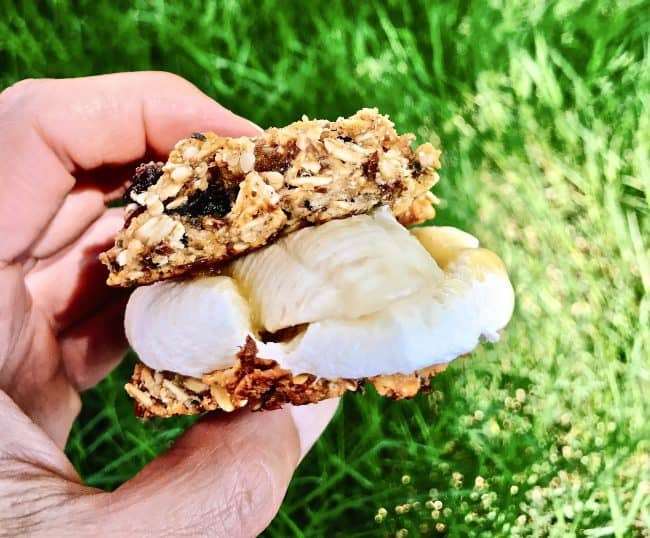 Banana Honey S'Mores
1 dozen Trail Mix Cookies (recipe above)
6 jumbo marshmallows
1 bananas sliced on a diagonal for a larger section
2 Tablespoons for Wedderspoon Manuka Honey or 2 Honey On the Go Packets
Make At Home
Place 6 cookies on a microwave safe plate.
Top each cookie with a marshmallow.
Microwave on high 15-30 seconds or until the marshmallow begins to inflate and soften.
Remove plate from microwave.
Drizzle each marshmallow with honey.
Top with banana slice and another cookie.
Campfire S'More Version
Place your marshmallow on a roasting stick or skewer and roast until you get the desired char/color.
Place roasted marshmallow on a cookie.
Top with honey, banana slice, and additional cookie.
snack