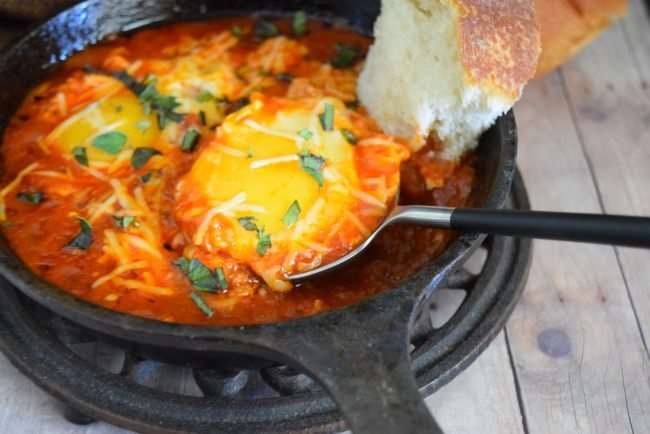 Breakfast for dinner is perfect for busy families who don't have a lot of time to cook. Pancakes and French toast have their place on some nights, but at other times you want something a little different, something spicy. The weather may be cooling off outside, but that doesn't mean your cooking has to. This Eggs in Hell is a spicy dish made with Mezzetta Pasta Sauce and is inspired my one of my childhood favorites, Huevos Rancheros. These poached eggs in spicy marinara are delicious real food that is quick to create and has an amazing flavor. You will want to make this dish over and over again this fall!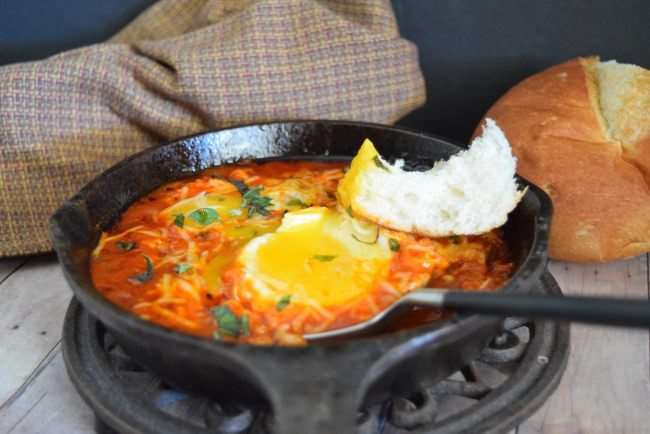 You may be wondering, "What's with the name, Eggs in Hell?" Yeah, the name may be fun, but don't let it fool you. This dish is HOT and spicy. Chili peppers give the sauce a KICK of heat that it anything but boring. The other part of it is the way this dish looks. The spicy tomato sauce looks like pools of lava surrounding each egg. As it cooks, the sauce bubbles up too, making it look even more like hot bubbling lava. Some people call this dish Eggs in Purgatory, but I like Eggs in Hell more. Don't you?
In our house, we strive to eat healthy meals together. With three kids in different activities, sometimes life can make that a challenge. That's why quick and easy meals are a life saver. This dish is ready in about 10 minutes and is a great go to for anyone wanting to eat healthy on a busy schedule.
I recently had the chance to sample Mezzetta® Napa Valley Homemade™ Spicy Marinara and knew right away that this sauce would be perfect for Eggs in Hell.
I love this sauce is real food made with 100% hand-selected plum tomatoes, no added sugar, and no preservatives. Check out the ingredient list. It's real food I can feel good about serving my family. Mezzetta offers other flavors too; Marinara, Tomato & Sweet Basil, Roasted Garlic & Caramelized Onions, Parmesan, Asiago & Romano, and Wild Mushroom.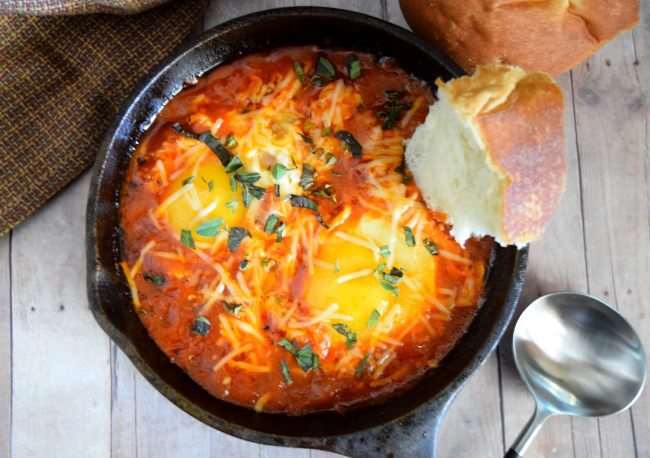 Yield: 1
Eggs in Hell - A Devlishly Easy Recipe)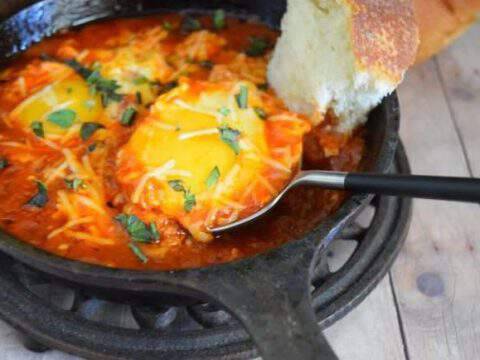 A quick and easy dish with a spicy tomato sauce and poached eggs. Serve with fresj bread for dipping
Ingredients
2 large eggs
Fresh oregano, 1 teaspoon sliced
1 teaspoon shredded Parmesan cheese
Instructions
Pour 1 cup of spicy marinara sauce in a small cast iron skillet. Bring to a gentle simmer over medium high heat.
Reduce heat to a low simmer. Crack eggs, one at a time, and place into sauce. Simmer until eggs are cooked to your liking; 5-6 minutes for runny yolks, 8-9 minutes for firm yolks.
Remove from heat and sprinkle with Parmesan and sliced Oregano.
Serve dish hot with bread for dipping.
This recipe is made in a
personal sized cast iron skillet
for 1. You can easily double or triple the recipe and use a
larger cast iron skillet
.
This is one of the ways I'm feeding my family healthy meals in less time. Less time in the kitchen means more time with them and more chances to get out and have fun together.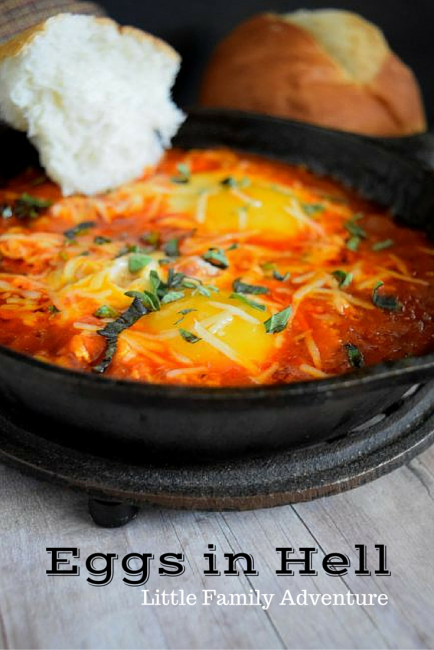 GIVEAWAY
Enter HERE to win in the Perfect Pasta Night Kit Giveaway.
PRIZES INCLUDE:
Grand Prize (1): Perfect Pasta Night. Cooking kit includes: Six (6) Mezzetta® Napa Valley Homemade™ Pasta Sauces + Dried Pasta + Apron + Grocery Tote + Chef's Hat + Cheese Grater + Recipe Cards + $500 grocery gift card
Runner Up Prizes (10): Six (6) Mezzetta® Napa Valley Homemade™ Pasta Sauces + Recipe Cards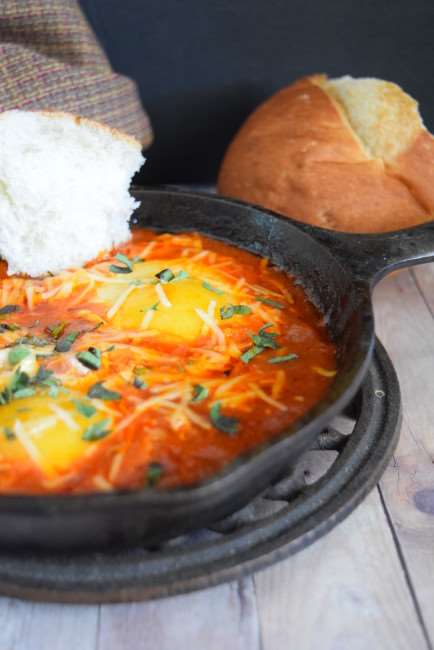 Reasons to Love Mezzetta® Napa Valley Homemade™ Pasta Sauces!
• Real Food. 100% hand-selected plum tomatoes. No added sugar. No paste. No shortcuts.
• Real Farmers. Committed to farming the highest quality ingredients, without compromise.
• Real Family. Family owned and operated for over 80 years.
• Real Recipe. Made in the Italian tradition from our Napa Valley kitchen.
• Real Good. Pull up a plate and taste the difference.
Many thanks to Mezzetta for sponsoring today's story and encouraging me to #FallforFlavor!