Forget the plain 'ol turkey recipe this year. Celebrate Thanksgiving with this Maple Glazed Turkey and Whiskey Gravy instead.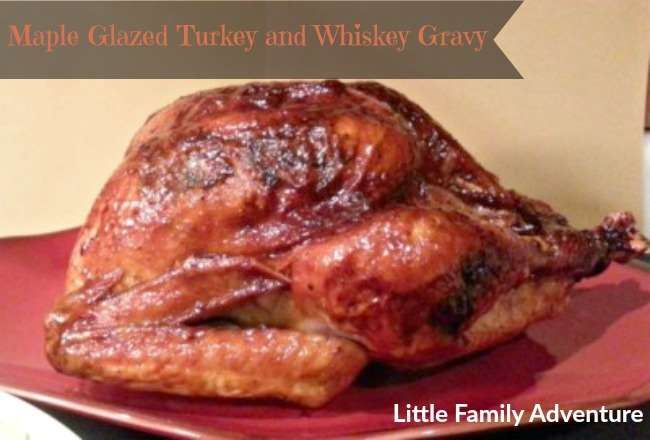 Thanksgiving is one of my favorite holidays. To start, it's the day we give thanks for so many things. We celebrate by coming together with friends and family at the dinner table. What could be better than celebrating over great food?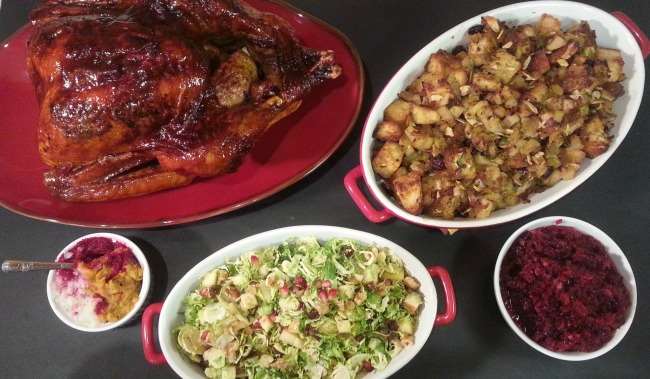 Another reason for loving thanksgiving is the cranberries. I am a sucker for most fresh cranberry recipes. I love cranberry chutney especially. It's good on so many things; turkey, brie cheese, cinnamon sugar chips, sandwiches, ham. The list goes on…… You can beat that the day after Thanksgiving, I will be having a grilled turkey panini with cranberry chutney and melted brie cheese…. I can already taste it.

Our Thanksgiving meal isn't complete without a great roasted turkey. This Maple Roasted turkey recipe has been a staple on our Thanksgiving table for a few years. The turkey always comes out moist and delicious with this recipe. The herb butter prevents the turkey from drying out. Placing an orange and apple in the turkey cavity adds moisture and infuses the turkey with a wonderful flavor as it cooks. The glaze caramelizes the skin and adds a slightly sweet and savory flavor.

The gravy is just plain amazing. When a recipe is this good, how can I make anything else?

Yields 6-8
Maple Glazed Turkey and Whiskey Gravy
30 minPrep Time
3 hr, 30 Cook Time
4 hrTotal Time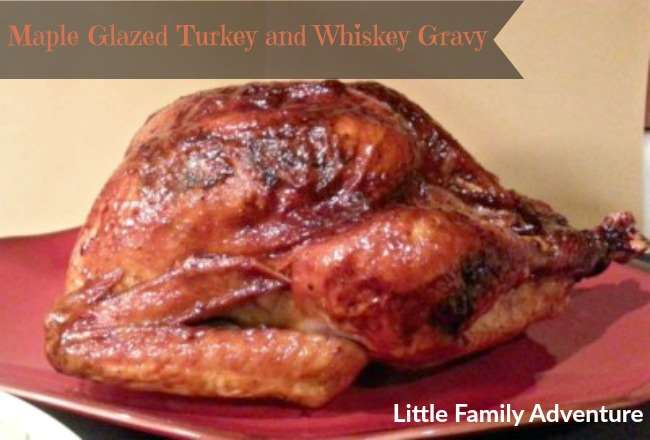 Ingredients
10-12 pound fresh or thawed turkey
Herb Butter for Turkey
3 tablespoons butter, softened
2 teaspoons chopped fresh rosemary
2 teaspoons chopped fresh sage
1/2 teaspoon pepper
To Stuff inside Turkey
1 apple, cut into wedges
4 garlic cloves
1 rosemary sprig
1 sage sprig
1 orange, cut into wedges
Glaze
1/2 cup whiskey
1/2 cup pure maple syrup
2 Tablespoons brown sugar, packed
Gravy
2 cups chicken or vegetable broth
3 tablespoons white whole wheat flour
Instructions
Preheat oven to 325 degrees F.
Take the giblets out of the turkey and wash the turkey inside and out. Remove any excess fat and leftover pin feathers and pat the outside dry. Place the turkey in a large roasting pan.
Combine all the ingredients for the herb butter, butter through pepper, in a small bowl.
Loosen the skin over the turkey breast and drumsticks. Rub the herb butter between the turkey skin and meat.
Stuff the cavity with the apple, orange, rosemary, sage, and garlic.
Tie the legs together with string and tuck the wing tips under the body of the turkey.
Combine whiskey, maple syrup, and brown sugar for the glaze. Set aside.
Place the turkey in the oven and roast the turkey about until the thigh meats is 180 degrees F. (Note: a 10 lb turkey will take about 3 to 3 1/2 hours)
During the last hour of cooking, baste the turkey with the whiskey, maple, and sugar glaze every 15-20 minutes.
Once the turkey is done, remove it from the roasting pan and set onto a cutting board. Cover with aluminum foil and let rest for at least 20 minutes.

For the Gravy

Add the broth to the roasting pan. Stir with a wooden spoon to help loosen any drippings.
Transfer the broth and drippings to a skillet or sauce pan. Over medium-low heat, bring to a simmer, stirring often.
With a whisk, add the flour to the broth. Whisk until thickened. If gravy becomes too thick, add more chicken or vegetable broth.

To Serve

Carve the turkey and serve with the gravy on the side.
7.8.1.2
116
https://littlefamilyadventure.com/maple-glazed-turkey-whiskey-gravy/
LittleFamilyAdventure.com
When making turkey, I have a few tips that I find helpful.
Plan on 2 pounds of turkey per adult and 1 pound per child. That way, there is sure to be enough leftover turkey for sandwiches, pot pie, and other leftover meals.
Pull the uncooked turkey from the refrigerator for at least 1 hour prior to cooking. That way the bird's temperature will be warmer and will not take as long to cook. Since this glaze has sugar, a longer cooking time may cause the sugar to burn and that wouldn't be good.
Be sure to let the turkey rest after cooking. 20 minutes is the minimum for a small 10-12 pound bird, but 40 minutes will be needed for a larger one. The resting, just like with a steak or lamb, will give you a more flavorful and juicer turkey.
Stay the turkey bones for homemade stock. The day after Thanksgiving is a great day for homemade turkey and noodle soup.
If you need help planning your Thanksgiving Feast, take a look at my Ultimate Thanksgiving Planner.