This recipe for a dessert Dutch Oven Pizza with Peaches and Honey is made possible thanks to CampMaid. They provided me with their Dutch Oven set to try out and get cooking outdoors with. I liked it so much I joined their affiliate program and am able to offer LFA readers a special 20% discount on your next purchase. Affiliate links are below. All opinions are my own.
Cooking on a backyard grill is a great way to make pizza outdoors. But cooking one in a traditional Dutch Oven presents all sorts of challenges. Many Dutch oven pizza recipes call for a thick crust, which I don't care for. It wasn't until I was introduced to CampMaid at Outdoor Retailers that I finally thought I could actually cook a Dutch Oven pizza outdoors and not burn it. The picture below is my pizza oven using the CampMaid Dutch Oven.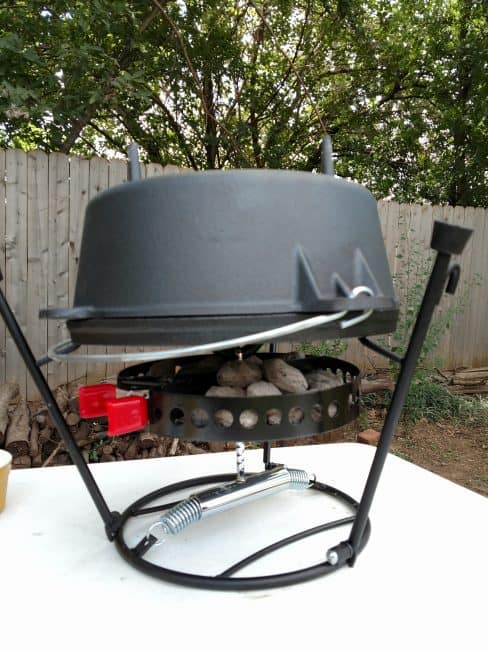 What I love about this system is you can use the inverted lid (shown below) as a griddle or cook surface. The removable charcoal tray shown below it with the red handles makes it easy to adjust the heat and cook this way.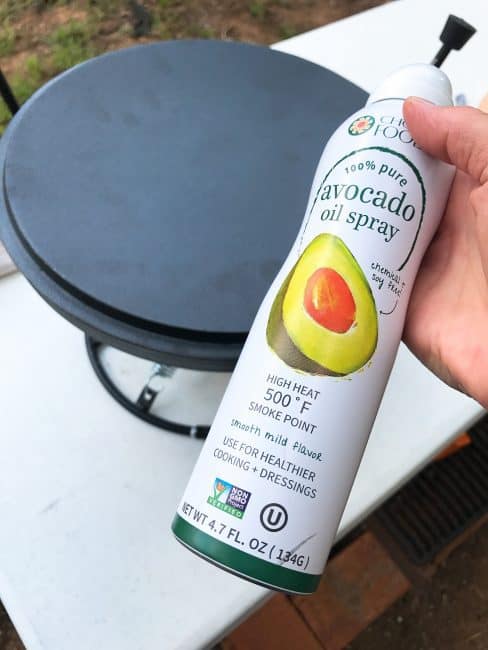 The image above is the Dutch Oven Lid that's ready to cook on. I spray it down with a non-stick cooking spray. I like this avocado oil spray from Chosen Foods because it has a 500 degree F smoke point which means it won't burn at higher temperatures.
Now I can bring my Dutch Oven system camping and create Cast Iron Cooking recipes like this Peach and Honey pizza to pancakes, scrambled eggs, steaks, and more. Take a look at how easy this Peach & Honey Pizza is to make.
This recipe is super simple. Here are the ingredients you'll need. I used Wedderspoon Manuka Honey in this recipe because I like the taste and the added health benefits. But you can use any type of honey you like. If you aren't familiar with Wedderspoon, read about them in this article/recipe for Banana S'mores.
Need an easy, no knead pizza dough recipe? Get mine. You can find the recipe for No Knead Pizza Dough here.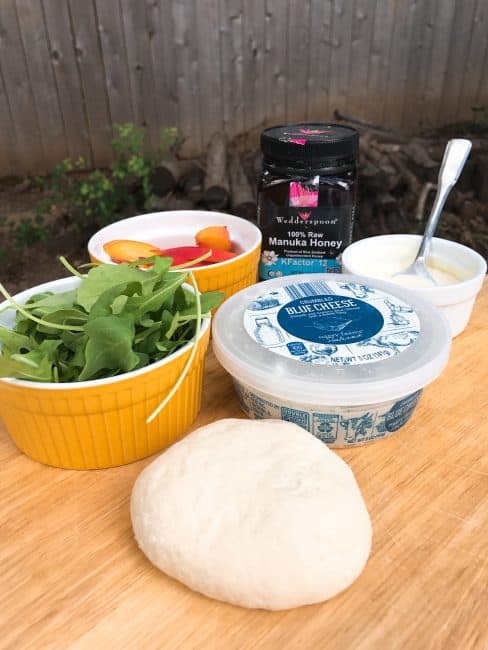 Now that you've seen how I create this Dutch Oven pizza, print out the recipe below and make at home.
Yield: 1 pizza
Create this Peach & Honey Pizza with an outdoor Dutch Oven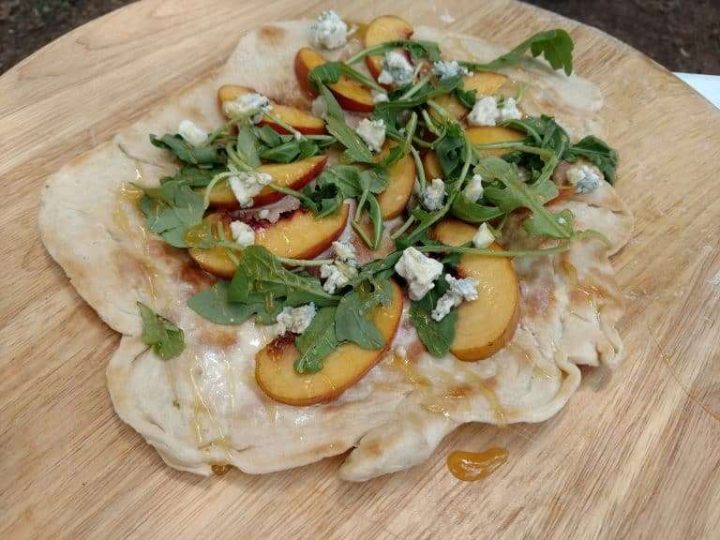 Ingredients
Homemade pizza dough
1/4 cup European cream cheese or plain Greek yogurt
6 Tablespoons honey, divided ( I like Wedderspoon Manuka Honey)
1/2 peach sliced
Handful of fresh arugula
1-2 Tablespoons blue cheese crumbles
Instructions
Roll out your pizza dough according to recipe or package instructions.
Combine cream cheese or yogurt and 3 Tablespoons of honey in a small bowl.
Attach the CampMaid Dutch Oven lid to the stand and place hot charcoal briquettes under the lid.
Preheat your Dutch oven lid to about 400 degrees F.
Lightly spray the lid with an avocado cooking spray.
Place the pizza dough onto lid and invert the bottom of the Dutch oven over the lid to create a pizza oven.
Cook for 3-5 minutes or until the crust is lightly browned on one side.
Remove the Dutch oven and flip the pizza crust over.
Top crust with cream cheese and honey mixture.
Arrange sliced peaches atop the cream cheese in a single layer.
Return the Dutch oven to the lid, covering the pizza, and cook for an addition 5-8 minutes or until the peaches are soft and the crust is golden brown.
Remove the Dutch oven lid again and remove the pizza to a cutting board.
Top with arugula, blue cheese crumbles, and drizzle with remaining honey.
Slice and enjoy!!
Nutrition Information:
Serving Size:
1
Amount Per Serving:
Calories:

666
Total Fat:

14g
Saturated Fat:

4g
Cholesterol:

13mg
Sodium:

2263mg
Carbohydrates:

89g
Sugar:

52g
Protein:

41g
As an affiliate with CampMaid, I can offer you a special discount code that will save 20% on your CampMaid Dutch Oven system. Visit www.campmaid.com and use code NICKY to save 20%.
Buy a Dutch Oven as a gift or for yourself so you can create this Peach & Honey Pizza or a host of other recipes. Be sure to subscribe to our Little Family Adventure Youtube channel where I will be sharing more camp cooking recipes, family adventures, and more in upcoming weeks.