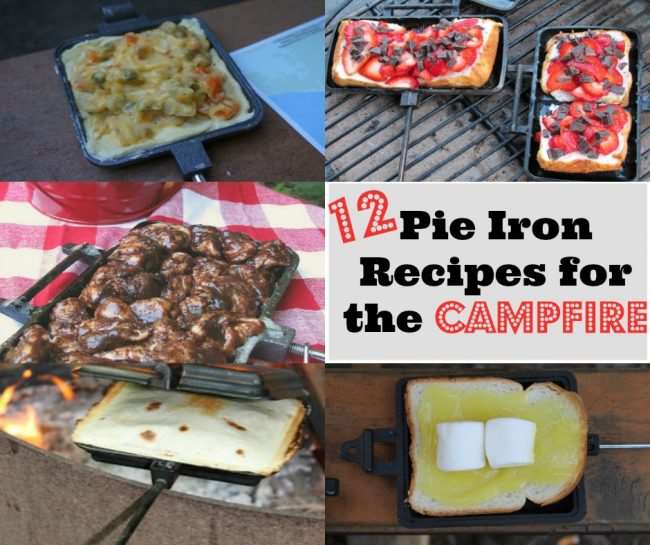 You're looking for new camping pie iron recipes for your next campout? Well, you've come to the right place.
Our family loves to go camping and a pie iron is a staple in our camp kitchen. Using a pie iron is an easy way to cook meals over a campfire. Plus clean up is really easy too! I'm here to share some of our favorite camping pie iron recipes from fellow outdoor families with you. These 12 recipes are really easy to make and will help make your next campout a HUGE success! But before I share them, let me ask you if you've ever used a pie iron?
If you haven't, that's okay. You can get these tips on how to use a pie iron here.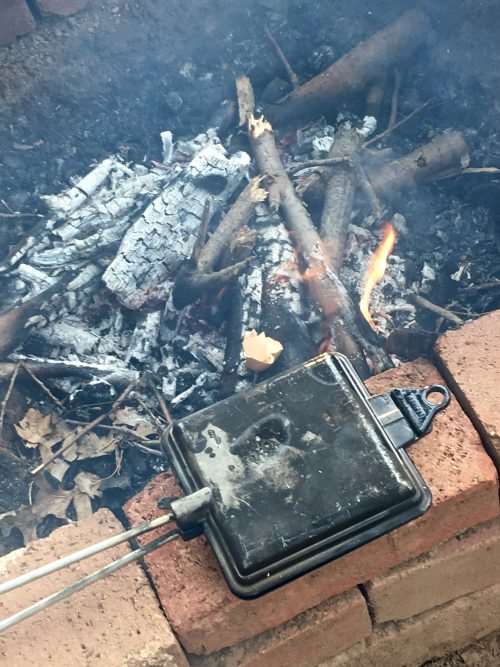 Disclosure: This blog contains affiliate links. They help pay for the coffee that keeps us turning out adventures week after week. I'll only recommend and share products that I use and love myself. Thanks!
Rome Industries 1705 Pie Iron Sandwich Cooker

Rome's 1605 Double Pie Iron with Steel and Wood Handles

Rome's 1998 Pie Iron Storage Bag, 30-Inch x 10-Inch

Rome's #2011 Creative Pie Iron Cooking Book

Breakfast Pie Iron Recipes

Bacon, Egg and Cheese Pudgy Pie – Making Memories with your Kids
Stuffed French Toast – 50 Campfires
Blueberry Cream Cheese Stuffed French Toast or Stuffed Hash Browns – Dirty Gourmet
Want a complete weekend camping meal plan with recipes & printable shopping list? Click HERE & make your next camping trip deliciously fun and easy…..
Lunch/Dinner Pie Iron Recipes

Cheeseburger Pie – Naptime Creations
Vegan Hobo Pies – Team Feeding Everyone
Pie Iron Chicken Pot Pie – 50 Campfires
If you want more pie iron recipes, take a look at these cookbooks available on Amazon.
Rome Industries 2009 Rome's Pudgie Revolution Spiral Bound Cookbook, 6 by 8-Inch, Color

Rome's #2011 Creative Pie Iron Cooking Book

Pie Iron Creations (Delicious Fireside Cooking)

Rome's #2011 Creative Pie Iron Cooking Book

Now for EVERYONE'S favorites – dessert and snacks……
Get 6 more pie iron dessert recipes on the next page.