Soup is one of the ultimate comfort foods. Many soup recipes are quick and easy, making it an ideal for a busy weeknight. This Easy Hamburger Soup is one of those recipes!
My daughter is cooking and more and more these days. She looks for simple recipes that don't require a lot of time to prepare. This was the perfect recipe for her. She has whipped this up several times and it comes out delicious every time. I think every child should learn how to cook. I didn't learn until after I was married. It's important to know where food comes from and how to cook. That way, you can make good, healthy food choices. Don't you agree?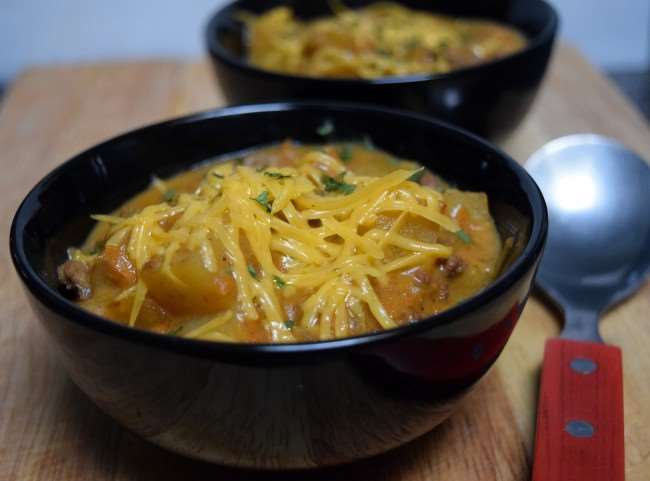 This soup sneaks in a few extra vegetables in the form of shredded carrots. I can't taste them, but I know they are in there. This Cheeseburger soup is perfect for cold nights or for when you need a quick and easy meal. It warms up really well too if you want to take it to work or send to school the next day. If you do, add the cheese just before you eat it.

Ingredients
1/2 pound lean ground beef
2 tablespoons butter
1/2 cup chopped red onion
3 carrots, peeled and shredded (about 2/3 cup)
1/4 cup white whole wheat flour
1 tablespoon Worcestershire sauce
2 tablespoon Dijon mustard
3 tablespoon ketchup
2 1/2 cups chicken stock
2 1/2 cup milk
2 cups peeled and cubed potatoes
1 cup shredded cheddar cheese
1 teaspoon dried parsley
Instructions
Brown the ground beef in a stock pot or Dutch oven over medium-high heat. Cook until browned and cooked thru, about 5 minutes. Remove and drain on a paper towel lined plate.
Add butter to the pot. Once melted, add onion and carrots. Cook until onion is translucent, about 2-3 minutes.
Stir in the flour. Then whisk in the Worcestershire sauce, mustard, and ketchup. Gradually whisk in the chicken stock and milk. Continue to whisk until the mixture thickens.
Add the cooked beef and cubed potatoes to the soup. Bring to a boil and then reduce heat to a simmer. Cook for 10-15 minutes, until the potatoes are tender.
Remove from heat and stir in the cheese.
Ladle soup into bowls and add additional cheese and dried parsley.
Nutrition Information:
Serving Size:
1
Amount Per Serving:
Calories:

1641
Total Fat:

88g
Saturated Fat:

53g
Cholesterol:

342mg
Sodium:

3980mg
Carbohydrates:

105g
Sugar:

56g
Protein:

104g
If you like this soup, check out these other delicious recipes:

Leftover Chicken and Vegetable Soup