A visit to New Orleans can be a fantastic experience for the whole family. The city may be well known for Bourbon Street and Mardi Gras, but the city boosts a rich history and wide array of activities for all ages. On a recent trip, I explored the city's family friendly attractions, ate amazing food, and loved every minute of it. I've but together a 3 day itinerary of the best attractions for families. Grab your walking shoes and get ready for a great time in New Orleans with kids.
Things to do in New Orleans with Kids
Day 1 –
Tour New Orleans
New Orleans is easy to traverse without renting a car. In the French Quarter, parking space is limited and hotel parking can be expensive. Uber it to your hotel and then select one of the city's many transportation option. From the city's street car system to walking, you can see most of the city.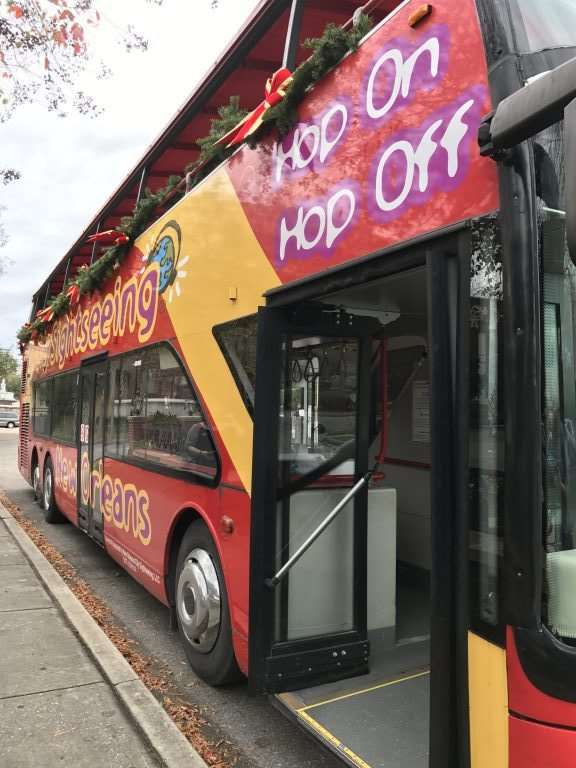 Get tickets for the City Sightseeing New Orleans Hop-On Hop-Off Tour and climb aboard this two story bus for great views of the city. Tour guides will narrate stories and points of interest as you travel around the city. The tour takes about 2 hours or you can stop at any number of stops and grab another bus. Your tour ticket is good for 3 days and includes additional guided walking tours in the French Quarter, Garden District, and self guided maps for local cemeteries.
Visit The French Quarter
Start your tour of the French Quarter at Jackson Square and the St. Louis Cathedral. You can join the sightseeing bus tour or set out on your own. During the day, there are artists outside Jackson Square displaying their work. St. Louis Cathedral is the oldest cathedral in the North America. Step inside to view the building's amazing architecture, stained glasses, and artwork. You may be lucky and catch a local musician performing in the area too.
While in the French Quarter, tour the area's many shops, cafes, and landmarks. You can find everything from toys and books to art and antiques. The kids will love the Little Toy Shop on Decatur or St. Ann Street. This family business isn't your ordinary toy store. Stop in and see why. For an authentic Creole taste at New Orleans Restaurants, have brunch at the Court of Two Sisters. Their Jazz Brunch is an all you care to eat buffet of New Orleans classics. They are famous for their Turtle Soup, which is actually made with alligator not turtle. Try the Grillades and Grits, King Cake, Eggs Benedict, and Bananas Foster Bread Pudding. You can't go wrong with anything there.
After brunch continue walking the quarter and head to the Old U.S. Mint on the north end of Decatur at Esplanade Ave. The Old U.S. Mint is the only mint to produce American and Confederacy coins. It's also the home to the New Orleans Jazz Museum. Tour the exhibits in the city where Jazz was born. Exhibits are interactive and appeal to all ages.

Visit the Historic French Market
Walk across the street to tour the Historic French Market. Tour the oldest public market in the country which started out as a native American trading post. The area houses local vendors, artists, and shops selling art, handmade items, food, and more. Local food is alive and well in this area. The Crepe Cart is a food cart alongside other French Market Restaurants.They sell traditional and gluten free crepes with a variety of fillings. Other vendors are serving seafood, gumbo, sandwiches, and more. Across the street, visit Central Grocery. It's the home of the muffuletta sandwich.
Cafe DuMonde Beignets
You can't visit New Orleans without having beignets at least once. These fried pillows of dough, caked in powdered sugar are a MUST. The legendary Cafe DuMonde is in the French Market, a stop on the sightseeing bus tour. Grab a table and order them with a cup of chicory coffee for the adults and chocolate milk for the kids.
Audubon Aquarium of the Americas
Walk down to the riverfront area at visit the Audubon Aquarium of the Americas. This aquarium is home to a 4000,000 gallon Gulf of Mexico exhibit. Children can marvel at sharks, schools of fish, and sea turtles as they swim by. In the Sting Ray Touchpool, reach out and touch a sting ray.
This is the perfect place to end your first day in New Orleans. Head back to your hotel or grab dinner before calling it a night. Take a look at some of the New Orleans restaurants I enjoyed on my last trip.
Day 2
Canal Street
Today start exploring things to do in New Orleans with kids on Canal Street. It is a street filled with hotels, shopping, and restaurants. But it's also where you'll find the Audubon Butterfly and Insectarium. This is North America's largest insect museum. Stop in to let the kids explore everything that walks, crawls, or flies.

Ride in a Street Car Trolley
The New Orleans streetcars are a great way to see the city. The St. Charles line is the world's oldest continuously operating street railway. It's 13 mile route starts on Canal Street and takes you to City Park and the city's cemeteries. The fare is $1.25 each way or you can buy an all day pass for $3 per person.
Visit the Garden District
Stop at Washington Street to tour the Garden District. If you bought the sightseeing tour ticket, you can meet up for the guided walking tour. Otherwise set out on your own to see historic homes, Lafayette #1 Cemetery, and more.
A cemetery tour is quite an experience. It's not creepy as one would think. It's fascinating to take a guided tour and learn about the history of the cemeteries, the "Cities of the Dead", and their inhabitants.
Before hopping back on the streetcar, grab a po'boy sandwich or bowl of gumbo from one of the local eateries.
Audubon Zoo
Continue on the streetcar to a New Orleans landmark, the Audubon Zoo. Explore and see animals from around the world. Visit the giraffes on the African savanna, alligators in the Louisiana Swamp, or monkey around in the World of Primates.

Day 3 National WWII Museum
New Orleans is home to the National WWII Museum. You can easily spend all day here. The museum offers interactive exhibits, films, and galleries suitable for all ages. The new Campaigns of Courage: European and Pacific Theaters is new pavilion that is a MUST SEE. Each person is giving a dog tag of a WWII solider and you follow his/her story throughout the war. It brings history to life in a completely new way.
Louisiana Children's Museum
Explore, discover, and have fun at the city's children's museum. Rated as one of the top children's museums in the country, children and adults will enjoy there time here. It's the perfect ending to a trip to New Orleans.
New Orleans is a fun destination for families. There are a lot of things to do in new orleans with kids. The next time you are in New Orleans with kids, use this travel itinerary and get ready for new adventure.
Note: I received discounted and/or complimentary tickets to various attractions mentioned within this article. All opinions expressed are my own.