This Finnish salmon soup recipe is simple and easy to make. After all, that's what a soup should be. It's comfort food that's easy! If you are looking for a simple salmon, you've found it here in this great recipe!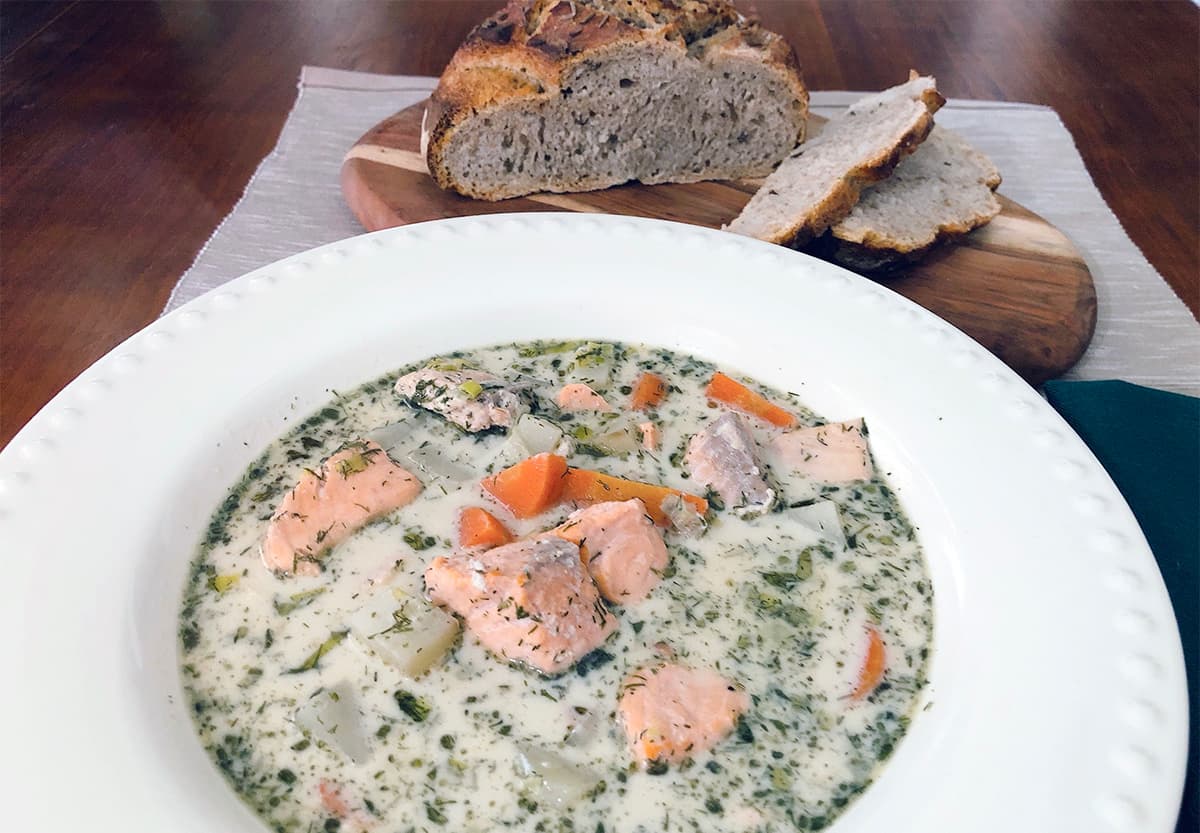 Classic Finnish Soup
This soup recipe is inspired by my Fall 2019 trip to Helsinki, Finland. Of what a trip! Helsinki is right on the water, so as you can imagine, salmon and other types of fish are on menus all over the city. I recall having salmon in some form every day of that trip. Can you imagine? But it was a great trip and every time I make this recipe for salmon soup, I remember my time in Finland.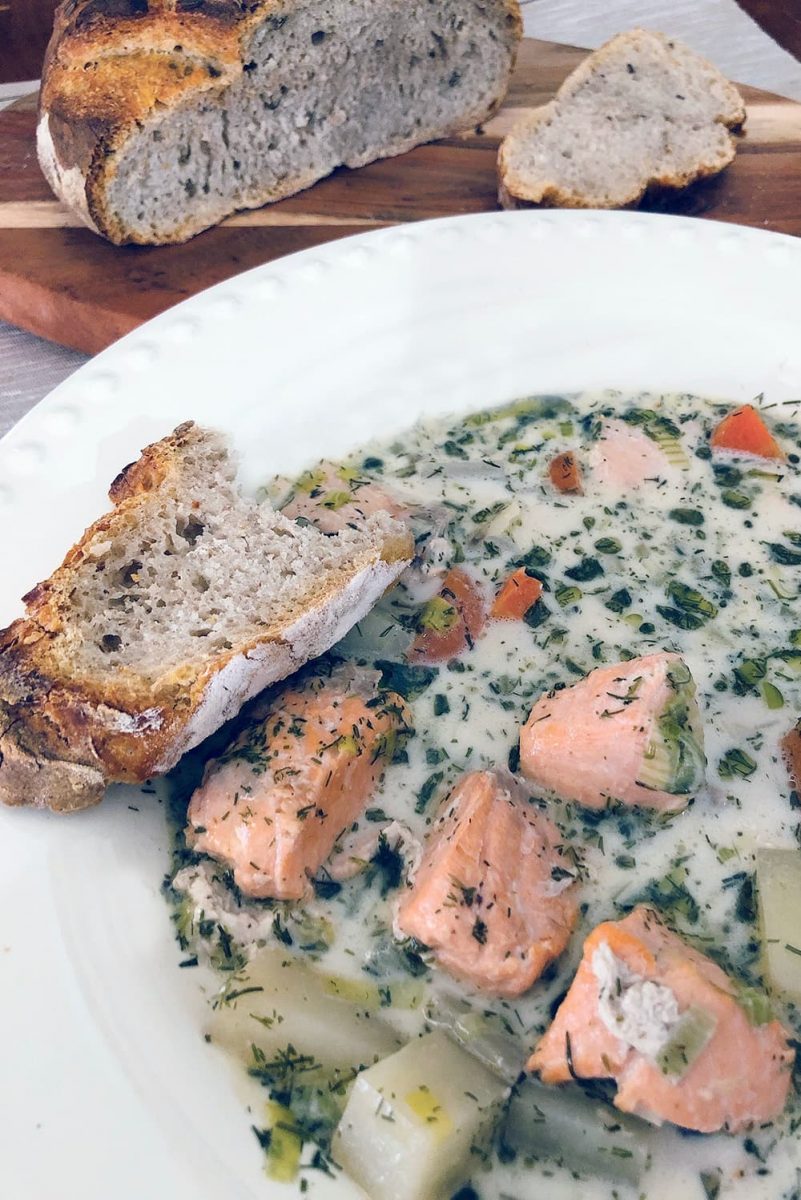 In Finnish, this soup is called Lohikeitto and it's a traditional soup with salmon, leeks, and potatoes. On my trip, one of my favorite stops was to the Old Market Hall, Vanha Kauppahalli. It's Helsinki's oldest indoor market hall. There were no less than 5 vendors there serving Salmon Soup usually with a side crusty artisan bread.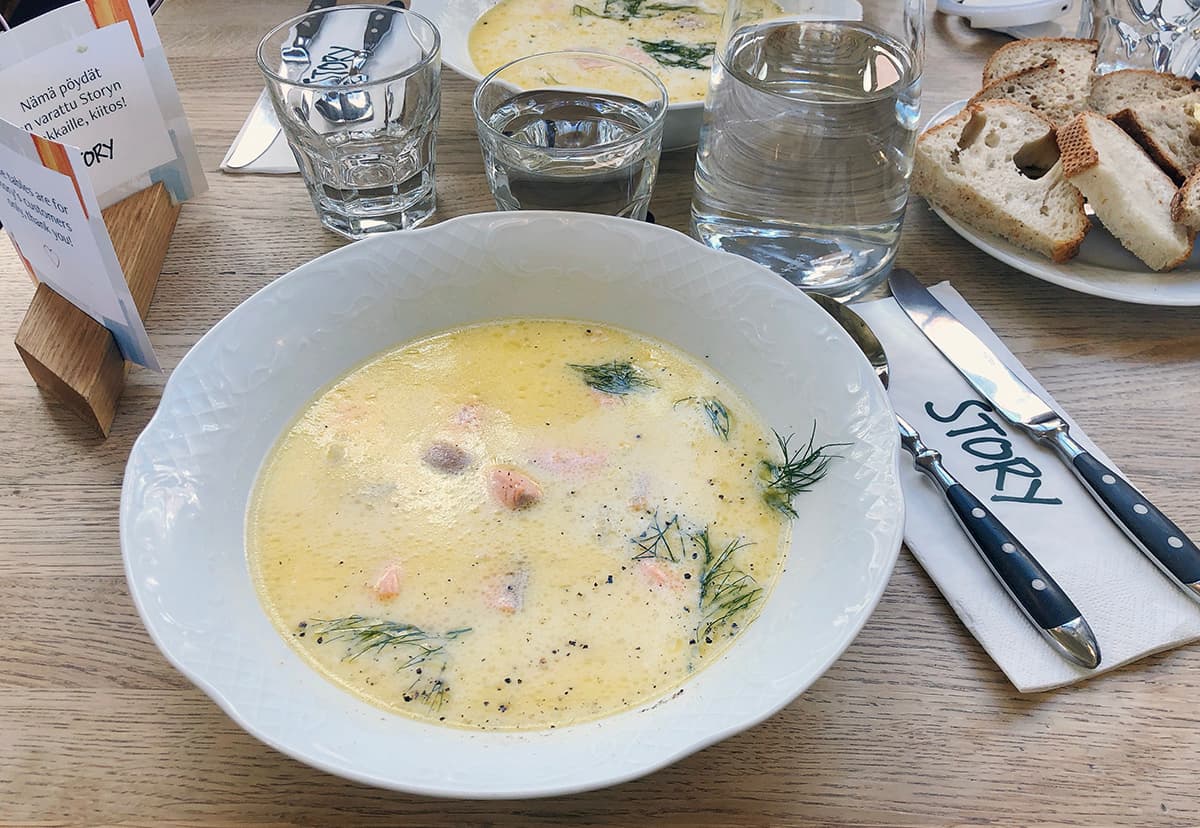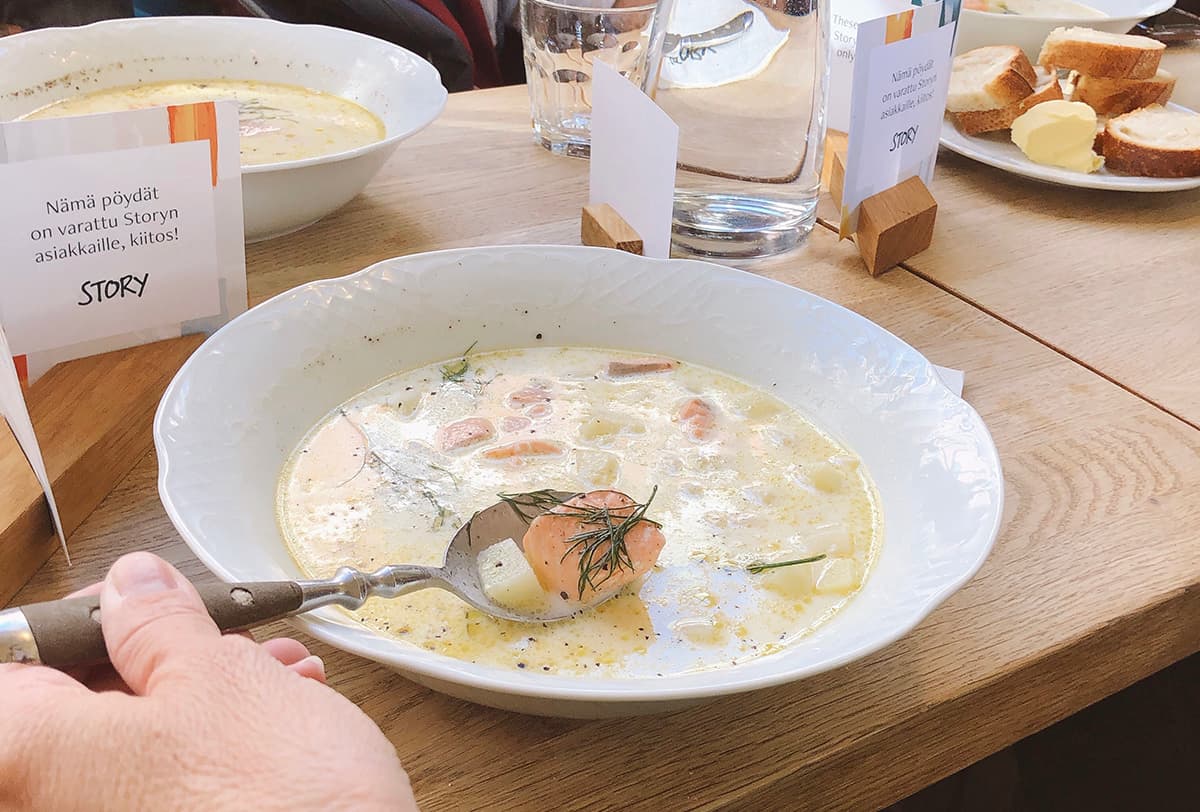 I had lunch inside that market at a Nordic cafe called Story. I instantly fell in love with this soup because it was so simple, yet so delicious. I know that I'd come home and make it myself.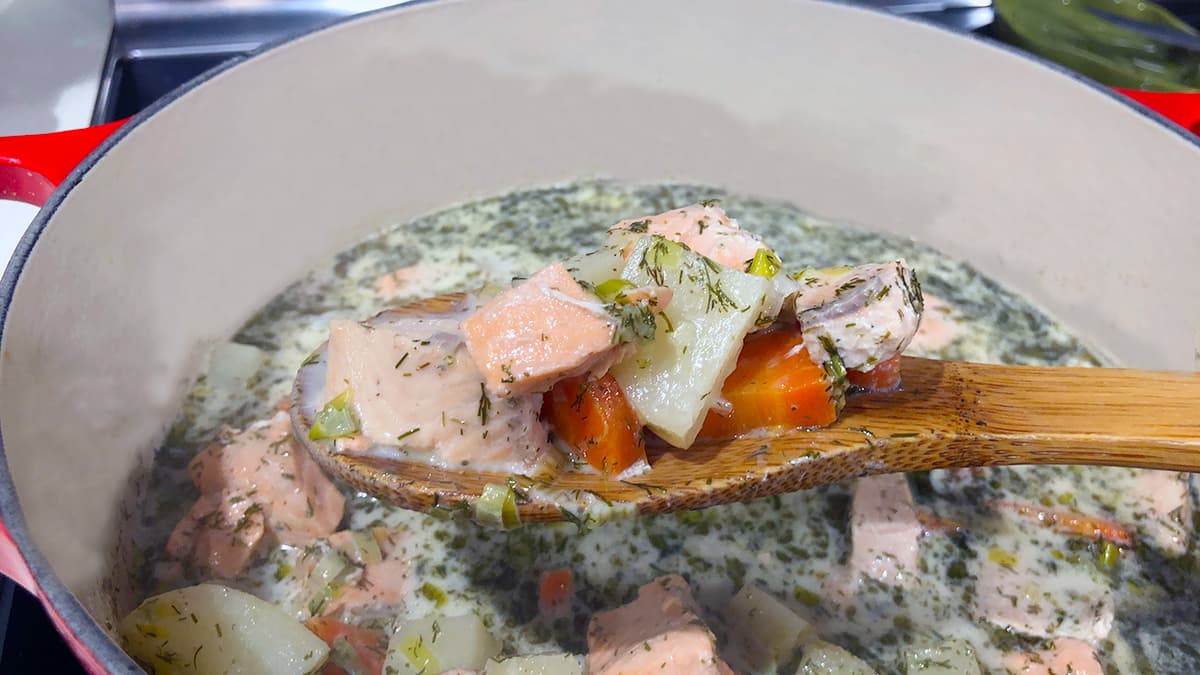 My version of the salmon soup, just like the one I had a Story, has heavy cream, HUGE chunks of salmon and potato, plus copious amounts of dill.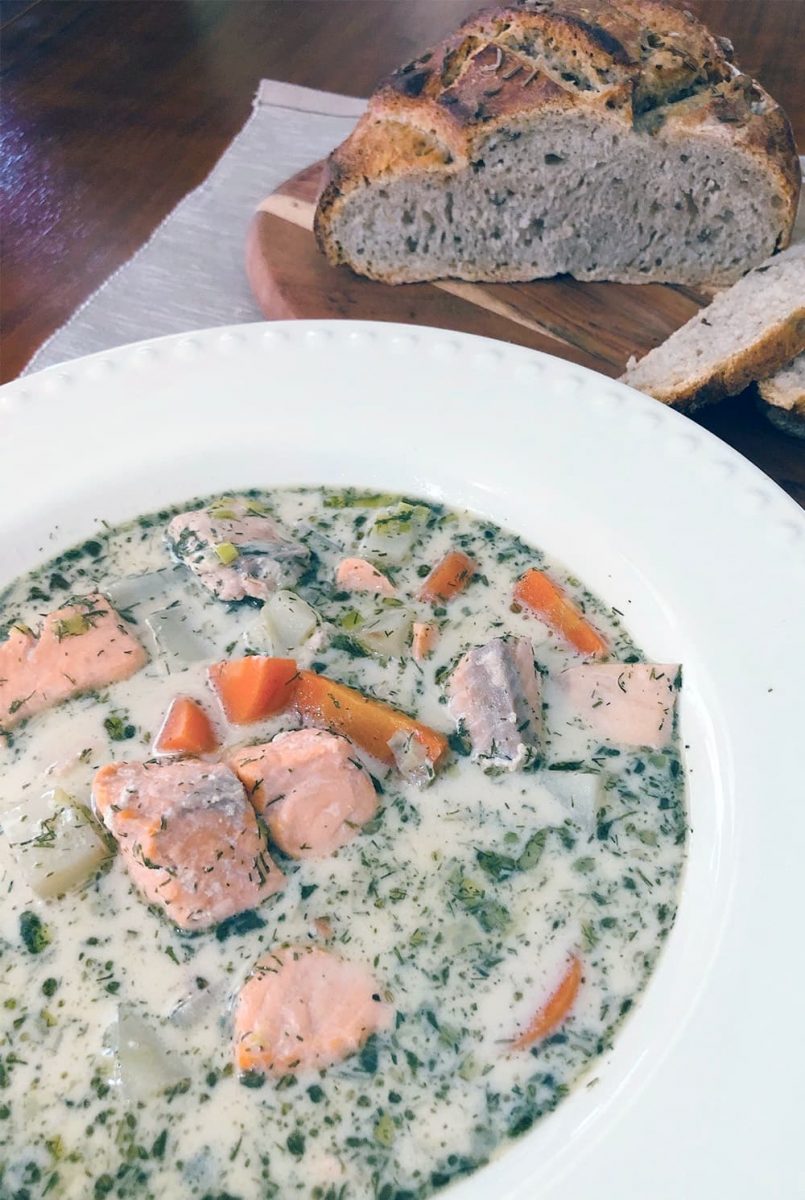 Salmon Soup with Dill
The original version in Finland used fresh dill. When I make this soup at home, I rarely have fresh dill on hand and my grocery store doesn't always have it in stock. So I opt for dried dill. It's not quite the same visually, but the taste is close enough. If you can get fresh dill, substitute a handful of chopped dill for the dried herb in this recipe. If you have leftover fresh dill, you can use it in this creamy dill and cucumber salad recipe.
Finnish Food
Before I took this trip to Finland, I read that Finnish food was less than desirable. But I found the regional dishes to be quite good and after I got home, I was craving those flavors. This fish soup loaded with dill was one of them. Finnish food is simple and lightly seasoning, usually with fresh herbs. Seafood, rye bread, and fresh berries are also really common. The picture above is the market in front of the ferry station next to the Old Market Hall. Just look at all those berries!
Seafood Delivery – Sitka Salmon
You can find really lovely salmon at most grocery stores, but I have been really happy with a seafood share delivery service called Sitka Salmon. They deliver premium, sustainable, wild Alaskan seafood from the fishermen directly to members' doorsteps! Below you'll see a sample of salmon and cod that the company sent me to try out.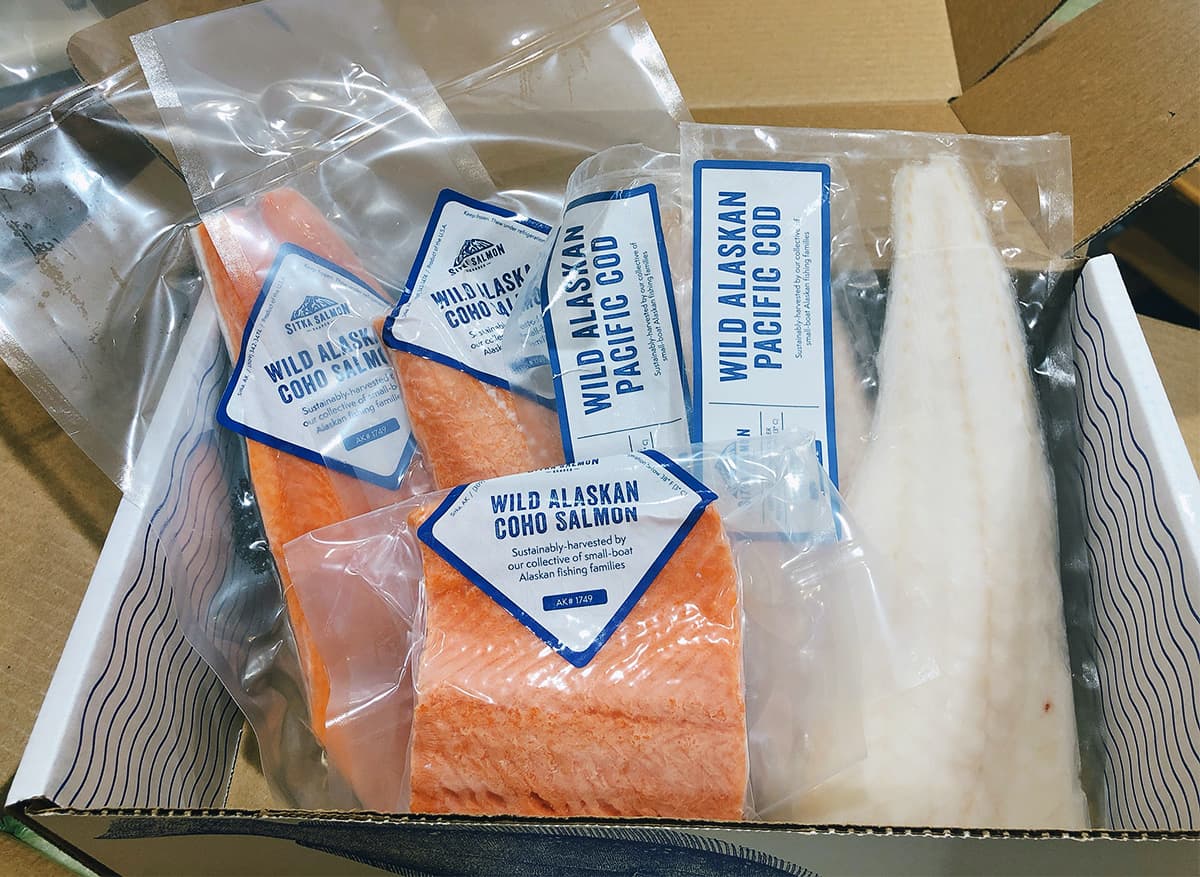 Learn more about Sitka Salmon and use code SITKA25 at checkout to take $25 off any 2020 Premium Sitka Seafood Share.
Looking for other seafood recipes? Be sure to check these others:
How to Make This Recipe for Salmon Soup
This recipe takes about 30 minutes and serves 4-6 people depending on portion size. It's a real easy recipe to double and triple for company too.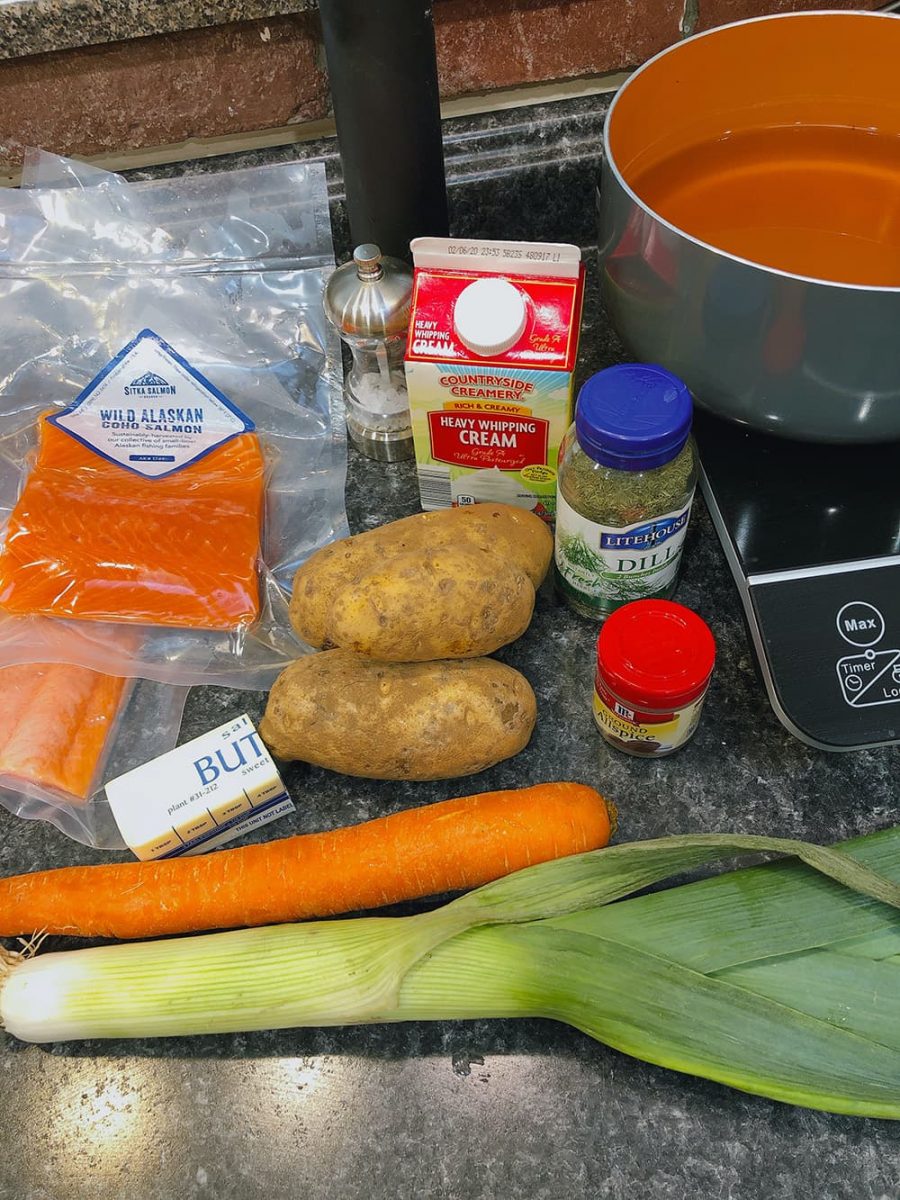 To make this recipe for salmon, gather together salmon, potatoes, carrot, leek, butter, fish or vegetable stock, dill, cream, and allspice. It's best to prep all the ingredients ahead of time; cube potatoes and salmon, slice carrots into 1/2″ segments, and leeks thinly.
The recipe calls for vegetable or fish stock. I don't have an easy time finding fish stock in stores, but it can be made at home easy enough with this homemade fish stock recipe from Bon Appetit.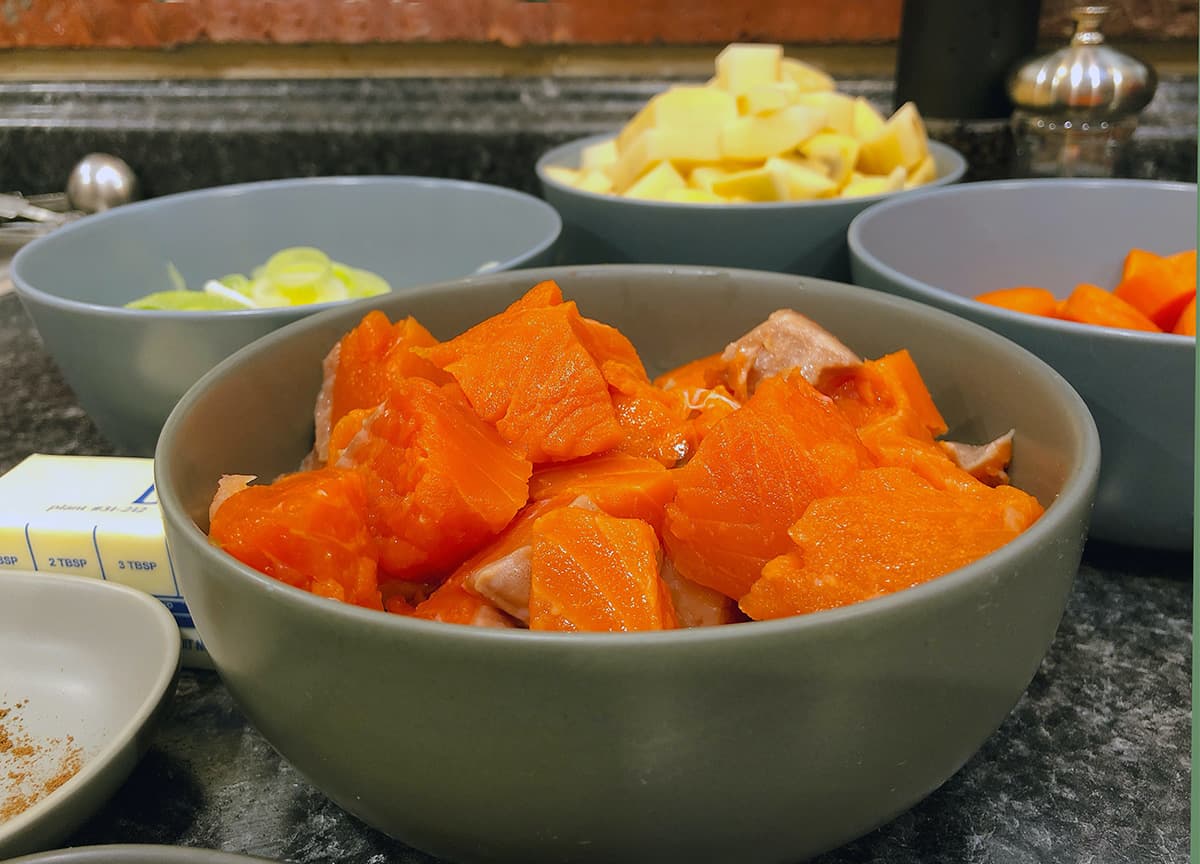 First, you'll sauté your leeks in butter until soft, about 10 minutes. Then you'll add your stock, potatoes, carrots, and dill. Cook for another 10 minutes or until your potatoes are soft.
Next, you will put the salmon in soup. It only takes a few minutes to cook it through. I like to cook mine just until no longer pink, but cooked through. That only takes 3-4 minutes. Lastly add the allspice, salt, and pepper. I wait until the end to add salt and pepper, because fish or vegetable broth can be salty. So I adjust as needed.
Note: If you are making this ahead of time, you can create the stock and soup ahead of time, minus the fish. Wait to add the salmon until ready to serve. Just reheat the soup and add the fish for the 3-4 minutes once the liquid is at a boil.
You're going to really enjoy this recipe for salmon soup. Serve it with some fresh artisan bread with butter. Rye or sourdough would be my immediate go-tos, but any will do.
Yield: 6 servings
Finnish Salmon Soup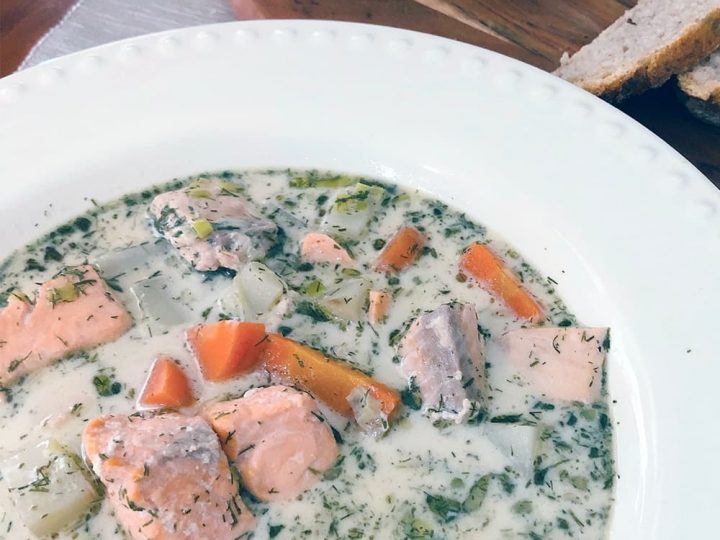 Classic comfort food - This easy soup with salmon, leeks, potato, and carrots is perfect for lunch or dinner. Ready in about 30 minutes.
Ingredients
4 Tablespoons butter
1 large leek, thinly sliced
5 cups of fish or vegetable stock
1 pound potatoes, peeled and cubed
1 large carrot, sliced
2 Tablespoons dried dill
1 cup heavy cream
1/4 teaspoon allspice
Salt and pepper to taste
Instructions
Melt butter in a dutch oven or large pot over medium heat.
Add thinly sliced leeks to melted butter. Sauté for 10 minutes or until leeks are soft.
Add stock, cubed potatoes, carrot, and dill to the leeks.
Bring to boil and cook for 10 minutes.
While that is cooking, cut salmon into cubes.
Once potatoes are soft, add salmon, heavy cream, and allspice to the stock.
Reduce heat and cook at a low simmer for 4-5 minutes or until salmon is cooking through.
Add allspice.
Add salt and pepper as needed.
Ladle into bowls and serve with artisan bread.
Notes
This recipe uses dried dill. You can substitute with a handful of fresh dill if preferred.
Recommended Products
As an Amazon Associate and member of other affiliate programs, I earn from qualifying purchases.
Nutrition Information:
Yield:
6
Serving Size:
1
Amount Per Serving:
Calories:

685
Total Fat:

37g
Saturated Fat:

18g
Trans Fat:

1g
Unsaturated Fat:

16g
Cholesterol:

221mg
Sodium:

400mg
Carbohydrates:

20g
Fiber:

2g
Sugar:

3g
Protein:

70g