Finland is voted the Happiest Place in the World and we couldn't agree more. The country embraces nature and incorporates it into modern life . There are so many things to do in Finland ranging from seeing dogsledding and skiing in Lapland to theme parks and UNESCO World Heritage Sites in Helsinki. Yet, if you have any architecture fans in the family, then a trip to Helsinki, known as the "City of Architecture", is a MUST to see the best in Finnish Architecture.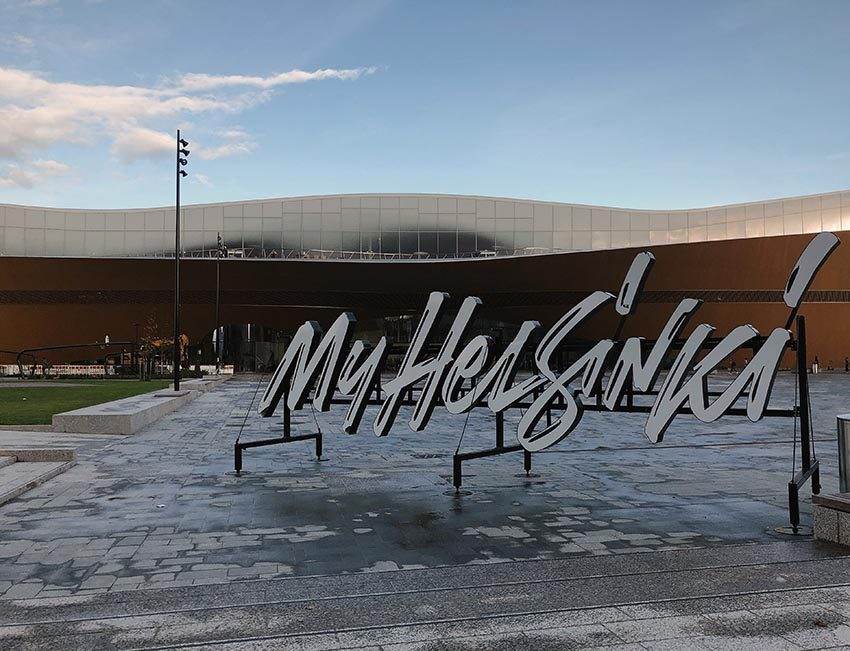 Note: This is not going to be a technical guide to building materials, specs, and in-depth site history. Instead, it's a guide to the different places you can explore Helsinki's past and present through sites, food, and a little bit of humor.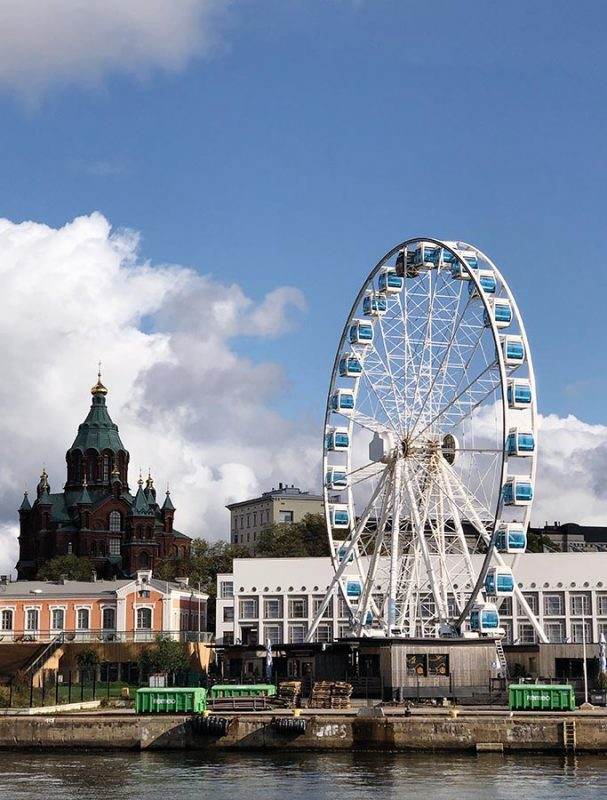 Helsinki, Finland is a family vacation destination vacation that offers something for everyone and interests. Here you'll find great local food, outdoor recreation, world-class museums, history, and unique experiences. Our oldest son is very interested in architecture and has been applying to colleges to major in it next fall. I'd like to think he gets his love for buildings and history from me. I have always loved visiting old historic sites, monuments and landmarks, especially in Europe.
Whenever we go somewhere new, we seek out the downtown area and historical sites because each location has a unique story behind it. Plus may times there's an open-air market or fun cafe very nearby. Helsinki is the SAME and we found some great ones.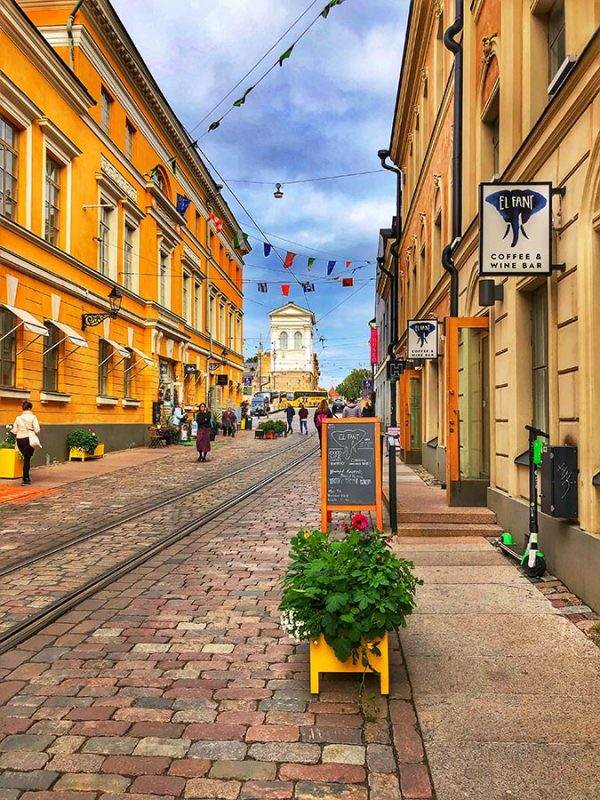 Helsinki Walking Tour
If you find yourself in Helsinki or are just thinking about it, add in time in to see some of the best architectural sites in the city. Just like when visiting New York City you'll want to see the Empire State Building or Statue of Liberty, when in Helsinki plan to see OODI, Upenski Cathedral, and Senate Square, etc. On this list, there is even a converted provincial prison that has been converted to a luxury hotel.
Helsinki is an easy city to walk through and it's very safe. The sites I mention below are easy to see in a day if you walk the entire way. If you are short on time, you can easily take a city tram or bus to see many of the city's best architectural styles.
Tip: Daily tickets are the best option for visitors. You buy 1-7 day tickets that provide unlimited rides on trams, metro, buses, and the Suomenlinna ferry.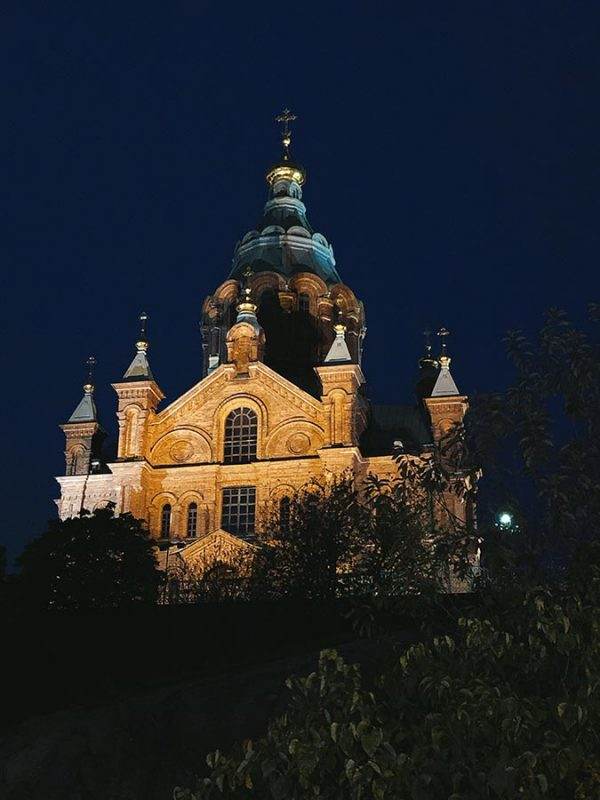 Finnish Architecture
Finnish architecture is most known for is Modernism. The father of Finnish Modernism, Alvar Aalto, believed that nature was tied to his designs. He said, "Form must have a content and that content must be linked with nature." It's a theme that many Finns believe and it is evident throughout the city. From traditional wooden buildings like the Chapel of Silence to the ultra modern OODI public library, you can see shapes and materials found in nature.
Unlike many European cities, Helsinki is a very young capital. Thanks to what's called "Winners History" there aren't many old landmarks. After wars and invasions, the "winners" would do away with signs of the old regime and leave their mark. The Swedish Three Crown symbol was removed from some buildings when the Russians took over, other buildings were torn down, etc. When Finland declared independence in 1917, its rise in nationalism forced them to define their own style that mixed old and new. When you visit, you'll see this mix everywhere you go. It was actually something that surprised me the most. There are far more modern buildings than old ones.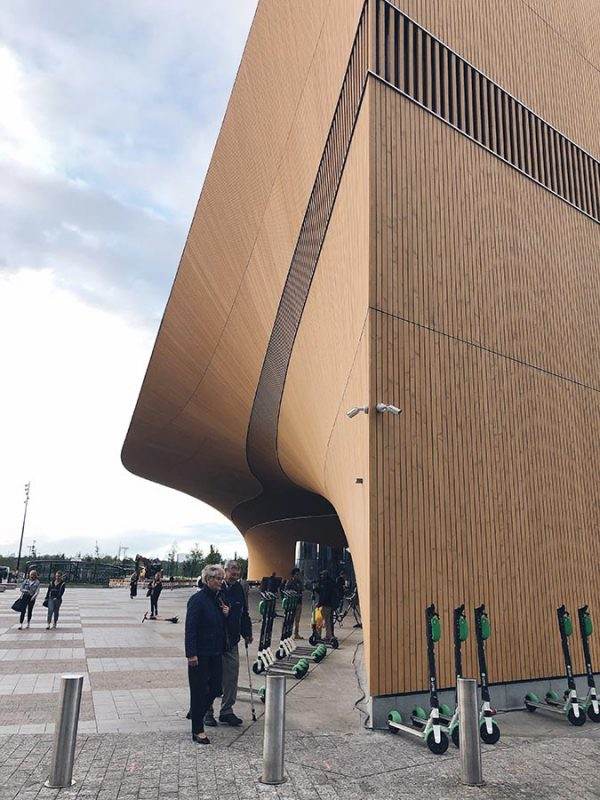 Modern Architecture in Helsinki
On our recent trip, we took an afternoon and went in search of iconic buildings. Along the way, we also found some great outdoor markets serving local food and souvenirs, picture-worthy landmarks, and more. This is NOT a comprehensive list of all the noteworthy architecture in Helsinki, but it is a doable list for an afternoon. Let's start at the train station.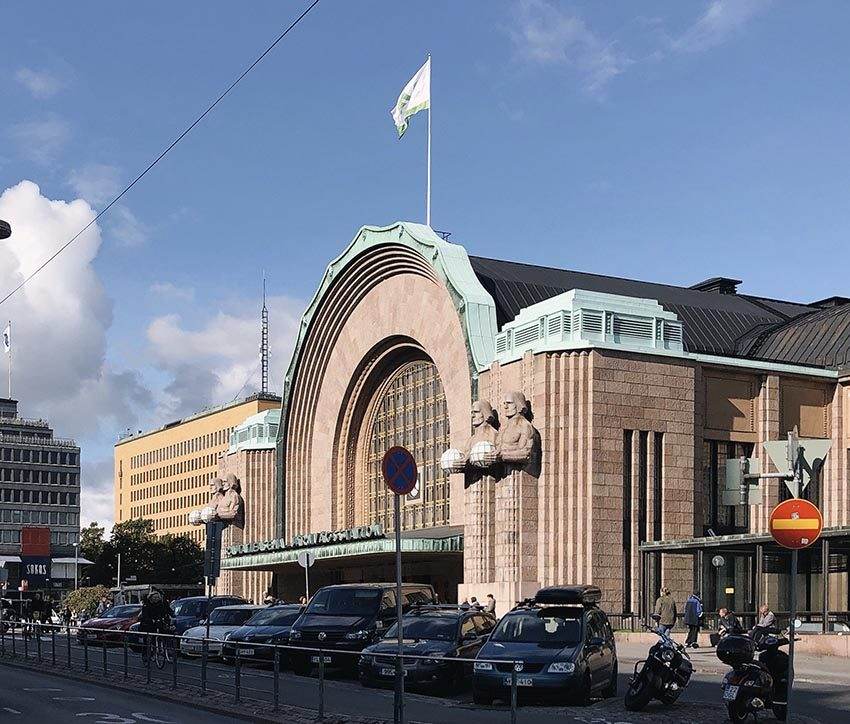 Helsinki Central Railway Station
Public transportation is the easiest way to get around Helsinki. The system of buses, trams, railway, metro, and ferries make it extremely convenient to get around the city. The main railway station sees more than 200,000 passengers every day. So it makes sense to begin this list of Helsinki architecture here.
Take a look at the four figures flanking the station's main entrance. Local residents say they represent the 4 Finnish emotions of angry, happy, surprised, and sad. Note that the facial expressions are all the same. The building's design was the result of an architectural design competition held in 1904. The original design by Eliel Saarinen featured a national romanticist style but was later scrapped by the architect in favor of this more modern design.
Tip: Head underneath the station to find supermarkets and other shopping. Grab a picnic lunch before heading out somewhere or late dinner on your way back to the hotel. There is also a walkway that connects you to downtown across Kaivokatu street.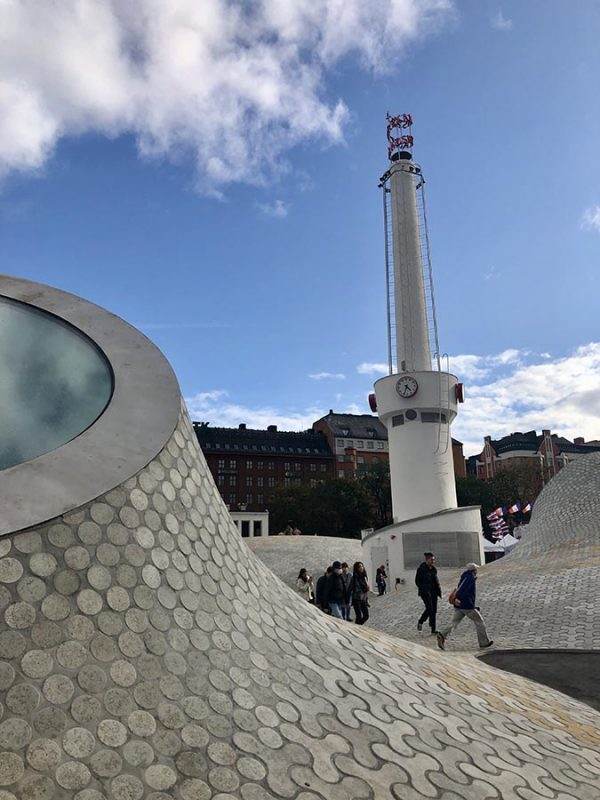 Amos Rex Museum in Lasipalatsi Square
Just a short walk from the train station, you'll find Amos Rex Museum, Helsinki's largest private art museum. This is a must see because the museum is completely subterranean. When was the last time you've been in an underground anything?
These strange dome shapes that rise out of the ground are actually skylights that feed light into the museum exhibits below. They remind me of an anime movie my kids love that with shapes that rose out of the ocean.
We visited on a Tuesday and discovered the museum itself was actually closed for the day. However, anyone can walk along these structures any day. These domes are quite interactive. If you climb up, you can peer down into the galleries below. It's quite a sight! Local kids ride scooters down the slopes and there are always plenty of people were sitting around or out taking pictures.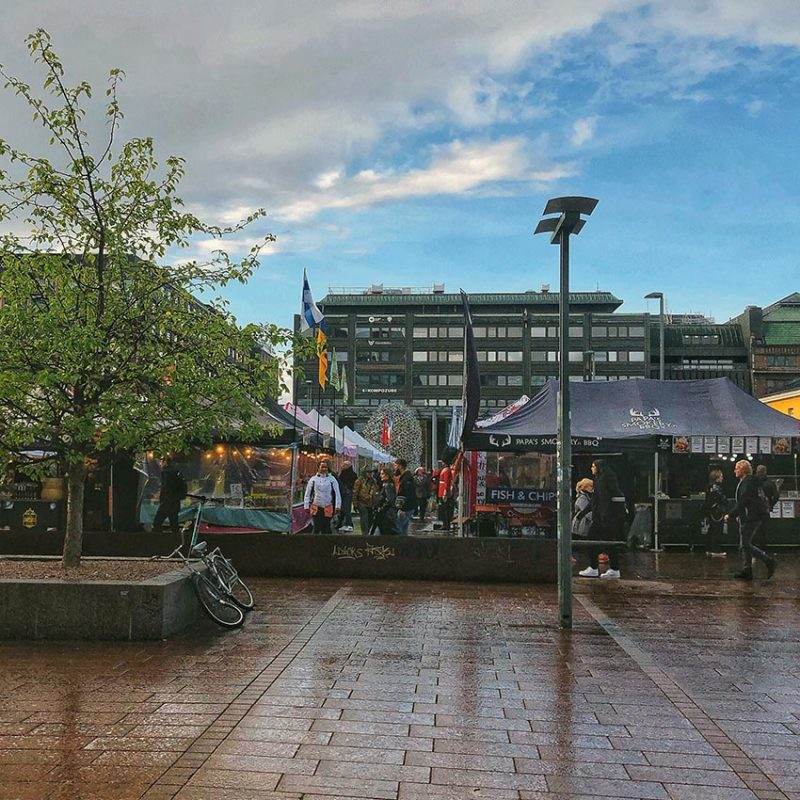 After visiting the domes, walk towards the Kamppi Chapel of Silence to find a great open air market. This is Narinkka Square it has one of the largest international food selections in the entire city. It is also the site for one of the city's annual Christmas market too.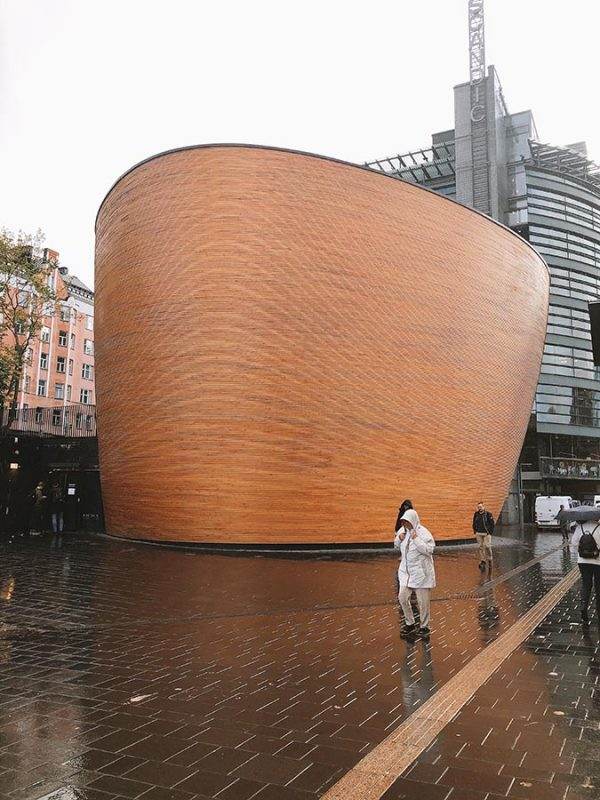 Kamppi Chapel of Silence
Nature is at the heart of Finnish culture and that is evident with this wooden building. All the wood (spruce, ash, and alder) used for this building comes from Finnish forests. The unique design of this building was the result of another design contest and it opened in 2012. When you look at it from the outside, it has a ship or bowl-like shape to it and it's quite impressive to see the way the wood curves. When you are inside and look up, you start to imagine what it feels like to be inside an egg.
The Chapel of Silence sits in one of the busiest parts of the city, but no services are offers here. Instead, it's open to the public and provides visitors a tranquil spot to just sit and relax.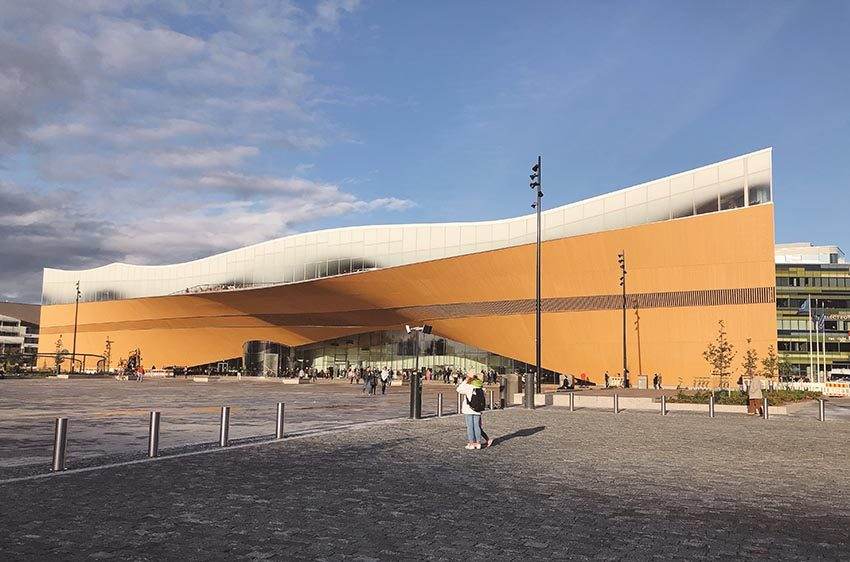 OODI Helsinki Central Library
OODI is one of the newest architectural features Helsinki is most proud of. It is one of the city's 37 library locations and here you'll find indoor trees, VR studios, 100,000 books, cafes, and more. This £88million public space is an energy-efficient glass and steel building with a wooden exterior (spruce) that softens its look around Töölö Bay.
Why visit a public library?
There are three levels to this library. The ground floor is active and has a great coffee shop. The middle level is less active, but features urban workshops, VR studios, and gaming services (place to try the latest games and equipment) that can be reserved. Then the peaceful upper floor offers great views of the area and a quiet place to sit and relax. There's also another coffee shop up there too.
Fun Fact: Finns drink more coffee than any other country in the world. They use an average of 12 kg of coffee beans per person a year (26.5 lbs per year which is 2.2 lbs per month!)
Located in Helsinki's Kansalaistori Square, Oodi Central Library is part of the city's media and culture center. In this square, you'll find Helsinki Music Centre, Finlandia Hall, Sanoma House, the Museum of Contemporary Art Kiasma, and the Parliament Building.
Tip: In the large park space between OODI and the Helsinki Music Centre, you'll find the #MyHelsinki sign. Stop here and take a picture for your family back home to see.
Temppeliaukio Church (Rock Church)
This unique church is built into a gigantic piece of granite. The church bought the land back in the 1930's and waited for an architect to see their vision of a church built into the rock. Architects Tuomo and Timo Suomalainen shared the congregation's vision and designed this Lutheran church to be apart of the rock and, on a larger scale, nature. Walls are rough, natural stone and sunlight comes streaming into the space thanks to circular skylights. It's quite the site.
Tip: If you want to get a bird's eye view from atop the boulder, walk along the sidewalk to the right of the main entrance. At the end of the block, you will find a small playground. From that area, you can walk up the granite and stand on top of the church.
More History in Helsinki
Not everything here in Helsinki is modern. There are plenty of historic buildings as well.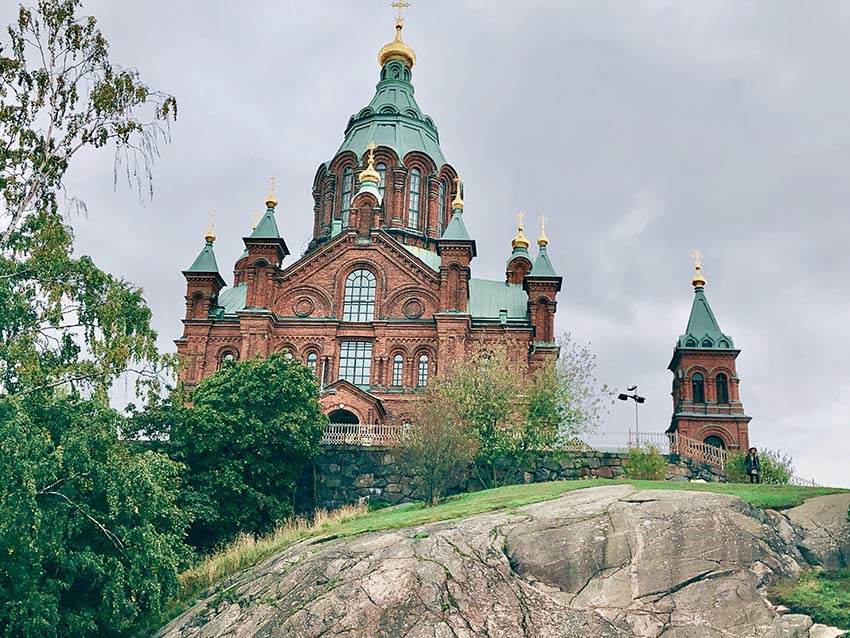 Upenski Cathedral
If you needed a reminder that Helsinki was once part of Russia, the Upenski Cathedral provides that. This Eastern Orthodox Church with its sits high upon a hill near the South Harbor.
Built in 1868 by famous Russian architect Alexey Gomostaev, Uspenski Cathedral is claimed to be the largest orthodox church in Western Europe. A visit here isn't complete without viewing the beautiful icons, art, and antiquities on display inside.
Tip: You can get stunning sunset views if you want to make the climb. Just behind the cathedral is the best view.
Market Square – Kauppatori
This famous South Harbor market has vendors selling traditional foods and handmade goods. It is a great place to find souvenirs like reindeer antler bottle openers or wool mittens and hats. Vendors are here year-round and on cold days, you can enjoy a hot meal inside one of the heated food tents.
One of the things you should try are deep-fried, freshwater fish called neulamuikut. Many vendors will offer passersbys a free sample or you can buy a plate served with a garlicky dipping sauce and side of little round potatoes. Another must-try is the Finnish lihapiirakksa, which is a kind of pastry filled with meat.
Tip: The busiest time of year is October when the herring market, silakkamarkkinat as the locals call it, begins.
Vanha Kauppahalli
Known as the Old Market Hall, Vanha Kauppahalli is Helsinki's oldest indoor market hall in Helsinki. It opened back in 1888. Inside there are wows of food vemdors selling everything from smoked reindeer and bear to fresh fish and locally made pastries. For a great cup of coffee, head to Robert's Coffee, one of the oldest coffee shops in the city.
If you want an authentic Finnish lunch, try the traditional salmon soup at Story, a Nordic café and restaurant inside Vanha Kauppahalli. The soup has large chunks of salmon and potato with copious amounts of fresh dill.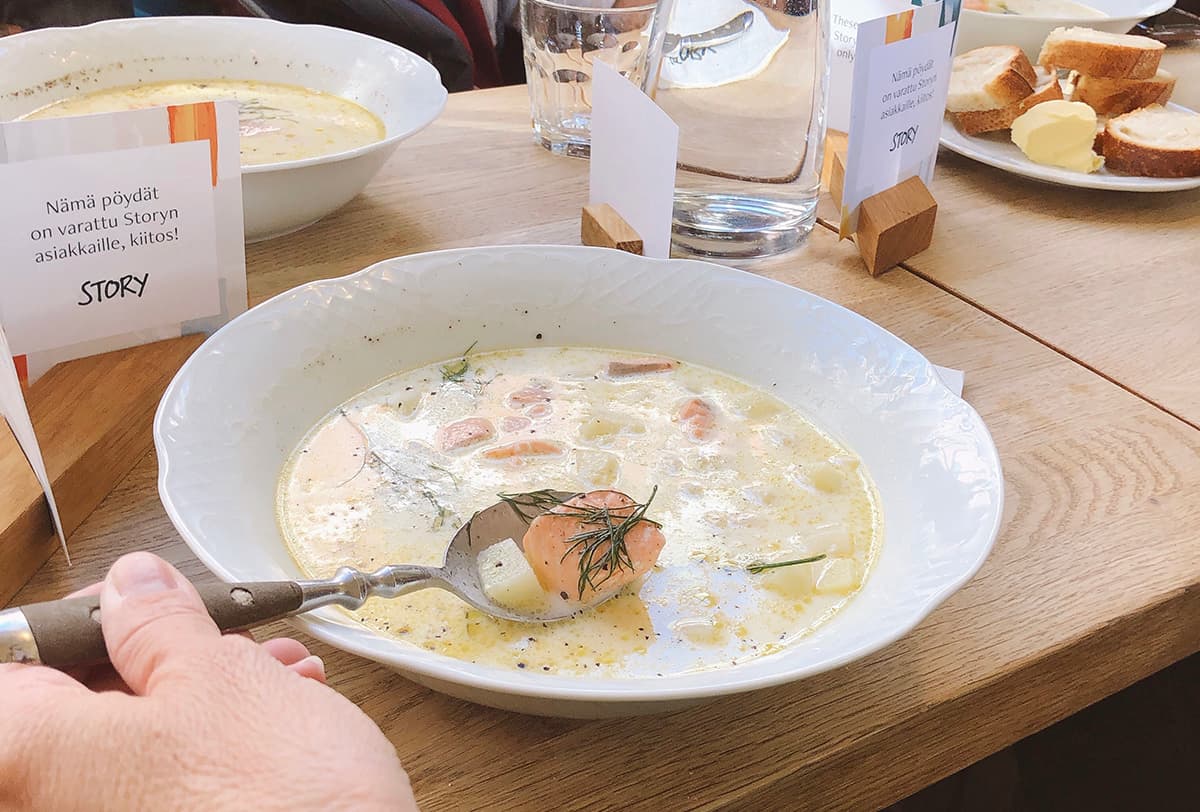 Update: I recreated that Finnish salmon soup at home. Get the recipe that uses dried dill.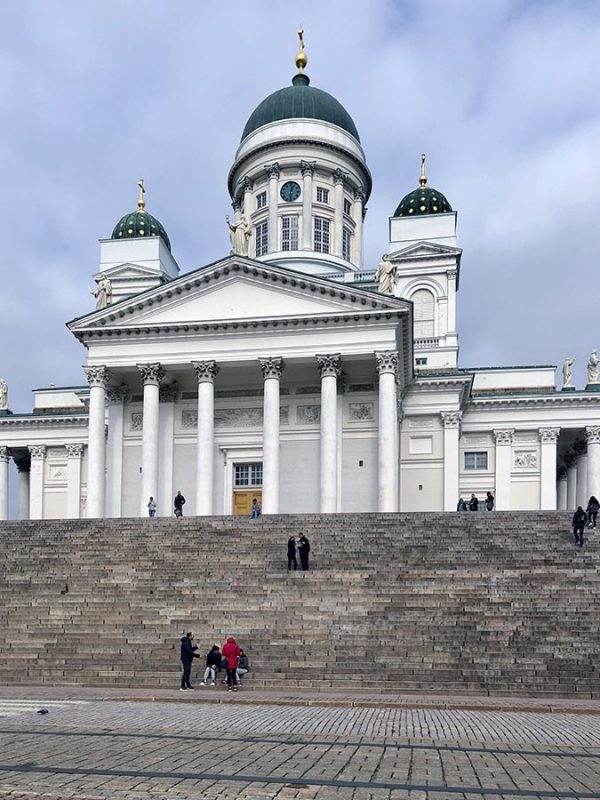 Helsinki Cathedral
Helsinki Cathedral is one of Helsinki's most popular tourist spots. This Evangelical Lutheran cathedral was built in the neo-classical style and was finished in 1852. It's a distinctive landmark in the Helsinki cityscape with its tall, green dome surrounded by four smaller domes. It was designed by architect Carl Ludvig Engel to be the crowning anchor of Senate Square.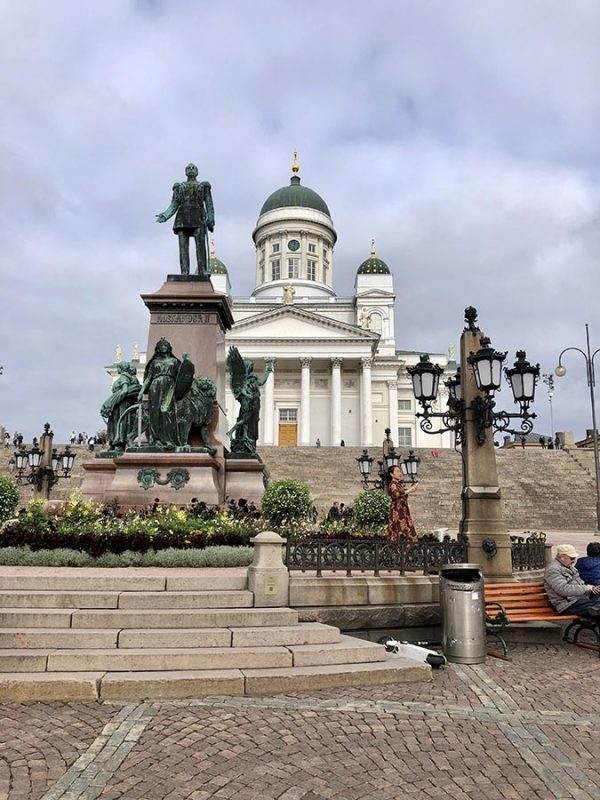 Senate Square – Senaatintori
Located in front of Helsinki Cathedral, this city square is the oldest part of the central Helsinki. When here you can see several examples of Carl Ludvig Engel's neoclassical architecture with the Cathedral, Government Palace, and the University of Helsinki's main building.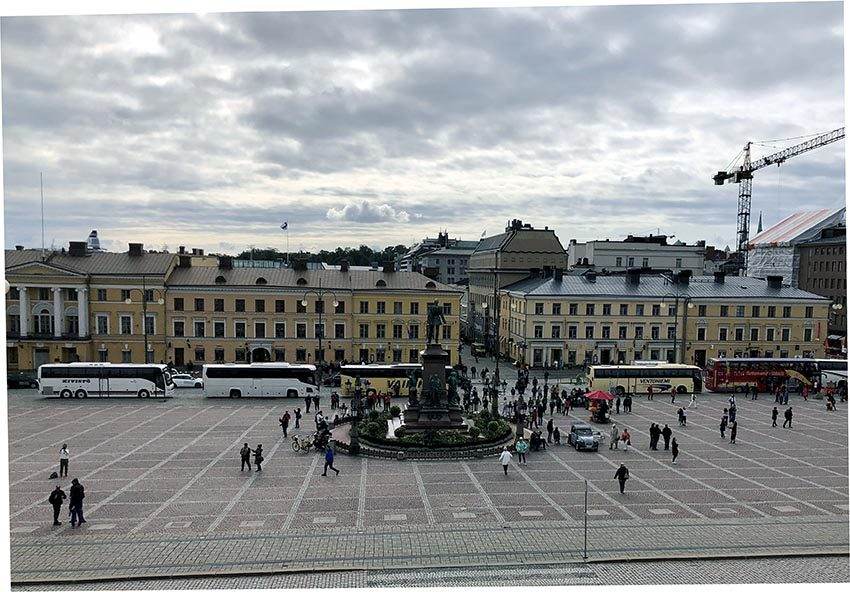 In the center of the square sits a statue of Emperor Alexander II. He was the Russian Czar that ruled over the region and made Helsinki the capital of the Grand Duchy of Finland in 1812. After nearly 600 years of Swedish rule, he brought about reforms that allowed the people of Finland to manage themselves while under Russian rule. The statue remains today because the people thought so highly of this ruler.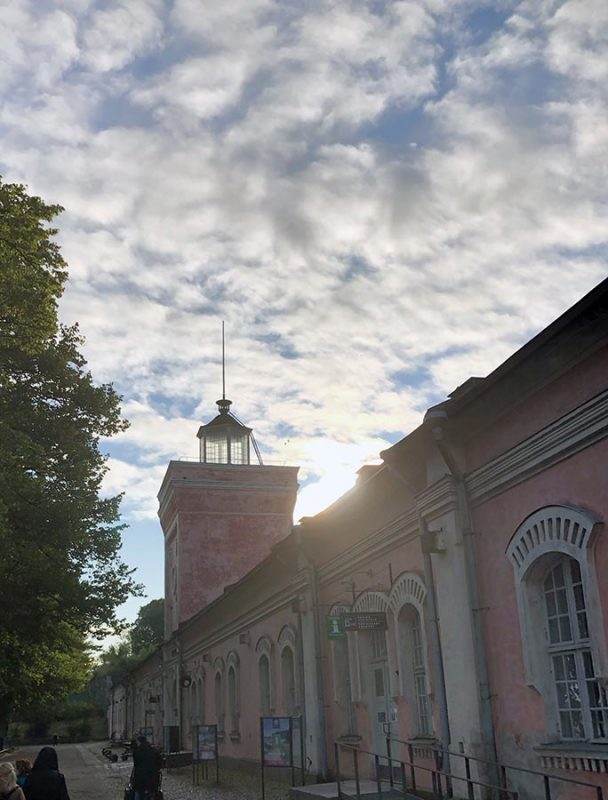 This UNESCO Heritage Site is a must when in Helsinki. Built in 1748, this sea fortress was constructed on a series of islands to protect the city against invasion. Today it is accessible only by boat. You can take the 15-20 minute ferry ride from Market Square.
Tip: The ferry is part of the city transport network and you can also use single ride ticket or day ticket.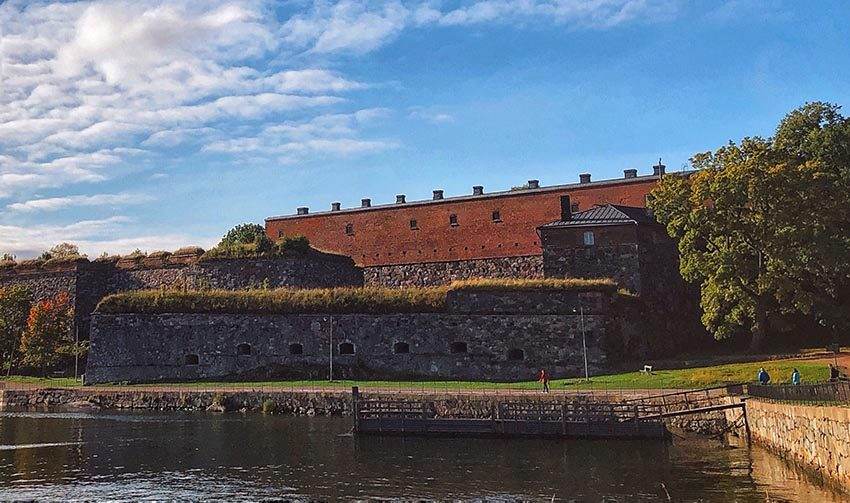 You could easily spend all day here. Suomenlinna has permanent residents, local school, shops, and a toy museum that serves the most wonderful cinnamon roll pastries with cardamom.
Hotel Katajanookka
This list of architectural sights on Helsinki wouldn't be complete without a hotel. The Hotel Katajanookka was once a regional prison built in 1837. It closed in 2002 and was later opened as a luxury hotel.
Visitors can wander the prison courtyard and view jail cells in the basement. There are an isolation cell and a primitive group cell dating back hundreds of years.
Guests get the privilege of sleeping in a converted cell with thick prison walls and heavy steel doors.

Helsinki City Museum
Last on this list of things to do in Helsinki is the Helsinki City Museum. It makes the list not because of it's architectural significance but because if its history. This museum is located next to the Senate Square in the oldest parts of the city.
Inside the museum, visitors get a great overview of the city's last 450 years. Exhibits walk you through what the city once looked like and how it has grown. The 'Time Machine' exhibition makes photographs from a famous local photographer come to life with virtual reality.
Whether you are an architecture buff or not, Helsinki, Finland is a great city to come and explore. Families with older children will find plenty of sites, attractions, and events to appeal to every interest.
A big thank you to Visit Finland and Helsinki for hosting me and the opther eight travel writers for this trip. Accommodations, travel, and activities were provided for research purposes. All opinions are my own.