Danish Smoked Salmon Sandwiches make the BEST party food. It doesn't matter if it's a small party with the immediate family (aka dinner) or a large party with dozens of guests. The are quick and easy to make with just a few ingredients.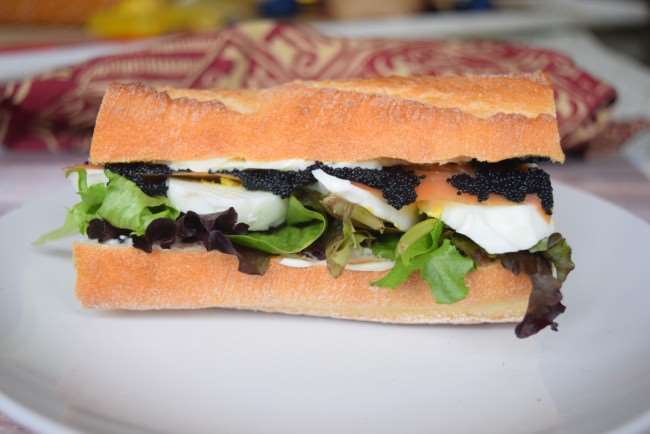 Granny celebrated her birthday the other day. She's not big on cake, so she celebrated with Dry Martinis, an assortment of appetizers, and these amazing Danish Smoked Salmon and Caviar Sandwiches. Granny's daughter in law's family is from Denmark and this recipe has been passed down for a few generations. Luckily, they passed it along to me too. 🙂 These sandwiches combine traditional Scandinavian ingredients salmon, caviar, and hard boiled eggs for a bite or meal you won't soon forget.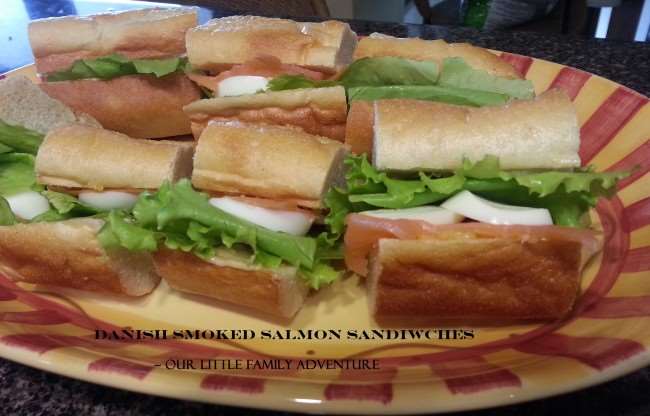 Smoked salmon and caviar can be expensive ingredients to use. With the caviar, look for an inexpensive jar. I used Black Lumpfish ($9/ounce). You can add more or less to taste. There is no need to buy "the good stuff" for this sandwich. The caviar lends it's salty flavor to the sandwich. Smoked salmon is available in most grocery stores or you can make your own.
These sandwiches are great for parties. Each loaf of French bread will feed 2-3 people as a meal or serve 8-10 smaller, appetizer sized sandwiches. We like to make them for special occasions and serve with fresh potato crisps, platter of assorted cheeses, and fresh fruit. If you want something your guests will love and not forget, this is it!
Danish Smoked Salmon Sandwiches

Ingredients
1 Fresh French Baguette
1/3 cup mayonnaise
1 oz Caviar (Any variety will work. I used Black Lumpfish)
4 oz Smoked Salmon, thinly sliced
3 hard boiled eggs, sliced 1/4 inch thick
Green leaf or Red leaf lettuce
Instructions
Slice baguette lengthwise and spread mayonnaise on both sides.
Layer ingredients (caviar through lettuce) on bread.
Slice into individual servings. Secure sandwich with toothpicks if needed.
Refrigerate or serve immediately.