These Quick Candied Pecans are extremely easy to make. There's no candy thermometer to watch or constant stirring. The oven does almost all the work. In 20 minutes, you'll have great candied pecans perfect for snacking, salad toppings, or gift giving.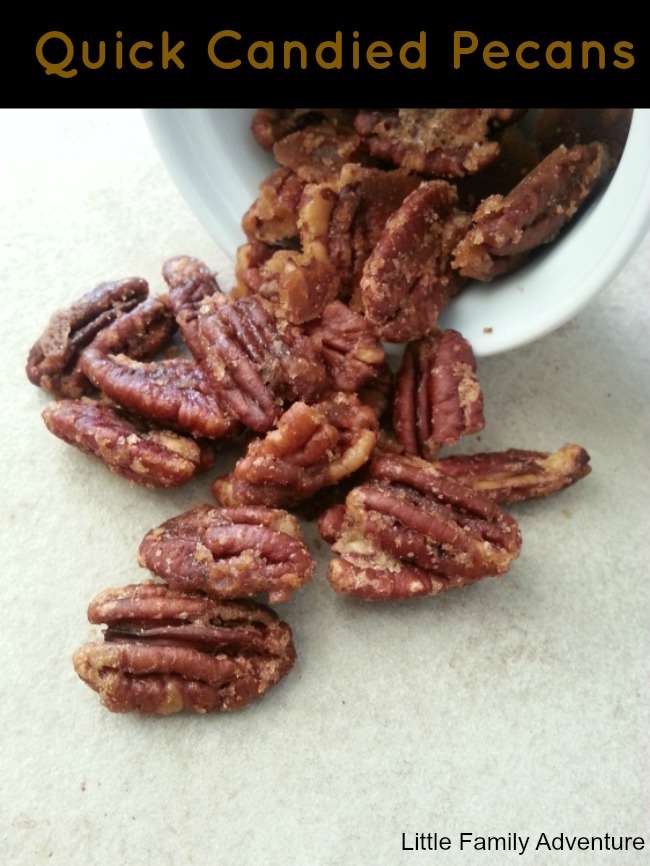 Quick Candied Pecans
Prep Time: 5 minutes Total Cook Time 20 minutes
Makes 4 cups
4 cups pecan halves
3 Tablespoons butter, melted
1/3 cup dark brown sugar
1 teaspoon ground cinnamon
2 Tablespoons real maple syrup
1/4 teaspoon salt
Preheat the oven to 350 degrees. Line a baking sheet with a Silpat mat or aluminum foil and spraying the foil with nonstick cooking spray.
Spread the pecans on the baking sheet and toast them in the oven until dark and fragrant, about 10 minutes. Stir every 3 or 4 minutes.
In a large metal or glass bowl, combine the melted butter, brown sugar, maple syrup, cinnamon, and salt.
Once the pecans are toasted, remove them from the oven and pour them into the bowl with the sugar mixture. Stir until the nuts are evenly coated, and pour them back onto the lined baking sheet and spread them in an even layer.
Bake for another 10 minutes, stirring after every 3-4 minutes. After 10 minutes, remove the nuts from the oven and allow them to cool on the baking sheet.
Once cool, break the nuts apart or coarsely chop them. Store in an airtight container at room temperature for up to a week.
If you like these quick candied pecans: