It's okay to indulge your sweet tooth.
Enjoy snack foods again that do a better job of balancing convenience and healthy ingredients. Now you can have that ice cream and the cookie. Really, it's okay! Enjoy something sweet or savory as long as you remember that it's the quality of the ingredients that count. Keep your snacks healthy by buying organic and GMO free products and enjoy them in moderation. Here are 15 of the best organic snack foods for you can enjoy.
When it comes to food, I want to provide my family healthy foods without artificial ingredients and tons of sugar. Up until recently, I rarely bought prepackaged snacks for my family. Traditional snacks are loaded with sugar and according to the Grocery Manufacturers Association, as much as 80% of those packaged snacks contain genetically modified organisms (GMOs). In the US, labeling of GMOs aren't required on product packaging. So until they are, the only way to avoid GMOs and other ingredients you're not sure about is to buy certified organic or Non-GMO Project Verified foods and snacks.
* This article contains affiliate links. Purchase through our affiliate links and we receive a small commission without any extra expense to you!
I attended a green/organic bloggers conference in September called ShiftCon.  While there, I learned that healthy living and greener practices are becoming more mainstream. More companies are offering organic and non-GMO food products that balance my need for convenient foods and healthy ingredients. Many of the companies there had samples for us to try and take home. I was in heaven!  I was introduced to a wide variety of organic and GMO free foods that were amazing!  I live in Oklahoma where we aren't the first to get new products. There were several foods that were new to me and they may be new to you too.
Here are some of the best organic snack foods. Some I was introduced to at the conference I mentioned and others are ones I've found on my own. They are all healthy snack foods that you can feel good about giving your family, satisfy your need for quick convenience style snacks, and will help you stay on our healthy diet.
Bitsy's Brain Food Cookies
These certified organic cookies are perfect for school lunches or afternoon snacks. Each serving is made with 8 grams of whole grains and contains no nuts. They are created in a nut free facility making it a perfect choice for children or adults with nut allergies. The alphabet shaped cookies make healthy snacking fun for kids. Flavors include Orange Chocolate Beet, Sweet Potato Oatmeal, and Zucchini Gingerbread Carrot. They are a delicious way to eat your veggies and are an excellent source of vitamins A, B12, D3, and Folic Acid.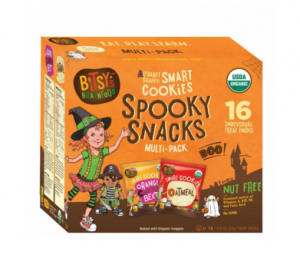 Per serving size 1-0.8oz pouch (Sweet Potato Oatmeal Raisin Cookies) :
80 calories
2 grams protein
13 grams carbohydrates
5 grams sugar
Nutiva O'Coconut Snacks
Bite sized coconut snacks that are organic and Fair Trade certified. They combine lightly sweetened coconut and 1.5 teaspoons of coconut oil per serving to create a snack that satisfies your sweet tooth without refined sugars. Available in Classic or Hemp & Chia. These snacks are perfect for lunch boxes, on the go snacks, and outdoor adventures.
Per 1 piece serving size (classic variety):
60 calories
1 gram protein
8 grams carbohydrates
3 grams sugar
Vietnamese Cinnamon Swirl Coconut Chips
Certified Organic and Non GMO verified toasted coconut chips sprinkled with cinnamon goodness. When I first tried them, I was told that they tasted just like a cinnamon flavored children's cereal. They were RIGHT! It does! Maple syrup gives these thick cut chips a touch of sweetness that is just irresistible. Once you take a bite, it's hard to resist them.
Per 4oz serving size:
150 calories
2 grams protein
10 grams carbohydrates
5 grams sugar

FiggyPops Tart Cherry Fig
This certified organic fruit and nut energy snack is perfect for road trips and afternoon snacks. Organic figs, dates, tart cherries, walnuts, and cacao nibs combine with an amazing snack that will help you power through an afternoon at the office or be perfect on the road. Sweetened with maple syrup it's the right balance of sweet and tart. Plus you have to LOVE the name!
Per 3 pop serving size:
190 calories
4 grams protein
20 grams carbohydrates
13 grams sugar
Good Kid Snack Bars
Certified gluten free snack bars made with organic fruit and no GMOs. These soft and chewy bars are packed with flavor. Available in Apple Cinnamon, Oatmeal Raisin, and Lemon Blueberry. They contain all natural ingredients like almond butter, tapioca flour, honey, and coconut. Plus, they are a good source of Omega 3s.
goodkidfoods.com
Per 1 bar serving size (Apple Cinnamon Bar):
160 calories
3 grams protein
21 grams carbohydrates
6 grams sugar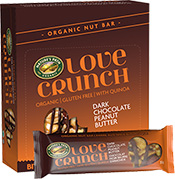 Dark Chocolate Peanut Butter Love Crunch Nut Bars
I'm in love with these snack bars from Nature's Path. These certified organic, gluten free, and non GMO verified bars are a great afternoon snack and on the go breakfast. With crunchy almonds, irresistible dark chocolate, peanut butter, and quinoa, it's the perfect pick me up to help me get going. Throw them in your gym bag, purse, or lunch box for 6 grams of protein to help fuel you through the day.
naturespath.com
Per 1 bar serving size:
200 calories
6 grams protein
13 grams carbohydrates
7 grams sugar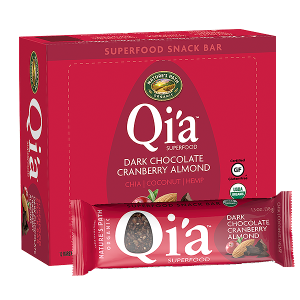 Qi'a Superfood Snack Bar – Dark Chocolate Cranberry Almond
This new certified organic snack bar packs in the superfoods; chia, hemp, and coconut. You'll love the combination of Fair Trade chocolate, cranberries, and almonds in this vegan snack bar. Loaded with plant-based protein, it will satisfy your sweet touch and keep you satisfied.  They are so good that you'll forget they are actually good for you.
Per 1 bar serving size:
180 calories
5 grams protein
21 grams carbohydrates
9 grams sugar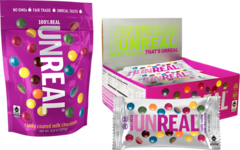 Candy Coated Milk Chocolates
Take your favorite milk chocolate pieces and take out all the junk. That's what you get with Unreal Candy's Candy Coated Milk Chocolates. There's no artificial ingredients or colors in this candy. You get the chocolate candies you love without the ingredients you don't. These candies are sweetened with non GMO cane sugars, made with naturally sourced colors, and Fair Trade certified chocolate. Chocolate that's simple and delicious!
Per 40 piece serving size:
170 calories
3 grams protein
19 grams carbohydrates
15 grams sugar

Dark Chocolate Peanut Butter Cups
Here's another chocolate snack, from Unreal Candy, that you will love for what it's missing. There is nothing artificial in these peanut butter cups. With ingredients like Fair Trade certified cacao, peanut butter, organic powdered sugar, palm oil, and coconut oil, they don't need anything else. It's delicious all on its own and you can guarantee that these treats will disappear quickly.
Per 2 peanut butter cups serving size:
180 calories
3 grams protein
18 grams carbohydrates
12 grams sugar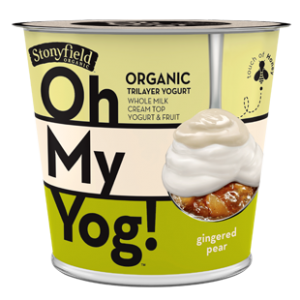 Gingered Pear Oh My Yog! Yogurt
This certified organic yogurt features three layers; whole milk cream top, delicious, yogurt, and fruit bottom. I could easily eat this for breakfast, lunch, and dinner. The flavor combination is unlike anything else available and you'll LOVE it! This yogurt is sweetened with honey and organic sugar. It's a simple and delicious way to start the day or grab as an afternoon snack to keep you going.
Per 150g serving size:
150 calories
7 grams protein
30 grams carbohydrates
28 grams sugar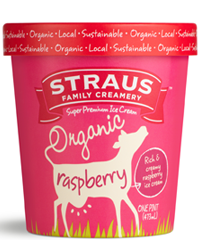 Raspberry Ice Cream
This certified organic ice cream from Straus Family Creamery is creamy and simply amazing. Made with just 6 real food ingredients, its ice cream like your grandparents used to make. It's sweetened with organic sugar and contains nothing artificial. It's also kosher and gluten free. Now you can have your ice cream and know it's good for you. Enjoy!
Per ½ cup serving size:
230 calories
4 grams protein
19 grams carbohydrates
19 grams sugar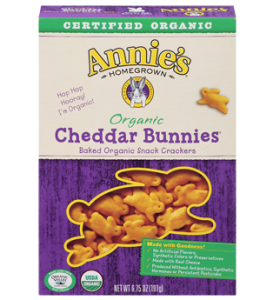 Organic Cheddar Bunnies
Annie's Homegrown is practically a household name when you want healthy snacks. These certified organic crackers feature organic cheddar and whole wheat flour. Eat them straight out of the box or dip them in a little almond butter for a quick snack. The thing I love best is there is no added sugar of any kind in these crackers.
Per 51 cracker serving size:
150 calories
3 grams protein
19 grams carbohydrates
0 grams sugar

Chocolate Chip Cookies
These crunchy cookies from Enjoy Life are certified Gluten Free and Non GMO verified. They are free of the 8 common allergens like gluten, soy, peanut, and casein. Loaded with chocolate chips, you can enjoy them with a glass of milk or packed inside your lunch for a special treat.
Per 2 cookie serving size:
140 calories
1 grams protein
17 grams carbohydrates
10 grams sugar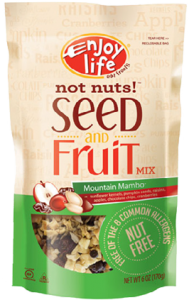 Not Nuts! Seed and Fruit Mix from Enjoy Life
Certified Gluten Free and Non GMO verified snack mix. This snack from Enjoy Life is free of the 8 common allergens and is made in a dedicated nut and allergen free facility. My favorite flavor, Mountain Mambo, combines sunflower kernels, pumpkin seeds, raisins, cranberries, chocolate chips, and apples for a delicious flavor that is perfect for me. Evaporated cane juice is the only sweetener and the chocolate chips are dairy free making this snack vegan.
Per 0.6oz serving size:
80 calories
3 grams protein
8 grams carbohydrates
5 grams sugar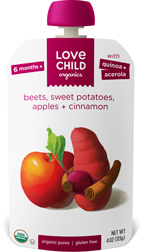 Organic Puree from Love Child Organics
Certified organic fruit and vegetable puree that has nothing artificial. When you start with high quality ingredients like beets, sweet potatoes, apples, cinnamon, quinoa, and acerola there is no need for anything else. Acerola provides 100% of the DV for vitamin C. Packaging is BPA free and 1 cent from each pouch sold is donated to children's charities.
Per 4oz serving size (Beets, sweet potatoes, apples, cinnamon variety):
70 calories
1 gram protein
16 grams carbohydrates
7 grams sugar
There are so many great organic snack foods available today that balance our need for convenience style foods and healthy, real food ingredients. Now you can have your cookie and know that what you are eating is healthy too.
For more great organic and Non GMO verified snack foods, check out Thrive Market or Amazon online or a local store near you.

What organic snack foods have you tried lately that you absolutely love?