This article on selecting a new bicycle is sponsored by Schwinn Bicycles. They provided our family with bicycles for this article. This blog may contain affiliate links. I'll only recommend and share products that I use and love myself. Thanks!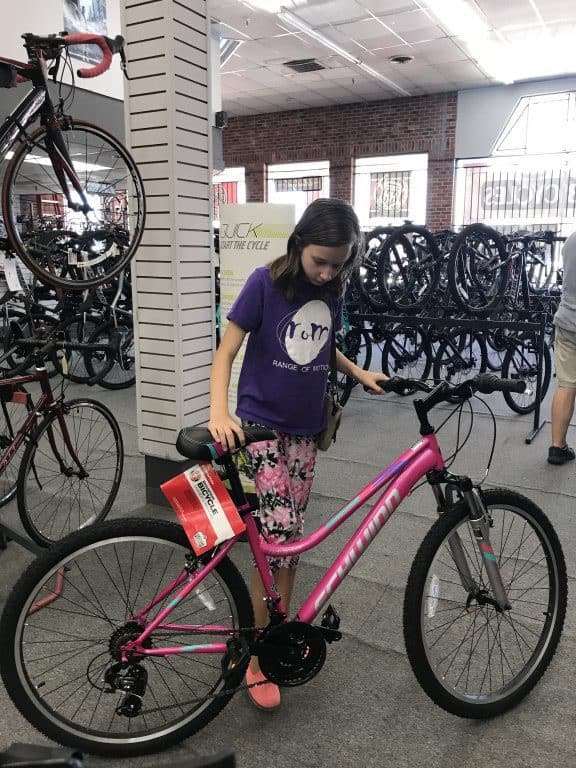 With so many different types of bikes, how do you know which bicycle is best for you? This summer our family all got new bicycles ahead of our 4 week road trip. So we had to ask that question a few times. There are a lot of choices out there, but we remembered these tips when selecting a new bicycle. In the end, we came away with 5 new bicycles that we really enjoy riding. If you are looking to buy a new bicycle, use these tips to help you decide which one if right for you.
1. What type of riding do you plan to do?
The first decision you will make is based upon where you plan to ride. Will you ride on paved streets, on dirt paths, or on gravel trails, or a mixture? Bicycles today are designed for the surface they will used on.
For my daughter, we choose this Schwinn Bicycles. It is designed for dirt/gravel trails which she enjoys riding on more than on the street. The bike's wider wheels make it a stable ride for her.
You can read more about the features on each type of bicycle in this article, Choosing the Right Bike.
2. Selecting Bicycle Wheel Size is a Good Place to Start
Children's bicycles range from 12"-26". Adult bicycles come on both 26" and 28". When my children were younger, I would only look at a bicycle's wheel size to determine which to buy. Although this is a good place to start, it isn't the only consideration.
Bicycle frame sizes vary from style to style and from brand to brand, you need to try out a bicycle to ensure a good fit.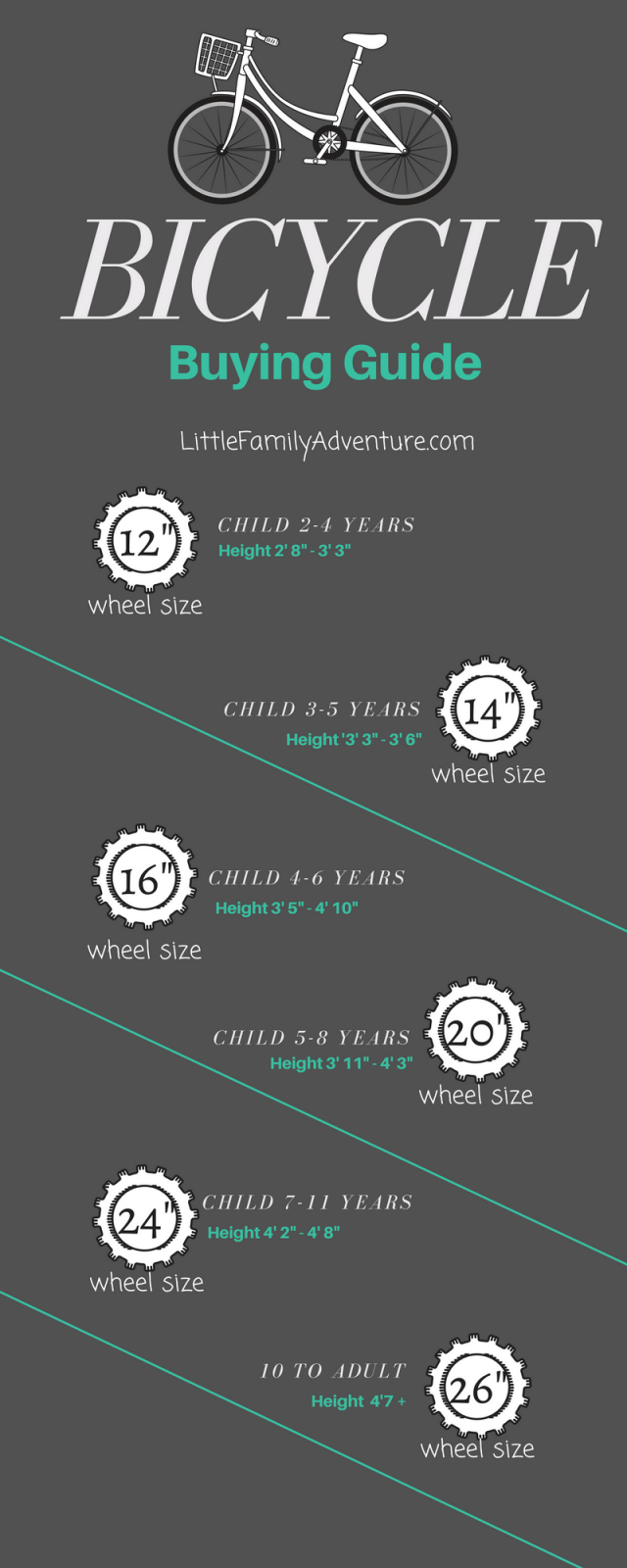 This infographic is a good guideline to use when looking for a child's bicycle. The wheel size recommendation is based on your child's height.
3. Make Sure the Bicycle Fits You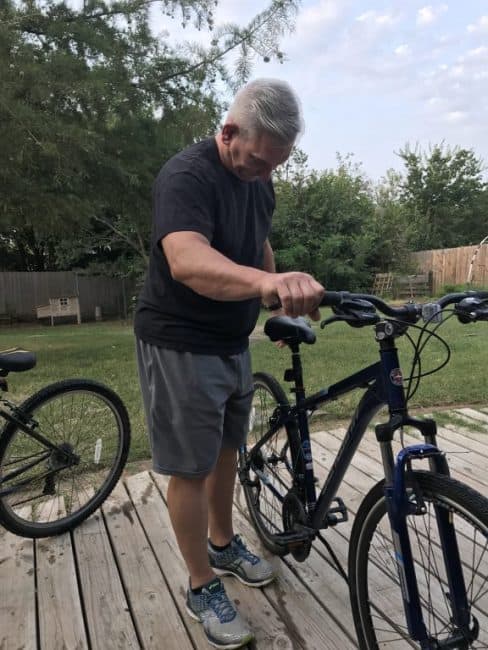 This is the time to go and test drive bicycles to find the one you like best. Once you decide what bike is right for you and how you want to ride, you need to ensure it fits you.
When you test drive, check to be sure you can stand over your bike comfortably. When you straddle the bicycle (over the top tube in between the seat and handle bars), your feet should be flat on the ground and there should be a clearance or space between the bicycle frame and your groin area.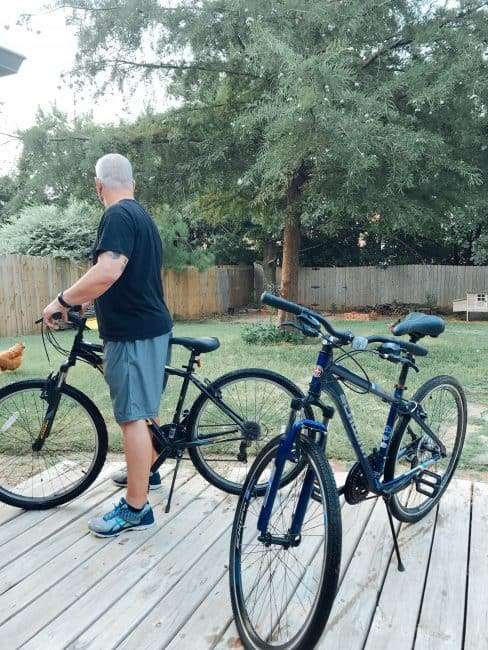 With all bikes, but especially with children's bicycles, select a bicycle that fits the rider. Don't buy a size larger to grow into. Riding a bicycle that is too large can lead to falls and/or injury.
4. Is the Bicycle Comfortable?
You won't ride long on a bicycle that is uncomfortable to ride. How does the bike feel when you sit on it? Is the seat comfortable? How does it feel when you reach the handle bars?
My daughter is just under 5' tall. She tried a few 26" bicycles to find the one that was right for her. On a few bicycles she tried, she had to reach too far forward to grab the handle bars. She felt unsteady and didn't like the feel.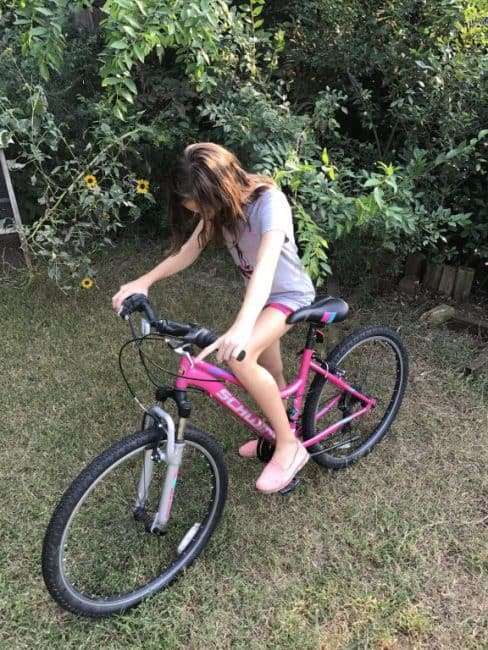 The Schwinn High Timber Mountain Bike she decided on getting didn't have that problem. She liked that she sat more upright and found it easy to reach the handle bar grips. She loves riding this bike and that is the best tip I can give you.
5. Find a Bicycle You Love Riding
There are a lot of things to consider when selecting a new bicycle. Above I've mentioned 4 things to remember when you start looking. But the most important thing to remember is to select a bike you want to ride again and again. You do that and you can look forward to years of cycling fun.
These 5 tips to remember when selecting a new bicycle are just the basics. They will help you get started when you are in the market for a new bicycle. They will assist you in finding the bicycle that is just right for you or your child.