Traveling with a toddler?
I recently went to Hawaii with my one year old AND two year old. I am back to report on our travels. Vacation was amazing! There were definitely some difficult times, but overall it was great.
There are no direct flights to where we were going in Hawaii, so we had one connection. Our first flight was four hours long and it departed around nap time. Unfortunately, no one napped on that flight, but they both did extremely well. The flight attendant even gave them both a box full of goodies because she was so impressed!
The second flight was five hours long and when we departed, it was technically bed time. Unfortunately, no one really slept on that flight either. My daughter loves to sleep in her own bed. When we are at home and it's time to go to sleep, she runs straight to her crib and asks to get in. She had a difficult time on the flight, but I think it was because she just wasn't used to her surroundings. When we landed in Hawaii it was about 9 pm, which meant it was bedtime. Both the kids were champs and went straight to bed! Overall I call it a success!
This was the first time traveling with her, so I wasn't sure what would entertain her. During the trip I tried EVERYTHING to keep my toddler entertained. I found that these 5 activities were the best at entertained her while traveling.
Disclosure: This blog contains affiliate links. They help pay for the coffee that keeps us turning out adventures week after week. I'll only recommend and share products that I use and love myself. Thanks!
Gel Clings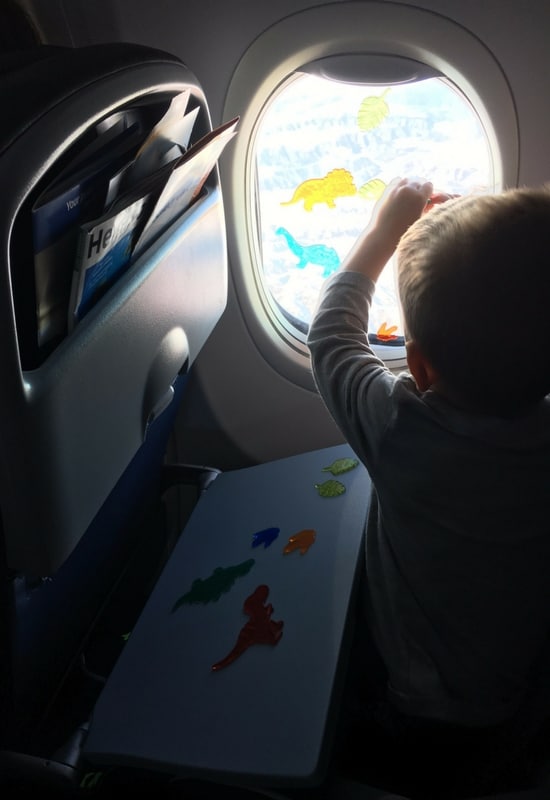 The Gel Clings were probably my favorite toy while we were actually on their airplane. My son sat on the window seat, so he put them on the window. My daughter didn't have a window, so she used them on the tray and she loved it. They liked to stick different ones on and then take some off. Then they would trade so they could have different ones! They are fairly inexpensive as well, so I absolutely recommend gel clings to keep your toddler entertained while traveling.
Playmobil My Take Along Farm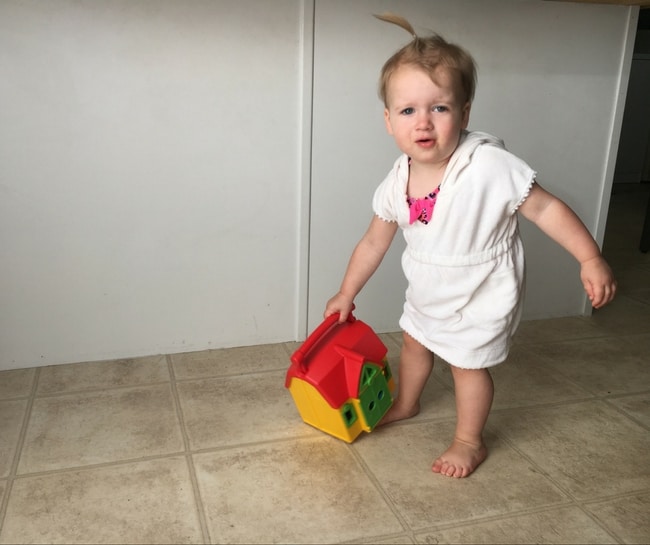 So this first one isn't really something we used on the plane, but I am so thankful we brought it. When we got to our rental house, it had no toys for the kids to play with. We did have a couple days here and there with some downtime at the house, and the kids didn't really have anything to do. The house also wasn't baby-proofed, so I was running around after them fixing everything they messed up. Then I remembered that we brought the Playmobil My Take Along Farm with us and everything was so much better after that!
Playmobil sent us this take along kit to try out and both my kids love this toy. They like to open it up, set up all the animals, and then put them all back in to say "bye, bye". It was also small enough that it was super easy to pack in our suitcase. The larger Playmobil sets would be great if you just kept it at home. But if you're looking to bring toys with you on vacation, this would be the one I recommend.
Melissa & Doug On The Go Water Wow!
This is another activity that kept both my kids entertained for a while. The Melissa & Doug On The Go Water Wow water reveal pad sets are great. They have a ton of different books so you can get one that your child likes. What you do is fill up the little pen with water. When they went dry, we got up and filled it in the airplane bathroom real quick. It doesn't spill out and you don't have to worry about the kids drawing on anything else since it's just water. What I love about this is that it turns colors when they draw on it with the water pen. But…as soon as the water dries, it disappears. So you can keep using it again and again! There is also a spot to put the pen when you are done with it so you won't lose it. They definitely thought of your toddler while traveling when making this.

Melissa & Doug On the Go Water Wow! Water-Reveal Activity Pad – Under the Sea


Books
My kids love books, so this was a no brainer. However, I didn't want to bring a ton of books because they are heavy! So I had to think a little bit about which books to bring. There are some that the kids like, but they go through them really quickly. Instead, I opted for books that my kids like to look at over and over again. That way, they will hopefully stay interested in them for longer.
Media
We don't normally have the television on in our house during the day. I wouldn't really consider it an "activity", nor would I normally let me kids watch a lot of television. However, I wanted to bring an iPad with movies on it just in case, and I have to admit that I was glad we did. My one year old daughter hasn't really watched a lot of television, so it doesn't keep her interested for long. Although my son absolutely loves television. I did turn on a movie for him on the night time flight because he was getting restless. It might be good to have something as a back up plan, just in case.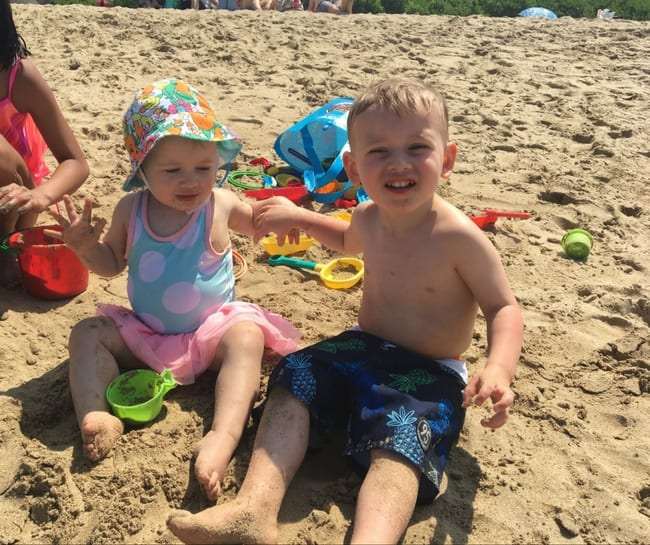 Overall I think our one and two year old did really well on the flight. Especially for being completely out of their comfort zone and off of their schedules. I tried to constantly keep them doing something whether it was an activity or snacking. Oh and the kids did amazing adjusting to time change! There is a six hour difference. Like I said earlier, it was bedtime when we arrived in Hawaii, and the kids were more than willing to go to sleep. They woke up at 6am when they would normally wake up at 8am. By the second week they were on their same schedule they were on at home. I was surprised and so thankful!
These are the activities I would recommend when traveling with a toddler, but I guess it would all depend on what your child likes.
What activities would you recommend while traveling with toddlers?