ALDI is my go-to grocery store for great food at everyday low prices, I have teamed up with them to bring you this recipe for Beer Can Chicken.
Beer Can Chicken
Now that summer is official here, it's time to fire up the grill and get cooking. Grab your favorite beer and cook up this Beer Can Chicken recipe. Now, you could drink that beer or you can use it to create a deliciously moist and flavorful grilled chicken. Then again, you could do BOTH!
Beer Can Chicken is a whole chicken cooked upright with a partially filled can inserted into the cavity. The beer provides moisture and flavor while cooking the chicken. We add a Coffee Brown Sugar Rub to the skin for great flavor. The result is juicy chicken and that your family will love!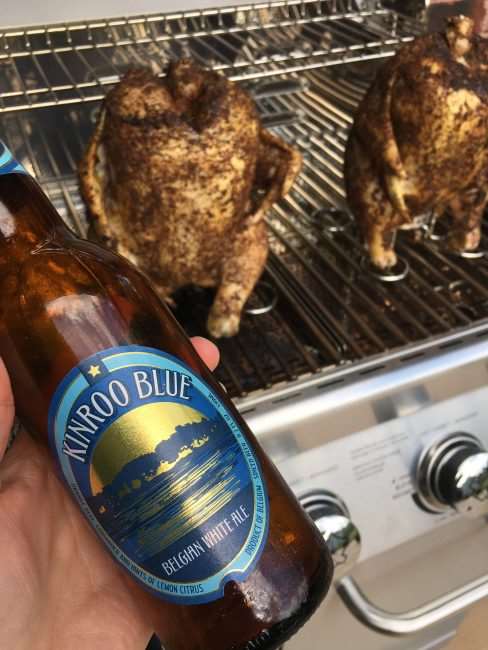 ALDI stores here in Oklahoma don't carry beer or wine. But they do in Texas. When we visit family, we like to pick up this Kinroo Blue Belgium White Ale. It's really good and gives this chicken a nice flavor. You can use it or any beer you like for this recipe.
Are you a propane or charcoal person?
Both cooking methods have their pros and cons. I am propane person and my husband prefers charcoal. When I grill, I prefer propane because it's easier for the way I like to cook. My husband likes the flavor that charcoal gives the food.
PROPANE GRILL TIP: Always check for propane level before you start.
If your propane level is below half, consider having a second tank on standby because there is nothing worse that running out of fuel WHILE cooking. It's happened to me.
Why Did the Chicken Cross the Road?
Insert your favorite punch line on this one.
All jokes aside, let's talk about antibiotic-fee chicken for a second. I really like that ALDI has antibiotic-free meats in their Never Any! product line. I routinely buy their Whole Never Any! Chicken for $1.49 a pound at our local store.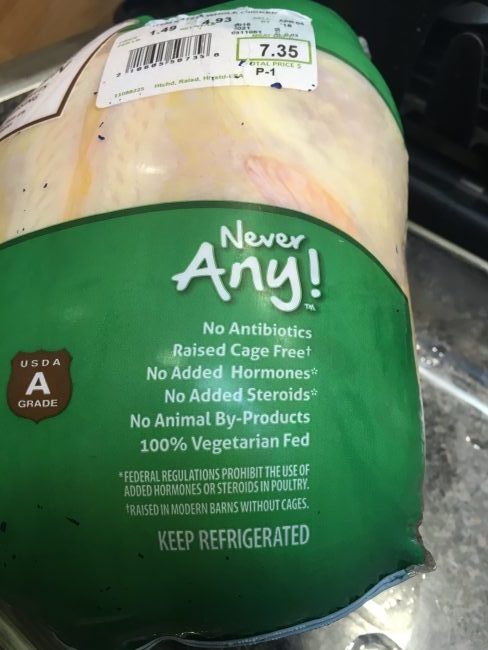 ALDI's Never Any! products contains:
No Antibiotics
No Added Hormones
No Added Steroids
No Animal By-Products
100% Vegetarian Fed (for Chicken)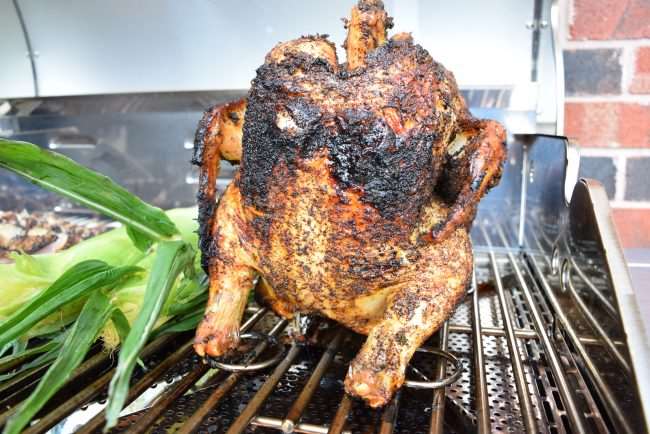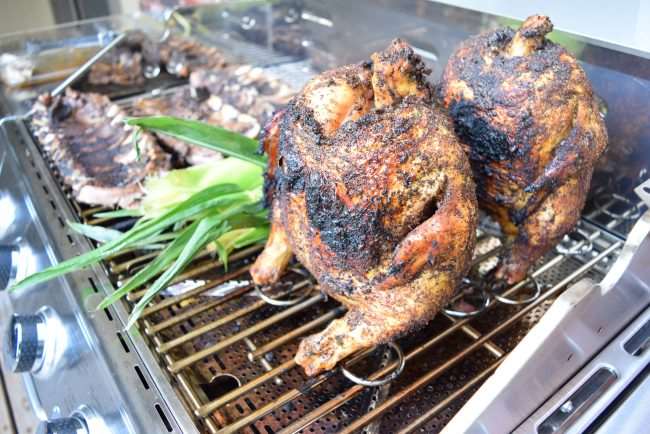 I'm all for making cooking/grilling easier, especially during the summer. Save time by cooking a little extra for later. We always cook 2 chickens each time we grill. Leftover chicken can be used in so many other recipes. While you're at it, through a few ears of corn on the grill too. YUM!

Yield: 8
Beer Can Chicken Coffee Brown Sugar Rub
This spice rub is great with chicken or beef.
Total Time
1 hour
4 minutes
Ingredients
2 can of beer
Coffee Brown Sugar Rub (recipe below)
2 Tablespoons Ground Coffee
2 Tablespoons Brown Sugar
1 Tablespoon Sea Salt
1 Tablespoon Smoked Paprika
2 teaspoons Ground Black Pepper
1 teaspoon Onion Powder
1 teaspoon Garlic Powder
1 teaspoon Cumin
1 teaspoon Dried Sage
1 teaspoon Dried Majoram
Pinch of Cayenne Pepper (optional)
Instructions
Start the grill and preheat to 375ºF
Rub the exterior of the chickens with coffee brown sugar rub
Open 2 cans of beer and take a few big sips out of them
Place each chicken on top of a can, inserting the can into the chicken's cavity.
Place chicken upright on a section of the grill NOT over coals or burners.
Close lid and cook for 60-75 minutes, or until the internal temperature reaches 165ºF
Remove from grill and let stand for 10 minutes.
**CAUTION - cans will be hot! Carefully remove the cans.
Cut up chicken and serve.
Combine all ingredients. Store in an airtight container.
Nutrition Information:
Serving Size:
1
Amount Per Serving:
Calories:

3337
Total Fat:

164g
Saturated Fat:

46g
Cholesterol:

1052mg
Sodium:

7196mg
Carbohydrates:

66g
Sugar:

25g
Protein:

333g
For more grilling recipes or to find an ALDI store in your area, check out
ALDI
on
Facebook
,
Twitter,
and
Instagram.
What's your favorite grilled chicken recipe?