As part of the #SoapboxInfluence project, I'm partnering with Bush's Beans and @KendalKingGroup to bring you four of the best appetizers that make entertaining easier. All opinions are my own.
You are having friends and/or family over. It may be a last minute thing or it may be something planned. Either way, you don't want to spend all day in the kitchen, but you still want to offer delicious appetizers and snacks that will WOW them. What are you going to do?
We have the answer!
All you need is 20 minutes to create 4 of the BEST appetizers that your guests will love. These recipes will leave you with plenty of time to get ready and entertain. Plus, these recipes are healthy too! But you don't have to tell anyone if you don't want to.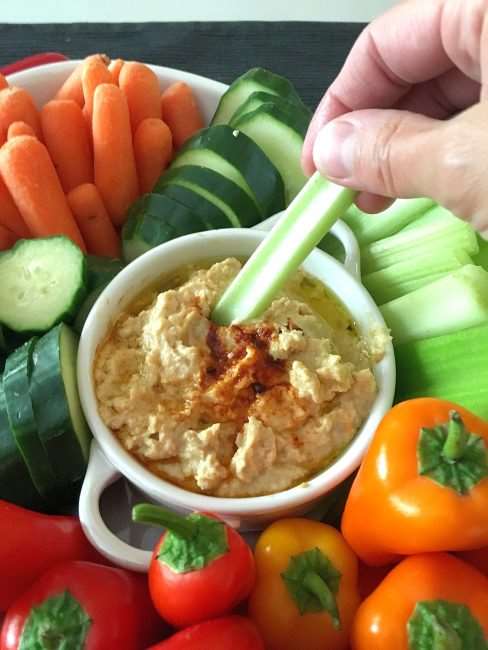 The Best Appetizers with Hummus
For each of these recipes, we are going to use hummus in some way. Hummus is a staple in our house. The traditional version's blend of garbanzo beans, tahini (ground sesame seeds), garlic, lemon, and olive oil is really delicious. We use it as a dip with fresh vegetables and pita bread, as a sandwich or wrap spread, and so much more. We usually make our hummus from scratch. But Bush's Beans asked us to try their Hummus Made Easy mixes. They contain the same ingredients I'd use at home and no preservatives, so I said "Sure." They are delicious ya'll! You are going to want to try them too.
Hummus Made Easy
Bush's Hummus Made Easy is really simple to use. A 16-ounce can of beans and a packet of hummus made easy is all you need to create a delicious bowl of hummus. You can find their three varieties (Roasted Red Pepper, Southwest Black Bean, and Classic), in the bean aisle at your local Walmart.

Whip up a batch of hummus and enjoy it straight out of the bowl or create something new like we did. Either way, you'll create the best appetizers that you and your guests will LOVE!

Let's Get to the Recipes
We created these 4 easy recipes for you:
For more recipe inspiration you can visit www.HummusMadeEasy.com. You can skip ahead to each recipe by clicking on the link above. But first, let me show you how easy these recipes are to make and it will just take you 20 minutes.
We created a video for you showing step by step how to create each of the recipes. We've included a few entertaining tips in there too!
Continue onto the next page for each of the recipes with step by step directions that you can print out.