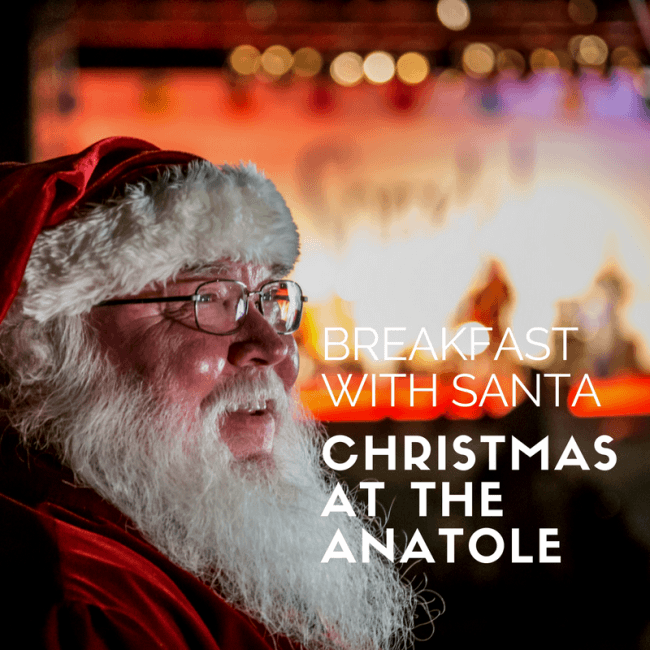 Few things are more precious that sharing a holiday experience with your family. Years ago, we opted for less gift giving and more shared experiences as a family. The result is a treasure trove of cherished memories that will last us forever. The Hilton Anatole Dallas recently invited us to take part in their special holiday Breakfast with Santa Experience. This holiday event offers an unique, family-friendly experience featuring holiday activities, a movie night, games, and a breakfast with the big man myself Santa Claus.
Christmas at the Anataole Dallas
On our recent trip to Dallas, we were lucky enough to visit the Hilton Anatole and enjoy the Breakfast with Santa Experience. Our kids now range in ages between 9-14 and no longer believe that jolly Old St. Nick comes down the chimney on Christmas Eve. But, they believe in the spirit of the season and really enjoy holiday festivities.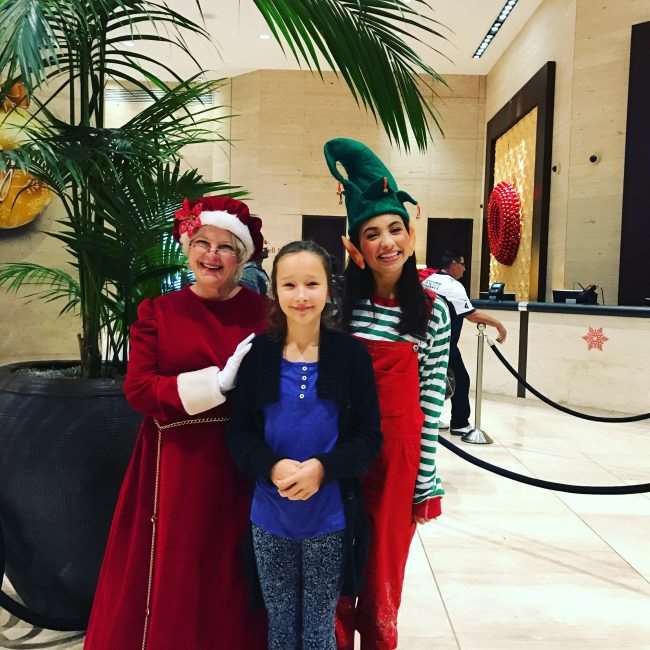 The Breakfast with Santa Experience is great for all ages because it includes so many different activities. The hotel offers a package rate that includes the experience, a night at the hotel, and late check out. See hilton.com for more information.
Christmas Movie Night
One of our family's favorite holiday traditions is watching Christmas movies. There is nothing as great as a holiday movie to put you in the Christmas spirit. The night you check into the Hilton Anatole, you and your family is treated to a movie night complete with a popcorn and candy bar. During our visit, we watched Polar Express, one of my all time favorites.
The kids created bowls of popcorn with M&M's bacon crumbled, and gummy worms. Sounds "unique" doesn't it? Then we spread out with pillows and blankets to enjoy a movie night in.
Breakfast with Santa
The next morning we went down for a very special breakfast. Served buffet style, guests enjoy a holiday feast complete with Grinch's Delight Breakfast Casserole, Comet's Chilaquiles, blueberry pancakes, bacon and sausage, pastries, juice, milk, and coffee.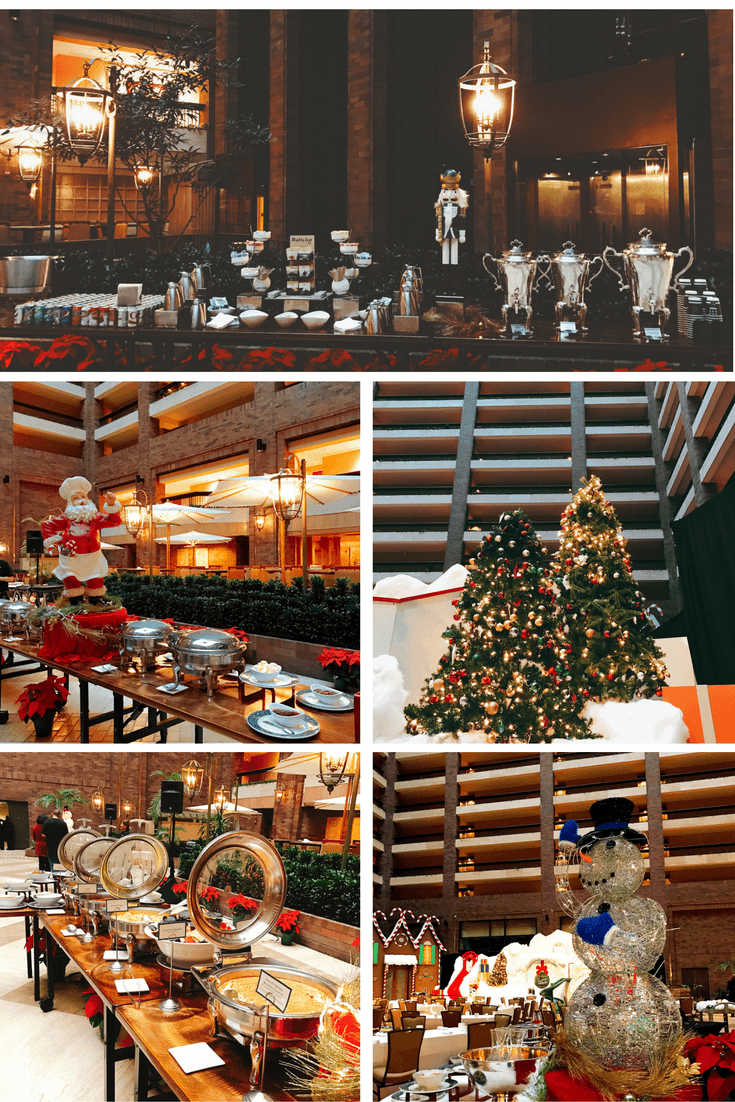 While guests dined, Santa Claus, Mrs. Claus, and Tinsel the Elf came and visited each family, posing for photos, and listening to each child's wish list.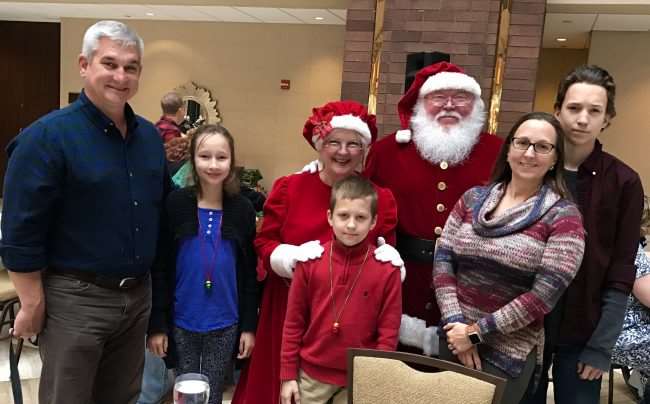 Story Time with Santa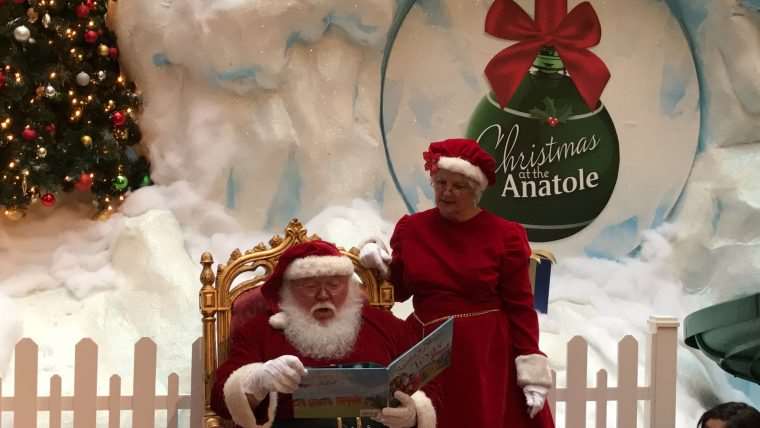 Following breakfast, Santa sat down to read a holiday story for the children. Because we were in Texas, there is no better story than Santa's Sleigh in on its way to Texas : A Christmas Adventure by Eric James. The children gathered round and enjoyed hearing the story.
Holiday Fun Activities
The holiday fun continues after breakfast with a scavenger hunt and child-friendly activities. Each child receives a map and clues to find each activity/craft. Children scatter in all directions to find the face painting station, cookie decorating, craft tables, and the Hot Chocolate Bar.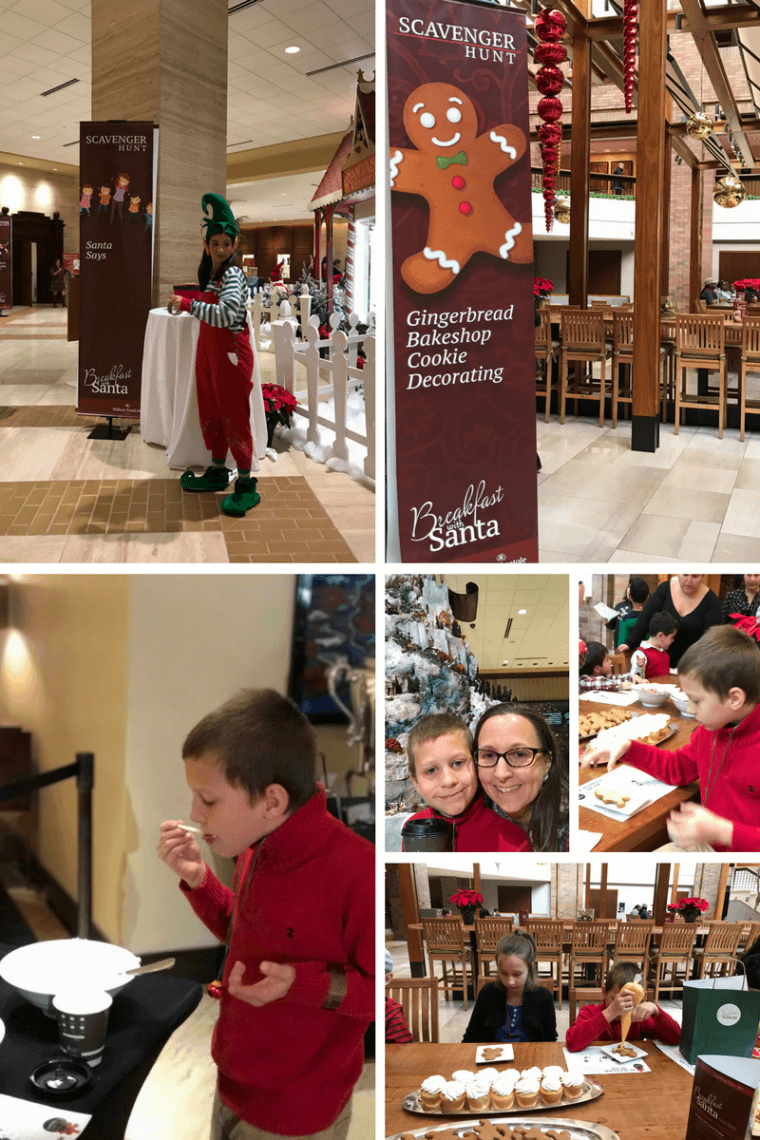 There are 10 stations in all for kids to find and explore. Along the way, the atrium is decorated with holiday houses and scenes for families to use for photo ops. It gives families a chance to have fun together and celebrate the season. When you are done, you can have your photo made with Santa under the big Anatole Christmas tree.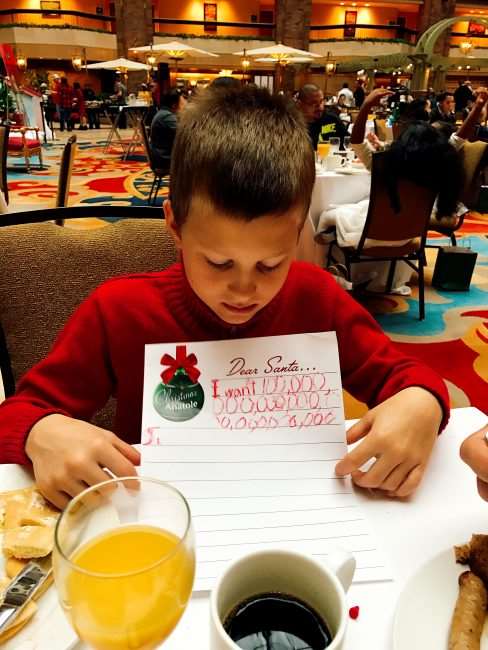 Fun Family Experience
My family throughly enjoyed our Breakfast with Santa Experience. Even though they no longer believe in Santa, they loved celebrating the event together. It was funny to watch my youngest ask Santa for a gazillion dollars for Christmas and see all of them take part in the holiday activities. It goes to show that no matter how old you are, spending quality time with family never gets old. It's the memories we make doing things like this and having fun together that are priceless and things we will treasure always.
If you are in the Dallas area for the holidays, I highly recommend scheduling a Breakfast with Santa Experience for you family. You'll have a fantastic family adventure.
What holiday experiences will you enjoy this year?
Note: Hilton Anatole hosted our stay and Breakfast with Santa Experience. We loved the event and our stay with them for the BIG D Holiday weekend. All opinions are mine…..