Turkey Meatballs, Roasted Potatoes, and Carrot Salad
Turkey Meatballs are a great alternative to classic meatloaf for busy families. A classic meatloaf takes almost 60 minutes to cook. Creating smaller portions/meatballs dramatically cuts cooking time. Plus making meatballs is fun for kids. They can get their hands dirty and play with their food.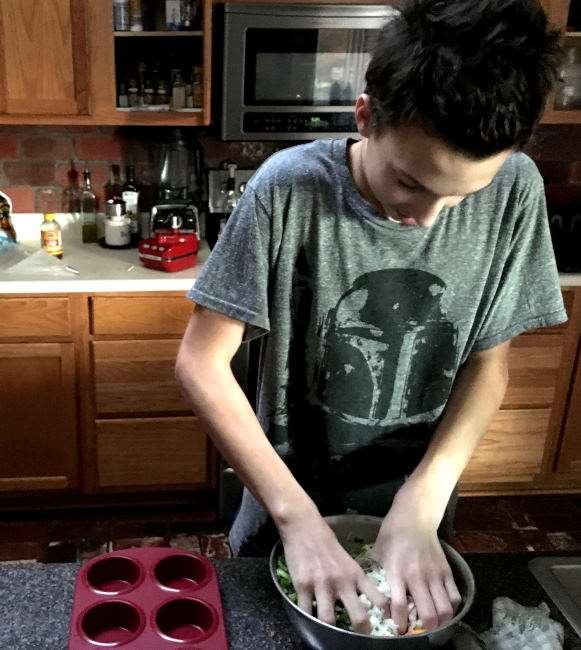 We made our turkey meatballs a little healthier.
We used ALDI's Fit and Active ground turkey for leaner meatballs. This ground turkey is 93% lean and tastes great.
We eliminated added sugar found in ketchup by using tomato sauce for the top of the meatballs.
Instead of standard bread crumbs, we use uncooked couscous. Traditional bread crumbs have a list of ingredients, I'd rather not use, so I use couscous instead. Couscous is made with 1 ingredient, durum wheat.
We added shredded zucchini and bell peppers to get some extra veggies in there.

Yield: 14
Turkey Meatballs Roasted Fingerling Potatoes Simply Carrot Salad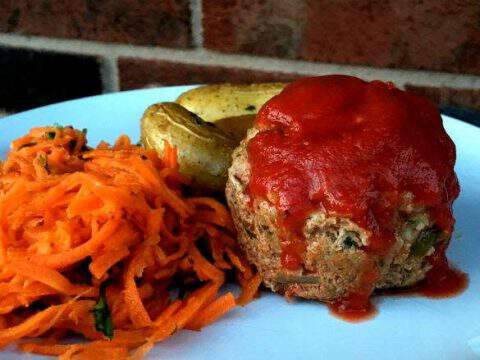 Create these healthier turkey meatballs for a quick weeknight meal. It takes just 35 minutes start to finish.
Ingredients
2 lbs. Fit & Active Lean Ground Turkey
1/2 cup Chopped Onion
2 eggs
2/3 cup couscous (uncooked plain)
2 cups Shredded Zucchini (1 large)
2 Bell Peppers, chopped
Handful Fresh Cilantro, minced (about 3 Tablespoons)
3/4 teaspoon salt
1/2 teaspoon Stonemill ground black pepper
1/2 cup Simply Nature Organic Tomato sauce
2 lbs. Fingerling Potatoes
2 tablespoons olive oil
1/2 teaspoon garlic powder
1/2 teaspoon onion powder
1/2 teaspoon salt
1 lb. Carrots, shredded
2 teaspoons Dijon Mustard
1 Lemon, juiced
2 Tablespoons Berryhill Clover Honey
Handful Fresh Cilantro, minced (about 3 Tablespoons)
2 Tablespoons Olive Oil
1/4 teaspoon salt
Instructions
Preheat oven to 400°F.
In a large mixing bowl, combine turkey through black pepper. Mix until well combined.
Portion out mixture into 12 - 14 meatballs.
Shape into meatballs and place in muffin trays.
Spoon 2 -3 Tablespoons of tomato sauce over each meatball.
Place muffin trays on cookie sheet and place in oven. Bake for 25 minutes or until internal temperature reaches 165°F.
Remove from oven and rest for 5 minutes.
Preheat oven to 400°F.
Wash the potatoes to remove any dirt.
In large mixing bowl, combine all ingredients. Mix until well combined.
Spread evenly on a baking tray and place in the oven.
Cook at 400°F for 25 minutes. Shake once or twice during cooking to ensure even roasting.
Serve immediately.
Combine all ingredients in a mixing bowl.
Serve immediately or refrigerate until ready to serve.
Get in the kitchen with your family and create this healthy and delicious meal together. Cooking with your kids will provide you with quality family time and provide your children with the skills necessary for a long and healthy life.
Visit your local ALDI and shop for ingredients for your next family meal. You can find more great recipes on ALDI's website, plus find great tips and deals on Facebook, Twitter, and Instagram.
What do you like to cook with your family? Share your tips on cooking with kids and get featured in a future article.