Treat yourself to a sumptuous culinary experience at Cotton Row in Huntsville, Alabama. This upscale restaurant features award winning dining using fresh ingredients from local farms and a warm atmosphere in a historic downtown location.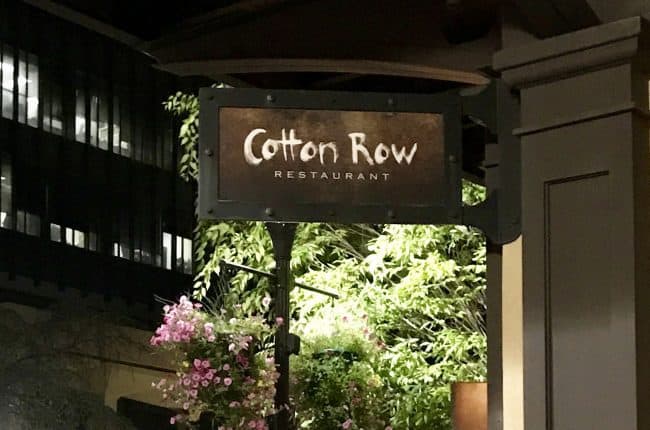 This week, I am in Huntsville, Alabama for TBEX, Travel Bloggers Exchange. A trip to Huntsville wouldn't be complete without sampling a few local restaurants. I was fortunate enough to be invited to Cotton Row restaurant with a group of fellow travel writers and foodies to sit down one on one with Chef James Boyce, the owner of Cotton Row who is an award winning James Beard nominee who now calls Huntsville home.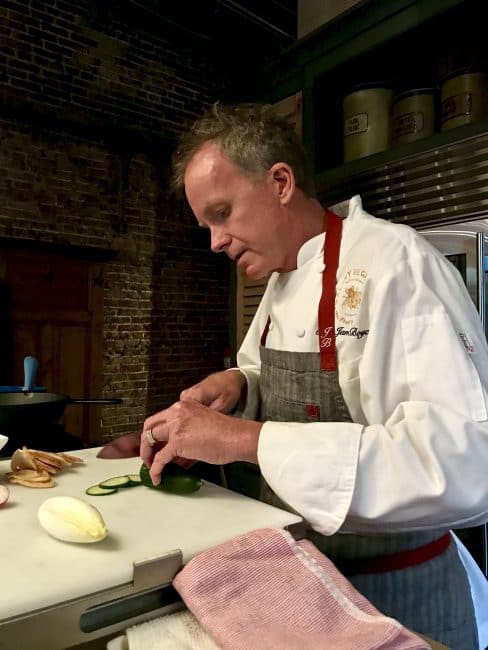 Chef James Boyce has 3 restaurants in Huntsville that offer diners very different dining experiences. Cotton Row is upscale, fine dining that USA Today ranked #1 on their list of the 10 Best Southern Fine Dining Restaurants. Commerce Kitchen has a more relaxed, southern feel. Pane e Vino, at the park, serves up great Italian food and pizza.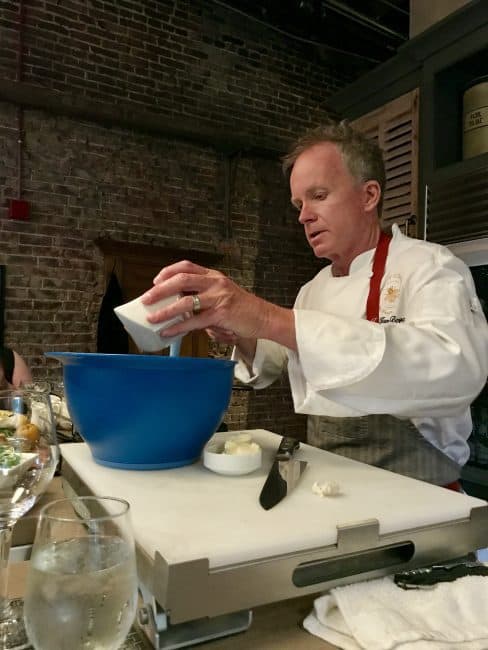 Chef Boyce worked in New York, Las Vegas, and San Diego prior to moving to Huntsville and opening Cotton Row in 2008. His approach to food allows each dish to speak for itself. He's partnered with several local farms to supply the restaurant with fresh produce, beef, and other products.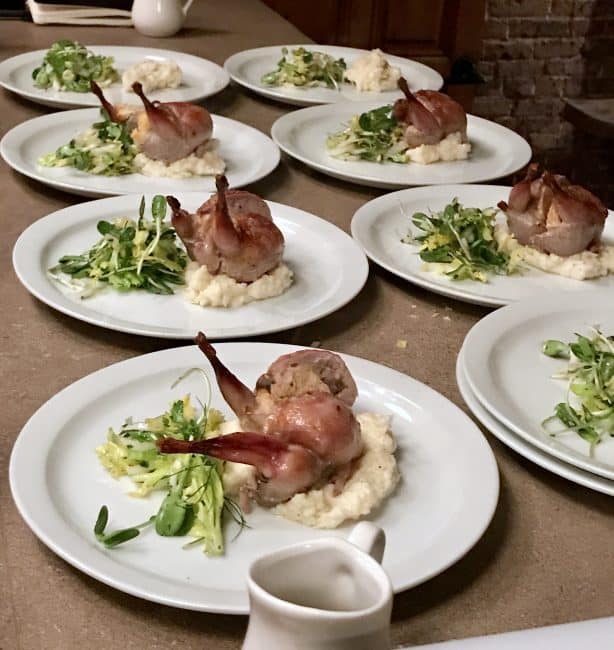 What Cotton Row offers guests is a culinary experience that provides fresh and local at its best.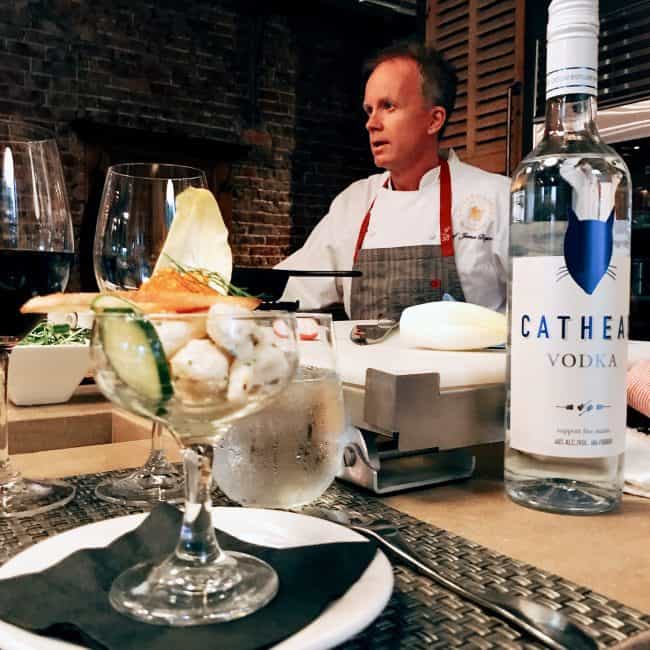 During our visit, we were treated to a sampling menu cooked by Chef Boyce himself. While cooking, we had the opportunity to talk with him about his extensive resume, why he moved to Alabama, working with local farms, and of course the food. Take a look at the menu we enjoyed on our visit.
Menu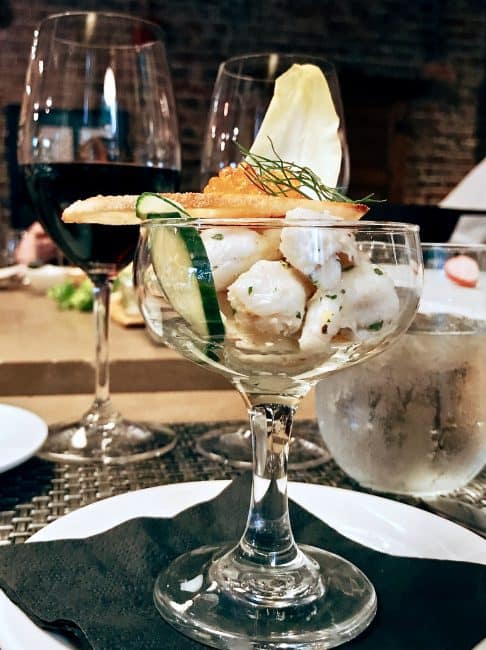 Shrimp Cocktail Appetizer with large Gulf Shrimp, Cara Cara Oranges, and Cathead Vodka (produced in Alabama). Served with endive, sliced cucumber, radish and topped with Salmon caviar.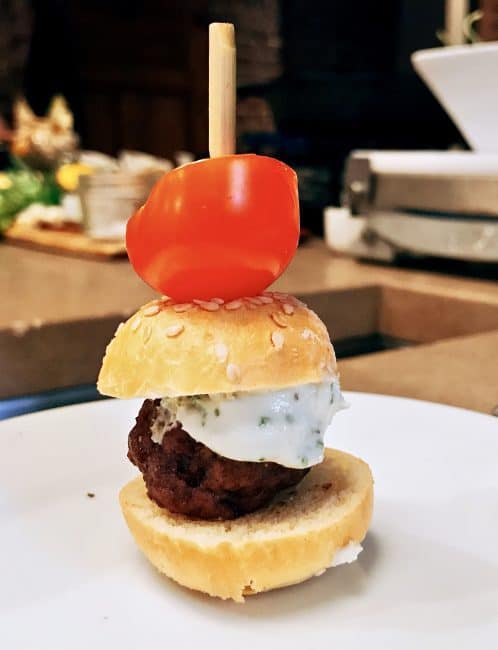 Beef Slider Appetizer featuring local Wagu beef from Whitesell Farms in Northern Alabama, locally grown tomato, goat cheese, and a fresher baked bun.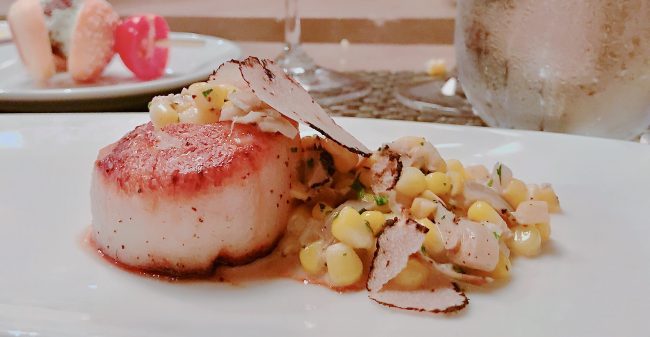 Fresh seared Scallops with early season Florida corn and shaved truffles. (Note: These were graded U8, the largest scallops available on the market. They were approximately 4" in diameter)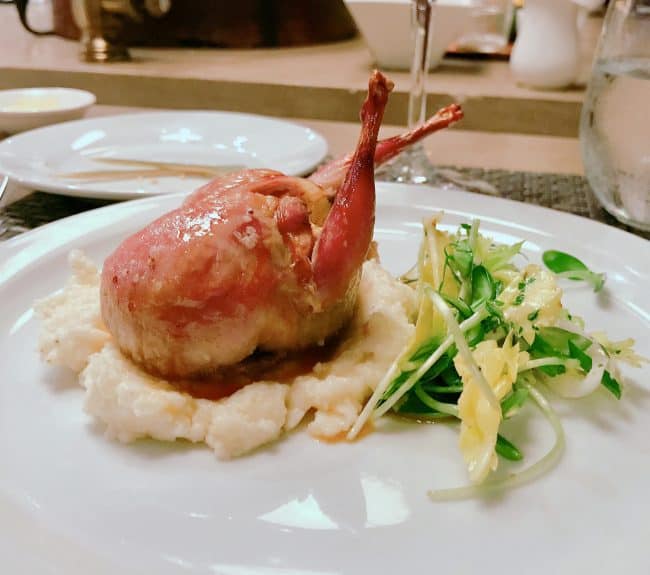 Stuffed Quail with Andouille Sausage served over grits with an apple reduction, Salad with celery leaves, fresh, locally grown sunflower sprouts, and light vinaigrette.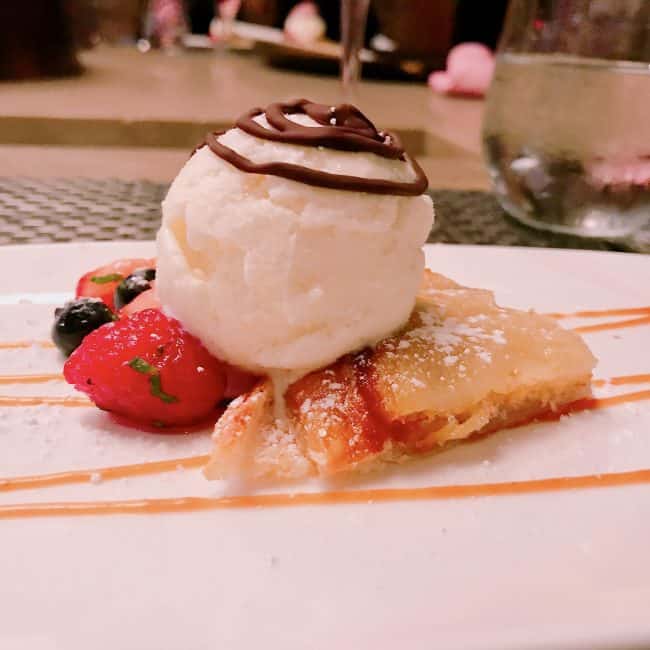 Pear Tart with Bourbon Caramel sauce with fresh berries and vanilla ice cream.
Whether enjoying a meal in the main dining area or in one of the special meeting rooms, diners will experience food that they will truly enjoy and tell their friends about. During our visit, each dish was better than the last. With a table full of travel and food writers, the room fell silent as each dish was served. I can think of no better compliment. It was amazing!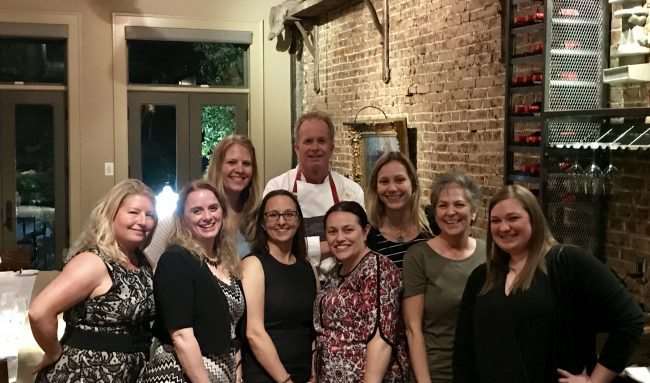 It goes without saying that exploring a city by its food, is a delicious way to travel. I would recommend a visit to Cotton Row when in Huntsville. If you are looking for a culinary adventure, sign up for their monthly cooking class. Either way, you will enjoy the best Huntsville has to offer.
Cotton Row Restaurant
100 South Side Square
Huntsville, Alabama
http://cottonrowrestaurant.com
A huge thank you goes to Cotton Row and Chef James Boyce for hosting us for dinner.