Whether it's a jellied sauce or cranberry chutney, like this one, Thanksgiving dinner isn't complete without some type of cranberry sauce. Now you won't catch me serving a a canned cranberry sauce anytime soon. After you try this recipe, neither will you!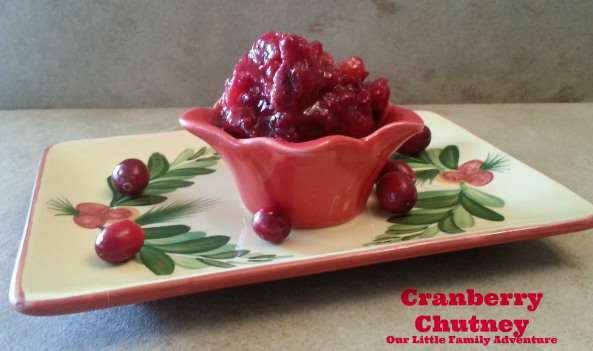 Although a canned cranberry sauce does have those molded rings that some family members fight over, this cranberry chutney is loaded with bits of orange, nuts, and raisins. If you don't want anything overly sweet, you'll love this recipe! It's a little on the tart side and loaded with great flavor that is perfect for Thanksgiving turkey, chicken, or other dishes.
We've cut back on using white sugar in our house, so, local honey is used as the sweetener. You can substitute equal amount of white cane sugar if you prefer not to use honey.
Cranberry chutney is great for more than just a side with your Thanksgiving meal.
Spread this on bread then layer with sliced ham and swiss cheese to create an amazing panini.
Place chutney on to of warmed brie cheese and serve crackers or toast points.
Spoon over ice cream or yogurt.
Cranberry Chutney
Ingredients
12 ounces of fresh cranberries
1/2 orange, skin and seeds removed, chopped
1/2 cup chopped pecans
1/4 cup golden raisins
1/4 cup apple cider or apple juice
1/2 teaspoon ground cinnamon
1/4 teaspoon ground ginger
1/4 cup honey
Instructions
Combine all ingredients together in a medium saucepan.
Bring to a boil over medium-high heat.
Reduce heat to medium and cook 15 minutes or until cranberries pop and the sauce starts to thicken.
Remove from heat and cool completely.
Can be served cold or at room temperature.
How do you like your cranberry sauce (sweet, tart, chunky, etc)? What do you like to serve cranberry sauce with?