When you can't get away and travel the world, trying new flavors and cuisines is the next best thing. Moroccan food is a richly aromatic cuisine featuring a variety of spices and dried fruits. Saffron, cumin, coriander, and ginger are distinctive flavors found in many Moroccan dishes. These spices are not spicy hot, but bring out the best flavors in food. This Moroccan Chicken with Apricots and Chickpeas features those amazing flavors and combines them into a wonderfully fragrant dish that will have your mouth watering before you can get dinner on the table. Creating this dish in a crock pot makes the meal almost effortless and ideal for a busy family.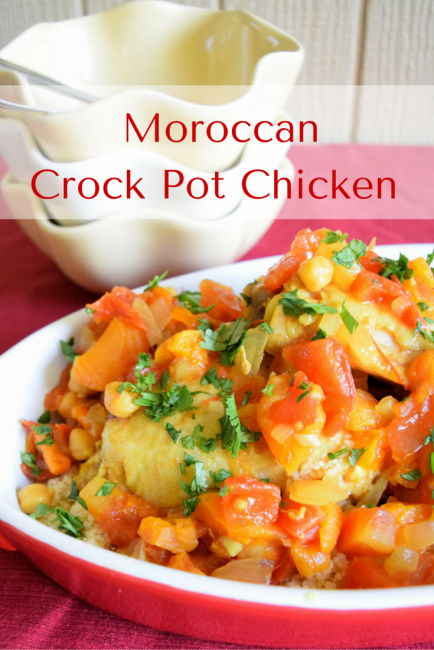 We started back to school. This is our 8th year of homeschooling. It seems like only yesterday that we were starting out green and a little wet behind the ears. This year, we're spending more time on geography and history. So every month or every few weeks, we'll be studying a new country or region. That study wouldn't be complete with learning more about its food. To start us out, we travel to Morocco and this Moroccan Chicken with Apricots and Chickpeas.
Morocco is located in northwestern Africa along the Mediterranean Sea. Its food is heavily influenced from Andalusia Spain (directly to its North), Arabia, and other countries along the Mediterranean Sea. Because it borders the water, seafood appears often in foods, as does lamb and poultry. The midday meal is the main meal, except during the holy month of Ramadan. Meals usually begin with salads (hot and cold) and are followed by a tagine or a stew. A tagine is a clay pot with a cone shaped lid. Flat, round Moroccan bread is served at every meal and is used as a utensil. Plus it's not uncommon for people to eat with their fingers. Your kids will love eating an authentic Moroccan dish with their hands.
I don't have a tagine, but I have found that using a crock pot is a good substitute, especially for this dish. You can set all the ingredients in the crock pot in the morning, turn it on, and forget about it. When you are ready for dinner, the chicken is fork tender, falling off the bone, and dinner is ready to go. But I will warn you that when this dish is cooking, your house will have the MOST delicious smell! The mix of fragrant spices is so hard to resist. We find it really hard to wait for dinner time, when we make this dish. You'll often find us sneaking a bite here and there before dinner.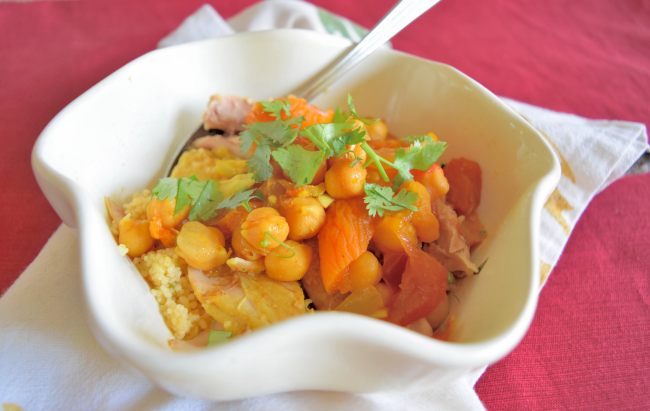 For an authentic Moroccan meal, serve this Moroccan Chicken with Apricots and Chickpeas with flatbread (Naan or pita will work) and couscous. Couscous is a fine wheat pasta that cooks up in just 5 minutes. To serve, mound couscous onto a large platter or serving dish and top with the cooked chicken and some of the cooking liquid. Garnish with fresh chopped cilantro. If you want to go gluten free, you can substitute white or brown rice.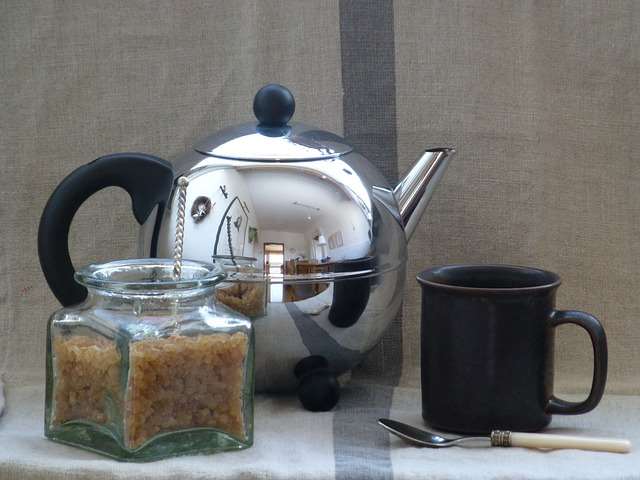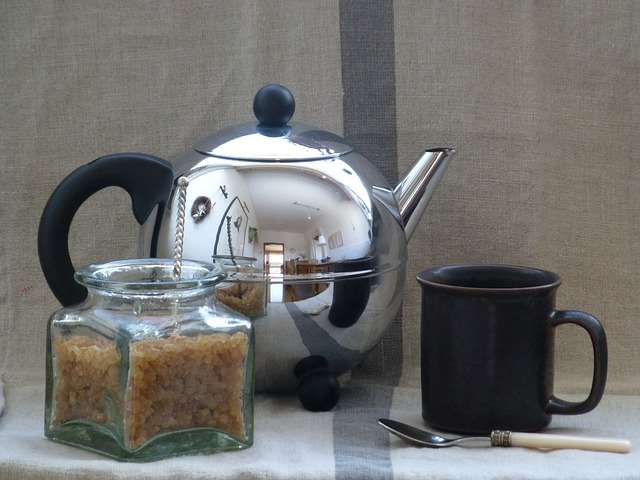 Serve with a tradition pot of fresh mint tea and your meal is complete.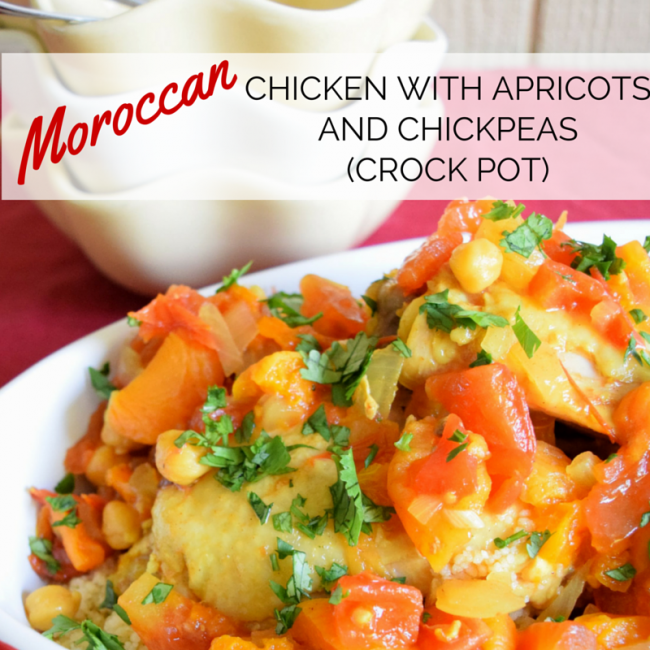 Yield: 8
Crock Pot Moroccan Chicken with Apricots and Chickpeas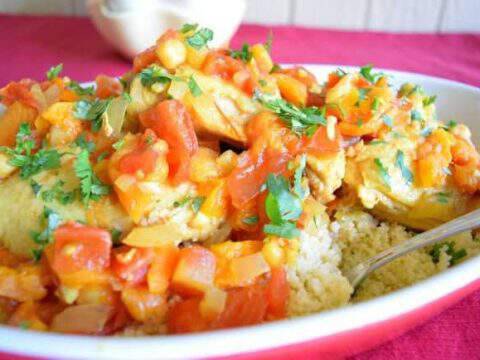 An amazingly aromatic dish with spices, chicken, and dried apricots. Served over couscous and flatbread on the side, this meal is delicious and sure to be a new family favorite.
Total Time
4 hours
5 minutes
Ingredients
4 chicken leg quarters, cut in legs and thighs (about 1.5-2 pounds)
1 large onion, chopped
2 carrots, chopped
1 cup chicken stock
4 cloves garlic, chopped
1 teaspoon ground ginger
6 ounces dried apricots
3 tablespoons tomato paste
4 cups chopped tomatoes
3 cups cooked chickpeas
1/4 cup honey
Pinch of saffron
1 teaspoon turmeric
1 teaspoon ground coriander
1 teaspoon ground cinnamon
1 teaspoon ground cumin
Pinch of cayenne pepper
1 teaspoon salt
1/2 teaspoon black pepper
To Serve
2 tablespoons chopped fresh cilantro for garnish
4 cups cooked couscous
Instructions
Add all ingredients except for chicken, cilantro garnish, and cooked couscous to the crock pot. Stir to combine.
Add chicken and be sure chicken is covered with liquid. If not, add enough water to cover.
Cook on high for 3 to 4 hours or low for 8 hours.
To serve: Place couscous on a serving platter or wide bowl. Top with chicken and some of the cooking liquid. Top with freshly chopped cilantro.
This is one of our new family favorite meals. You can be sure to see it a few times on upcoming
clean eating meal plans.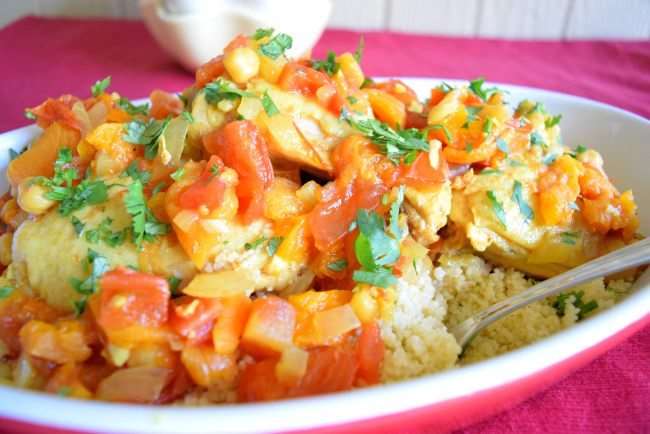 What is your favorite Moroccan Dish?