The kids have been hard at work for their upcoming craft fair. This week, we've been busy making English Toffee. This recipe is one I have used for years. Toffee is a very easy candy to make. I didn't realize how easy until the kids and took a tour of a toffee candy in Palm Springs. This recipe contains only 7 real food ingredients and it tastes yummy. You'll want to make a double batch because one is NEVER enough!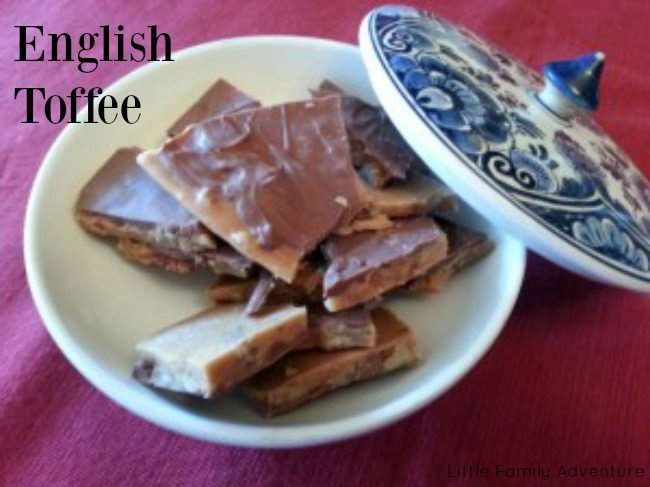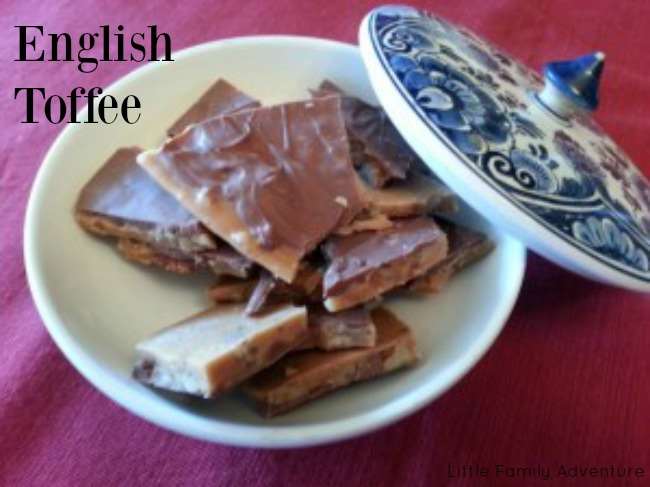 English Toffee is great eaten all by itself or you could crush it up and use as an ice cream topping, in layered brownie trifle (brownie, chocolate mousse, crushed toffee, whipped cream, repeat), or any other thing your heart desires. The toffee is a favorite among our friends and family to receive as a holiday gift.
Make a batch your someone you love or just to sit back and enjoy it all yourself.
Yield: 30 pieces
English Toffee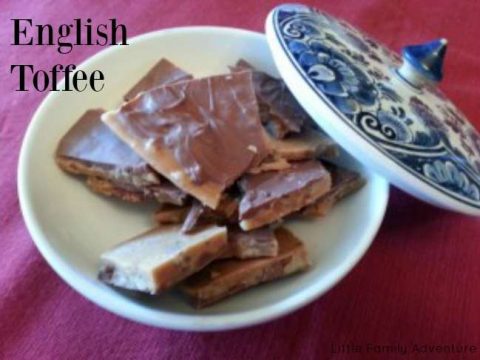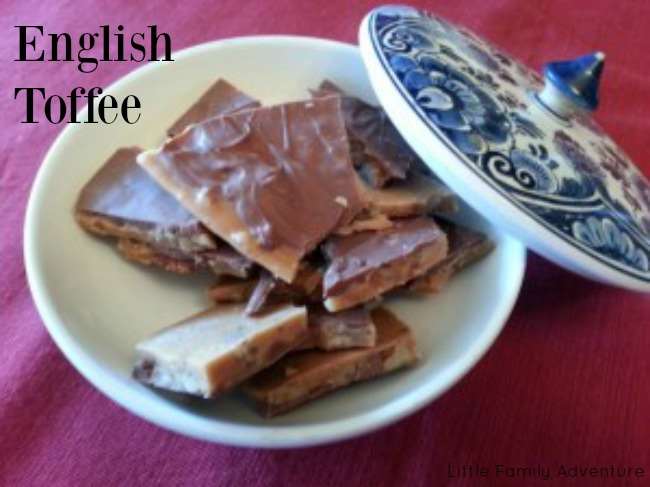 Ingredients
14 Tablespoons ( 1 stick plus 6 Tablespoons) butter
1 cup sugar
2 Tablespoons water
1/2 cup chopped pecans
1 teaspoon pure vanilla extract
Pinch of salt
6 ounces of semisweet chocolate ships or chocolate bars
Instructions
Butter a cookie sheet generously.
Put butter, sugar, and water in a heavy pan over medium high heat. Bring to a bubbling boil, stir constantly with a wooden spoon, about 10 minutes. Remove spoon from pan and cook to brittle stage (300 degrees F on a candy thermometer).
Remove from heat and stir in nuts. Stir in vanilla and salt.
Pour onto greased cookie sheet and spread to 1/4 inch thickness.
Top with chocolate chips or chocolate bars. Allow to melt slightly and spread as it melts.
Cool completely in the refrigerator or on the counter. Break into pieces once cooled. Store in an airtight container.
What is your favorite kind of homemade candy? Let me know in the comments below.