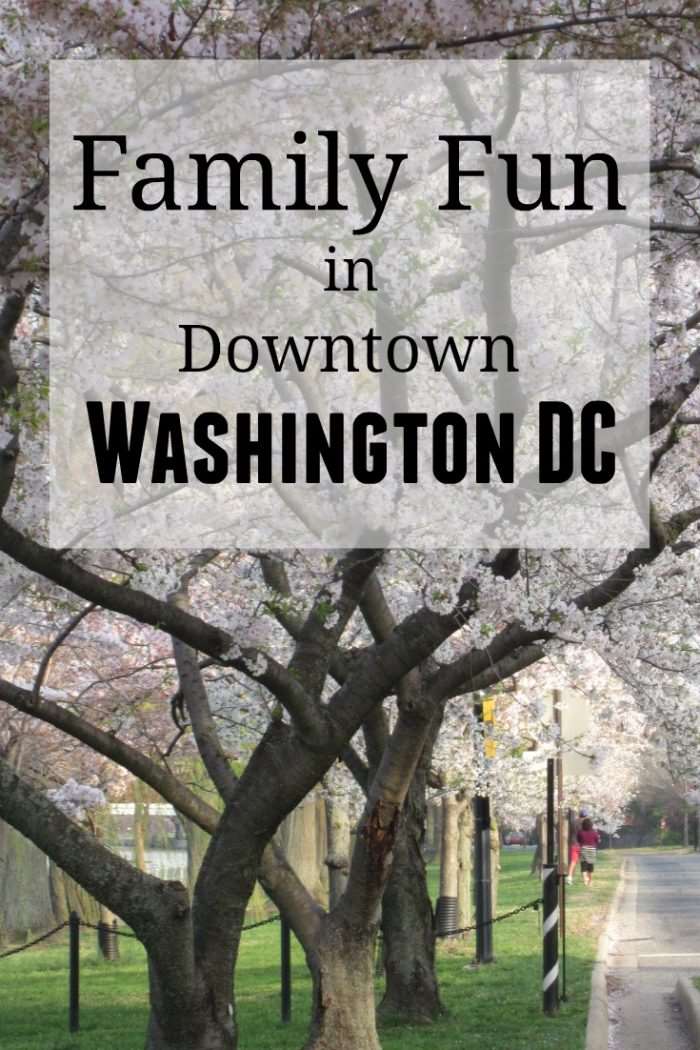 Living right outside the nation's capital means we are close to some of the most-visited landmarks in the world–lucky us! My family, including three tweens, has lived here for 11 years now, and each year we visit a few more places (or revisit some of our favorites). I hope you'll plan a family trip to Washington DC sometime soon, and see my suggestions for family fun things to do in Washington DC. I say "downtown" because as with many cities, the "DC area" encompasses a huge geographical area. If you are actually staying in the downtown area, all of these are within walking distance (or a short Metro ride, if you prefer).
Fun Things to do in Washington DC

The White House
While it is difficult to get inside the White House (you need to schedule far in advance through your Member of Congress), families can explore President's Park and go to the White House Visitor Center. It's still fun to take photos in front of the gate, and it's a memorable experience for everyone.
National Mall
Most kids are familiar with the images of the Washington Monument and US Capitol Building, even if they've never been to Washington DC. Walk along the Mall to see both, ride the carousel, and people-watch. Unfortunately, the Washington Monument has just closed indefinitely because of elevator issues, but keep an eye on the website for information about reopening. Instead of going up into the tower, it is still meaningful to walk around the base and take in its glory. Older kids may enjoy a tour of the US Capitol Building, from Monday through Saturday.
National Air & Space Museum
You'll find 18 of the Smithsonian Museums in downtown DC, but the National Air & Space Museum is our absolute favorite! They've recently renovated Milestones Hall, so it's worth another visit even if you've been there before. Several of the rooms are filled with hands-on activities for both kids and adults to better understand flight science and learn about flight history. And perfect for family travel–all Smithsonian Museums and Institutions have free admission.

View the Memorials
It's actually difficult to get to all the Memorials in just one day, especially true if you're walking with kids. Start with the Lincoln, Roosevelt, Jefferson, and Martin Luther King, Jr. Memorials around the Tidal Basin. Walking further, you'll find the Korean War, Vietnam War, and World War II Memorials. Since the grounds are always open, we prefer to go very early in the morning to avoid both the crowds and the DC heat.
National Building Museum
Kids of all ages will like the National Building Museum, which is devoted to showcasing architecture, design, planning, construction, and engineering–all great STEM topics for kids! If you're bringing little ones, head to The Building Zone, a play and learning space for kids ages 2-6.
Walk the Potomac
No matter what the age of your kids, it's fun to walk along the Potomac River to watch the boats, see planes taking off from Reagan Airport, and play in Potomac Park. It's also the best spot to see cherry blossom trees in the spring. Another option is to take a boat ride from the Georgetown Dock to view the landmarks and monuments from the river.
National Zoo
There are more than just pandas at the Smithsonian's National Zoo! Although that's what they're famous for nationwide, we also love the orangutans and big cats. With free admission, it is fun for all ages, and the site is just beautiful.
This list is just the tip of the iceberg when it comes to family travel in the DC area! There is so much to do, not just within the city but in the surrounding areas of Northern Virginia and Maryland.
Have you visited DC before? What are your suggestions for family fun things to do in Washington DC?