This is a sponsored post written by me on behalf of Ocala/Marion County VCB for IZEA. All opinions are 100% mine.
Just two hours from major cities in Florida, there is a destination you must visit in Central Florida. Ocala/Marion County, Florida offers adventure for every member of your family and more. One day just isn't enough to explore all of the activities and attractions this family friendly destination has to offer. We've put together a fun filled three day itinerary for families to experience when they are here. Whether you have younger children or older ones who want an outdoor challenge, this area of Florida has just what you are looking for. Take a look at these eco-adventure things to do in Ocala/Marion County, Florida.
Outdoor Family Fun Itinerary in Ocala & Marion County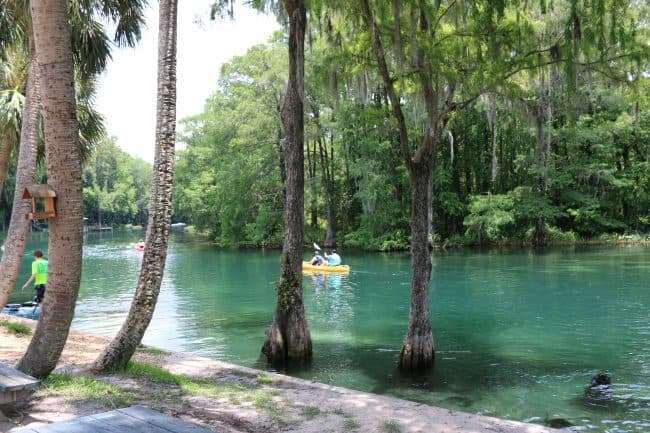 Day 1 : Juniper Springs
Start your trip to Ocala/Marion County, Florida at one of the East Coast's oldest recreation areas. Juniper Springs Recreation Area dates back to the 1930's and is the perfect starting point to explore the area. This picturesque setting is unlike any other with natural springs that flow from rock crevices and natural pools that are fed by hundreds of fresh water springs.
The whole family will love swimming in the Juniper Springs Recreation Area's natural pool. Kids love seeing all the bubbles come up from the natural springs that feed the pool. The water temperature remains at a pleasant 72 degrees year around and is crystal clear. Bring your snorkeling mask and see what you can find just under the surface.
Pack a lunch and enjoy a picnic outdoors. If you didn't bring a lunch, you can stop in at the rec area store for food, drinks, and ice cream. After lunch, tour the historic Juniper Springs Mill House. Like many things in the area, the Mill House was built by the Civilian Conservation Corps in the 1930's. It is a great example of a corps green energy project. It was constructed to produce electricity for the area while preserving the natural beauty of the area.
After touring the Mill House, set off into the woods for a family hike. Juniper Springs Recreation Area is located inside the Ocala National Forest. This is the second largest national forest in Florida, with over 380,000 acres. There are miles and miles of trails to explore as a family. The statewide Florida National Scenic Trail passes through the recreation area and is just one of the trails you can choose from. A favorite for families is the nature trail that starts near the Mill House and runs parallel to Juniper Springs Creek. During the summer months, take part in one of the interpretive programs that are available.
Alternative for teens and adults – Set a canoe/kayak in and paddle one of the country's best canoe runs. Juniper Springs Run is a 7 mile (one way) journey in crystal clear water from the recreation area to Juniper Wayside park. It's not for a novice, but is a MUST for those with paddling experience. The 4.5 hour trek winds through the Ocala National Forest past hardwoods, palms, and wetlands. Along the way spot local wildlife like alligators, turtles, deer, raccoons plus many different bird species. You may be lucky enough to see a river otter, so be on the look out. If you don't have a canoe or kayak, you can rent one from the recreation area.
After a long day outdoors, head back into Ocala for dinner at one of the many local restaurants. If you are looking to do a little shopping before dinner, the Historic Downtown Square in Ocala has a little bit of everything. From antique stores and boutiques to gift stores and more. You will find great recommendations at Florida Travel.

Day 2 Horse Capital of the World
Ocala/Marion County is famous for being the "Horse Capital of the World". The area is home to over 70,000 acres of thoroughbred breeding and training farms. There are more horses here than anywhere else in the country. Today we'll spend the day with horses and a few other furry friends.
With so many horse farms in the area, take a farm tour and see these majestic creatures up close. If you find yourself in the area on a Wednesday, Friday, or Saturday, take the 2 hour guided tour at the Gypsy Gold farm at 10am. They are the home of America's 1st Gypsy Vanner Horses. Kids will love to learn about these horses, do a walking tour of the farm, offer the horses a treat, and see the other farm animals that call Gypsy Gold home. If you would rather take a self-guided tour, head to Ocala/Marion County Activities.
If you'd rather go horse back riding instead of just touring a farm, choose from one of several trail ride operators in the area. Cactus Jack's Trail Rides is just one in the area. They take visitors across acres of trails on the Cross Greenway Trail System. The Greenway Trail System is a great ride with it's mostly shaded trails. Rides are very scenic and offer countless opportunities to spot local wildlife. Most trail rides can take children as young as 6 years old.
Have lunch in the area before heading to a different type of animal encounter at Endangered Animal Rescue Sanctuary (EARS). On Wednesdays and Saturdays at 1:45pm, this not-for-profit organization offers guided tours of their 35 acre sanctuary. Their goal is to provide permanent homes for unwanted and/or abused endangered animals. You will see endangered big cats like tigers, bears, monkeys are more! You are not allowed to touch the animals, but it can be an educational experience for the whole family.
After dinner, take the family to do something you haven't done in years, but probably grew up doing. Watch a double feature at the Ocala Drive-In Theatre. Let the kids dress in the pajamas, grab some buttered popcorn and enjoy a movie any night of the week.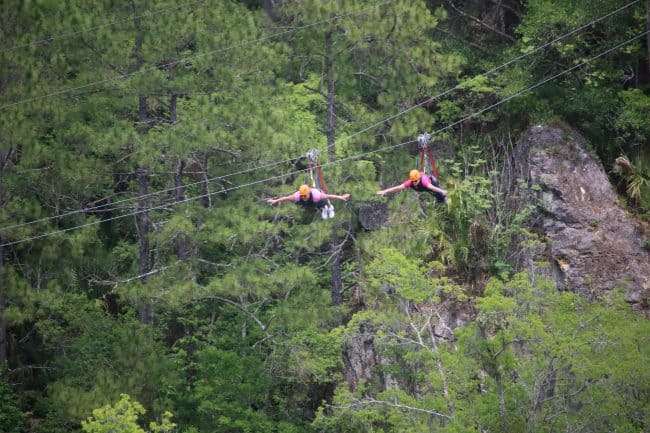 Day 3 More Adventure Awaits
On your third day in Ocala and Marion County, there is still more adventure that await you. Since many travelers will be leaving early on this day, here are a few suggestions based on the type of activities you'd like to do until about mid day or early afternoon.
If you aren't too tired, head to the Santos Mountain Bike Trails for some mountain biking. There are over 80 miles of unpaved trails that are color coded on difficulty level; easy to extreme. Riders of all skill levels can find a fun trail that's right for them.
If you'd rather soar through the air this morning, head to Canyons Zip Line and Canopy Tours instead of the trails. The zip lines here are the longest, highest and fastest in Florida. Plus it's one of the longest zip lines over water in the U.S. You and your family will get breathtaking views as you glide through treetops and water. You can do a full zip and canopy tour with 9 zip lines, 2 rope bridges, and a rappel or do their Canyon express with just a little less adventure. But is you want to go BIG, opt for the Super Zip, a 1/4 miles adrenaline fueled experience.
If you didn't get enough water or hiking time on this trip, head to Silver Springs State Park. Visit one of the largest artesian springs ever discovered and a popular destination year around. Here you can go kayaking or take a glass bottom boat ride. The park is home to numerous trails but the most popular are the River Trail and Swamp Trail. Both are fairly easy and make a great last day hike.
Where to stay in Ocala/Marion County
There are over 4000 rooms in area ranging from campgrounds to deluxe accommodations. Campers love the Juniper Springs Campgrounds which is one the oldest campgrounds in the state. It's also one of Reserve America's Top 100 Family Campgrounds in The United States. Many campsites are shaded which is a plus if you are here in warmer weather. If you are looking for more modern amenities, the area offers a variety of lodging from cabins and Bed & Breakfasts, to hotels and vacation rentals. Whatever your vacation style or budget, you will find it here. Visit Ocala/Marion County Lodging to see what is available.