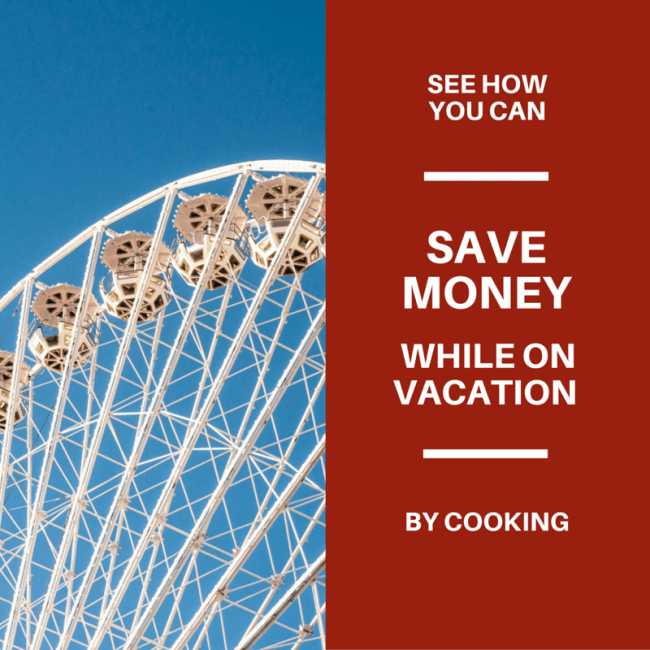 How can I save money on travel?
Family vacations are essential for families like ours. With all the hectic hustle and bustle of the everyday, it's good to get away, recharge, and spend quality time together. But vacations can come with a large price tag! So we have to ask ourselves do we not go or are there ways to save money on vacation? The first option really isn't one because if there is a will, there's a way. So it's #2 and I have a really easy tip to help with that.
After lodging and transportation, food costs are the third largest expense for most any family vacation. Eating out breakfast, lunch, and dinner over several days QUICKLY adds up. Plus lower budget dining options are NOT the healthiest foods available. Low quality fast food is cheaper, but you may not be feeling at the top of your game afterwards. No one wants to feel sick on vacation. So instead of paying for junk or breaking the bank, cook while on vacation. Let me show you how easy it can be to cook and save money on vacation.
The Best Way to Save Money on Vacation
Cooking a few meals while on vacation can save you a considerable amount of money. When we went to Florida for 10 days, we saved nearly $600. I'll show you how we did that in a minute because you are probably already saying, "But I'm on vacation. I don't want to cook!" But I'm here to tell you that by planning ahead and cooking just a few meals in your hotel room or vacation rental, you can save hundreds of dollars. To make it easier, I put together a few ideas and a meal planner for you too.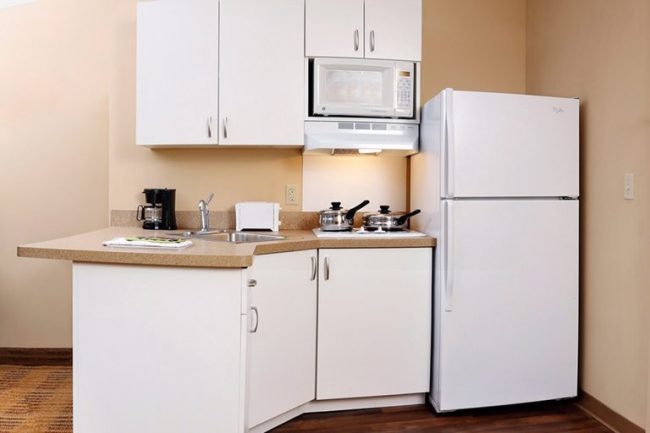 Let's do the math!
According to The Lonely Planet, the cost of a budget lunch is $6-12 per entree. A moderate lunch ranges $15-$30 a person and dinner in a top restaurant may set you up back $30-$50 per person. On the low end, a family of four (assuming half cost per child) to go out and eat will be about $155 per day. Restaurants in and around theme parks like Walt Disney World and Universal Studios tend to be higher than this average. But, for the sake of simplicity, I'll use this average of $155 per day.
Daily Food Budget: $30 for breakfast, $20 for snacks, $45 for lunch and $60 for dinner with tip.
Total Dining Costs for a family of 4, if you ate every meal out, for a 7 day vacation:
(3 meals a day x 7 days x 4 people =84 meals ) = $1085
Cut Your Food/Dining Budget When On Vacation
In December 2016, our family of 5 went to Orlando for 10 days to visit Universal Orlando Resort and Walt Disney World. If we ate out at every meal, that would be 150 meals ( 3 meals a day x 10 days x 5 people). I would have to budget a minimum of $1938 or an average of $12.92 a meal per person for food. That would include an $8 entree, $2 beverage, and $2 tip assuming 20%. In total that's nearly $2000!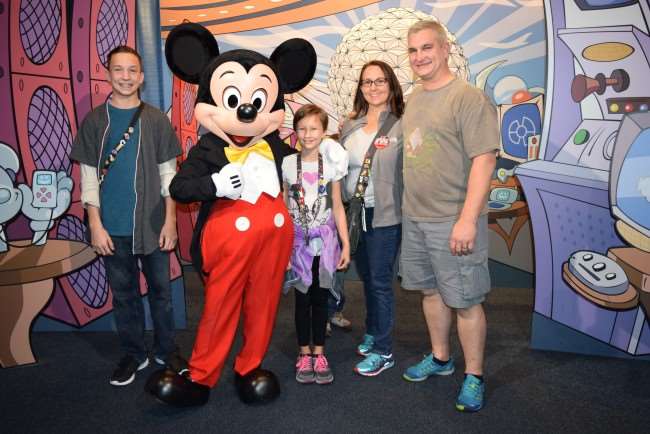 Our Plan to Cut Food Costs
Instead of paying nearly $2000 on meals, we slashed our food costs by more 33%. We planned:
Breakfast in our room 6 out of the 10 days
Breakfast out 4 out of 10 days
Enjoy lunch out every day
Cook in our room 6 out of 10 nights
Dinner out 4 of the 10 days
At home, we regularly shop at ALDI to keep within our food budget. In Orlando, I found an ALDI grocery store nearby, but you could go to most any grocery store to shop at. I spent $120 on groceries. That $120 included all our groceries needed for 60 meals (6 breakfasts + 6 dinners + snacks for 5 people), assorted beverages, and 2 bottles of wine. The average cost for each of our in-room meals came to $2.00 per meal per person. That's A LOT better than $12.92 per meal when dining out.
With that savings, we splurged a little on dining out in the theme parks. We enjoyed 2 dinners that were over $100 each. Our total dining out bill came to just under $1225 for 90 meals ( 4 breakfasts, 10 lunches, 4 dinners, and a few snacks). We could have easily reduced our food costs even more if we opted to go back for more groceries and in theory spent another $120, but we opted to go this route. In the end, our total food costs were $1345 because we ate out 60% of the time. But in the end, we came in under budget with a saving of $593.
Whether you are staying in a hotel room with a microwave and coffee pot or a vacation rental with a full kitchen, I have a few more tips to help you save money on vacation.
Tips to save money on vacation dining
Plan for breakfast in the room every day
For the cost of 1 fast food family breakfast, you can buy the groceries needed for a week's worth of breakfasts. Quick and easy yogurt, whole grain cereal and milk, fresh fruit, and green smoothies can start your day on the healthy side and save you money. These items do not require cooking, so you can enjoy them in your room/condo or on the go.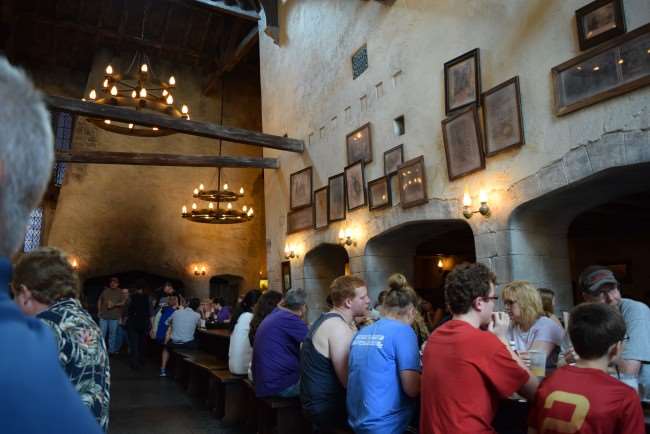 2. Enjoy lunch out
Pack a lunch and take it with you to save money. When on vacation, we opt for dining out for lunch instead of dinner. Lunch menus are usually less expensive than dinner and many restaurants offer lunch only specials.
3. Cook dinner
After a full day of fun, it's nice to go back to your room and relax. Enjoy yourself and avoid spending hours waiting for a restaurant table. Plan for a light dinner with quick and easy meals like pasta, stir fry, entrée salads. All will have you eating healthier, like you do at home, and not feel like you are spending all night in the kitchen. You are on vacation after all, enjoy it! Throw in a pizza night too. The kids will love it!
4. Shop at a grocery store away from tourist areas
Shopping in a more residental area can save you a lot of money. Stores near resorts and theme parks tend to charge more money for the convenient location.
5. Bring light snacks/refillable water bottle with you
Convenience snacks and bottled water at theme parks, attractions, etc. are expensive. Instead of paying top dollar for them, bring snacks and a refillable water bottle with you. Package healthy foods into smaller, snack sized portions and take them with you. A quick snack of sliced apples or hummus and fresh vegetables are a great pick me up and will help you snack healthy. If you choose items that don't need to be refrigerated, you don't have to bring an ice pack. If you do, freeze a juice box the night before and use it the following day to keep items cold and them consume/drink.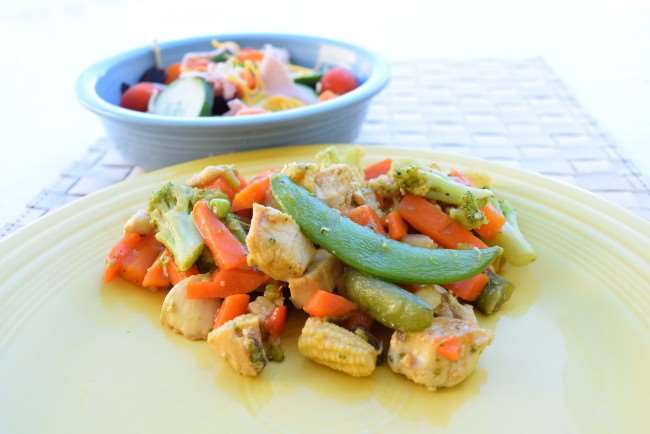 Vacation Meal Ideas
The best way to save money on vacation is to cook and plan to eat in instead of out. Here I have a sample 6 day meal plan for a family of 5 for $120. This menu includes 6 no cook breakfast options that require only hotel mini refrigerator, 3 dinners for can be coked in a microwave, and 3 dinners that need a full kitchen. Note: This is what we had during our 10 day trip to Orlando.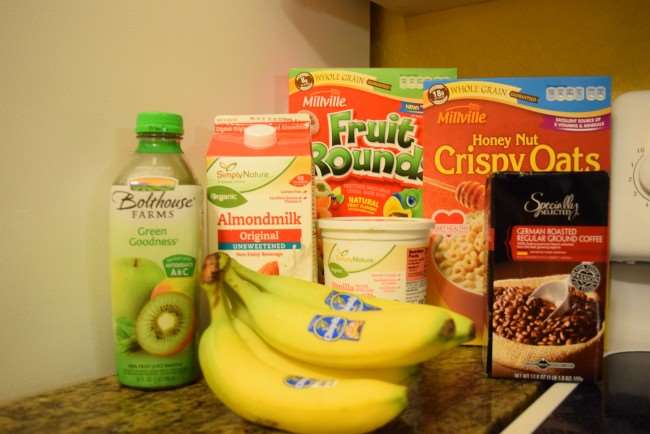 Quick and Easy Breakfast Ideas
Yogurt
Cereal with almond milk
Breakfast fruit rounds/biscuits (not shown)
Fresh fruit
Green Smoothie and Coffee

No Cook Meals Perfect for a Hotel Room
Caesar Salad with Grilled Chicken (pre-cooked)
Chicken Quesadillas (using pre-cooked chicken) with guacamole and salsa
Sliced deli meat and cheeses with crackers or baguette, pickles, olives, and fresh vegetable slices

Quick and Easy Meals with a Full Kitchen (following package directions)
Chicken and Vegetable Stir Fry
Cheese Tortellini & Marinara Sauce with garden salad
Pizza (2 large), garden salad

Healthy Snacks for On the Go
Fruit Snacks (not shown)
Fresh Fruit (apples, bananas, etc.)
Baby Carrots and Grape Tomatoes with Hummus
Assorted Crackers
Caramel Wafers (cookies)
Lemonade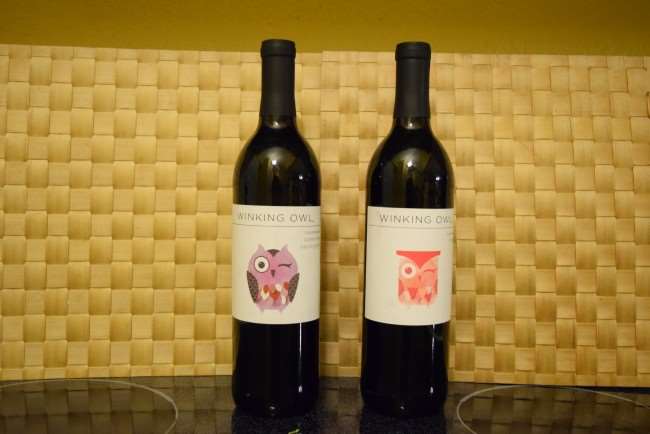 For Mom and Dad – 2 bottles of wine
I spent a little more than I would have spent at home because I purchased convenience products like pre-grilled chicken for the Caesar salad and quesadillas, vegetable stir fry mix, and premade deli pizzas. But the products I chose were free of artificial ingredients and colors.
The next time you ask yourself, "How can I save money on vacation?" remember this tip and plan to do a little cooking on vacation. Find even more money savings travel tips.
How do you save money on food while on vacation?
Tell us in the comments below. We'd love to hear from you!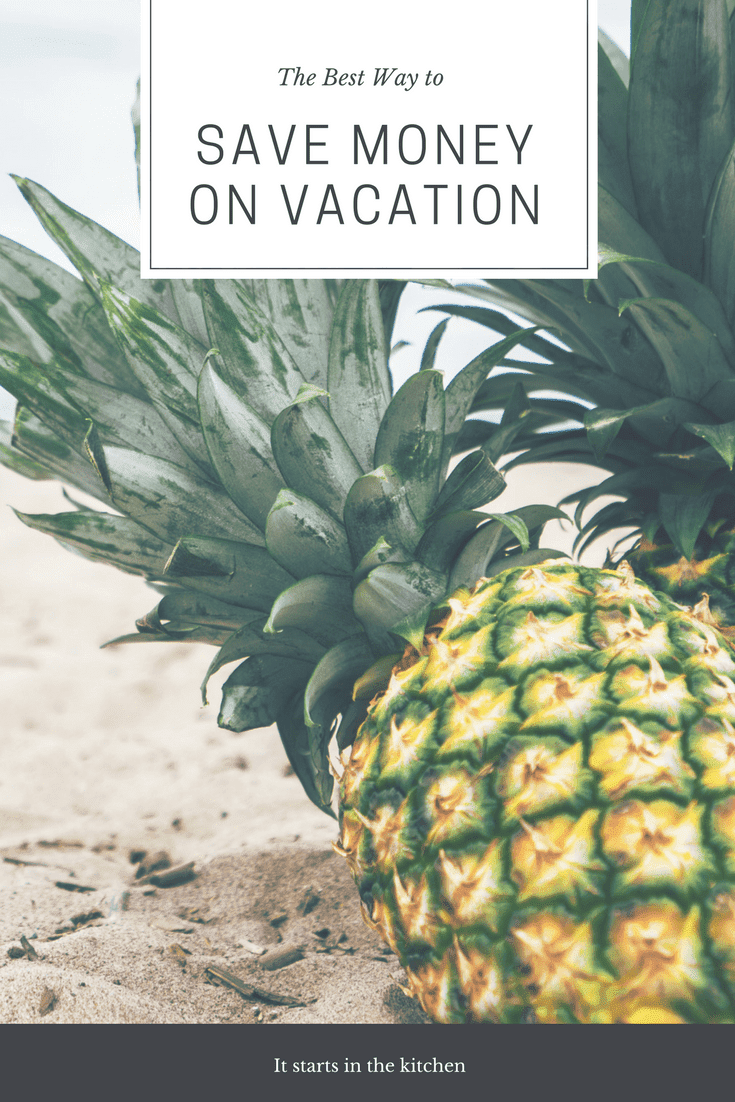 SaveSave