This article on things to do with kids at SeaWorld Antonio is brought to you by SeaWorld San Antonio. This is a sponsored post that contains affiliate links, but all opinions expressed are mine.
Having grown up in Southern California, SeaWorld San Diego has always been one of my favorite theme parks. Now that I am in Oklahoma with kids of my own, SeaWorld San Antonio is a lot closer. Whenever we are down in San Antonio, we like to visit that park.
No matter when you are visiting, planning ahead will help you make the most of your time inside the park. The next time you go to San Antonio, these tips will help you find fun things to do with kids at SeaWorld San Antonio.
Tips and things to do with Kids at SeaWorld San Antonio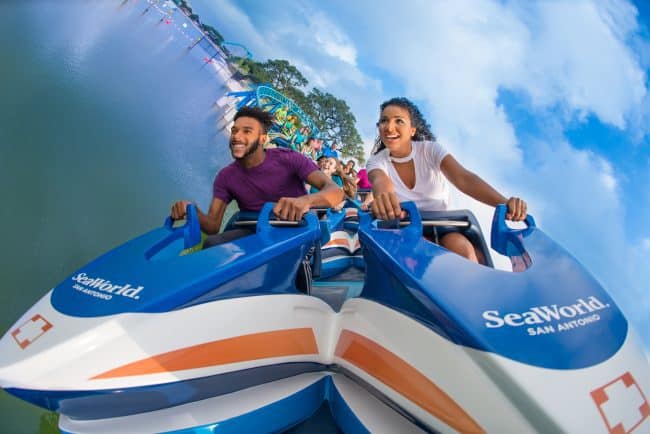 Experience SeaWorld San Antonio's newest ride, Wave Breaker: The Rescue Coaster. Thrill seekers will jump at the chance to join in for this animal rescue themed ride. You'll sit on a jet-ski style vehicle and launch 60 feet in the air before rolling out over the lake.
.
Family Friendly Rides
If you looking for a ride not so daring, grab a seat on the rapids style ride, Rio Loco, or the log flume style ride, Journey to Atlantis.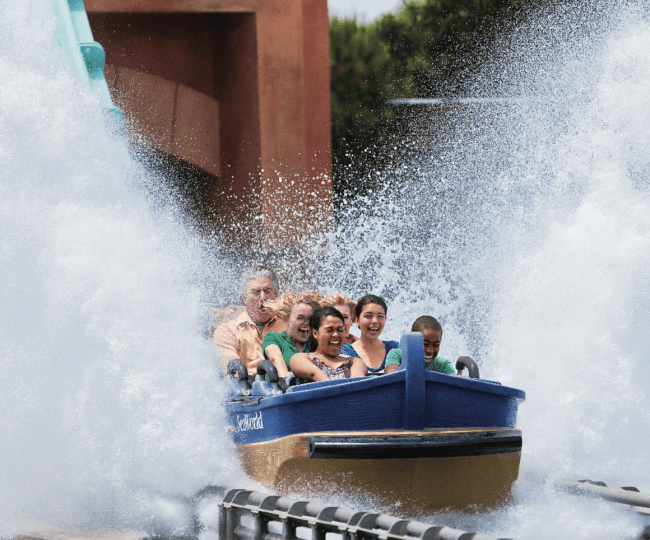 Note: Rental lockers are located near each ride. If you don't have someone to hold your bags while you ride, consider getting a locker rental day pass. It's less expensive than renting individual lockers.
Visit Sesame Street Bay Of Play
For the younger adventurers, plan a visit to this colorful, fun filled play area. Take a break from the Texas heat in Little Bird's Splash, an interactive water play area. If you'd rather stay dry, let the kids climb to their heart's content on the area's multi-level playscape. The area is also home to several family friendly rides like Grover's Round Up which you won't want to miss.
Tip: Afternoons in summer through late fall can get really hot. Bring your swimsuit and cool off in one of the water play areas or nearby Aquatica.
Visit Texas' only Interactive Dolphin Experience
Discovery Point offers guests an interactive experience with dolphins and other marine animals. Make a reservation for the new dolphin swim experience. After learning more about these animals, jump into a wet suit and swim alongside these majestic creatures. Along the way you'll also learn about SeaWorld's animal rescue and ocean conservation efforts with SeaWorldCares.com
If you don't want to get wet, opt for the Dolphin Encounter, an exclusive land tour with an animal trainer. Take a look under the sea at the park's first underwater viewing area. There you'll get a panoramic underwater view of dolphins playing and swimming.
Take the Family to Ocean Discovery
Pacific white-sided dolphins and beluga whales are the stars of this animal show. Like other animal shows, Ocean Discovery is a show that focuses on education. You'll learn all about these marine mammals and their environment.
Get Twice the Fun at SeaWorld and Aquatica Waterpark
There are some fun things to do with kids at SeaWorld Antonio. The ones I mention above are just scratching the surface of the fun you can have. But there is another park you can enjoy, SeaWorld's Waterpark, Aquatica.
Get Multi-Park Flex Tickets to both parks online for just $59 each. You'll get unlimited admission to both parks for 5 consecutive days. Plus a portion of your ticket goes towards SeaWorld's animal rescue efforts.
Tip: The Multi-Park Flex Ticket price is only available online.
Dining at SeaWorld San Antonio
Whether it's a full meal or a dining experience, you can find dining that's right for you and your family.
If you are planning to stay all day in the park, the All Day Dining Deal is a great option. You pay one price and eat all day long.
For a more unique experience, schedule to Dine with Shamu or the Sesame Street Breakfast.
There are so many different things to do with kids at SeaWorld San Antonio. Like other theme parks, plan ahead, get there early, and plan for an adventure you won't forget.