This is a sponsored post written by me on behalf of Dollar General for IZEA. All opinions are 100% mine.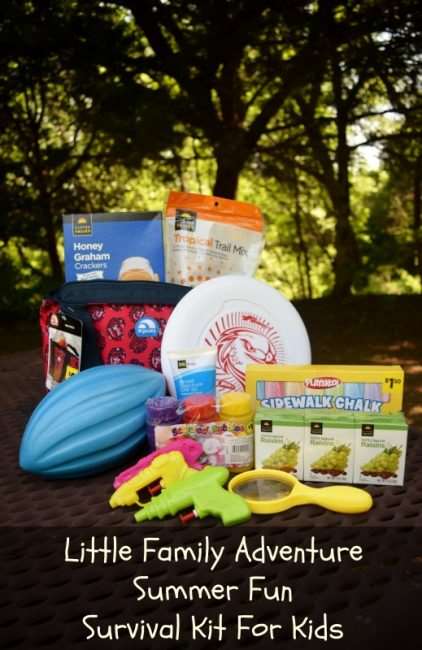 Are You Ready For Summer Fun?
Schools will soon be out for the summer and the kids will be ready to get their vacation underway. You may be wondering how you're going to keep them entertained all summer. I have the solution for you! I've created a Little Family Adventure Summer Fun Survival Kit for Kids to help you out. It's filled with activities, games, and snacks to keep you and your children active all summer long without spending a lot of money.
As a parent, it is important to be prepared. This Summer Fun Survival Kit for Kids helps prevent the dreaded "I'm bored!" and encourages outdoor and creative play. It can be kept in the car and taken to a park, on a road trip, or any place you need to have a little family fun. I was able to find it all at my local Dollar General Store.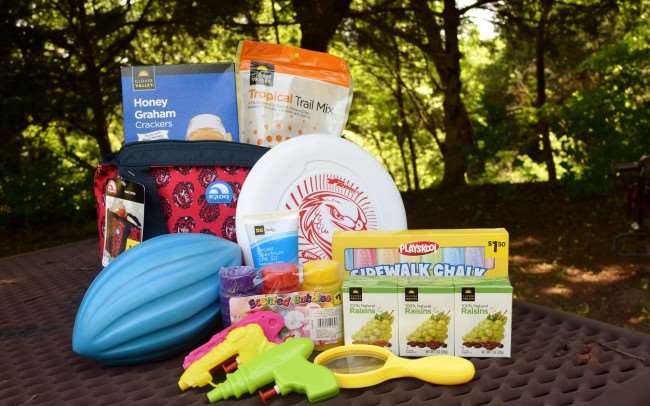 Summer Fun Survival Kit for Kids
Cooler Bag
Frisbee
Football
Magnifying Glass
Bubbles (keep in a Ziploc style plastic bag)
Water guns
Sidewalk chalk
Sunscreen
Snacks -Clover Valley brand Raisins, Trail Mix, and Graham Crackers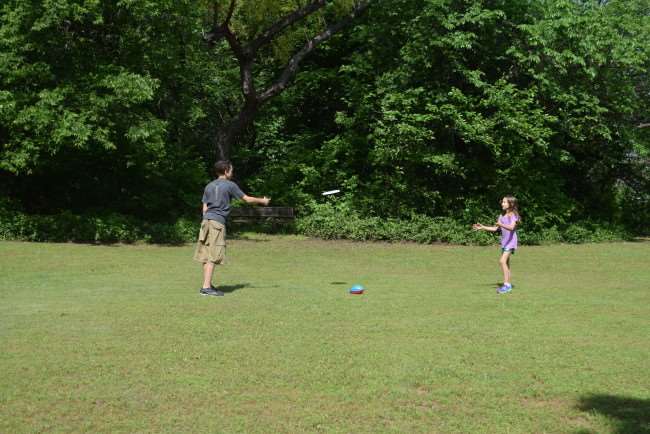 I like to provide toys and activities that can do multiple things. In my kit, I added a Frisbee and soft sided football. The kids can play the standard catch and pass games, but they can also create new games like Frisbee Horseshoes where the winner is the one who tosses the Frisbee the closest to the football. They can also play hide and seek with the football and so much more. They use their imagination to create endless possibilities.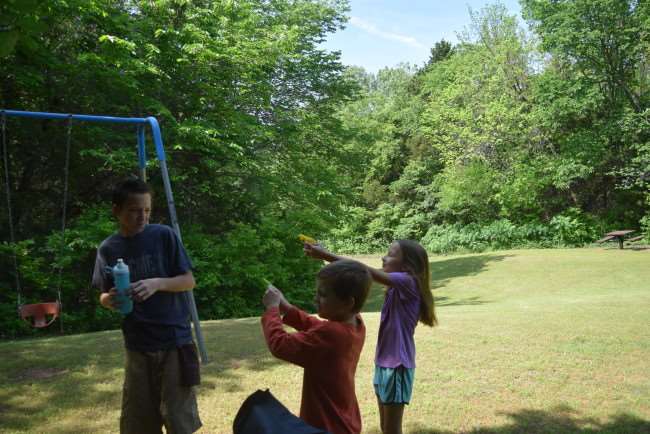 On a hot day, there is nothing better than water play. When you are out and about though, you don't want the kids to get drenched. So, a small water gun is the perfect solution. The kids have a great time spraying water on each other and they dry quickly.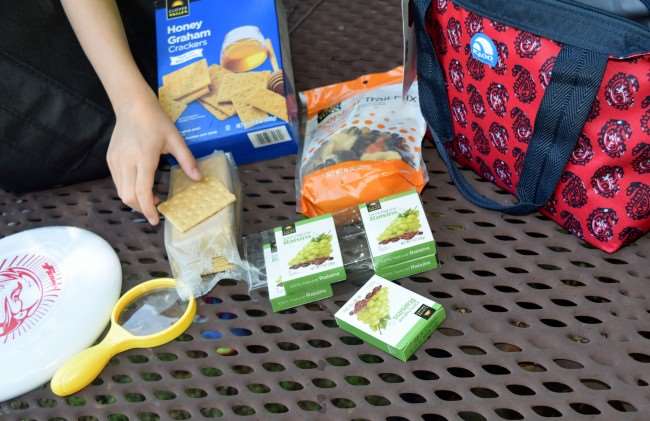 You cannot forget about snacks! I include a variety of healthy snacks in my summer fun survival kit for Kids. I choose items that will keep well in the car like graham crackers, raisins, and trail mix. All are low on added sugar but are great for a healthy snack. Dollar General's private Clover Valley brand is perfect for low cost, healthy snacks.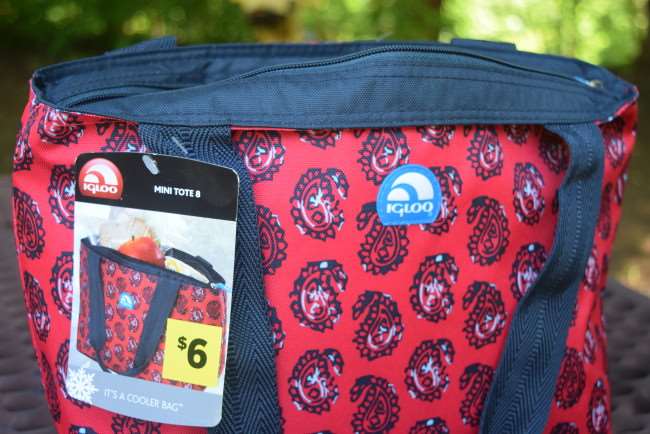 To keep my car clean, I keep my survival kit in a soft sided cooler. A regular bag or container would work too. I just like to have a cooler on hand for cold drinks or foods that we take to the park or on a trip. This way I always know where to find my cooler when I need it.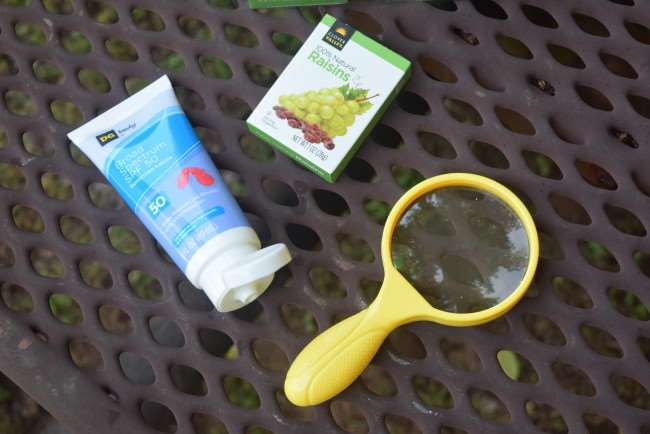 Sunscreen is a MUST have in any summer survival kit. You would hate to get a sunburn went you are out having fun. Since this will be kept in the car, I buy a tube of sunscreen. Aerosol can get too hot when left in the car.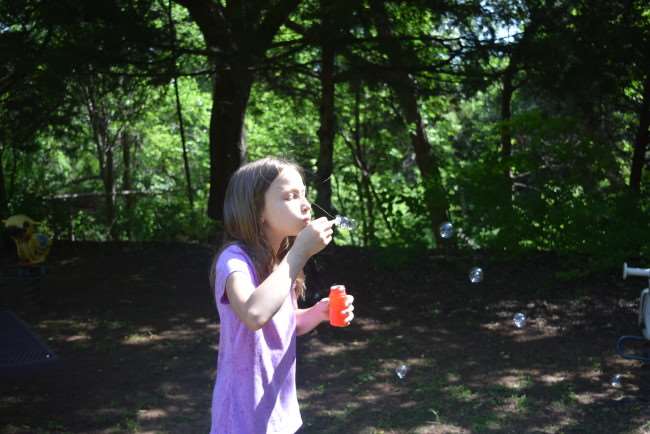 Who doesn't love bubbles? There are a few items in my kit that are good for both outdoor play and boredom busters on rainy days; bubbles, chalk, and magnifying glass. Bubbles are good most anytime. At theme parks, I like to bring small bottles and let the kids blow bubbles while they are waiting in line. It passes the time and everyone stays happy. Sidewalk chalk can be used most places too and can keep kids entertained for hours. A magnifying glass is great when you are inside or out and want kids to slow down and find things. We will play "I Spy" and "Can You Find…", just to name a few. Try it and see what you can find.
Dollar General has everything you need to keep your family busy this summer. I found everything I needed for my Summer Fun Survival Kit for Kids and more. At Dollar General, you can find pool toys and skin care products for outdoor fun, clothing and hats for sun protection, household cleaning supplies to clean up after the kids, and so much more. They even have what you need to get your grill on and host a summer cookout or backyard barbecue. Save on summer essentials with Dollar General! Use their ad deals, shop Dollar General brands (like Clover Valley), and download DG Digital Coupons for even more savings! Find more summer fun ideas on Dollar General's Pinterest page.
Tips to help you create a great Summer Fun Survival Kit:
Include a variety of items that encourage play and get kids active
Include snacks that will not melt or spoil
Use a cooler, bag, or storage container to keep everything organized
Include a few things for inclement weather days
Before the school year ends, get prepared and create your own Summer Fun Survival Kit for Kids. You and your children will stay active and enjoy the summer.
What would you include in your Summer Fun Survival Kit?