Travel north of Montréal to the city of Laval and you'll be so glad you did! When looking for family adventure and active things to do (in Laval) with kids, you'll find plenty to do here. We did!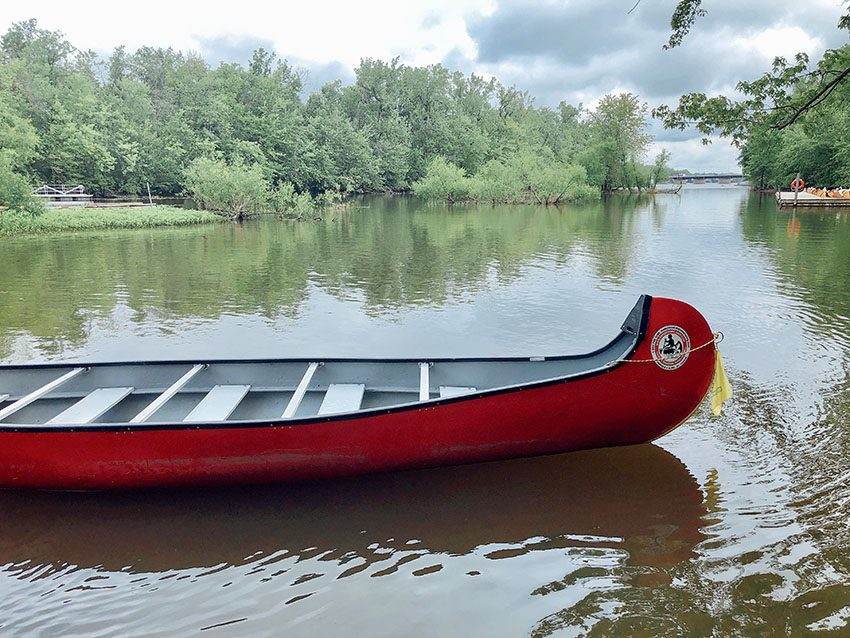 Disclosure: This article is brought to you in partnership with QuebecOriginal & its regional partners. Accommodations and activities were provided for research purposes. All opinions are our own.
Québec, Canada's second largest region, is known as an outdoor adventurers destination. Who can blame them with over 30 national parks here? But when you are in the city, finding outdoor recreation can be harder to find, UNLESS you are in Laval. We found active family fun here both at a local nature park in the heart of the city and local businesses offering everything from family-friendly games to escape rooms.
This summer, my daughter and I took a 5 day trip to Québec, Canada. We flew into Montréal's Pierre-Elliott-Trudeau Airport and traveled north through the beautiful Lanaudière region and back down to the city of Laval. We had so much fun together because each area offers a range of outdoor and indoor activities we both love doing.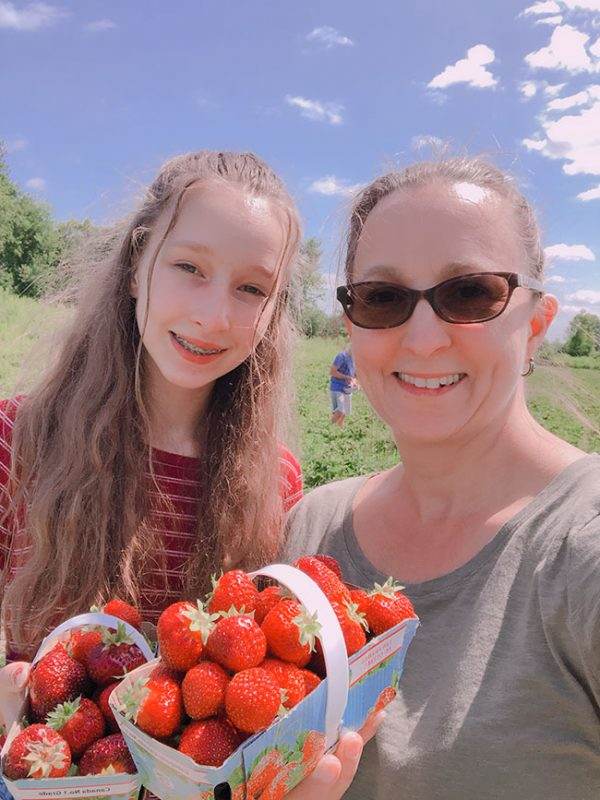 Things to Do in Laval with Kids
Looking for family friendly activities in Laval? There are several can't miss experiences here including the park I mentioned, an indoor climbing gym that offers over 30 themed walls and climbing obstacles, fully immersive escape rooms, and a local business' that took their love of games to build a place where's always Family Game Night. Let me share a few of the Laval attractions we did while we were there this summer. When you visit Laval, here are the places you'll want to take the kids, explore, eat, and stay.
Visit Parc de la Rivière-des-Mille-Îles
In the heart of the city, this urban park, situated along 42 kilometers of the Mille Îles River, is a welcome escape for those looking for outdoor adventure. The park is home for a wide variety of aquatic and land based animals. The park is a great spot to put in a kayak or stand up paddle board. Currents are usually mild and perfect for a family paddle. If you need to rent gear, the park's rental center offers kayak and canoe rentals as well as guided tours are reasonable prices.
Guided Canoe/Fishing Trip
We went out on one of these guided trips to go fishing. After meeting our guide, we suiting up in our PFDs (personal floatation devices), grabbed our paddles and fishing gear, then we all boarded into a canoe. It was a beautiful day to be on the water.
The riverbanks are teeming with birds and turtles. Kids will love seeing all the wildlife. Guides point out what you see and even provide an ecology lesson or two on how this area was cleaned up in recent years. On the tour, we paddled out to Île de Kennedy, one of the many river islands which has a fishing dock. Once there, the guide helped those new to fishing bait their hooks and cast their lines. The river has numerous species of fish ranging from pike to catfish.
My daughter caught a little fish and was released back into the water. Look at that smile! I love how fishing teaches kids patience and perseverance. It is called fishing and not catching after all. But she caught one that day and she was very proud.
Fun Fact: Celine Dion used to own a home along the Mille Îles River. If you paddle out to Île de Kennedy, you'll see it.
Tour the Exploration Center
This summer, the park's new Exploration Center opened to the public. After returning from our fishing trip, we toured the enter's permanent exhibits that educate visitors on the river ecosystem, local fauna and wildlife, and environmental conservation. It is all really well done and educational. One of my favorite areas was the section on how summer travel to the area.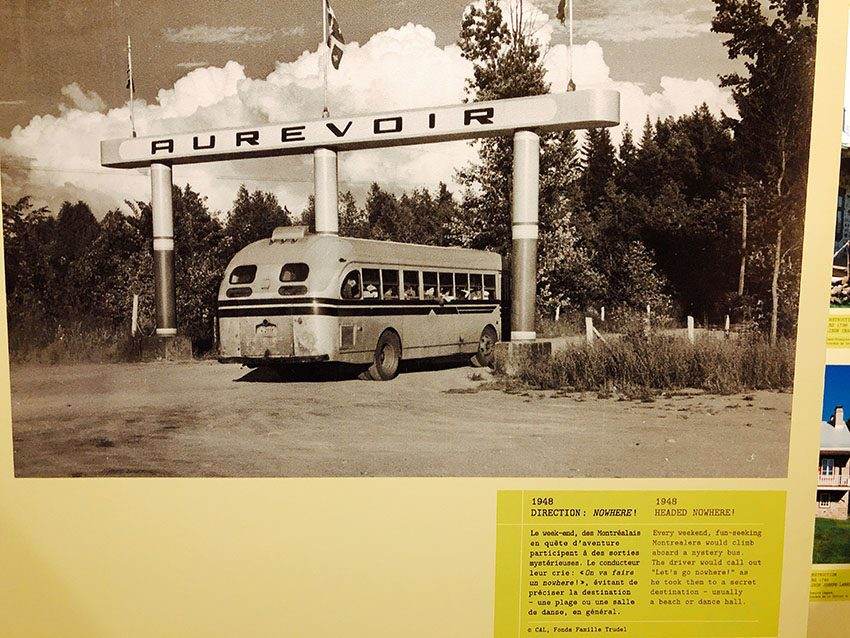 There used to be something called a Mystery Bus. Travelers paid a set fee to climb aboard the bus that was destined for a vacation spot for the day. You didn't know where you would end up until you got there. I love that idea and would welcome the chance to do this today. What about you?
Ferme Vaillancourt (U-Pick Farm)
I don't know about you, but it's hard for us to pass by a U-pick farm without stopping. Berry picking is a fun family activity we all love to do together. We usually eat as many berries in the field as we actually bring home. Yet that's part of the fun!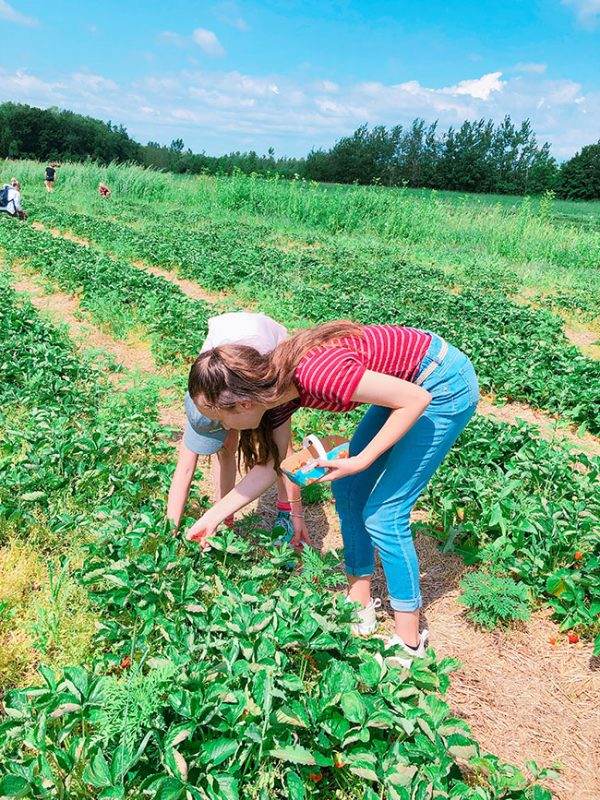 Just a few minutes outside of downtown Laval, you will find this U-pick farm that has been owned by the same family for over 300 years. Park at the farm stand and ride the tractor pulled wagon to head to the fields. There you can pick what is in season like strawberries, raspberries, and other vegetables. The farm stand also sells fresh vegetables, pies, and local baked goods too. It's a great place to pick up lunch or a snack for later.
Clip 'n Climb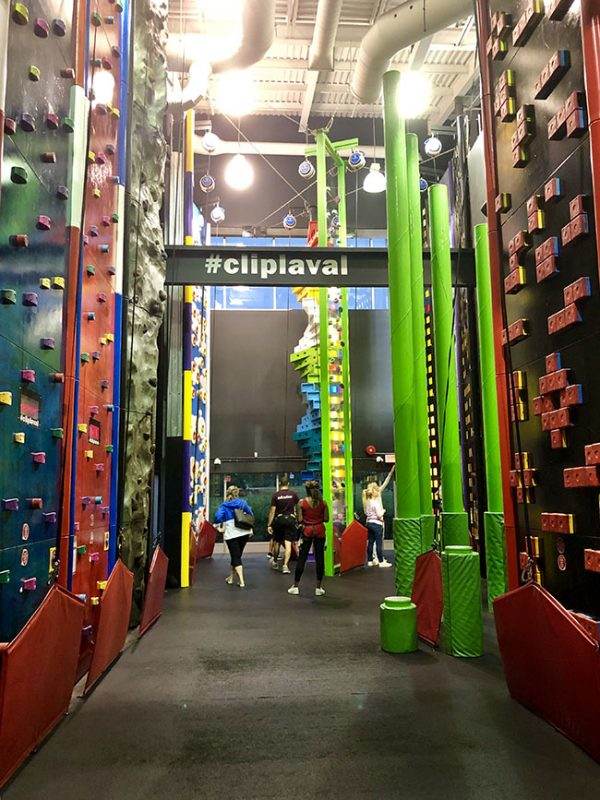 This is the one place where it's okay if the kids climb the walls. Clip 'n Climb is an indoor climbing gym with 34 themed walls offering a variety of climbing difficulties. All walls are on auto belays so you don't have to worry about belaying for the kids. You can all go and climb your hearts out. Test your abilities and race the kids or your spouse to the top of 33 foot tall walls.
Feeling daring? Climb to the top of the 30 foot platform and then jump across to a hanging bag suspended from the ceiling. Then LET GO and let the guide rope lower you back down to Earth. My daughter this one not once but twice! Me? Nah!!! I stayed on the ground and filmed her doing it.
Premier Joueur
This is a never ending Family Game Night. Here at Premier Jouer, visitors pay a small entrance fee and then you can stay all day/night and play over 1000 board and card games.

Not sure how to play a certain game? No worries because staff serves as rule explainer/keeper. They will explain the rules and help start a game as needed. They can also help you pick out a new to you game based on what you like to play, length of games, play, players, etc. We loved trying these three new games:
Bazar Bizarre
Suspend
Telestrations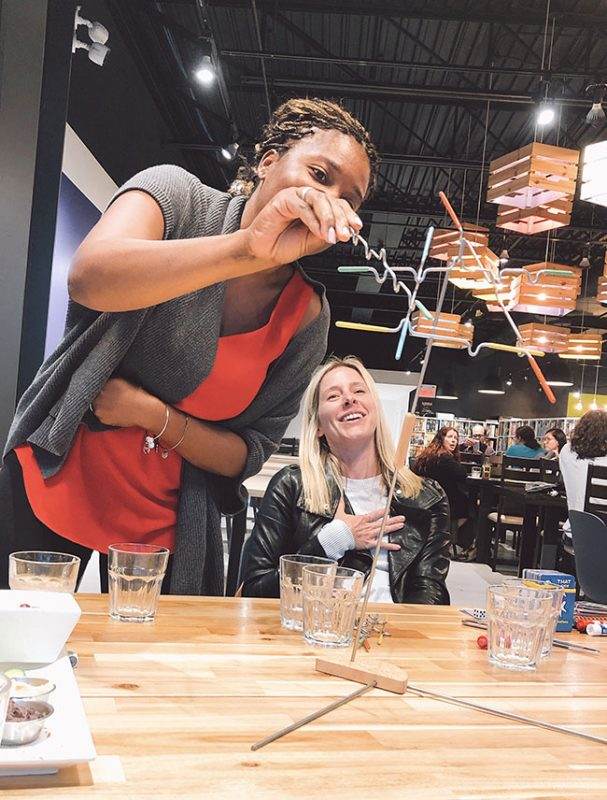 If addition to game play, Premier Jouer offers a full kitchen with pub style food serving everything from salads and pizza to charcuterie boards and nachos.
Escaparium Escape Room
Growing up, I loved playing the game Clue where we tried to figure out whodunnit. Today, kids love solving clues against the clock while inside an escape room. My daughter loves doing escape rooms with her friends and she LOVED Escaparium Escape Room.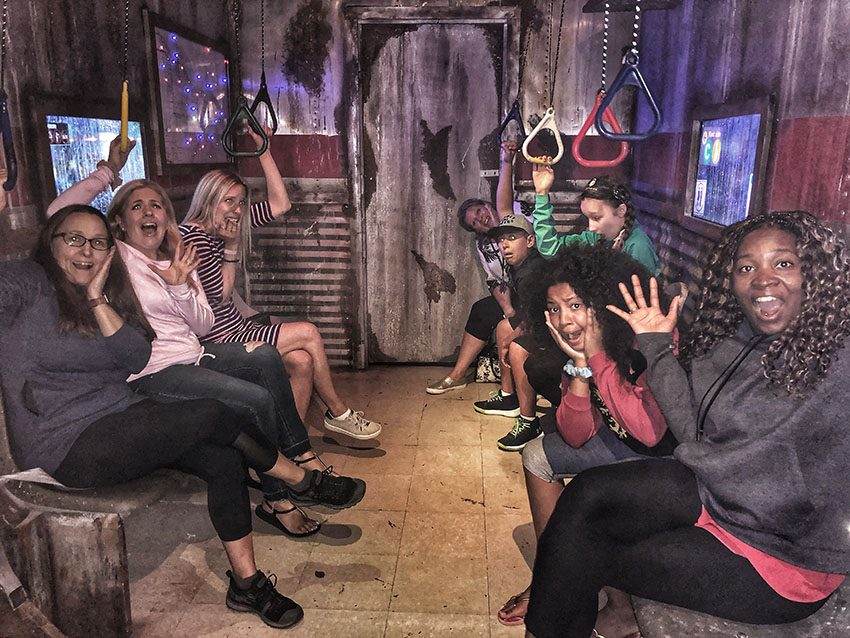 Owned by a husband and wife team that took their love of clue solving and escape rooms into a business. They have traveled extensively to take part in games around North America and brought back their favorite elements here to Laval. The games they offer are fully immersive scenarios including some with virtual reality. We did the game that starts in a subway car that you learn has a bomb onboard. Your goal is to find and diffuse the bomb before the car blows up. We solved it thanks to a few clues. SO fun!!
Attend a Local Event in Laval
Festivals are fun no matter where you are. You'll find events year around here in Laval. In mid July, we visited the Festival des bières de Laval (Laval Beer Festival). This family-friendly annual celebration promotes this regions micro-breweries, science of brewing, and regional food. The festival has live music throughout the event and an area for the kids. There are also workshops, tastings, and more. When you plan your visit, definitely check out the Quebec Original website. for a list of current events.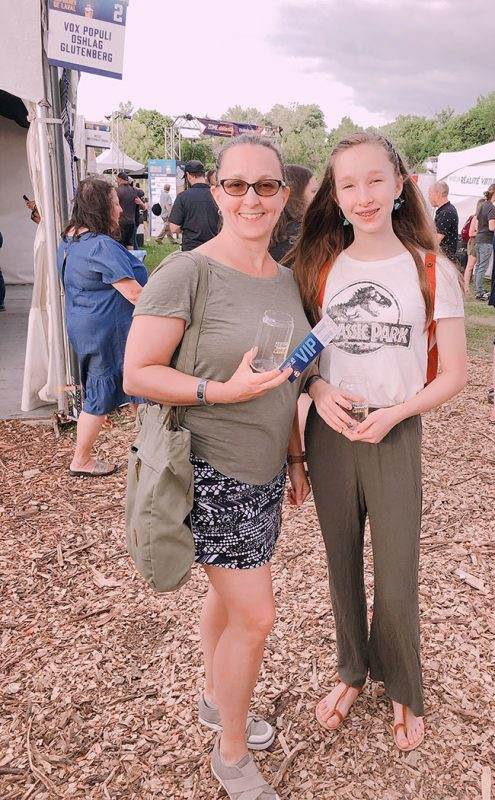 La Bête à Pain
With all this active fun, I am sure you and the kids will be ravenous. I saved my favorite subject to last. Before I end this article on the things to do in Laval with kids, I am going to tell you to enjoy Laval's local restaurants. I couldn't imagine visiting without visiting at least one French bakery. You are in a French speaking province after all.

La Bête à Pain, translated as The Bread Beast, is a must visit in my book. This local bakery has three locations across the area. One of those just happens to be very, very close to the Sheraton Laval where we stayed. You walk in and the smell of freshly baked bread is divine.
Here you can enjoy fresh baked breads and pastries or sit down and enjoy brunch or lunch. We opted for brunch. We had a tasting menu with chocolate croissants, chocolate meringues, yogurt with house made granola and fresh fruit, avocado toast, sausages, roasted potatoes, and seared pork belly. Brunch ended with a chocolate covered brioche for dessert. Divine, simply divine! No matter what you order here, you will love it!
Hotels and Airbnbs near Laval, Quebec
Sheraton Laval

During any city trip, we like to be centrally located. The newly renovated Sheraton Laval is right in the middle of it all. It's next to a shopping area, across the highway from La Bête à Pain, and minutes from all of the attractions/places I mentioned above. This Sheraton property offers 244 wonderfully appointed rooms and 12 suites, indoor heated pool, dry and steam saunas, full gym, and on site restaurant.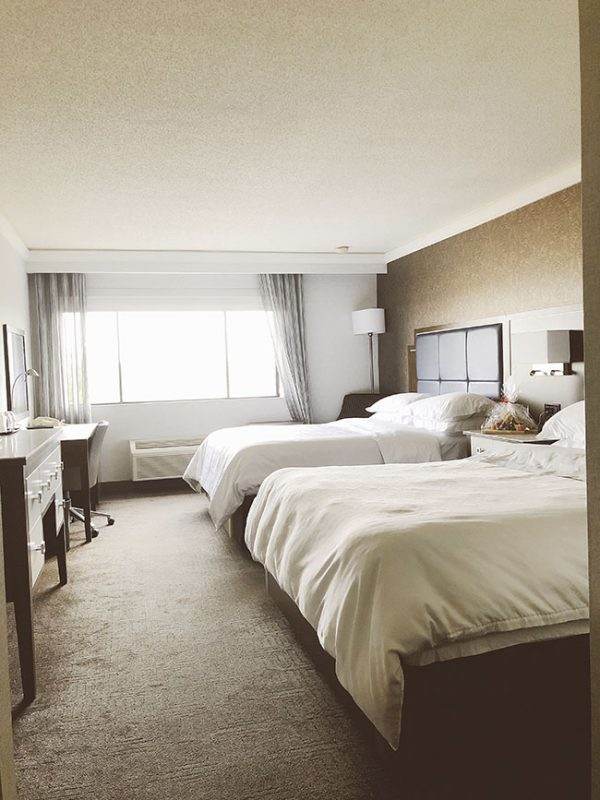 When in Laval, stay here and be close to everything! It's also just 20 minutes from the airport. We enjoyed our stay here because it provided everything we've come to expect from a Sheraton property. We will be back!
These are just a few of the many things to do in Laval with kids. My daughter and I LOVED our trip to Québec over the summer. I appreciated how close all of these attractions were to each other. Although we were in the city, we didn't feel like we were stuck in traffic all day to get anywhere. Best of all, flights in/out of Montréal are extremely reasonable. Many times I see fare notices on Skyscanner and Airfare Watch Dog for less than I can fly within the states. If you are looking for a family getaway, make plans to come HERE. You'll love it.