Vacation Calories Don't Count When Dining at Deer Valley Resort
Honestly and truly, vacation calories don't count when you visit Deer Valley Resort in Park City. The resort and surrounding area are filled with opportunities for active fun where you can definitely work up quite the appetite. You won't be disappointed by the local restaurants serving fresh, local ingredients with a healthy twist. This summer, we were invited to visit Deer Valley Resort and experience the food and summer family fun on the mountain. It's a great family destination you will want to visit too. Keep reading and I tell you the restaurants you'll want to visit on your next trip to Park City, Utah.
How do you like to plan your vacation? For me I start with the destination, then look at food. I check out the local restaurants, their menus, and decide just how much physical exercise I'll need to plan to burn off all those calories. In my mind vacation calories don't count that way. When I say I travel by food, I am really not kidding.
This summer's big #lilfamroadtrip17 adventure took us through Park City and to the Deer Valley Resort. For those of you who are skiers, you may already know of Deer Valley. It's a world class ski destination with, what I'm told is, excellent skiing powder. But being a little snow adverse myself, I was new to the resort and the area. Maybe one day, I'll brave the cold and pick up skiing. Until then, I'll be happy to visit during the warmer summer months.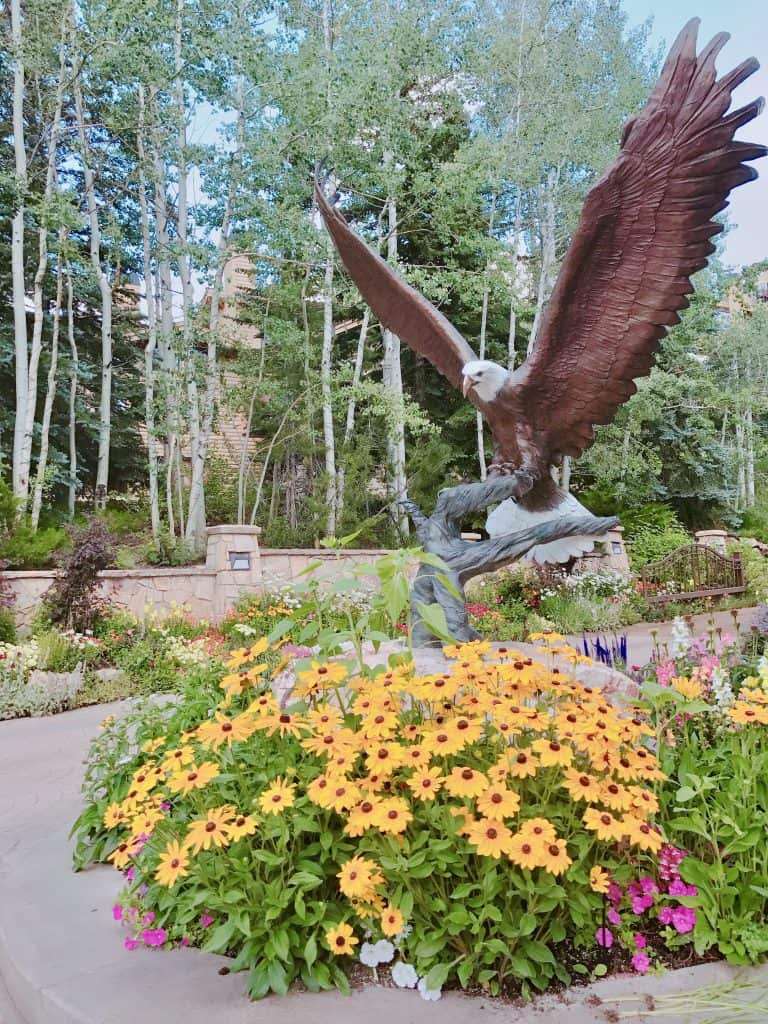 Dining at Deer Valley Resort
One of the highlights for any of our trips is the food. Deer Valley and Park City definitely knocked it out of the park with delicious local restaurants. Whether you are looking to eat in the restaurant, take your meal to go, or just get a quick snack, you'll find it on the mountain. I have three restaurants you'll want to try on property, plus a local favorite you MUST try.
Deer Valley Grocery Cafe
This casual cafe and grocery offers everything from your morning cup of coffee through dinner and dessert. It's located in the Deer Valley Plaza, the same place you will check in when you arrive. The cafe serves breakfast, lunch, dinner, and fresh baked desserts. There is also a vegan menu.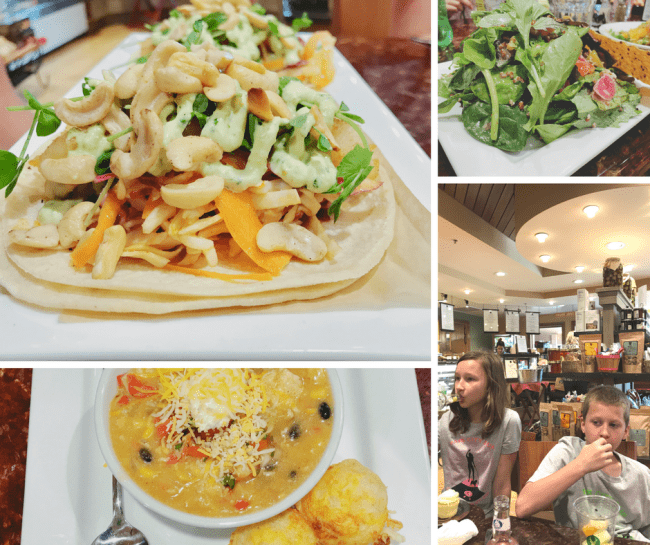 I'd suggest the Shrimp Tacos, Open Face Albacore Tuna Melt, and Turkey Chili, and Copper Moose Farm Mixed Greens salad.
During the summer months, the resort hosts a Sunday night concert that is free to the public. One of the cafe's most popular carry out specials for the concert is their Turkey Chili, Mixed Greens or Caesar Salad, and Corn Muffin dinner.
Royal Street Cafe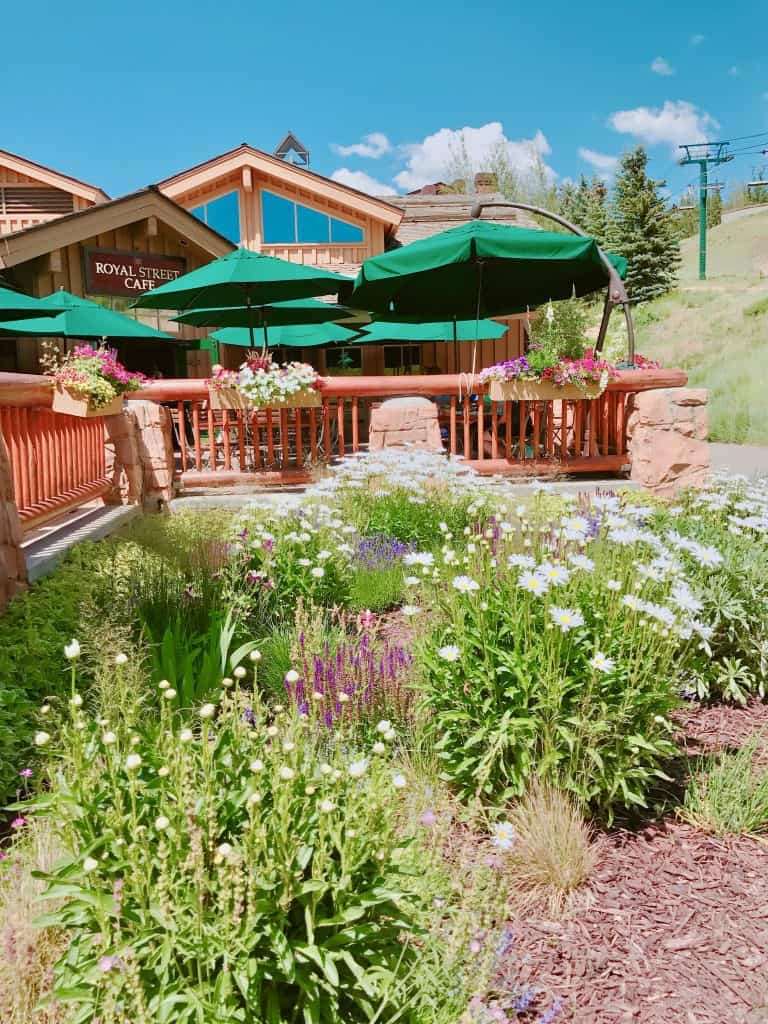 Sitting at mid-mountain, the Royal Street Cafe is a great choice for a relaxing lunch or dinner with a spectacular view. This eatery is located just off the chair lift and offers dining on its deck during summer months. During the winter, head inside for creative cuisine ranging from this popular Dungenes Crab Tower to their Bulgolgi steamed buns. Just be sure to save room for dessert.
During the summer months, this is a great place to grab a bite after mountain biking or hiking. It's location makes it a perfect choice during an active day on the mountain. I suggest you try the Dungess Crab Tower I already mentioned served with wonton chips, Fish Tacos, or the Bulgogi. Really you can't go wrong with anything on the menu.
For dessert, opt for the fresh tart, ice cream sandwiches, or Frozen Chocolate Bombe. The ice cream sandwiches are a HUGE kit with the kids. You get three large sandwiches in each order.
The Brass Tag
Finish off a full day of outdoor activity at the Brass Tag inside the Lodges at Deer Valley.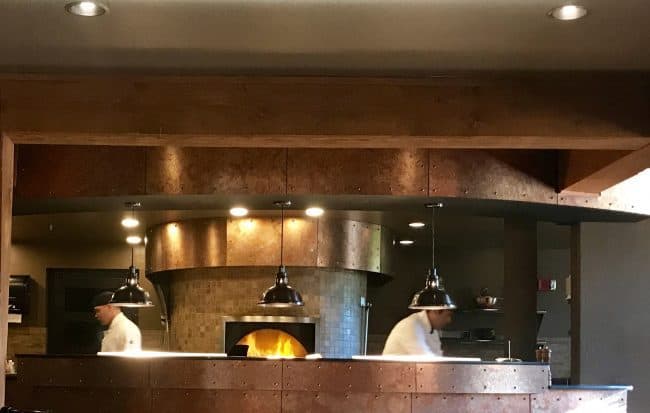 This restaurant only serves a dinner menu features brick oven specialities like bison, fresh fish, and flatbreads.
Start off with the Oven Fired Chimichurri Chips and try the Niman Ranch Bone In Pork Chop with bourbon glazed peaches, the Boneless Short Ribs, or the Tandoori Shrimp Skillet. For dessert try the cookie skillet. The kids have a dedicated menu too.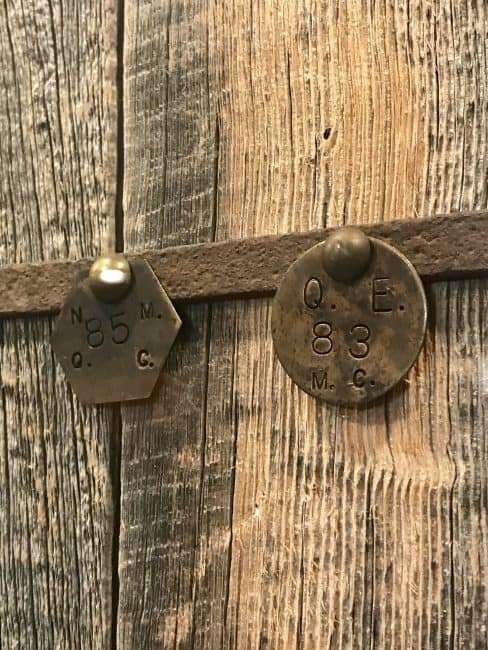 Fun History Tidbit: Take a look just outside the restaurant to learn how the Brass Tag got its name. It is a throw back to the area's mining history. Miners were all given a number on a brass tag with the mining company name. The tags were placed on a board before miners went into the mine and removed when they returned. That way, mining companies knew how many miners were in the mines at any given time.
Silver Star Cafe
If you want to head off property, I highly recommend the Silver Star Cafe overlooking the Park City Golf Club. This is a local favorite serving great food and live music Thursday-Saturday. Stop in for lunch for make reservations for dinner.
It is amazing what the chef here can do with such a small kitchen. The menu changes regularly depending on what is in season. If available, I highly recommend the Burrata Appetizer, Pork Osso Bucco and Seared Elk Burger.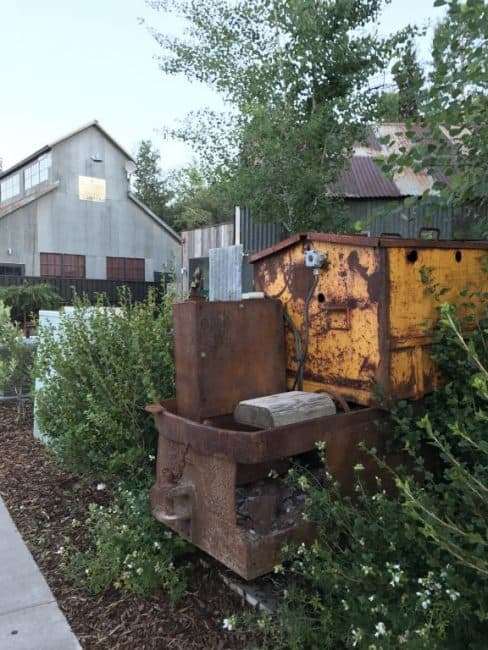 Be sure to take a lot at the surrounding property where you can find remnants of Park City's mining days. You can also take an after meal stroll on one of the nearby trails.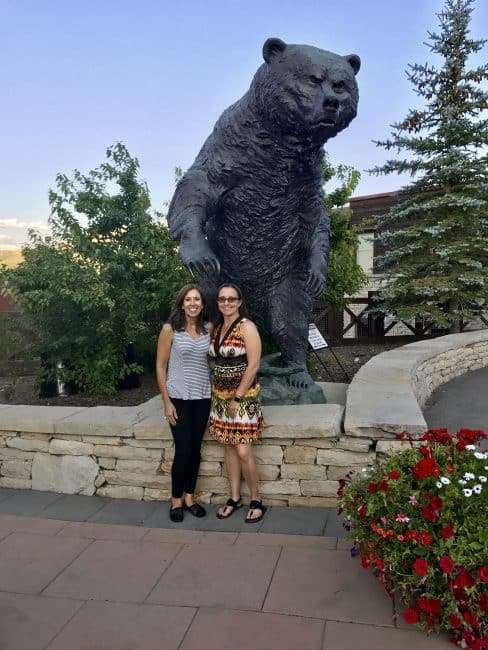 The key to making vacation calories NOT count is to do plenty of physical activity. During the winter, you can ski at Deer Valley. But in the summer, there is mountain biking, hiking, walking, and stand up paddleboarding. While we were there, we did ALL of it. I'll have more on those fun family activities shortly. For now, I'll leave you with all this good food so you can start planning your next trip to Park City and Deer Valley Resort.
I want to thank Deer Valley for inviting our family out to experience the resort for ourselves. They provided us with complimentary lodging, meals, and activities. Thank you to Lisa Ward, ownder of Silver Star Cafe for inviting us to dinner while we were in town. All opinions are my own and are based on our recent experience.