This is the ultimate in American comfort food. This creamy and delicious classic is none other than Macaroni and Cheese. With copious amounts of ooey-gooey cheese, it's ohhhh so satisfying.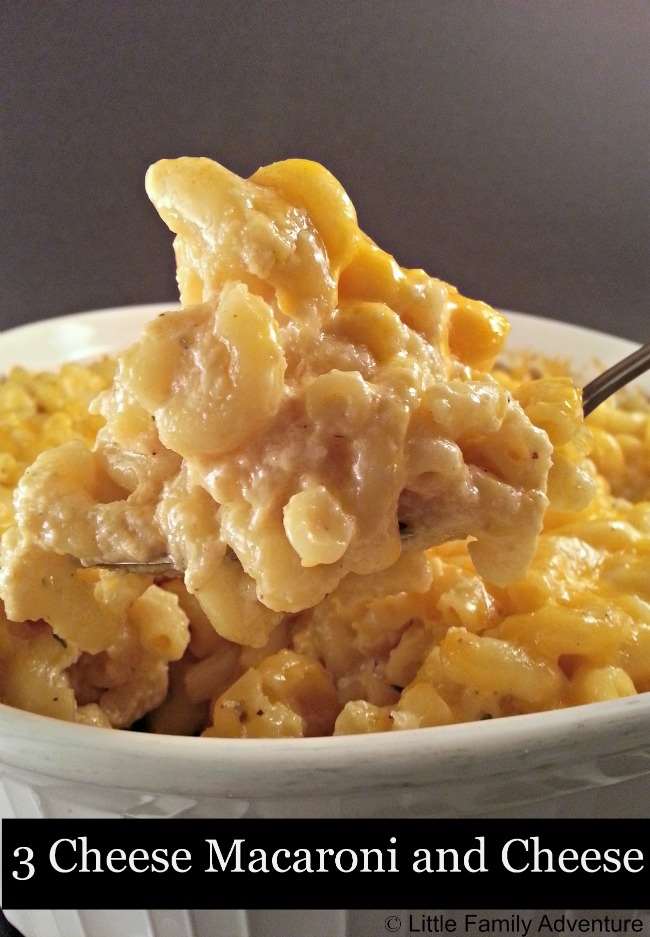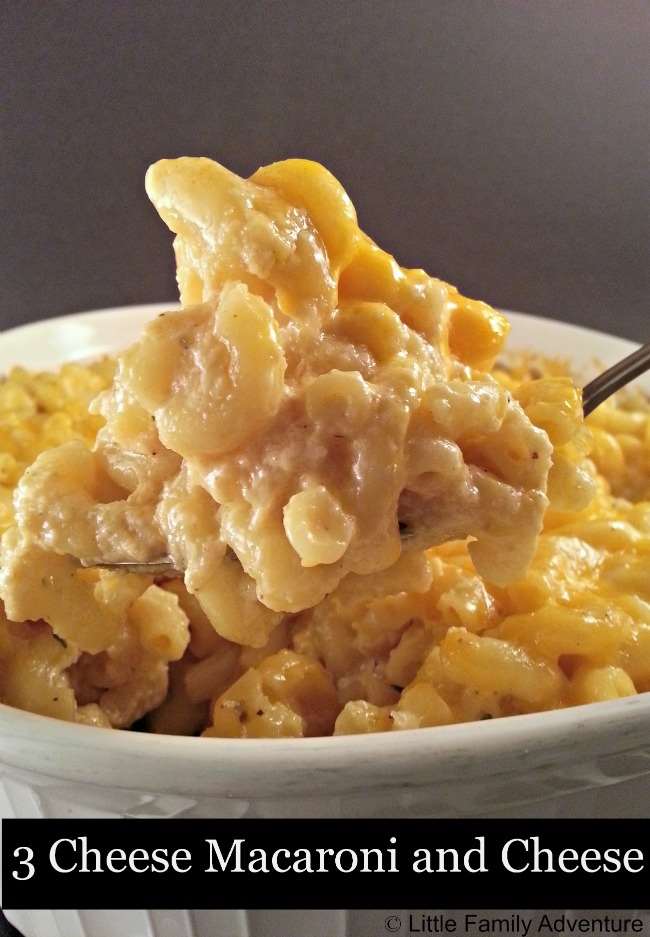 This week I have really been craving comfort food. I don't know if it's the weather , but a bowl of rich and creamy, ooey- gooey, homemade mac and cheese would really hit the spot. There is just something about macaroni and cheese that gives you that warm and fuzzy feeling inside. Don't you agree? It's like chicken soup when you're sick, this just makes everything better.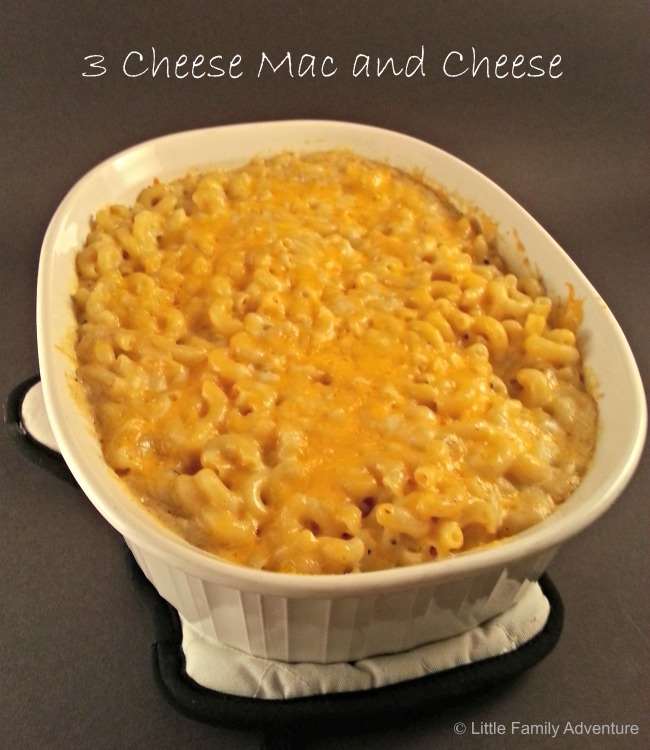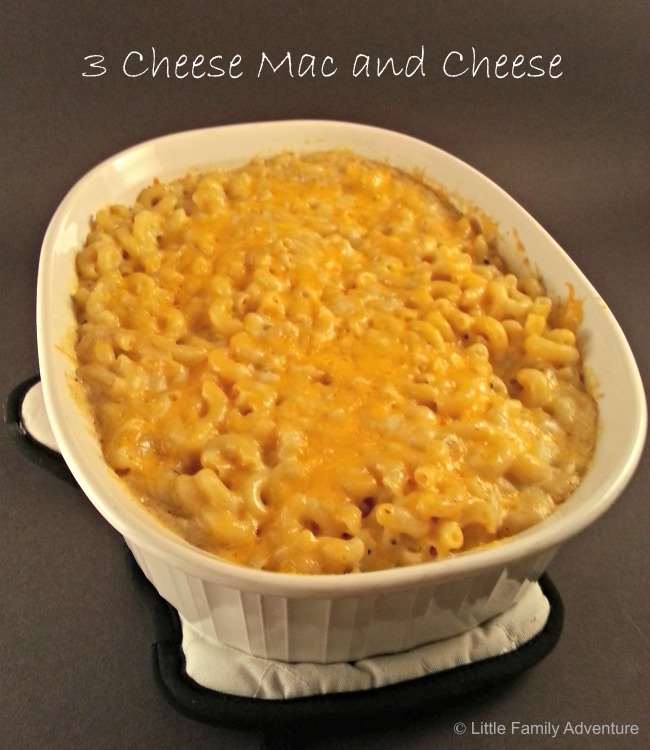 My recipe for homemade macaroni and cheese starts with a modified bechamel sauce. This basic sauce starts with a roux of butter, flour, and milk. To that I add onion powder, dry mustard, bay leaf, thyme, and nutmeg. It gives the sauce a great flavor that you are going to enjoy. This extra cheesy version of mac and cheese combines three kinds of cheese; sharp cheddar cheese, smoked gouda, and Parmesan. My family liked this combination of cheeses. The smoked gouda gives it a hint of smokiness that just makes it awesome! Try it and see for yourself or substitute with any kind of cheese you have on hand.
This version makes a large amount, 10-12 servings. You can never have too much delicious, homemade macaroni and cheese. We all dig in as soon as it's ready. It is a great side dish for lunch for dinner.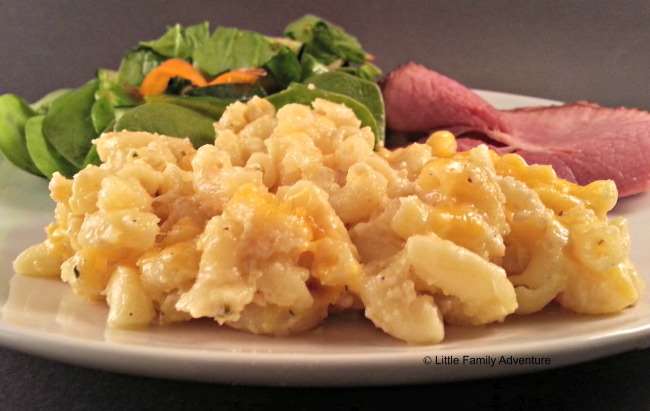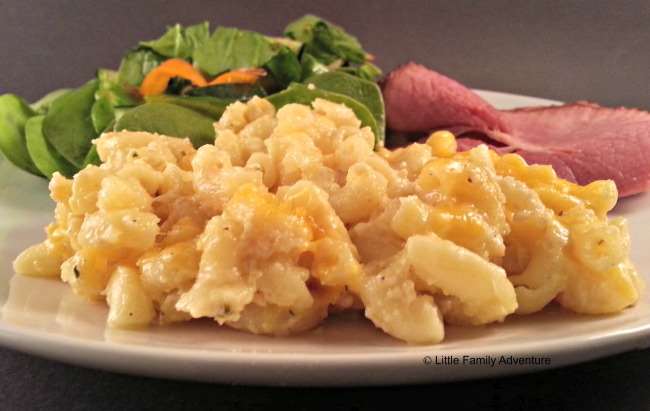 Leftovers, if you have any, are great the next day with a little add in too. Try it with :
diced ham or sausage
chili for chili cheese mac
steamed veggies like peas and carrots or broccoli florets
on a sandwich with pulled pork (Trust me on this one. A local restaurant serves one of these that is KILLER on jalapeno cornbread.)
Any way you serve it, you'll love this American classic. 3 Cheese Macaroni and Cheese is a dish your family is sure to love and want you to make it again and again.
Yield: 10-12 servings
3 Cheese Macaroni and Cheese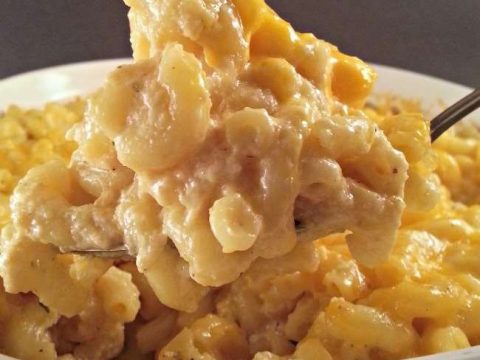 Ingredients
1 pound whole wheat elbow macaroni noodles
2 Tablespoons butter
3 Tablespoons white whole wheat flour
1 teaspoon dry mustard
2 cups milk
1/4 teaspoon onion powder
1 Bay leaf
1/8 teaspoon nutmeg
1/2 teaspoon dried thyme (optional)
1/8 teaspoon black pepper
1/2 teaspoon sea salt
2 cups sharp Cheddar cheese, shredded
1/2 cup Smoked Gouda, shredded
1/2 cup Parmesan cheese, shredded
Instructions
Preheat oven to 350 degrees.
Cook pasta according to the package directions until its al dente .
While the pasta is cooking, Heat another pot over medium-low heat. Melt the butter. Whisk in the flour and mustard. Stir constantly for 3 minutes. Make sure you don not have any lumps.
Remove pot from heat and add the milk. Whisk the mixture to incorporate the roux into the milk.
Return pan to the oven and add the onion powder, bay leaf, nutmeg, and thyme.
Heat over medium-high. Bring to a boil while whisking mixture for 1 minute.
Reduce and simmer for 10 minutes, stir occasionally. Sauce should resemble a thick pancake batter.
Remove pan from heat and remove the bay leaf. Stir in black pepper, salt, 1 1/2 cup of cheddar cheese and 1/2 cup smoked gouda cheese. Mix until well combined.
Add cooked macaroni to the cheese sauce. Stir gently to combine.
Place macaroni and cheese in a 2 quart casserole dish. Sprinkle top with remaining 1/2 cup of Cheddar cheese and Parmesan cheese.
Place in preheated oven and bake for 30 minutes or until lightly browned on top.
Remove from oven and allow to set 5 minutes before serving.
What's your favorite comfort food?
I shared this post at :
That's Fresh Friday