On a recent sponsored trip to visit the Minnesota State Fair, I found these Twin Cities restaurants. Some meals were complimentary. (Find the full disclosure at the bottom of this article).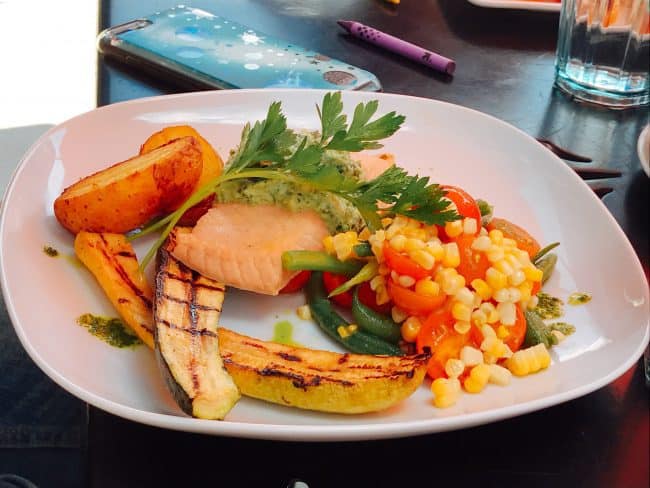 Minneapolis & St. Paul, Minnesota are great places to take the family for vacation. The Twin Cities and surrounding cities of Bloomington and Roseville offer a great variety of family fun both indoors and out. They are also serving up some great local food. From Farm-to-Table restaurants to local micro-breweries, I have found a few Twin Cities restaurants you need to try on your next visit.
Breakfast
Breakfast is the most important meal of the day and that's where I am going to start.
Urbana Craeft Kitchen in Bloomington
You won't wake up to a better breakfast in the Twin Cities area. Urbana Craeft Kitchen is located inside the Hyatt Regency Bloomington and is serving the freshest foods available. From their straw bale garden adjacent to the hotel's parking lot to the rooftop bee hives and area partners, this eatery is showcasing great local Minnesota fare. Their menu is American with a strong European influence.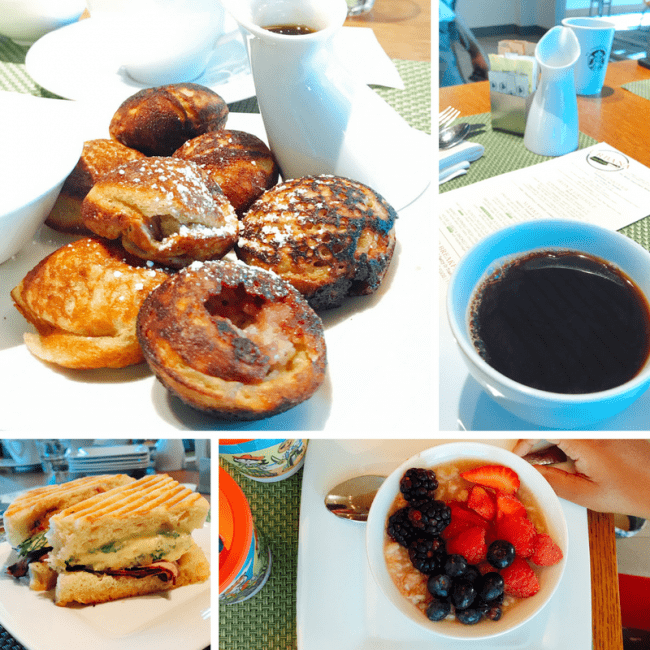 For breakfast, I HIGHLY recommend the aebelskivers, Scandavian Ball Pancakes. The restaurant has three different varieties to choose from, but I like the Wild Rice with Lingonberry compote the best. While I was there in August I was sharing pictures to Twitter and others chimed in on how great the food was. I had breakfast here twice with Michelle from SimplifyLiveLove.com, Lisa from TheWalkingTourists.com, and Natasha from HousefulofNichols.com and each day each of tried something new. Everything was delicious! You can't go wrong with anything on the menu.
Additionally, if you are looking for a hotel, I highly recommend the Hyatt Regency Bloomington. I stayed there on the front end of my Minnesota press trip. The hotel is very near the Mall of America and is easy to get to. Rooms are comfortable and beds are heavenly. Best of all, Urbana Craeft Kitchen is your on site restaurant. You may never leave. Serving breakfast, lunch, dinner, dessert
Colossal Cafe in St. Paul
A local favorite eatery with several locations in Minneapolis and St. Paul. Just like Urbana Craeft Kitchen, Colossal Cafe is using local, seasonal ingredients to create made from scratch food you'll love.
I had the Apple Walnut and Brie Flappers (yeast based pancake with honey-frown sugar syrup, apples, walnuts, and sliced brie cheese). The menu features classic American breakfast entrees; omelettes, pancakes, eggs, bacon, breakfast sandwiches, etc. Serving breakfast all day and lunch.
Lunch
Red River Kitchen (Food Truck) in St. Paul
Red River Kitchen is a farm to (food) truck kitchen serving up great food. You can find their food truck, seasonal site, mobile bar van, and a location at the MSP airport.
From May to October you can find them along the Mississippi River at their semi-permanent location City House, a restored grain elevator and flour mill. The location is just down the long flight of steps from the Science Museum of Minnesota and across the river from the Padelford Sightseeing Cruise.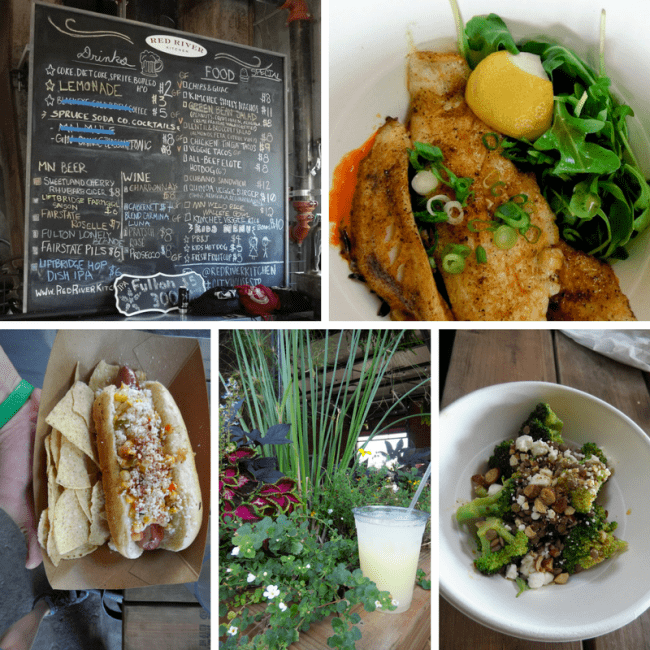 Red River Kitchen's menu changes seasonally and uses farm fresh ingredients from their partnerships with local farms. Wall Eye is a freshwater fish that is a local favorite. When I was here in August, I had lunch at the City House location. The views along the river were gorgeous!!! I had the Walleye Wild Rice bowl with an arugula salad and roasted pepper sauce. It was spicy but ohhh so good. I washed it down with an ice cold glass of lemonade. Other great dishes were the Lentil & Broccoli Salad and the All Beef Elote Hot Dog.
Spoonriver in Downtown Minneapolis
Spoonriver is a farm to table restaurant whose chef and co-owner Brenda Langton has been a passionate supporter for local and sustainable food in the Minneapolis area for decades. She founded the Mill City Farmers' Market which can be found just outside the restaurant's front door every Saturday. You'll find Spoonriver in the Mill District next door to the Mill City Museum and down the street from the new U.S. Bank Stadium.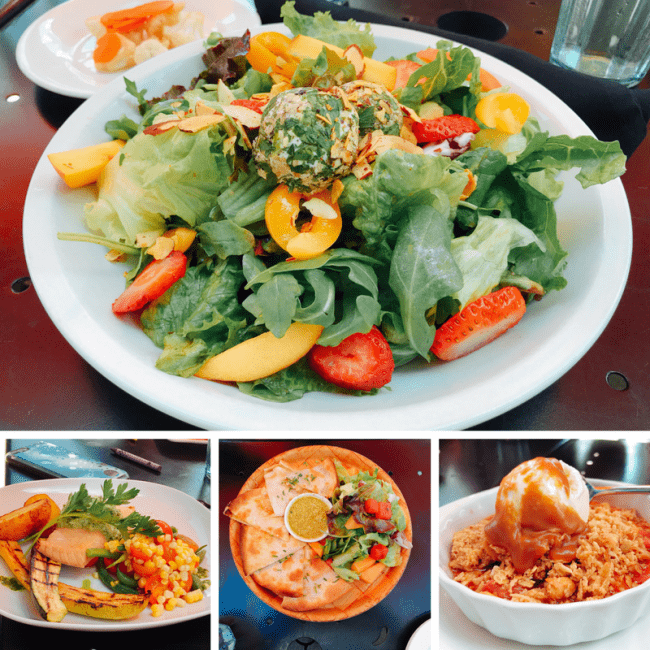 The seasonal menu features the best local products available. There is a heavy focus on seasonal plant based foods, but you will find a variety of naturally raised meats such as chicken, beef, and duck. For lunch, I had the Herbed Wisconsin Chevre Salad with mixed greens, summer fruit, spiced almonds and a raspberry vinaigrette. It was a deliciously light salad that was full of flavor. I went light on my lunch so I could save room for dessert. Brenda brought out a sampling of your organic cookies, chocolate cake bar, and fresh fruit tart. Each ite was better than the last. Spoonriver serves lunch, dinner, and a weekend brunch, plus a full bar. Reservations recommended.
Dinner
FireLake Grill House & Cocktail Bar
The Mall of America literally has everything you need under one roof, including a top notch grill house featuring fresh and local ingredients. That restaurant is FireLake Grill House who actually has two locations, one in downtown Minneapolis and another at the Mall of America's Radisson Blu hotel. The menu features an impressive wine list and the best in Minnesota inspired dishes.
I dined at the Radisson Blu location for dinner. I highly recommend you start with the Half & Half Board as an appetizer. It features a variety of local meats and cheeses for you to enjoy. Be sure to ask the server for a wine pairing recommendation. The wine list is superb! For entrees I had the Bacon Wrapped Eichten's Buffalo Ribeye with potatoes topped with a creme fraiche. It was so tender it literally melted in my mouth. Other fantastic entrees to try include the Flat Iron Steak Frites and the Rainbow Trout en Papillote (this was a special but if it is available definitely order this). As a side, we ordered the Dirty Fries, oh my goodness. Hand cut fries with red wine reduction, truffle salt, and cheese curds. They are available as a side or as an appetizer. If you want something rich and sinful, those would be it!
FireLake Grill House is a great restaurant for adults or children. The menu offers a variety of classic grill house entrees but with a unique twist which your taste buds will love. Reservations are recommended. Serving breakfast, lunch, dinner, and brunch.
Bonfire Wood Fire Cooking in St. Paul
Bonfire Wood Fire Cooking is a family owned company based in Minnesota serving up wood fired foods in a fun neighborhood atmosphere. They have several locations to choose from and their menu features classic pub food for lunch and dinner.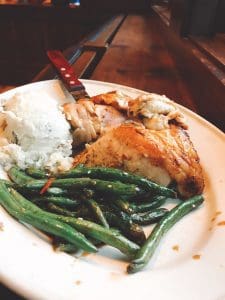 It's a great location for a group of people. There was a large group of us that went for dinner and had a great time.
I had the Half Spit Roasted Chicken with garlic smashed potatoes and green beans that was delicious. It's a bar and grill so there are beverages for the adults, yet is friendly for families. The Fuel the Family section of the menu offers family style dining with grill platters, fajitas, or pasta. This is a fun night out for all.
Dessert
Sebastian Joe's Ice Cream
When you visit Minnehaha Falls, be sure to stop for homemade ice cream here. Enjoy a scoop of your favorite flavor.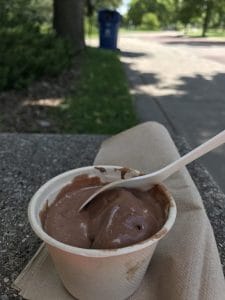 I tried the Nicolett Ave. Pothole with fudge swirl, toffee, chocolate truffle and almonds. Rich and delicious treat for a hot day.
I mentioned earlier that I was in Minnesota for the state fair. The fair is a food event in and of itself. Everything you can imagine on a stick is there. It's also the home of Sweet Martha's Cookies, an iconic staple for fairgoers.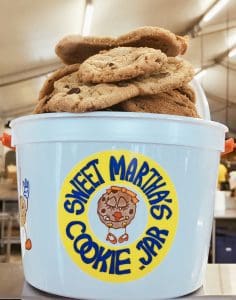 These chocolate chip cookies are on my list because you can't go without trying them. I also found a few State Fair foods under $5 that were REALLY good. My favorite was the giant peach and Kombucha. The Minnesota State Fair runs for 12 days starting in late August.
Disclaimer: Thank you to the Roseville Visitors Association, Bloomington Convention & Visitors Bureau, Visit St. Paul, Spoonriver Restaurant and FireLake Grill House for providing complimentary meals. All opinions are my own and are based on my recent visit to the Twin Cities area.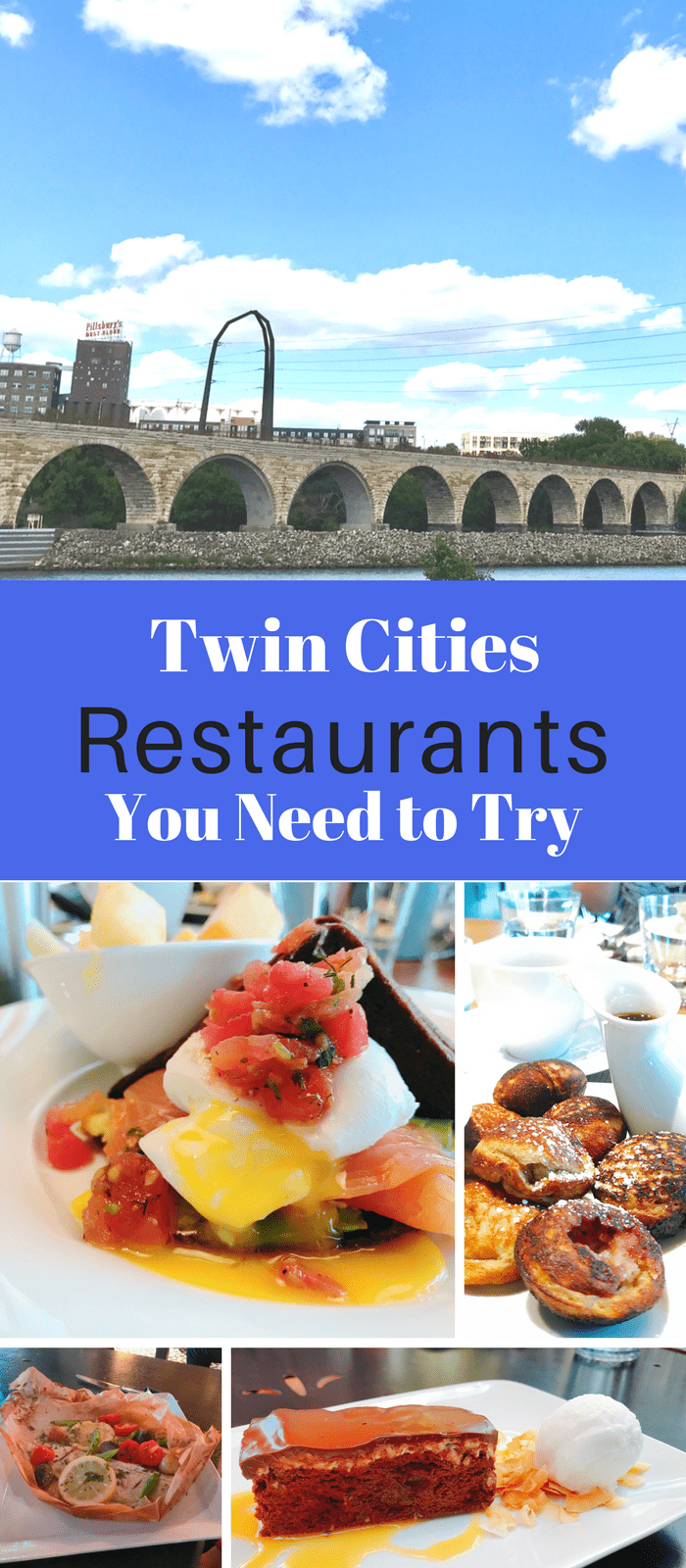 SaveSave
SaveSave
SaveSave
SaveSave